This post may contain affiliate links. Commissions we earn from partner links on this page do not affect our opinions or evaluations. Our editorial content is based on thorough research and guidance from the editorial team.
LEADNOVO INFLATABLE STAND UP PADDLE BOARD Review Summary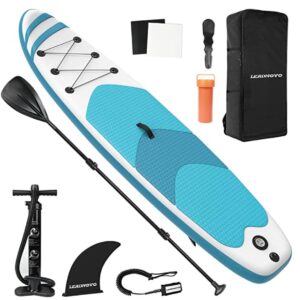 Paddleboarders will get great use from their LEADNOVO Inflatable Stand Up Paddle Board. This board collapses down small for easy storage, will tolerate 330 pounds of weight for pairing up, and is constructed of extremely durable materials.
Most Similar SUPs
If you are shopping for the LeadNovo SUP because you like the cheaper price of this board compared to many other SUPs, please check out our guide of the Best SUPs for $300.
About The LEADNOVO
The inflatable LEADNOVO offers a foam deck that prevents slipping and gives your feet some cushion as you work out or make your way across the waves. This board has multiple fins, including a removable center fin, and weighs in at approximately 20 pounds, making it easy to transport your board to the water's edge for a fun paddle.
Dimensions Table
| | | | | | | |
| --- | --- | --- | --- | --- | --- | --- |
| SUP | Length | Width | Thickness | Capcity | Board Weight | Inflation Pressure |
| LEADNOVO SUP | 10'6" | 32" | 6" | 330 LBS | 19.6 | 15 PSI |
Performance
Stability – Good
Maneuverability – Good
Speed – Moderate
The Stability of the LeadNovo is good due to it's 32" width compared to it's average length. It also gains some additional stability compared to other boards in this category due to it's wider nose and tail design. They give a little more flotation around the corners for paddlers who are looking to prioritize a stable board.
The ability to turn this board and easily adjust your path is also good. This is again because of the wider nose and tail design.
The LeadNovo SUP is more moderate when it comes to speed. It will be an average board to paddle in terms of how fast it can go. The moderate speed is because of the 10'6" length and the broader nose and tail. If you want a board that will go faster, we recommend looking at longer boards, narrower boards or boards with pointier bow / stern.
Sizes & Measurements
Once fully inflated, this board is 10.5 feet long, 32 inches wide and six inches thick. The board will tolerate up to 330 pounds of combined weight. There's a center handle for easy carrying and an adjustable aluminum paddle included.
The size of this board is great for average sized paddlers who want a cruiser style paddle board for every types of use on generally calm waters. If you want to check out the best size SUP for you, research with our paddle board size guide.
The shipping package for this item is 10 inches tall, 14 inches wide and 36 inches long. You can easily get this shipped to the office and transport it home for safety's sake. There will be some weight to hefting this home because the paddle and pump are also in the box, but the board itself weighs a very comfortable 20 LBS.
Construction and Materials
This inflatable board is a combination of PVC and Carbon Fiber. Once inflated, this board is extremely rigid and easy to ride. The back 2/3 of the top of the board is covered with a textured cushion for comfort and secure footing. The tail is extra wide, making this a very stable base for paddling, yoga, and other activities.
The hull has a rocker nose, making this an excellent tool both for rowing and a stable workout as the nose will stay out of the water. There's a center fin that can be removed if not needed.
Despite being an inflatable, this board is quite rigid and sturdy once fully inflated. There are three layers of airtight material making out the outer shell of the board and a carbon fiber layer as well.
Proper Uses and Safety
At the front of the board are bungees for gear that needs to stay at the front of the board. Make sure that you include this weight before getting out to paddle; too much weight on the board, particularly on the nose, can be hazardous. There is a bungee tether to allow you tether the board to your ankle. Use this whenever you are on the open water. If you are bumped off the board for any reason, it will be within easy reach.
Some users have found that using a carabiner on the front bungies adds to the security. If you choose to do this, make sure to fasten down the carabiner snugly. In rough water, a fall to the front of the board could be dangerous.
Accessories and Included Items
Your Lenovo paddle board comes with a travel backpack for your board and gear. There is also
a telescoping paddle that extends from 63-82 inches
a double action hand pump
an extra fin
a safety leash for your ankle
repair kits should your board get a ding
The backpack is approximately 36 inches tall and 14 inches wide. When fully deflated, this board will easily fit in your car trunk and can be checked for a flight as well. Take care to make sure that you have tagged the item; the aluminum paddles may give security a reason for concern.
Customer Reviews
Overall Customer Rating: ★★★★★ 4.4 Of 5.0 Rating with 40+ Reviews
Sturdiness 4.6
Light weight 4.5
Durability 4.3
Pros of the LEADNOVO Board
1) Once fully inflated, this board is extremely sturdy and easy to manage by the center handle. On a windy day, this may be a bit of a challenge, but well worth it when you get on the water!
2) The board plus accessory package really make it easy to pump it up and get on the water. There's nothing else you need to enjoy your river, lake or ocean trip.
Cons of the LEADNOVO Board
1) If this isn't fully inflated it will be very wobbly. The hand pump that comes with it makes getting to the full 15 psi quite a challenge. You may do better with an electric pump.
2) A few owners did find that this item leaked right out of the package. Be ready to test drive your board for a short trip to make sure that you don't need to patch the board before you get out. With regard to water, some users found that water got inside the paddle handle and they couldn't get it to drain.
Where To Buy & Get The Best Price
We recommend purchasing your LeadNovo directly from Amazon. We have seen the cheapest SUP prices for this board there and they will make sure it is delivered quickly and will great tracking. Additionally, if you have any problems with it you can easily return it or contact them for customer support.
Review Conclusion
If you would love a paddle board but just don't have the room or the option to transport, the LEADNOVO Board can be a great addition to your summer fun. Carefully follow all safety protocols to avoid injuring yourself or damaging your board.