What Are The Best Cheap Paddle Boards?
I'm a cost-conscious person, so I'm always looking for good value, and finding the best cheap SUPs is no different for me.
Our team doesn't just want a list of the cheapest SUPs, but affordable boards that are still good quality and will give you many hours of enjoyable paddling. To do that, we've spent nearly 30 hours reviewing all of the boards to on this list to give you the best options.
Our List Of The Best Cheap Inflatable SUPs
Customer Ratings: 4.7 / 5.0 (630+ Ratings)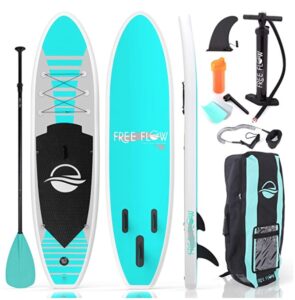 PROS
High quality for the price
Wide variety of color options
3 fins for better tracking & maneuvering
CONS
Higher end of the price range
Paddle does not floatf the price range
The SereneLife paddle board can be the ultimate adventure in the form of relaxation. The dimensions of this board are 10'6 feet long & 32 inches wide, offering steadiness, making it perfect for good handling and the ability to carry some extra weight. It also comes with a resilient top that offers a soft landing if you accidentally slips during your adventure.
The complete package that includes: Paddle-Board, Paddle, Air Pump, Coiled Ankle Cuff, Safety Leash, and Patch Repair Accessory Kit Storage. This SUP is perfect for all genders to explore lakes, ponds, and even rivers and calm ocean waters. It is 100% travel-friendly because it rolls to the size of a sleeping bag when deflated, hence saving space. The board comes with triple bottom panel fins for easy operations for excellent navigation. You can also choose a board that matches you personality from various colors like aqua, olive green, and marine blue. The board is made out of PVC and offers impeccable tensile strength and impact resistance.
Dimensions:
Length 10'6″
Width 32″
Height 6″
Weight 19.6 LBS
Capacity 275 LBS
Customer Ratings: 4.5 / 5.0 (630+ Ratings)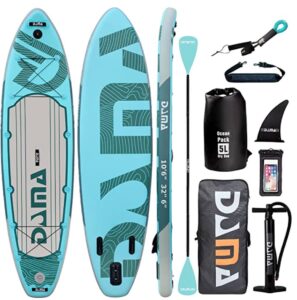 PROS
High quality for the price & top name brand
Camera / GoPro Mount on the board
Durable and great for all around use, fishing and yoga
Floating paddle
CONS
Some reports of seam leakage when over filled or left in the sun
DAMA actually makes a large range of paddle boards as you can see in our full DAMA review, but we chose the Adventure for this list. We chose the adventure because it boasts great cruiser SUP dimensions and a good balance of board weight to capacity along with durability.
This board is one of the newer editions of DAMA's SUP line up and they have added some features we love. First, the GoPro / Camera mount on the front of the board makes for great fun. You can point at the paddler or at the oncoming waves. Either is sure to make a great video. Also, they are now including a very handy 4 piece paddle that converts to either a standard paddle board single blade paddle OR a double bladed, kayak style paddle.
Dimensions:
Length 10'6″
Width 32″
Height 6″
Weight 19.8 LBS
Capacity 320 LBS
Customer Ratings: 4.8 / 5.0 (60+ Ratings)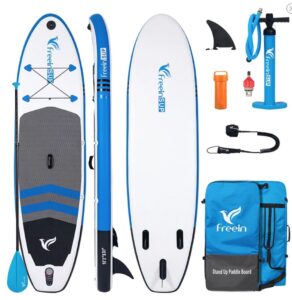 Dimensions:
Length
Width
Height
Weight
Capacity
Customer Ratings: 4.6 / 5.0 (2,200+ Ratings)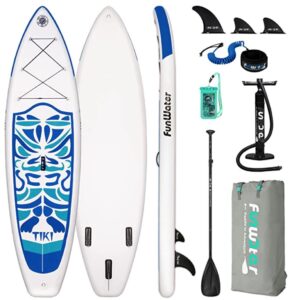 PROS
Great Price
Multiple color options
Brand name company and great reviews
Light weight at only 17.6 LBS
Very stable at 33″ wide
CONS
Some reports of fins breaking
The Funwater inflatable paddle board is made to cater to every skill level with a 10'6″ long, 33″ wide, 6″ thick board. A great feature is that it's 35% lighter than other comparable models. It also comes in various colors, blue, pink, green, and light green.
It is constructed with an additional PVC layer of board rails, making it 100% stiffer while paddling without adding extra weight. The board is more stable than many other similar choices due to the 33″ inch board width and three removable fins for stability and maneverability. The package includes a board, adjustable aluminum paddle, high-pressure pump, travel backpack, coil leash, waterproof bag, three removable fins. FunWater offers a no risk return policy within 30 days+ 60-day guarantee +1 year manufacturer warranty.
Dimensions:
Length 10'6″
Width 33″
Height 6″
Weight 17.6 LBS
Capacity 330 LBS
Customer Ratings: 4.5 / 5.0 (1,230+ Ratings)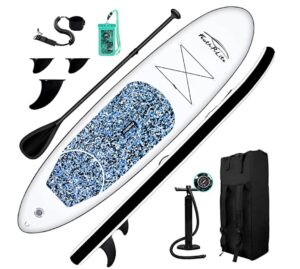 PROS
Very Low Price
Extrenely light-weight at 16 lbs
3 Fins for good tracking
CONS
30″ width is less stable than wider options
Deck padding covers about 50% of the board
The FEATH-R-LITE boards come in various colors: green, navy blue, pink, black, and blue, leaving you with plenty of choice. It is constructed to host all skill sets and can be used to traverse lakes, rivers, and oceans.
The board was made with the new ultra-light military grade PVC with a 10'× 30″ × 6 " standard size. It also includes multi-functional elastic lashing cords and a backpack for your paddle accessories to secure her dry bags and clothes. The Feather Lite packages includes: Inflatable a paddle board, Adjustable sup paddle, 3×fins, SUP pump, backpack, waterproof phone bag, leash. They too offer a 30-day no-hassle return service, a 60-day warranty for paddle boards, and a 1-year warranty for accessories.
Dimensions:
Length 10′
Width 30″
Height 6″
Weight 16.7 LBS
Capacity 280 LBS
Customer Ratings: 4.8 / 5.0 (7,000+ Ratings)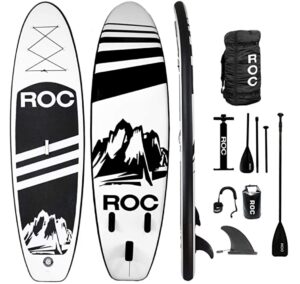 PROS
Great quality for the price
Great reviews & top rated board
33″ Width makes it VERY stable
Light-weight at 17.5 LBS
Many color options
CONS
Higher end price for this list
Not as fast as the longer / narrower boards on this list
With board dimensions of 10′ long by 33″ wide and 6″ thick and a weight limit of 350 pounds it's easy to see why the ROC paddle board is one of the most popular SUPs on the market today. This premium SUP package includes the board, collapsible aluminum paddle, removable fin, coil safety leash, hand pump, waterproof bag for essentials such as cell phone and keys, and an upgraded backpack to hold everything.
You can never go wrong with their wide selection of colors: black, blue, carbon, charcoal, desert, green, ocean, pink, sangria, solar, and sea-grass. Without going back to your pockets this affordable board comes with a one-year warranty with every purchase. Constructed with the highest grade PVC makes, they are lightweight and can, therefore, be easily loaded and transported.
Dimensions:
Length 10′
Width 32″
Height 6″
Weight 17.5 LBS
Capacity 300 LBS
Customer Ratings: 4.5 / 5.0 (250+ Ratings)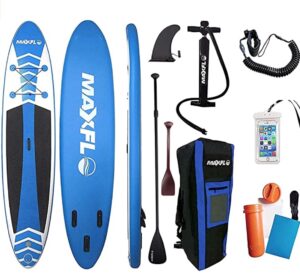 PROS
Very cheap price for SUP
Standard size give good all around performance
Has extra rowing paddle included
2 color options
CONS
Some complaints of the pump breaking
Heavier paddlers report the board bends in the middle with their weight
This Maxflo board measures 10'6″ Feet Long and 32 Inches wide meaning that you never have to worry about stability. You also get easy navigation even in fast water, and with the triple bottom fins design. Any skill set is assured of more control and speed on any current.
Enhanced with a non-slip top deck, you are assured of a soft landing in case of an accident. Saving space is another important feature of inflatable boards and the backpack offers convenience when traveling in a vehicle, boat, or plane. The packages includes the SUP, a coiled ankle cuff safety leash, an Upgraded Aluminum paddle, a manual air pump, and an extra rowing wooden paddle ready to offer one of the best experiences. The board comes in the colors blue and black. Constructed from PVC, the board is meant to handle any temperature variation.
Dimensions:
Length 10'6″
Width 32″
Height 6″
Weight 20 LBS
Capacity 275 LBS
Customer Ratings: 4.6 / 5.0 (500+ Ratings)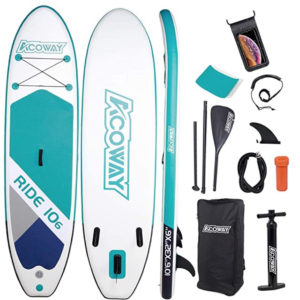 PROS
Double walled sides for rigidity
Standard size give good all around performance
3 Fin design for good handling
30 Money Back policy
2 color options
CONS
Some complaints of fins breaking or bending
A few buyers report leaks under pressure and difficulty getting a replacement
The Acoway SUP measures 10'6″ x 32″ and gives a stable feel and confidence to surf the strongest waves. It is light in weight and made of high-quality PVC and rubber to make them sturdy. The board comes in both blue and green, with extra equipment like High-quality paddles, a waterproof phone bag, safety rope, a manual pump, and a repair kit. They offer a 30-day money-back policy and one year of guarantee for client satisfaction.
Dimensions:
Length 10'6″
Width 32″
Height 6″
Weight 22 LBS
Capacity 400 LBS (probably generous)
Customer Ratings: 4.2 / 5.0 (40+ Ratings)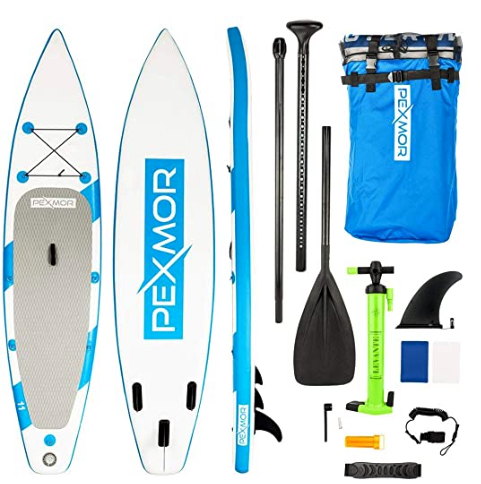 PROS
11′ length makes this longer than most boards on this list. Paddles faster and higher capacity
Extended deck pad gives more space for yoga or fishing or carrying a second person
Additional D-Rings installed for securing extra gear or a kayak seat
CONS
At 26 LBS, it weighs more than some other boards for carrying
A few buyers report the bungee cords can come loose
Constructed with premium PVC, the Pexmor board becomes corrosion-resistant. When brought in contact with chemicals, it doesn't react, keeping its state intact and saving it from any deformation. The paddle board weighs only 18 pounds, pack size 35.5″ x 13.8″ x 10.2″, perfect for carrying on long trips. To give them the ultimate experience, we include: aboard, floating aluminum paddle, safety leash, hand pump, waterproof bag, and a big comfortable sup backpack in the package. We offer the board in the color blue-white. With the upgraded diamond pattern on the surface, their feet grip the board as they stand on it. This feature alone helps prevent slippage so that their safety is not at risk. The Paddle board is large and wide, providing stability to try new yoga poses or even carry a partner.
Dimensions:
Length 11′
Width 32″
Height 6″
Weight 26 LBS
Capacity 440 LBS
Customer Ratings: 4.6 / 5.0 (2,100+ Ratings)

PROS
Great color and design options
Comes in multiple sizes so you can fit the way you want
Very affordable options
CONS
Some complaints of leaking air valves tt need to be replaced or tightened frequently
The first thing you'll notice about the Fit Wave SUP is the fantastic design. It's one of the reasons we think this board is cool – but it's not just all looks. The Fit Wave is also great because it comes in 3 different Length / Width options so you can find a board that fits you well. If you are a smaller paddler, opt for the e9'6″ board, if you are average hieith go with the 10′ SUP or if you are taller (say 6 feet or more) consider the 11′ board.
Dimensions:
Length 9'6″ / 10′ / 11′
Width 30″ / 32″ / 33″
Height 6″
Weight 19 / 20 / 22 LBS
Capacity 242 / 300 / 330 LBS
Customer Ratings: 4.6 / 5.0 (1,450+ Ratings)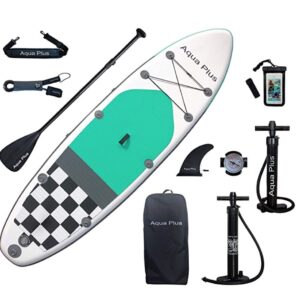 PROS
33″ width makes this a stable board
Additional D-Rings are great for storing gear or adding a kayak seat
Double action pump makes inflating more efficient
CONS
Some boards arrived without the fin. Manufacturer sent a replacement
Some ccomplaints of the padding peeling off after a few seasons of use
The Aqua plus SUP is it a beginner or an expert board? Don't worry, it's 10'6″ length, 33″ wide, and 6″ Thick board is made to accommodate everyone. Plus Auqua Plus offers a one-year warranty on every item sold, including paddle boards, inflatable paddle boards and accessories.
The lightweight, 20 LBS board is premium PVC, making it smooth, strong, durable, and easy to carry around. The 5mm Comfort diamond groove traction is perfect for stability, grip, and balance and makes it ideal for yoga and fishing. With an inflated size of 10'6″ in length, 33″ wide, and 6″ Thick, paddlers get good stability even when encountering a little chop, wave action or current. The board comes in color white and a package that includes: Board, a Fully adjustable aluminum paddle that measures from 65-82inches long, a Navigator ISUP travel backpack, Shoulder Strap, Coiled leash, Waterproof bag, Removable fin, Double Action Pump.
Dimensions:
Length 10'6″
Width 33″
Height 6″
Weight 20 LBS
Capacity 33 LBS
Are Cheap Paddle Boards Good?
Very often cheap paddle boards can be more hassle than they are worth, BUT if you know what to look for and how to filter through the dozens of cost conscious paddle boards on the market, you can find a good quality and fun to paddle SUP in the $150 – $350 price range.
I recommend staying away from any new paddle board that is priced under $150. At that pricepoint we become very skeptical of the quality and company. If you re willing to stretch your budget up to $400 or so, we'd recommend checking out our Best SUPs Under $400 Guide.
Cheap Boards Vs. Expensive SUPs
What's the difference between a cheap inflatable paddle board and an expensive one? You'll find the reason for cost differences in 4 main areas: Design Quality, Manufacturing Issues, Brand Name & Accessory Qualilty.
Design Quality: It's not hard to throw together quick board design, but it takes much practice, testing and design skill to develop a board that has the right combinatinos and balance of weight, stability, maneuverability and speed. Cheaper priced SUPs usually have had less invested in R&D. But if you w shop with reputable companies with much experience, they hoften can product better boards for lower prices due to their experience.
Manufacturing Issues: Often less expensive boards come from higher volume manufacturing. This can often mean small defects make it through the line and to customers. Things like faulty seams, slanted graphics etc. Higher quality and more expensive board companies are much more careful about the production of every single board ( which costs money). So you are less likely to get a board with a fault or issue. Sometimes accidents do happen thought for any company – so the emost important thing is getting a board company that will take their customer service seriously and fix the issue for you.
Brand Name: Just like any product out there in teh world from cars to shoes to cell phones, the brand name often means something. A Lexus and Toyota can be made in the same factory anand often have similar features, but the Lexus is likely to have a higher priceta. It's the same for paddle board companies.