Founded in 2016, Thurso Surf managed to establish itself as one of the best SUP companies in no time. Currently, it's the leading company in the production of value-packed, affordable, and durable inflatable paddleboards. The company recently expanded its paddleboards line by including additional seven models whose lengths range from 7.5′ to 11.5′.
Based in Toronto, Canada, the company wants to take people to places they have never been before and showcase what Mother Nature provides. Thurso SUP can help you connect with your inner soul while you are on the water so you can enjoy pure fun, genuine friendship, and unfathomable thoughtfulness.
To bring you all these benefits, the company's mission is to maintain the highest product quality while ensuring their prices are always affordable so everyone can buy the products and have a fulfilling paddling experience.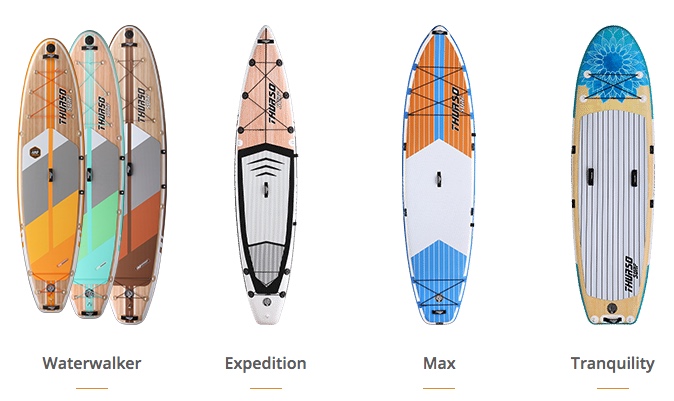 Thurso Paddle Board Company of the Moment
To achieve their company mission and vision and ensure excellent performance and affordability, their engineers never shy away from putting on their lab coats. Their designs, shapes, and materials are dictated by an experiment-driven, high-tech approach incorporating modern technologies (structural analysis and fluid dynamics) and innovative engineering processes.
The company produces a wide range of paddleboards that suits all kinds of SUP activities. Whether you are a novel or a hard-core paddler, you'll find a paddleboard that fits you, mostly because of the boards' unique performance and design. Thurso also offers a wide range of accessories such as apparel, SUP pump, kayak seat, paddles, and more.
Top Quality Thurso SUP Construction Method
The founder of Thurso, Shenglong You, is trained in both fluid dynamics and mechanical engineering. So the Thurso paddle boards are designed with durability, performance, speed, and reliability in mind.
The boards have unique shapes to ensure they experience minimal drag while in use. This ensures they glide smoothly and with maximum speed. The new models are very rigid, thanks to their stern rails reinforced with carbon fibre. The rails make them firmer and more rigid than the previous models.
Their SUPs are the best to paddle with because they offer a smooth, quick, and efficient paddling experience to all paddlers, no matter their level of experience. The paddleboards also exhibit balanced construction, making them sturdy and durable, without making them too heavy. Meaning, you find it easy to transport, assemble, and us the paddleboards without getting weighed down.
You'll also like the Thurso SUP because of their drop-stitch tight core with military-grade dual-layer PVC composite protection. The inner has only one PVC coat, while the second one has two more PVC coatings for triple reinforcement. The same construction is used on all the seams ensuring quad-PVC protection, making it exceedingly arduous to tear or penetrate.
With this kind of protection, you can be sure that your board will serve you for years with little or no loss in its performance. Not to mention the UV coating that protects it against the harmful radiation from the sun. Additionally, the paddleboard has a woodgrain design to increase its stability while on water and give its aesthetic value.
What are the Leading Thurso Products in 2021?
Thurso has three leading products for 2021, these are:
THURSO SURF Water Walker All-Around SUP 2021
This inflatable stand-up water walker paddle board SUP is suitable for all water conditions and skill levels. It has a hybrid design that combines the elements of a touring board and a traditional surfing board. This design results in unrivaled versatility, fast speed, and unmatched stability. Meaning you can use it in oceans, rivers, or lakes with ease. Mostly, it is ideal for beginners, but intermediate and advanced paddlers can also use it.
This product's length varies from 10′ to 11′; weight varies from 25 – 30lb, while volume varies from 240 – 300L (giving a capacity of between 260 – 330LB). With this large volume, it can accommodate any paddler, no matter their boy size. Even if you want to go out with your pet or kids, there will be enough room for you.
Despite its length, this product is quite maneuverable, making it easy for the user to dodge objects by using just a few paddle strokes. You get all these benefits at a price range of only $699.00–$749.00.
Read the complete Waterwalker SUP Review
THURSO SURF Max Multi-Purpose SUP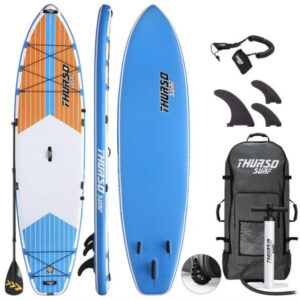 If you are a paddler who needs more stability on the water, this Max Multi-Purpose SUP is for you. This all-rounder provides maximum stability while still giving you the freedom you need to move. It looks pretty cool and has many unique board features that enhance its use. It derives its stability from its materials, shape, and dimensions, particularly its 34″ width and 11′ length, making it very broad. It is excellent for hunting, fishing, and even transporting large loads.
The most attractive feature of this board is its deck, which is covered using a traction pad. This makes it comfortable to sit or stand on even when it is wet without fearing that you would slip and fall. The deck seam and the bottom seams are caped with two side wraps to make it lightweight and durable.
Its paddles are more superior compared to the fiberglass or aluminum paddles because they are made from carbon. The paddle is light and can float but is very strong. You can even convert it to a kayak paddle if you add a blade. The board plus its accessories cost only $799.00.
Read The Complete Thurso Max Review
Expedition 138 Touring SUP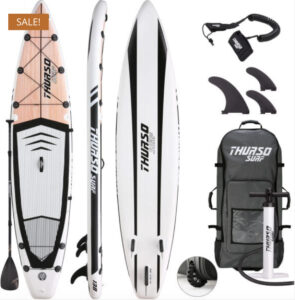 If you want a paddle board that paddles fast and straight for your next race or paddle board camping expedition (or just to leave your friends in your wake) we recommend you look into the Expedition SUP from Thurso.
Compared to the Max or Waterwalker, the Expedition is longer and thinner to create a fast paddlig board. It has a 11'6″ length paired with a 30″ width. This board's profile even looks fast.
Like the other boards from Thurso this comes with a great 2 ply design and carbon fiber reinforcements to keep this board rigid and durable without adding needless weight. It also comes with an upgraded, lightweight carbon fiber hybrid paddle with you will be incredibly thankful for on long paddles.
Where to Buy the Thurso Products
If you are in the market for the inflatable paddleboards and accessories made by Thurso, it is advisable to purchase directly from their online store. Doing this will ensure you get the best prices and also experience their outstanding customer support.
Thurso doesn't charge sales tax or shipping if you are in Australia, Japan, the EU, Canada, or the US. Their inflatable surfs available in Japan, Europe (Italy, Spain, France, Germany, United Kingdom, Canada, and the US. If you can't purchase directly from their official website, you can identify a reliable and trustworthy third-party vendor to buy from.
Thurso Paddle Board Product Warranty
It is difficult for the Thurso paddle board to get damaged. However, all their products come with a 2-year warranty, and they have earned a reputation for their excellent customer service. Meaning, if the board develops any problems during its natural course of use, you'll not have to worry if you are still within the warranty period. If you have a genuine case, they will either refund your money or replace the board within the shortest time possible.
They also have a 30-day money-back guarantee, just if you aren't satisfied with the shipped product. This is compounded by their free shipping for those in the US and many countries in Europe. They offer the best prices in the market, yet they still have financing options if you don't want to pay the full amount in cash. You can be given up to 18 months to pay for your board.
What Set's Thurso Company Apart
There are many reasons you may choose Thurso Paddleboards over other boards. Their products are made from military-grade, bombproof materials, meaning they are almost indestructible for a start.
Unlike the boards from other companies that can be cracked, damaged, or dinged, Thurso boards are ding-proof because they can withstand whatever is thrown at them. Many people flock on their online store because of the affordability of their products and their customer-centric services.

If you are in the market for beautiful looking, sleek, and fast paddleboard that can offer you value for money, Thurso SUP would be your number one choice.