This post may contain affiliate links. Commissions we earn from partner links on this page do not affect our opinions or evaluations. Our editorial content is based on thorough research and guidance from the editorial team.
Top Quality, All-Around SUP For Everyone
If you are looking for a top quality, easy to paddle board and it fits your price range – the Max by Thurso is a great option and we give it a Recommend Buy rating.
Thurso Max Paddle Board Review Summary
As usual with iSUPReviews.com, it's straight the details and recommendation about the Thurso Max 11 Foot 6 Inch paddle board.
This is a great paddle board for beginners looking for their first paddle board at a low price or if you are looking for an affordable paddle board gift for someone.
It has everything a first time or novice paddle boarder needs to get paddling without sinking your bank account. It really is a starter board with a simple but easy to paddle design – with no frills to upgrades.
If you are looking to get into the sport for a minimal amount of money – this is your board. If you are pretty set on getting into paddle boarding and want to make a bit of an investment in something that will grow with you, we might recommend spending a little more and checking out an iROCKER.
Thurso Max Price And Value
At less than $250 dollars for a solid, inflatable paddle board and all the kit you need to get paddling it's pretty hard to beat the cost and value of this board. If you are a beginning paddler looking for your first board or a gift for someone looking to try out paddling – this is about as cheap a board as you can find that still has solid quality.
Thurso Surf Max Full Product Details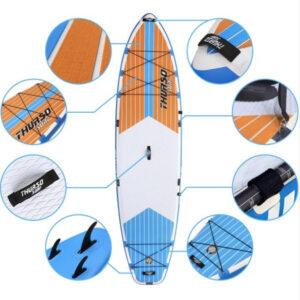 The Board
The Max board is a great setup for easy use for beginners and paddling. It has a comfortable non-slip deck that covers about 2/3s of the board so you can comfortably stand where you want when paddling. The front 1/3 of the board is covered with a set of bungee cords to hold down any other accessories you may have.
The carrying handle and the low weight of this board make it easy to carry down to the water or pull onto a beach whenever you need. With a full inflate of up to 15 PSI this board will feel just about as rigid as a solid board, but be easier to balance on and softer if you bump it.
The Paddle
One of the great upgrades you get when buying the Max from Thurso is their CARBON shaft paddle. Why is the paddle from Thurso better than others?
First, being made from carbon fiber makes it much lighter and stronger than the aluminum paddles you get with budget paddle boards or even the fiberglass upgrade paddles you get from some other companies.
At only 2 lbs. it's stronger, will float, is easier on your shoulders and arms and can even be converted to a kayak paddle with an extra blade (sold separately).
It's easy to carry and store because it breaks down into 3-pieces and can be adjusted from 68'' to 84'' to fit paddlers of almost any height. The blade itself is a durable nylon composite that will resist chipping or breaking if it finds a rock or hard edge.
The Backpack & Pump
The good news is that this board does come with a backpack / storage bag and the pump you will need to get it inflated. Inflating this board will usually take about 5-10 minutes based on how fast you pump. Be warned, a hand pump can absolutely be a workout.
The backpack is functional, but fairly bare bones. It can be a bit uncomfortable for a long carry, but just fine to get your board from a parking lot to a beach or dock where you want to dip your board in the water.
Board Construction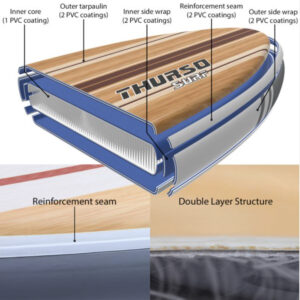 There aren't too many details about the construction of this board, but upon inspection it appears to be a fairly standard design. We estimate that it's likely a 2 ply main inflatable paddle board construction which allows it to be fairly durable and rigid while maintaining it's light weight. They then mention adding a 3rd layer so the sides which helps keep the board more rigid without the added weight of a full layer.
For durability, this board should be about average. You are find if it has the occasional scrape on some rocks or gets beached on the sand – but won't offer the same lifetime durability as a 3 ply board.
Quick Product Specs & Dimensions
| | | | | | |
| --- | --- | --- | --- | --- | --- |
| Paddle Board | Length | Width | Height | Weight | Capacity |
| Thurso Surf Max Inflatable SUP | 11'6″ | 34″ | 6″ | 33 lbs | 370 lbs |
Quick Specs For The Thurso Surf Max Paddle Board
What Comes With the Thurso Max Paddle Board?
The quick overview of the Max inflatable stand up board package is that it includes everything you need to get paddling out on the water on your first day with your new board. Max offers this complete package with everything you need except a life jacket. We like that they include everything you need as it makes this package a contender since so many boards are all inclusive these days.
11 Foot 6 inch long inflatable paddle board with generous 34 inch width
3 piece easily adjustable carbon shaft paddle
Roller backpack
Removable fin
Inflate/deflate Double Action Pump
Ankle leash
Consumer Ratings By Feature
Overall Customer Rating: ★★★★★ 4.5 Of 5.0 Rating with 15+ Reviews
Stability:

★★★★★

5.0 Rating
Easy to inflate:

★★★★★

5.0 Rating
Thurso Max Inflatable SUP Pros & Cons
Pros of the Thurso Max Board
After reviewing all of the customer reviews the most positive aspects of this board quickly become apparent.
Low Price & Good Value: It's fair to say that one of the biggest selling points of this inflatable paddle board is that you get everything you need for a great, beginner paddle board for about $250.
Quick & Easy To Use: Many people talked about how they could easily carry the board to the beach in the backpack, inflate it in about 5-10 minutes and inflate it and pack it all back up in even less time than that.
Fun & Easy To Paddle: Customers spoke very highly of how much fun they had on the board. It offered good stability and flotation for people just getting their sea legs and learning how to paddle.
Cons of the Max
After reviewing all of the negative real customer reviews on the Thurso Max we found that they fall into a few main categories of complaints outlined below. It's important to note that less than 10% of the total reviews were in the negative range of 1 and 2 stars. This is a little higher than we like to see, but in a fairly normal range of complaints – particularly for a product that is in a very low priced range like this board.
Paddle Defects: A few customers mentioned the paddle was broken or missing a piece when the board arrived. This can happen with value priced products and should be fixed by the manufacturer.
Pump Defects: A few customers mentioned the pump did not work or the dial pressure gauge was broken on arrival. This can happen with value priced products and should be fixed by the manufacturer if you contact them.
Seam / Valve Defects: Some people mentioned air leaks from the valve or seam after a few uses. Again, this should NOT happen – but does occasionally with cheaper products. It seems to be a very small portion of the boards sold.
Sizing: One customer who mentioned being smaller (about 5'2″ tall) said the board was too big to handle well. We don't consider this a negative for this board since that's a sizing issue. If you are a smaller paddler – we might recommend you look at something smaller like the Dama Paddle Board.
Thurso Max Price: Here's How To Get Your's Cheap
So you are pretty interested in getting the Max, but where can you go to get the best price possible on the Max?
We highly recommend purchasing your Max from Amazon because they have some of the lowest prices we have seen on the board, plus they offer good customer protections and fast free shipping.
Thurso Max Shipping Costs – Free
One of the great things about Thurso is that they offer FREE shipping on all of their paddle boards. So you don't get hit with any additional surprise expenses.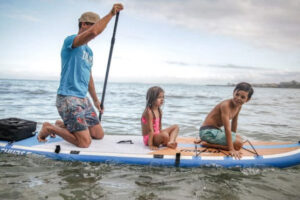 Max By Thurso iSUP Uses / Who Is It Good For?
Max advertising this board as a good choice for all around paddling boarding, surfing or fishing. In our own opinion this is a great paddle board for a beginner iSUPer who is looking to get a good board for a low price and get on the water.
When it comes to surfing with this board, it likely wouldn't be our first choice as a "surf board", but there are a few customer reviews saying they have played in some waves along the beach and had a great time.
If you want a solid, no frills paddle board for a beginner at a rock bottom price – this is a good choice.
Thurso Max iSUP Warranty
Thurso offers a generous 2 Year Long Manufacturer Limited Warranty (that starts on the date of your purchase) on their inflatable paddle boards (iSUPs) including the Max.
So what does this cover? They offer coverage for any defect in workmanship and materials. If you do have a manufacturing defect with your Thurso SUP, you should contact them and they will discuss the problem with you to help come to the best resolution. Some options included are:
Repair the defective part or product
Or replaced with an equivalent product at no cost to you.
What's Not Covered In The Thurso Warranty?
It's important to keep in mind this is protection against manufacturing problems and NOT damage caused to your Thurso Max by use or wear and tear like: hitting rocks, punctures, incorrect storage, scraping it on the beach etch.
Review Conclusion: Happy With the Thurso Max Paddle Board
Max Paddle Board FAQs
What Are The Deflated Stored Dimensions?
When deflated and packed in it's bag it's about 12 inches x 12 inches by about 36 inches tall.
Does The Thurso Max Paddle Float?
Yes it does!
What Is The Max Inflation Pressure?
The max recommended inflation pressure for the Thurso Max is 15 PSI. This will get you the most rigid performance.
---
Other Boards From Thurso Surf
Thurso Prodigy Kids Board
---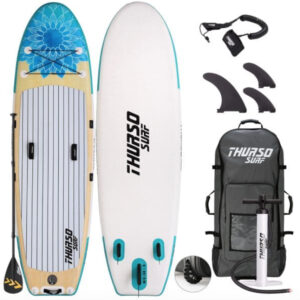 Tranquility Yoga SUP Review
Thurso Surf Tranquility Yoga SUP
---
THURSO SURF Expedition Touring SUP
---
THURSO SURF Waterwalker All-Around SUP