Freein SUP Review Summary
What We Like:
Top quality construction & extra rigidity from carbon rails and their 3D Weaving technology that makes stiffer & lighter boards.
Great performance with easy paddling & good stability
Great price value
Nice extra's included like: GoPro mount, valve adaptor for electric pumps, & waterproof bag
30 Day Money Back Guarantee & 2 Year Warrantee
Fast 3-7 day delivery if you by from their site
What We Don't:
The backpack is of average quality. It's good – but not as comfortable or high quality as some other boards.
We wish Freein made some other models of boards!
About Freein Paddle Boards
Portland, Oregon, based Freein paddle board has been in business since 2013 and has grown into a respected provider of inflatable stand up paddle boards. Their boards are manufactured in Shanghai, China, and they have a warehouse and service center in Portland, Oregon. Plans are in the works for a physical store in Portland soon.
Helping Everyone Get In SUPPing
Freein's core desire is for their boards to empower paddle boarders of all sizes and skill levels to find their adventure on the water, be it a river, lake, or ocean. They seek to deliver high quality, high-tech products to consumers at a fair price, while providing excellent customer service throughout. They are known for their versatile paddle boards that inflate quickly, travel easily, and paddle anywhere.
Why Choose A Freein Paddle Board
Freein Paddle Boards has six core beliefs in their corporate mission. They firmly believe paddling is the best form of recreation in the world and they direct all their energy to this sport. Rider owned and operated, they are focused on developing inflatable paddle boards for paddlers of all skill levels at prices that are value-driven and affordable. The company strives for 100 percent customer satisfaction and reads every customer's Freein sup review. Employees of Freein use their products every day.
Great Company Values
For their employees, the company seeks to create a balanced life between work and staying active on the water. From a conservation perspective, Freein's goal is to engage in programs dedicated to the conservation of the earth's lands and waters. They seek to create products that do no harm. Freein provides a 30-day risk-free trial and a limited two-year warranty on their inflatable paddle boards.
About Freein SUP Construction
Freein's inflatable paddle boards are constructed from a heavy duty commercial grade PVC and the drop stitch construction allows the board to maintain its shape when fully inflated. Their product line is robust considering they do not offer a solid paddle board. The Freein sup review rating on Amazon averages 4.5 stars out of 5.
Freein Promo Codes, Discounts or Sales
Freein already offers very good prices on their paddle boards but you are in luck that we have an additional $20 off code to use if you purchase from Freein's website directly.
Best Freein Paddle Board List & Styles
Freein 11' Explorer Paddle Board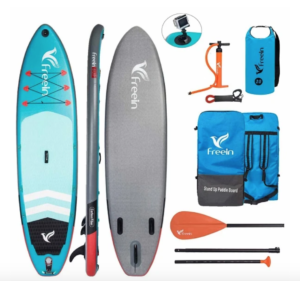 The Freein Explorer paddle board is 11' long, 6" thick, 33" wide and comes with a grooved EVA traction pad designed to keep you on your feet and the board stable in wet conditions. At 23.54 pounds, it's easy to carry and can handle a maximum weight of 305 pounds on the water. The paddle board has a carbon fiber railing and four layers of PVC, ensuring a capable ride even in choppy water. At the front end of the Explorer is an action cam mount for waterproof cameras allowing the paddle boarder to capture their moments on the water.
The 6-point bungee system near the front keeps belongings secure. The Freein Explorer paddle board comes in two color schemes: aqua and blue. Included with the board is an adjustable aluminum paddle that floats, a double action hand pump, travel backpack, 10' coiled safety leash, a travel backpack and a waterproof dry bag. Freein's price for the 11' Explorer and accessory kit is $476.
In our editor's review of the Freein Explorer, we give the board high marks for it's construction, easy of paddling and the value for the money. If you are looking for a great adventure board for a reasonable price this is a great option.
Freein 11 Foot Explorer Features
Length: 11′
Width: 33″
Thickness: 6″
Weight: 23.5 lbs
Max Capacity: 305 lbs
Freein 10'2" Paddle Board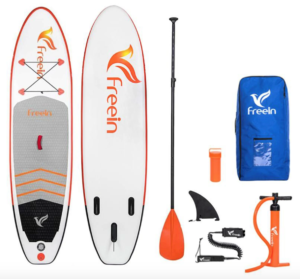 At 10'2" in length, this Freein sup has a width of 33" and weighs in at 25 pounds. The maximum weight this board supports is 276 pounds, and it comes in the same blue pattern as the 11' board as well as an orange color scheme. It features the grooved EVA traction pad, the action cam mount and the 6-point bungee system. The company provides the exact accessory kit that comes with the Explorer package. Freein's list price is $219.99 as of this writing.
Freein 10'2" SUP Features
Length: 10′ 2″
Width: 33″
Thickness: 6″
Weight: 25 lbs
Max Capacity: 276 lbs
Freein 10' Paddle Board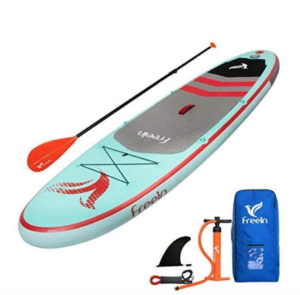 This 10' paddle board comes in either a red or blue color scheme and is constructed of high quality PVC using the patented drop stitching. It weighs in at a lightweight 17 pounds and can handle 257 pounds on the water. The paddle board is leak proof, UV resistant and impervious to heat, cold, humidity, sunlight or abrasion. A diamond-grooved grip pad ensures stability and the 4-point bungee system keeps belongings secure. Included with the purchase of this board is a telescopic paddle, hand pump, backpack and removable center fin. The price for the entire package is $299.99.
Freein 10' SUP Features
Length: 10′
Width: 33″
Thickness: 6″
Weight: 17 lbs
Max Capacity: 257 lbs
7'8" Youth Paddle Board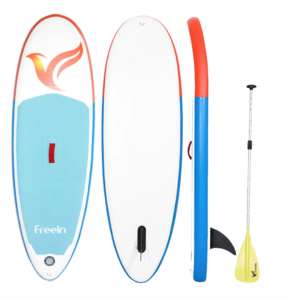 This Freein sup is perfect for kids or smaller adults. At 7'8", this Freein paddle board has great stability thanks to the removable center fin and 28" width. The maximum weight it can handle on the water is 176 pounds. Heavy duty Double Wall technology enables this board to be lightweight (25 pounds) and easily portable. Included with the purchase of this paddle board is an adjustable aluminum paddle and a center fin. A hand pump is not included. Freein's listed price is $189.99.
7'8" Kids SUP Features
Length: 7′ 8″
Width: 28″
Thickness: 6″
Weight: 25 lbs
Max Capacity: 176 lbs
10'6" Paddle Board with Kayak Conversion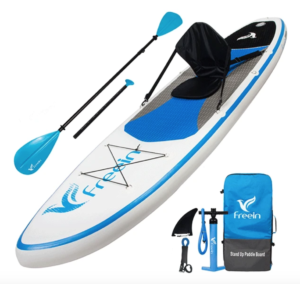 This 10 Foot long Freein paddleboard easily converts from a standup paddle board to a kayak when the included seating system is clipped into anchors pre-installed on the board's surface. The grooved EVA traction pad ensures comfortable seating when in kayak mode. At 18 pounds, the board is lightweight and portable and can support a max weight on the water of 286 pounds. A 4-point bungee system comes standard on this model. Included with the board is the detachable kayak seat, 4-piece paddle that converts to a single blade for paddle boarding or double blade for kayaking, double action hand pump, 10' coiled safety leash and travel backpack. Freein's price: $359.99.
10' 6" Kayak Conversion SUP Features
Length: 10′ 6″
Width: 31″
Thickness: 6″
Weight: 18 lbs
Max Capacity: 286 lbs
Freein Fishing SUP With Rod Holders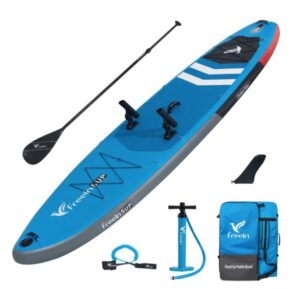 Freein SUP Inflatable Paddle Board for stand-up fishing provides you with a trouble-free fishing adventure and makes our list of the best fishing paddle boards. The board's rod holders will hold your rods while you paddle seamlessly along the water gliding by fish without scaring them away. The military-grade double stitching used to manufacture the board means you'll have optimum durability and stability for the perfect fishing platform.
For practicality, this paddleboard comes with extra D rings and a double 6 point bungee so that you can hook in your kayak seat and secure your cooler and tackle boxes so that you can avoid the kryptonite of fishing…stress. Sit or stand, fish or paddle, the opportunities are endless with the accessibility and ease of Freein's SUP Inflatable Paddle Board with built-in rod holders.
Each package comes with everything you need to get out onto the water right away. This includes a travel backpack, an adjustable fiberglass paddle, a high-pressure GRI dual action pump with gauge, a 10 ft Coil Ankle Leash and a removable fin. Just simply buy the product and put it to use on your next fishing excursion.
Size & Features
Length: 11'6″
Width: 33″
Thickness: 6″
Weight: 21 lbs
Max Capacity: 345 lbs
Comes With Fishing Rod Holders
Freein 12'6″ / 11'6″ Touring SUP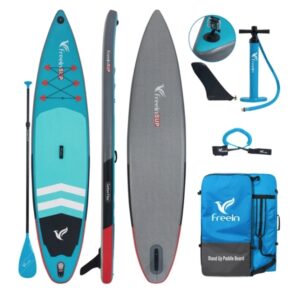 The Freein Inflatable Touring SUP companies precision and speed for high-quality long-distance travel, perfect for intermediate and experienced paddlers. Its specific shape and narrow tail create seamless traction along the water letting you glide at top speeds and perfect direction.
For durability and strength, Freein's signature Double Layer Drop Stitch construction allows the board to be rigid and sturdy without weighing too much. The 11'6 boards are just 20 pounds and the 12'6″ boards are only 24 pounds, this is 20% less than other competitors. A trouble-free SUP like this one means a 33″ wide board for easier balancing. To make things more convenient a removable fin lets you roll up the inflatable board into its backpack. Other practical features like the action camera mount and 6 point bungee system let you record your adventures while also storing everything you need, and to top it all off the board can be inflated in as quick as 5 minutes!
Each package comes with a Freein Explorer Board, a Double Action Hand Pump with a built-in pressure gauge, adjustable paddle, electric pump adapter, coil ankle leash, detachable fins, and roller travel backpack. All you need to do is take this package to the lake, river, or ocean and get started on your new Touring SUP adventure.
Read Our Full Freein Touring SUP Review.
Yoga Paddle Board
Do you dream of relaxing, picturesque yoga on the water? Well, then you dream of the Freein 10′ Inflatable Stand up Paddle Board, specifically designed for SUP yoga. Bring your friends and pets out onto the water for some relaxing yoga on the boards provided stability and comfort.
The board's stability is accredited to its wide nose and huge tail, allowing for a steady platform without being too big. Its durable drop-stitch manufacturing and lightweight military-grade dual layer PVC create an extra riding board perfect for protection against bumps or scrapes. For comfort, each paddle board comes with soft EVA deck pads which provide comfort during workout or yoga routines while being pet friendly as well. Ride on a river or float slowly on a lake. You can take this anywhere with its lightweight and compact size, easily roll the board up once you're done and store it in your trunk or closet. All you have to do is buy the package and put it to use on your next yoga adventure.
14′ Freein Big Multi-Person Paddle Board
Freein 14′ BIG SUP Multi-Person is perfect for learning a new hobby and having fun in the water! Bring your family on a new excursion down the river, across the lake or through the sea with lots of board room and multiple carrying handles. You'll be sure to enjoy this water activity. Each BIG SUP board is easy to inflate and transport while also providing a safe and stiff platform for multiple people.
The board only weighs 49.5 pounds but can hold up to 820 pounds! Bring your friends up and over the waves while holding on to the handles along the sides of the board and don't worry about bumps or scrapes, it's durable frame and included repair kit means this board can handle a lot. With each board, included in the package are two adjustable paddles, two double action hand pumps, five removable fins, one repair kit, one adapter, and one travel backpack so all you have to do is put your board to use and get started on a new adventure.
9'10" Inflatable Kayak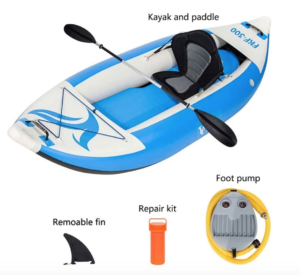 This sleek and sturdy single-person kayak weighs 20 pounds and delivers a smooth, reliable ride on whitewater, lakes, and saltwater. The detachable large fin enables the rider to travel in a straighter path, but must be removed when the kayak is used in whitewater or shallow water. A 4-point bungee system at the front keeps dry bags secure. Included with the kayak is a Freein carry bag, foot pump, kayak seat, adjustable aluminum paddle with ergonomic grips and a repair kit. The list price is $759.99, but as of this writing this package is on sale for $399.99.
9'10" Inflatable Kayak Features
Length: 9′ 11″
Width: 36″
Thickness: 11″
Weight: 20 lbs
Max Capacity: 1 Passenger