How Easy Eddy Has Changed the World of Paddle Boarding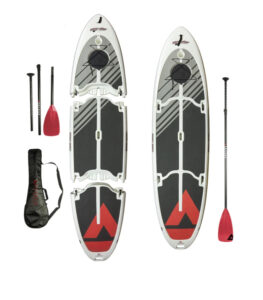 Getting and staying healthy is a noble ambition. Drudging off to the fitness club every day can become more like drudgery than something enjoyable. There are exciting activities you can do that are not only fun, but tremendously challenging for your fitness goals.
One of those activities is paddle boarding. The problem for many people is the equipment itself. Primarily, getting the paddle board and paddles to the place you want to paddle. You either have to strap it to the top of a car or own a truck.
Even if you own a vehicle that can transport a full-size paddle board, story the board is another issue. Well, Easy Eddy has designed a product that changes all that. Here's the story of how one paddle board company is opening up new doors for paddle boarders all over the world.
The Company Behind the Easy Eddy
A small group of avid paddle boarders was annoyed at the available choices they had for stand up paddle boards SUPs. The biggest headache they saw was the problem situations we mentioned.
How do you get it from point A to point B, and what do you do with a cumbersome paddle board when you're not using it? These paddle board enthusiasts formed Artech Modular Paddle Sports based in Leominster, Massachusetts.
On the last day in April 2019, Artech started a Kickstarter funding drive to secure the necessary financing to change the world of paddle boarding. The initial project was to fund the development of a paddle board design that would erase those two major problems every paddle board had to address.
The Easy Eddy Story
The paddle boarding and business financial world harmonized within 12-hours of the initial launch of the Easy Eddy Kickstarter funding campaign. In those few short hours, wise investors envisioned what the board's creators saw, a highly successful idea.
In 12 short hours the full goal of $75,000 was attained. One of the key perks that funders received was a 34-percent discount off the manufacturer's suggested price of a new Easy Eddy paddle board.
Not only were these wise investors part of a fascinating new idea in paddle boarding, they were also part of a company with a sincere environmental interest. The compact idea for the board was huge, However, so too was the focus on making every board out of 100-percent recyclable materials.
Company co-founder, Dean Pariseau, also realized that the hassles involved in inflating and deflating paddle boards was almost as bad as the effort to haul and story them. Inflatable paddle boards were also notorious for poor performance.
This is where the design really takes on an added level of appeal. There is no Styrofoam, no fiberglass in the Easy Eddy. There are zero toxic materials in any board, meaning they are 100-percent ecologically friendly products.
Paddle boarders also don't need to inflate or deflate the board. The Easy Eddy breaks down into three convenient pieces, and it takes about a minute. Simple and hassle-free were high priorities, but the idea of an environmentally friendly product was also important to the company's founders. They scored on all.
Easy Eddy Paddle Board Products
The Easy Eddy SUP is the priority focus of Artech MPS. Here's a quick list of the important features of the Easy Eddy, Three-Piece Stand Up Paddle Board, plus other quality products to help you get the most out of your paddle boarding experience every time you hit the water.
Easy Eddy Three-Piece SUP Paddleboard Kit
You can own an Easy Eddy SUP along will all the basic accessories you'll need as part of the kit. The board measures out to a full 10-feet 2-inches overall. It breaks down into three easy to store and transport sections.
The kit includes an ankle lease and shoulder strap. There is a pair of basic aluminum paddles included with the Easy Eddy paddle board kit. The value of these three accessories is $150. This package is a great way to get everything in one order. The MSRP for the kit is $1,642.
Three-Piece Carbon Fiber Paddle with Bag
Having a paddle board that broke down for transport and storage was only one part of a paddle boarder's problem. You also needed paddles that were convenient. Easy Eddy has a Three-Piece Carbon Fiber Paddle. The paddle sells for $360 MSRP, but you can find the paddles frequently on sale. There is also a tote bag in this paddle package.
If you want to save a little bit on your paddle boarding budget, Easy Eddy also offers a pair of three-piece handles made from fiberglass. They aren't quite as durable as the carbon fiber paddles.
However, they are an excellent choice for any budget conscious paddle boarder or a beginner. The Three-Piece Fiberglass Paddles also have a carrying bag and sell for $200 MSRP.
Easy Eddy Deluxe Rolling Case
Breaking down into three-pieces is only one of the perks when we think of an Easy Eddy review. The company also determined that paddle boarders might have to tote their board from their vehicle to their favorite spot. The Easy Eddy Deluxe Rolling Case makes this simple.
You can also load up your board and take it with you anywhere in the world. The case packs up neatly and can go with you on an airplane flight to a secluded paddle boarding spot across the globe. Try doing that with a full-size paddle board that doesn't break down. The case is a perfect accessory, especially at $300 MSRP.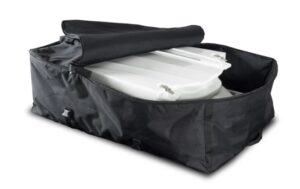 Easy Eddy Shoulder Carry Strap
For all those times that you don't need the convenience of a carrying case, Easy Eddy also has a custom shoulder strap that fits the Easy Eddy SUP. The strap makes transporting your board easy, even if you have to navigate rough terrain. It's a single, affordable Y-strap that sells for $50 MSRP.
Three people got together and voiced their frustrations about paddle boards. What materialized was a new idea that changes the world of paddle boarding. Now paddle boarders don't have to add racks to the top of their cars or buy a vehicle big enough to haul their board.
Not only are the transport and storage problems erased, but so too are the thoughts of a product that harms our environment. Our Easy Eddy review would miss the mark if we didn't fail to mention the importance of that key company mission.
No more excuses for paddle boarders now. There is a new product on the market that solves two of the biggest headaches of getting out on the water. In 60-seconds you can have a convenient packaged magically transformed into a full-size paddle board. It's just so easy.