In the past few years Yoga has definitely become a hot trend and so has paddle boarding, so we shouldn't be so surprised that Yoga SUP / paddle board yoga has also become incredibly popular.
And guess what? We love that finding your yoga flow on a board is popular. It's incredibly fun and can you think of any place more relaxing or beautiful than floating in the middle of a calm lake or reservoir?
Best Inflatable Boards For Yoga
Freein 10′ Yoga SUP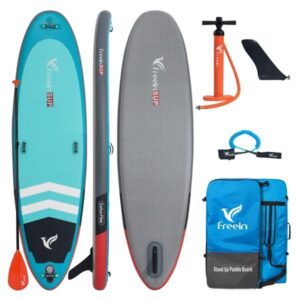 Freein Yoga Sup Summary
This paddle board from Freein, is a great combination of an all-around SUP and a yoga platform. It will paddle just as well as many other standard SUPs out there, but the wider nose and tail of this board give you enough extra stability to do yoga.
If you want a paddle board to have fun paddling for an afternoon with your friends AND you can still do yoga on it without constantly worrying about tipping over, consider the Freein at the top of your list.
10 Feet Long * 33 Inches Wide * 6 Inches Tall.
The bundle comes with iSUP, 3Pc adjustable & carbon handle Paddle, 3 fins, manual pump, & repair kit.
Storage and carry backpack.
Extra wide nose and tail offer great stability and extra support while still being easy to paddle.
Full length deck paddling lets you use the entire board for your practice.
Includes 2 Year Warranty.
THURSO SURF Tranquility Yoga SUP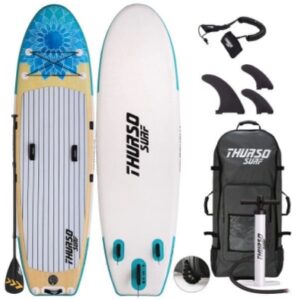 Thurso Yoga Paddle Board Details
10 Feet 8 Inches Long * 34 Inches Wide * 6 Inches Tall
Bundle comes with iSUP, 3Pc adjustable & carbon handle Paddle, 3 fins, manual pump, & repair kit.
Storage and carry ROLLER back pack
An extra-long pad produces unsurpassed support.
Includes 2 Year Warranty.
---
Glide Lotus 02 Yoga Paddle Board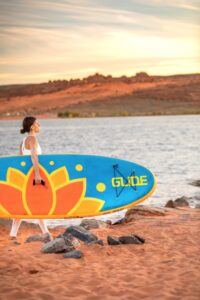 Glide Paddle boards produces some of the best inflatable paddle boards on the market and their yoga specific SUP, the Lotus is as good as it gets.
With a 10′ length and 35″ width, it creates a very stable yoga platform that gives you plenty of space to practice – but is also a pleasure to paddle. It's great if the only paddling you do is to get to your own secret cove or you want to take it out paddling with other friends on their all around boards. You'll be able to keep up and your extra stability will make them jealous.
If the Lotus is on your list but you want more details, read our Glide Lotus Review or check out the price on the Glide site.
Lotus SUP Dimensions
10′ Long
35″ Wide
6″ Tall
Capacity up to 400 LBS and a board weight of 26 LBS
Great Paddling & Yoga iSUP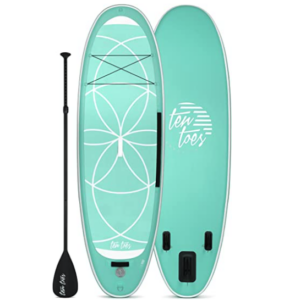 If you are one of the many Yogis who wants the best of both worlds, a paddle board for paddling around AND as a platform to do yoga, the Retrospec Weekender-Yogi is a fantastic choice. It's a 10′ long paddle board but get's its yoga bonus from it's extra width (it's 35 inches wide) which creates extra stability.
It also maximizes 2 important features for yoga boards we mention below. First, it has an extra wide and long deck pad for a maximum amount of yoga space and they also give this board slightly more rounded bow and stern for a little extra yoga space.
To top it all off, the board comes in a complete package including pump, paddle and fins. So you are ready to go for your next yoga session on the water as soon as it arrives.
Ten Toes Yoga Sup Dimensions
10 Feet Long * 35 Inches Wide.
Bundle comes with iSUP, 3Pc adjustable & lightweight aluminum. Paddle, 3 fins, manual pump, & repair kit.
An extra-long pad produces unsurpassed support.
Includes 1 Year Warranty.
Extra Stability iSUP For Yoga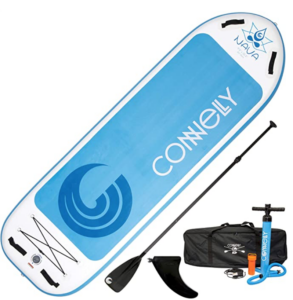 If you are looking to get a little more serious about your water based yoga, we'd recommend checking out this Nava iSUP by Connelly. It's actually fairly similar to the Retrospec 10 Toes board above it technical dimensions, this board is 9'6″ long and 35.5″ wide, but they squared out the dimensions even more to create an even more stable and rectangular platform.
When it comes to a paddle board dimensions, this is pretty close to a floating yoga mat!
Another very yoga specific feature of this board is that they didn't put the standard carry handle right in the middle of the deck. This is a nice touch that prevents having a lump in the middle of your practice or an obstacle to watch out for.
Additionally, they really minimized the deck netting on this board and kept it just towards the rear. It will definitely be out of your way, but still offer enough space to tuck in your drybag to your sandals for easy storage while paddling or doing yoga.
Connelly Yoga iSUP Details
9'6″ Long * 35.5 Inches Wide.
Includes 3 piece adjustable aluminum Paddle, carrying bag, high pressure pump with gauge, patch & repair kit, coil leash, and one removable 9 inch center fin.
More Squared corners for extra yoga space. Soft deck pad for comfort and traction.
Bottom side carry strap for Obstacle free platform.
---
Best Inflatable Board Specifically For Yoga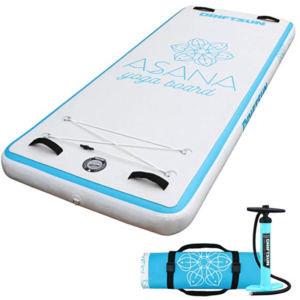 If you are getting an inflatable board entirely for practicing yoga, and the only real paddling you will do is to get to your favorite spot we'd recommend the Asana Inflatable Water Yoga Mat Board from Driftsun.
Why We Like This Board
This SUP is basically a floating yoga mat. It's dimensions are 8 feet long and 40 inches wide making it the widest board on here. It's 6 inches thick so you will have plenty of flotation and keep you from getting wet!
Additionally, the deck pad stretches almost the entirety of the board.
Driftsun Yoga Paddle Board Details
8 Feet Long * 42 Inches Wide.
Completely square board for optimal yoga mat shape.
Soft deck for traction and comfort.
Includes board, high pressure pump and carrying strap.
---
Quick Compare The Yoga Paddle Boards
| | | | | | |
| --- | --- | --- | --- | --- | --- |
| Board | Length | Width | Shape | Weight | View Details |
| Freein Yoga Sup | 10ft | 33in | Standard | 21lbs | View Product > |
| Ten Toes Weekender | 10ft | 35in | Standard | 27lbs | View Product > |
| Glide Lotus | 10ft | 35in | Standard | 26lbs | View Product > |
| Connelly Nava | 9ft 6in | 35.5in | Semi-rectangle | 20lbs | View Product > |
| Driftsun Asana | 8ft | 42in | Rectangular | 14.5lbs | View Product > |
How To Choose the Best Yoga iSUP?
The key factors for choosing a Yoga SUP are pretty similar to choosing a standard board and relate to size, dimensions, flotation, design and price – but it's also important to decide if this board is primarily for Yoga and will only be paddled out to do yoga, or whether you want a paddle board for paddling and fun AND yoga.
The reason for this is because a few companies make a Yoga specific paddle board that is actually a rectangle, instead of the usual boat shaped paddle board.
Pros Of A Square Yoga Paddle Board
The great benefit of a square yoga board is the additional stability offered by the square corners instead of the rounded corners. The board will feel a bit firmer in the water and rock less.
Additionally, you will have a little more room to practice as you might normally on your standard yoga mat.
Cons Of A Square Yoga Board
So, if a square board has those great benefits, why not buy one of those? Well, those square corners do have some downsides. They make the board more difficult to paddle easily.
Instead of a standard board that cuts through the water, this board will push through it more. If you are just paddling a short way to get to your favorite lake yoga spot – no problem. But if you want to travel further, it will require more effort and time.
Additionally, with out the pointed nose and tail – these boards are more difficult to paddle easily in a straight line.
Our advice on whether to get a square yoga SUP boils down to this simple question.
Are you going to be planning on using your board primarily for yoga? More than 75% of the time? Then consider going with the square board.
If you want to get a paddle board for fun afternoons on the lake with your friends and you may do yoga on it sometimes, we'd recommend going with the classic paddle board style. Just make sure to get one taking into account the features below.
What Features Matter Most?
Deck Pad: It may not be the first thing to come to mind, but your deck pad is essentially your yoga mat – so it's beneficial to have as much coverage as possible. This means as wide across the board as possible and as long as possible.
Board Width: This will matter for stability. The wider your board, the less roll you will get on your board for yoga. Think of this as your stance – the wider your stance the more solid you are. We recommend making sure you get a board at least 32 inches wide, but a few more inches would likely be helpful.
Board Thickness: Again, not necessarily something that comes to mind as being important to doing yoga on your SUP, the the thicker your board the more flotation you have. So this means less likely to get wet! Most inflatable paddle boards come in a thickness of around 5-6 inches. We wouldn't recommend anything thinner than 5 inches for your practice. Thicker is ok, but also remember this will move your center of gravity over the water a little higher and potentially increase rocking.
Board Length: Most boards range between 8-12 feet in length, all of which are longer than your average yoga mat, but keep in mind the front and stern will be tapered so you will lose a little space. Longer boards will give you more room for yoga as well as some additional flotation.
Why Choose An Inflatable Board?
There is often a pro and con case to be made for inflatable paddle boards vs. rigid paddle boards, but when it comes to SUP yoga – we pretty strongly feel like inflatable board is the hands down winner for your downward dog or handstand floating platform.
The main reason inflatable paddle boards are best for Yoga comes down to comfort and safety.
For comfort, the boards have just the slightest amount of give under the pressure of your hands or feet. Not enough to compromise board rigidity for paddling, but enough that is softens the pressure on your hands, feet or head when practicing. Think of it like have an extra thick yoga mat under you.
When it comes to safety you'll be glad for an inflatable if you accidentally fall or slip. While it may still sting or smart to hit your head or knee on your board, it won't rattle you nearly as much as an epoxy or rigid board which has absolutely no give.