Written By Nick Lyons – Last Updated March 22, 2021. 12 Minute Read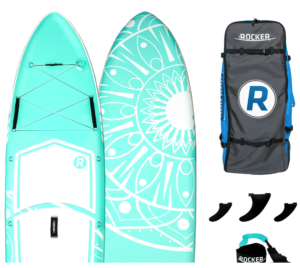 iRocker Review Summary
iRocker Pros
Top quality paddle boards with extra durable materials
Superior rigidity & firmness for better paddling
2 Year Warranty
Financing available
Free shipping in the US
Adventure with iRocker SUP
Many individuals have an adventurous side, and the world is filled with people who seek out thrilling journeys. Since the surface of Earth is 71 percent water, it isn't surprising that a majority of thrill-seekers are drawn to aquatic adventures. iRocker SUP is a company that is dedicated to enhancing the joy that is found in exploring the world's largest and thrilling surface.
An Exciting Paddle Venture
David Erwin and Steve Elder are the company's owners and founders. These two adventurers grew up on the water and had the desire to start a company together. They had previously worked together in a transportation company and decided it was time to get away from the corporate world.
Erwin and Elder took something they had in common and came up with a company that sells stand-up paddle boards or SUPs. After some experience with selling inflatable SUPs that were designed and manufactured by a third party, they developed their own company in 2013. They named it iRocker SUP and these two entrepreneurs were determined to provide cutting-edge designs that filled the needs of an industry that was rapidly growing in popularity.
A Modern Business Concept
The company is based in Jacksonville, FL, but the manufacturer is located in China. Erwin and Elder started out working together in an office located in a small industrial park, and they typically spent the day talking with customers over the phone, responding to emails, and brainstorming new ideas. Now they have grown to the point of bringing on more personnel. The two of them have decided to keep the business model for their company simple, and they operate with less than ten employees.
The company generates sales online through its website, irockersup.com. However, many of the sales are generated through third-party online retailers like Amazon.com. Currently, their options include eight different models. The boards have developed an outstanding reputation, and sales are consistently growing.

A Customer-Centric Philosophy To Paddle Board Manufacture
From day one, this remarkable company has experienced an ongoing trend of rapid growth. When a good thing enters the market, it is difficult to keep it a secret. This outcome can mainly be attributed to how the products were designed. The owners didn't want to sacrifice any aspect of quality while creating a product that was affordable enough to attract a majority of the paddle boarding enthusiasts.

The inflatables designed by iRocker are known to be both affordable and very rigid. The handy accessories that are included when purchasing them provide additional value to these high-quality boards. From the beginning, Erwin and Elder had a mission to provide only the highest quality paddle boards that could be taken almost anywhere.

Great Paddle Board Value and Variety
iRocker continues to enhance its brand, and durability is a continuous focus for the company. The basic models were recently enhanced with stronger materials made from bombproof quad-layer PVC. Although the boards are extremely rigid, they are incredibly portable. They can fit in a backpack when deflated, and this gives buyers the flexibility to reach places that may not be accessible by vehicle.

Most iRocker SUP package comes with a backpack, paddle, removable fins, ankle leash, triple-action hand pump, and repair kit. Each board is skillfully crafted with a variety of functional features. Four layers of protection, a high-density drop stitch internal core, and dual fusion heat-welded seams make them the most durable in the market. There is a variety to choose from for any level of rider.
The 2019 iRocker SUP List & Models Include:
iRocker All-Around 10′ x 32″ Wide Inflatable SUP Package- $569.00
iRocker Cruiser 10'6″ x 33″ Wide Inflatable SUP Package- $599.00
iRocker Sport 11′ x 31″ Wide Inflatable SUP Package- $619.00
iRocker All-Around 11′ x 32″ Wide Inflatable SUP Package-$639.00
iRocker Big Blue 13.5′ x 50″ Multi-Person Inflatable Paddle Board-$1,019.00
Why The iRocker Cruiser Is The Most Popular
The iRocker Cruiser is one of the more popular models because it is a suitable board for all types of paddle boarders, and it is moderately priced with a large variety of colors to choose from. Upgraded Blackfin are available as well, and they feature a lighter weight triple-layer composite PVC construction. These boards feature a carbon rail to reduce flexing and increase rigidity. The Blackfin model lineup on the iRocker website includes:

Blackfin Model SX 10'6″ x 32″ Wide Hard Board- $725.00
Blackfin Model X 10'6″ x 35″ Wide Inflatable SUP Package- $819.00
Blackfin Model XL 11'6″ x 34″ Wide Inflatable SUP Package- $869.00
Blackfin Model V 12'6″ x 32″ Wide Inflatable SUP Package- $919.00
Top Quality Paddle Boards & Satisfaction
iRocker SUP reviews reflect the level of customer satisfaction the company maintains. It was established by paddleboarders who have a passion for aquatic adventures and who know what works best. The company's high standards in the industry have earned them awards that rank them as the top maker of inflatable SUPs. They have earned top pick awards from Infaltableboarder.com, Supboardguide.com, Globo Surf, and Outsidepursuits.com. Also, iRocker SUP reviews reflect that there are thousands of happy fellow paddleboarders.
iRocker Guarantee & Warranty Info
The company doesn't stop short at quality either. They offer a 30-day, 100 percent satisfaction guarantee, and when boards are ordered from the iRocker website, they come with a 2-year warranty. They also offer a 1-year warranty on pumps and a 90-day warranty on accessories. When ordering directly from irockersups.com, customers can enjoy 24/7 free shipping, special discounts and offers, and special 0 percent financing.

Why We Love iRocker Construction
iRocker uses a unique Quad Layer Construction for additional durability. It all starts with the center drop stitch inflatable core to provide superior rigidity. Then, they sandwich an extremely durable PVC mesh between 2 more layers of PVC, the Inner Sub Layer and Mid-Layer. This creates a thick durable shell around the core as well as creating cross torsional strength. Finally, they add a out protective layer of PVC and deck pads where the location suits it.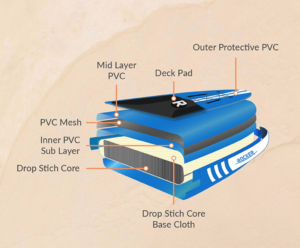 Why Choose iRocker SUPs?
iRocker SUPs have upped the bar when it comes to high quality and value. Enthusiasts will be supplied with everything that is needed to go and explore the vast aquatic world. The durable, lightweight boards can easily be packed away in tight spaces when on the go, so they can virtually be brought anywhere. The customer service is top-notch, and with the high satisfaction guarantee, you can rest assured that you won't be up the creek without a paddle.