Written By Nick Lyons – Last Updated Jan 3, 2022. 12 Minute Read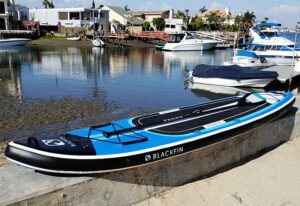 Discover the Blackfin SUP Company
Manufacturing In-demand, Fun Lines of Paddle Boards! Outdoor enthusiasts today in large numbers enjoy stand up paddle boards (or "SUPs"). This brief article offers a description of the Blackfin SUP Company. The popular iROCKER corporation serves as its parent, manufacturing all the paddle boards produced under the names of both firms.
Top Best Blackfin Paddle Boards
Blackfin produces 4 models of paddle boards, 3 of them are inflatable and 1 of them is a classic hardboard. They range from 10'6″ all the way up to 12'6″.
BLACKFIN Model X 10'6″ x 35″ Wide Inflatable SUP Package
BLACKFIN Model SX 10'6" x 32″ Wide HARD BOARD
BLACKFIN Model XL 11'6″ x 34″ Wide Inflatable SUP Package
BLACKFIN Model V 12'6" x 32″ Wide Inflatable SUP Package
Blackfin Overview
PROS
Very durable: Triple layer construction + carbon rail for
Heat welded seams: For long life and stable board
Wheeled Rollers on the carry backpack
Action mount for GoPro or camera
CONS
More expensive than other companies. However, here at iSUPReviews.com we think they are worth the money and still a good value.
Blackfin SUP Quick Comparison & Details
| | | | | |
| --- | --- | --- | --- | --- |
| | BLACKFIN Model X 10'6″ x 35″ Wide Inflatable SUP Package | BLACKFIN Model SX 10'6" x 32″ Wide HARD BOARD | BLACKFIN Model XL 11'6″ x 34″ Wide Inflatable SUP Package | BLACKFIN Model V 12'6" x 32″ Wide Inflatable SUP Package |
| Standard Price | $819 | $725 | $869 | $919 |
| Board Type | Inflatable SUP | Hard Board | Inflatable SUP | Inflatable SUP |
| Shipping Price | Free in Lower 48 | Free in Lower 48 | Free in Lower 48 | Free in Lower 48 |
| Length | 10'6″ | 10'6″ | 11'6″ | 12'6″ |
| Width | 35″ | 32″ | 34″ | 32″ |
| Thickness | 6″ | 4.5″ | 6″ | 6″ |
| Weight Limit | 450 LBS | 250 LBS | 485 LBS | 485 LBS |
| Product Weight | 25 LBS | 32 LBS | 27 LBS | 27 LBS |
| Volume | 237 L | 233 L | 259 L | 259 L |
| Inflate Time | 5 Minutes | 5 Minutes | 5 minutes | 5 minutes |
| Dog Friendly? | Yes | No | No | No |
| Color Options | Green | Turquoise | Blue | Blue | Blue |
The Origins of Blackfin SUP
Today, Blackfin SUP paddle boards constitute iROCKER Company's premiere lines. Available in four versions (a hardboard, the BLACKFIN Model SX, and three inflatable models) these products appeal to people who enjoy surfing and riding the waves in a standing position. The brand originated in 2013 in Jacksonville Florida. Steve Elder and David Erwin founded both paddle board firms.
Read our complete iROCKER SUP Review
Where Is Blackfin Based?
The iRocker Company originated in a popular vacation destination. It conducts operations worldwide, but maintains its corporate home in the Sunshine State. Today, customers still find Blackfin paddle board products by contacting iROCKER at 8036 Philips Highway, Suite 1A, in Jacksonville, Florida 32256 between 9 a.m. and 5 p.m. weekdays. The exciting beach culture of this beautiful region of the world helps inspire Blackfin product lines.
Blackfin Excels At Top Quality SUPs
Both iROCKER and Blackfin paddle board products supply superb access to water activities! Customers recognize the Blackfin stand up paddle board name for its excellent construction and performance. Choose either the Model SX (a hard paddle board), or one of the outstanding inflatable designs in this line: the Model X, the Model XL, or the Model V.
What's Included?
Wondering what comes with your brand new Blackfin board? We have compiled a quick table to quickly show what accessories come with each of the 4 Blackfin SUPs so you know exactly what's there. Hint: everything you need to get on the water.
Included:
BLACKFIN Model X 10'6″ x 35″ Wide Inflatable SUP Package
BLACKFIN Model SX 10'6" x 32″ Wide HARD BOARD
BLACKFIN Model XL 11'6″ x 34″ Wide Inflatable SUP Package
BLACKFIN Model V 12'6" x 32″ Wide Inflatable SUP Package
Board
Model X 10'6″ Long 35″ Wide iSUP

Model SX 10'6″ Long 32″ Wide Hard SUP

Model XL 11'6″ Long 34″ Wide iSUP

Model V 12'6" Long 32" Wide iSUP

Rolling Travel Backpack
Yes
No
Yes
Year
Adjustable Carbon Shaft Paddle
Yes
Yes
Yes
Yes
Coil Ankle Leash
Yes
Yes
Yes
Yes
NEW 2019 Full Throttle Dual Chamber Hand Pump
Yes
No
Yes
Yes
Repair Kit
Yes
No
Yes
Yes
Other
3 Removable Fins
4 Accessory Attachment Strings
Blackfin IRocker Construction Improvements
During 2019, iROCKER enhanced the quality of the PVC used in the Blackfin paddle board in order to achieve a hardier yet more light weight product. This change helped create a 4 pounds lighter, more streamlined board. Yet the new trimmed-down Model XL transports up to 485 pounds safely. People sometimes ride in groups on these spacious, durable stand up paddle boards. Many enthusiasts bring along a dog, too.
All Blackfin boards still supply important features of interest. Both the nose and the rear include storage space for bungee cords and other cargo. The nose includes a designated action mount. Have you considered shooting videos of the water from your board? Simply attach a GOPro camera to this location! The tail of the inflatable Blackfin boards includes a high pressure inflation valve. These boards also offer specific D-ring mounting points in the tail, plus a convenient handle.(2)
What is The Company Mission?
Its founders created the iRocker Company in order to help customers fulfill their passionate enjoyment of the stand up paddle board experience. As a child company, Blackfin stand up paddle board lines encompass and reflect this commitment to excellence.(3) The fascinating history of the sport of paddle boarding illuminates this corporate mission, too. Although recognized only comparatively recently as a formal water sport, this fun recreational activity has attracted international interest.(4)
Blackfin Builds Top Quality Paddle Boards
In addition to its excellent lines of stand up paddle boards (the four models described previously), the Blackfin stand up paddle board company and iROCKER offer some useful accessories. These products include an iROCKER Kayak Bundle to transform a paddle board like the Model V into a virtual row boat. Each bundle includes a comfortable waterproof seat, plus an extra paddle blade. Customers may also order an additional iRocker electric pump to inflate Blackfin Models X, XL, and V paddle boards.
Select a carry strap to assist with transporting your new board on land. Order a water-resistant iROCKER deck bag for personal belongings, too. A portable Bluetooth waterproof speaker allows paddle board riders to receive cell phone calls on the water. It screws into the action mount on the nose of the board conveniently, and provides an excellent safeguard to help enthusiasts keep in touch with friends within range on the shore.(5)
Why Choose a Blackfin Inflatable Paddle Board?
A Blackfin inflatable paddle board offers light weight convenience for traveling purposes. These products include a convenient handle, plus durable triple-layer construction. The manufacturer heat welds the seams. The company performs pressure testing for quality control purposes. Customers obtain high quality, durable products when they select these popular light weight stand up paddle boards!
Blackfin Paddle Board Awards
The Blackfin inflatable stand up paddle boards have garnered extensive awards. For example, last year the company's products received the Best iSUP Award 2018.(6) Frequent recognition within the stand up paddle board industry attests to the superb quality of the brand.
Blackfin Warranty, Shipping, And Return Policies
New Blackfin stand up paddle boards sold as individual units for non-commercial purposes directly to an identified customer carry a 2 year paddle board warranty. Electric pumps from iROCKER offer a full 1 year warranty from the date of purchase. Accessories supply a 90 day warranty. The company also offers a 100% refund of the original purchase price for a 30 day period from the date of purchase.
2 Year Board Warranty
1 Year electric pump warranty
100% Refund within 30 days of purchase
About Blackfin Shipping And Returns
The iRocker website provides free standard shipping for purchases made in the USA, Australia, Canada, the European Union, and the UK. Shipping to most other nations requires the payment of an international shipping charge. Purchasers who return items maintain responsibility for paying FedEX or UPS return shipping charges.
Best Place To Order Your Blackfin Board Today
Do you long to experience the excitement of riding across the water on a strong, well-designed stand up paddle board? Explore beach fronts, lakes, and ponds with ease. Enjoy watching the scenery as you paddle over the water in an upright position.
Consider selecting your Blackfin inflatable paddle board or hard paddle board today. Choose from our three exceptional inflatable Models: the stylish X, the generously-sized XL, or the V (designed for long distance paddling). Or begin learning about this exciting water sport using a hard board, the Model SX. You won't regret your decision to select a Blackfin stand up paddle board!