Searching for the perfect fishing paddle board can be overwhelming with so many options. When you are making such an important purchase, you want to know it will be fun on your first day out, but also fit your needs for years to come.
Disclaimer: This article may contain affiliate links that may earn us a commission if you purchase from them.
What Is A Fishing Paddle Board?
SUPs designed for the anglers out there are a specific type of inflatable paddle board that has some extra features and design considerations to make fishing more fun than with a standard board. If you have ever been kayak fishing, you know that some kayaks have special design features to make them great fishing platforms. It's similar with fishing paddleboards.
The things that make a paddle board good for fishing are a stable platform with enough capacity to easily carry all the gear you need from rods and GPS to coolers and storage, deck mounts for rod holders, racks and mounting extra gear, good paddling performance to get to your fishing hole, and finally a price that fits your budget.
What Makes A Good Fishing SUP?
Choosing the right paddle board for fishing can seem overwhelming, but with a few guidelines, getting the perfect angler board is easy.
Good Stable Platform: Fishing SUPs will be on the wider range for their length. Most will range from about 33″ wide all the way up to 40″ for some of the widest. This gives the angler a nice wide and stable board for casting and reeling in fish. Less rocking means a better fishing experience.
Deck Mounts & Rod Holders: Every fisherman has their kit and gear. From fishing rods, tackle to coolers, and GPS everything needs to have a secure place so you can focus on the task at hand. All of the boards on our list have rod holders and deck mounts for attaching all your gear. These features are one of the key things that really sets SUP specifically designed for fishing apart from other paddleboards.
Good Paddling Performance: You want a platform that can carry all your gear and stay stable while you cast and reel in the catch – but you always want a board that isn't a terrible barge to paddle. Always keep in mind the trade-offs of fishing sup width. The wider it is, the more stable – but the less performance you will get.
Price That Fits Your Budget: Buying the most expensive paddle board on the market doesn't do you any good if you never use it because you are stuck at work just trying to pay for it. Pick a board that comfortably fits your budget so taking it out can be all fun.
Our List Of The Best Paddle Boards For Fishing
Category: Inflatable Fishing SUP
Length: 11'6″
Width: 33″
Weight: 21 LBS
Capacity: 345 LBS
Rod Holders: 2
Comes With Kayak Seat: Not included, can be added
What we like: Great paddling performance & low price.
What we don't: While the 33″ width makes it paddle more easily, it trades off for some stability.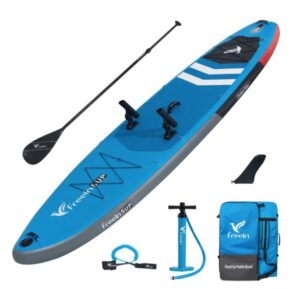 The Freein inflatable fishing SUP has ample storage space and will make your fishing experience more enjoyable. It is easy to store, transport, and set up. It will hold up even in the harshest of weather conditions that come along with the Florida coastline. The pressure release valve makes it easy to deflate the fish as you finish your catch. The inflatable fishing kayak enables you to have a fun and hassle-free day on the water without sacrificing your comfort or safety.
For more details about Freein read our complete Freein paddle board review.
It is a comfortable inflatable kayak that provides stability
It is easy to carry, easy to store, and easy to use. You can use it for fishing or just paddling around in the lake.
It comes with high-quality materials and is well-made for long-lasting use.
It has absorbent material, which is durable and safe to use.
It is convenient to use. You can easily keep it in your vehicle and bring it along with you wherever you go.
It is lightweight
It has a highly resistant PVC material that provides the ultimate protection.
It is an option for experienced or those who would like to start fishing.
Category: Inflatable Fishing SUP
Length: 11′
Width: 36″
Capacity: 500 LBS
Deck Mounts: 4
Rod Holder: 2
Comes With Kayak Seat: Yes
What we like: Very stable platform with plenty of decking & lots of deck mounts for racks, rods, and GPS.
What we don't: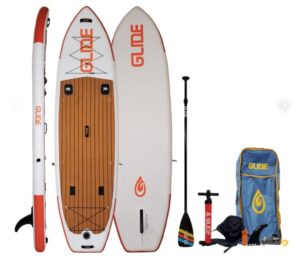 The 02 angler is the most innovative product of its kind. It features a double-ribbed inflatable design that absorbs shock and protects delicate rod tips. It's made with all the top quality construction techniques that we discuss in our Glide SUP review.
Spend every day on the lake with this stand-up paddleboard. It is made with a durable 16-gauge PVC and outfitted with an accessory storage bag, a fishing rod holder, and an adjustable transom. Now you can enjoy the outdoors from the comfort of your backyard or pond.
Super durable, molded-in air bladders provide an easy way to float on water and land.
Durable yet lightweight design with reinforced rods for long life.
Adjustable buoyancy control so you can keep your bait just beneath the surface.
EVA foam cradles the board in the water, preventing it from sinking.
The inflatable design is lightweight and easy to store when not in use.
The 11foot x 36inch x 6inch board is easy to carry and carries a big catch.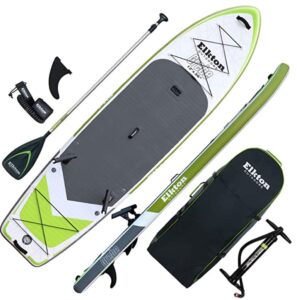 Category: Inflatable Fishing SUP
Length: 12′
Width: 36″
Weight:
Capacity: 290 LBS
Deck Mounts: 3
Rod Holders: 2
Comes With Kayak Seat: No, but can be added
What we like:
What we don't:
This 12ft fishing SUP package includes all the equipment you need to hit the water in style and catch that big fish. The Hitch Mounting System on the paddleboard allows for easy transport and storage. The EVA deck is non-slip and features a durable, break-resistant design. You also get four-rod holders, a paddle, and your choice of a 29inch or 31inch leash.
Have a fishing trip planned? Grab your Elkton 12 foot inflatable paddle board package today. You will get a paddleboard, fishing rod holders, a leash, a carry bag, a pump, and accessory mounts. Add in our non-slip EVA deck, and you will set yourself for the day.
It is easy to transport, easy to set up, and easy to use.
It comes with a carrying bag and paddle for easy transportation.
It includes a pump for inflation, a leash, rod holders, and accessory mounts to hold rods and other gear.
Heavy-duty, industrial-grade materials make this inflatable fishing board a must-have for any angler.
It includes a storage rack and paddle holders, so you can easily transport your equipment.
The high-quality EVA decking provides extra stability without compromising mobility.
Category: Inflatable Fishing SUP
Length: 11′
Width: 34″
Weight:
Capacity: 350 LBS
Deck Mounts: 2
Rod Holders: 2
Comes With Kayak Seat: Yes
What we like: The cheapest board on the list and a great value!
What we don't: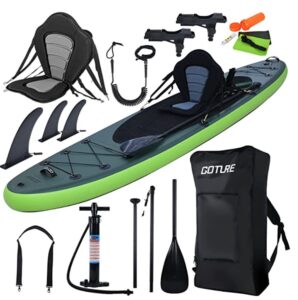 The Goture is a high-quality inflatable paddleboard that provides an easy, portable, and affordable outdoor experience. With an 11inch x 34inch x 6inch size, this board is suitable for both fishing and recreational use. It works best with general-purpose inflatable paddles. In addition to the paddleboard, you receive free accessories like a backpack, leash, paddle, and hand pump.
One-piece inflatable design, which makes life easy.
Tough and durable, made to handle all kinds of weather conditions.
Pump included for easy use.
It includes all the necessary accessories.
It has 6-inch thick, made of cold-resistant material.
It is available in 11inch x 34inch x 6inch size.
Equipped with a comfortable backpack for easy carrying and storage
Perfect for watersports enthusiasts.
Category: Inflatable Fishing SUP
Length: 11'6″
Width: 34″
Weight: 35 LBS
Capacity: 450 LBS
Deck Mounts: 3
Rod Holders: 2
Comes With Kayak Seat: Yes
What we like:
What we don't: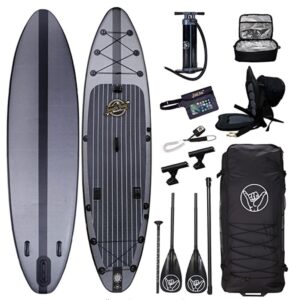 Get your stand-up paddleboard and be a part of the best recreational activity there is, whether you are looking for a new hobby or want to have some fun on the water with your friends.
It is an easy-to-use, easy-to-carry, 11inch x 6inch inflatable stand-up paddleboard that is perfect for anyone looking for their first SUP boarding experience! This premium ISUP package includes all the extra features like a military-grade PVC frame, heat bonded rails, and carbon fiber option.
It includes a military-grade PVC frame, heat bonded rails, and a carbon fiber option.
Premium South Bay Board Co. ISUP board
11inch x 6inch in length that is perfect for surfing, SUP boarding, and more.
Packages include all the accessories you need to get out on the water-military grade PVC frame, heat bonded rails, and a carbon fiber option.
All boards are lightweight and durable, making them easy to transport anywhere in your car or on the back of your motorcycle.
Category: Inflatable Fishing SUP
Length: 12'6″
Width: 40″
Weight: 45 LBS
Capacity: 500 LBS
Deck Mounts: 4
Rod Holders: 0
Motor Mount: Yes
Mounted Swivel Seat: Yes
What we like: The most stable board on the list & option to add a motor.
What we don't: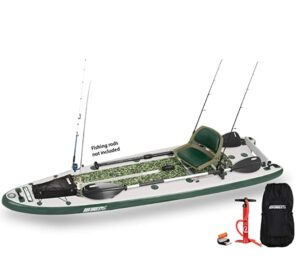 Many anglers are switching to inflatable fishing boats, and the Sea Eagle Fish SUP 126 Inflatable Fish SUP is one of the best "inflatable" fishing boats on the market. This fishing paddle board is constructed of durable PVC and can carry up to 500 lbs. The large storage basket on the back features a net holder for easy access.
Get ready to catch the big one with this inflatable fish stand! You'll be able to spot and reel in fish from the beach, a pier, or a pool. It's easy to use and carry with you anywhere. It's just the right amount of portable for all your fishing needs.
Sea Eagle Review Summary
The Sea Eagle is the best of both worlds between a stand up paddle board and a boat. It's the largest and most stable platform on our list and if you ever want to beat the competition to your favorite fishing hole with a motor, this is the best choice.
The fishing rig package includes an inflatable, swivel-seat fishing rig;
A high-quality paddle;
It comes with an extra line for your fishing rod.
It is lightweight, portable, and buoyant. It is the perfect way to get out there and explore.
Swivel seat fishing rod
Ready for all types of water sports
Easy to inflate and deflate.
Durable, easy to carry, and stable for stability