Summer is here, and one of the most fun activities you should be looking to engage in is paddleboarding. Whether you are alone or with your family and friends, paddleboarding in the ocean or a river or lake near you is a great way to pass the time and bond. You will likely have more fun if you choose the right paddleboard. As a lifelong paddle surfer, I used to think that I was at the of my game. Roughly a decade ago, I discovered Glide Paddle Board, and they have taken my paddle surfing experience to a whole new level. This has been my go-to paddling brand for the last ten years.
Editor's On The Water Review Summary
Editors Award: Best Of The Best: 10/10 Rating
I've been personally paddling the Glide Retro paddle board since this summer and continue to be impressed at this all-around SUP by Glide. The construction is top notch, some of the absolute best constructions I've seen on any paddle board and including all of the accessories.
The performance still impresses me every time I got on this board even though that's almost every weekend. Its width makes the balance and stability a 10/10. It paddles extremely fast for a cruiser-style board and tracks in a straight line when you want it and turns nicely when you need.
Construction: 10 / 10
Speed: 8 / 10
Maneuverability: 8 / 10
Stability: 9 / 10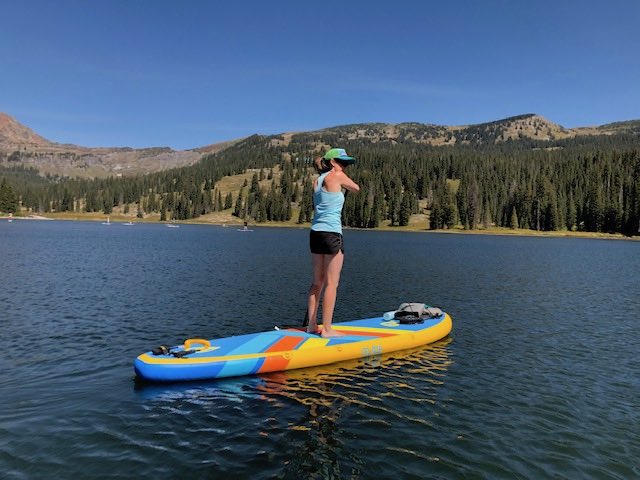 Kristen on her maiden voyage on the 02 Retro by Glide
Discover Glide Paddle Boards
Glide is a top-notch paddleboard manufacturer that started operations in 2008. It was founded by Ken Driscoll, a professional kayaker who pioneered white water paddleboarding after retiring from kayaking. He designed the breakthrough Glide SUP model, a paddleboard that is covered with the GSS, an innovative polymer coating. In addition to this, it had other optimizations that robust enough to withstand the chaos of white wanter paddleboarding on Class V rapids and other extreme conditions.
It wasn't long after this that Driscoll met Ken Apperson and Scott Knorp, prolific California tech entrepreneurs who had sold their company and were looking for a new professional adventure. The duo were also long-time paddlers, and they were amazed by the 3D rendering that Driscoll presented to them. They formed a fantastic partnership, and they have since pushed the company to massive success. Glide started in Salt Lake City inside Driscoll's garage, and it's now a notable global outdoor brand thanks to this outstanding partnership. It still has its headquarters in Salt Lake City, Utah.
An assortment of exciting offerings
Glide Paddle Board offers two varieties of paddleboards, the inflatable and hardboards, together with their accessories. The difference between the two offerings is in their names.
The Glide Inflatable Collection
Inflatable paddle boards need to be filled with air before they can be used. Glide has six offerings under this category, five of which come with a set of accessories that includes a paddle, pump, and a carrying bag. For 2021, the company is provided a carry strap and a kayak seat for all five. They are;
Glide SUP Inflatable Paddle Boards
| | | | | | | | | |
| --- | --- | --- | --- | --- | --- | --- | --- | --- |
| SUP | Category | Length | Width | Height | Volume | Weight | Capacity | Price |
| 02 LOTUS INFLATABLE YOGA SUP | Yoga | 10' | 35" | 6" | 300 L | 26 LBS | 400 LBS | $899 |
| O2 LOCHSA | White Water | 10' | 36" | 6" | 323 L | 26 LBS | 400 LBS | $899 |
| O2 QUEST INFLATABLE TOURING PADDLE BOARD | Touring | 12'6" | 30" | 6" | 320 L | 23 LBS | 400 LBS | $899 |
| O2 RETRO 10'6" INFLATABLE SUP PACKAGE | All Around | 10'6" | 33.5" | 6" | 290 L | 23 LBS | 400 LBS | $899 |
| 02 ANGLER INFLATABLE FISHING BOARD | Fishing | 11' | 36" | 6" | 400 L | | 500 LBS | $999 |
| THE ISLE OF GLIDE | Inflatable Dock | 10' | 10' | 6" | | | | $1,000 |
The Lotus Yoga SUP, which is more suitable for you practicing yoga moves while paddleboarding
The Lochsa, designed to withstand the harsh conditions of white water paddleboarding
The Quest Touring, that's meant for spending extended periods paddle surfing
The Retro, which is a general-purpose inflatable with some old school vibes
The Angler Fishing Board, designed to allow anglers to fish while paddling, which is a more exciting experience
The Isle of Glide the brand's flagship inflatable paddleboard with a unique square look and can work as a docking station.
02 Lotus Inflatable Yoga SUP
Best Choice For: Yoga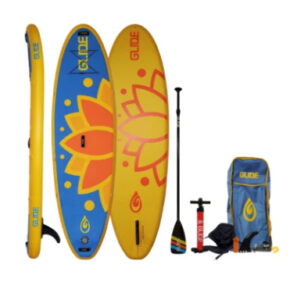 The 02 Lotus inflatable is a perfect choice for yogis, especially those with transport or storage limitations. This inflatable stand-up paddle measures 10′ L, x 6′ Thick and 35′ W and weighs 24.5 lbs. It is made with yogis at heart to give them a Yoga-specific SUP, which also offers a fantastic paddling experience. It has an expansive deck, a slight rocker, and a large lotus displacement that can support up to 350 lbs.
The 02 Lotus comes in a top-quality design and construction. It features the Fusion drop-stitch technology and durable military-grade PVC to create an ultra-durable and top-quality SUP with near-hardboard strength. Besides a 50 percent improvement in structural gain, the drop stitch fusion construction and PVC also result in a 20 percent less weight, making it even easier to carry around. Whether you jump on it, slide across the river rocks, drop them or drag them across the sidewalk, this paddle board has all it takes to endure all your adventures, no matter how intense. You can therefore enjoy an ultimate experience without constantly worrying about chips or dings. It also features a full-length EVA Deck Pad, a US-Style fin box, and a great neoprene handle.
The 02 Lotus is specially designed and made to be comfortable and stable enough for all yoga workouts. It provides smooth paddling or rides, whether beginning or experienced and yes, it is eco-friendly. It comes with a roller bag which you can convert to a backpack or wheeled bag to ease storage and transportation.
Read our complete review of the Glide Lotus.
The package contains:
High-capacity SUP pump
3-piece adjustable paddle
Leash
Fin
Repair kit
SUP backpack with rolling wheels to facilitate easy transport
Kayak seat and carry strap included
O2 Lochsa SUP
Best Choice For: Rivers & White Water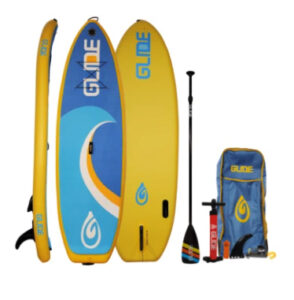 Glide's 02 Lochsa is probably the most outstanding downriver paddle board you will find in the market. It derives its name from the Lochsa River, which means "rough waters." It was initially designed by the veteran expert of the whitewater world, making it synonymous with authenticity, performance, and quality. The 02 Lochsa paddle board will help you maneuver across the classic runs worldwide thanks to its stable shape and easy transportability. It measures 10′ L x 36'Width x 6′ Thick and weighs 26 lbs. Besides, it can accommodate up to 300 lbs. It also comes in a higher volume of 323 L, which ensures high buoyancy.
Glide's 02 Lochsa is well designed and constructed with the phenomenon of Fusion technology, enhancing its performance, durability, and strength. It also has a full-length Eva Deck Pad, which increases the board's overall versatility. As such, you are not limited to a small standing area section, as the deck pad gives you extra room to roam around. Besides, it facilitates easy foot placement. Even better, the versatile U.S. Style FinBox, allows you to engage a shorter center fin while paddling on shallow waters and a longer one when the depth is not a problem or you want to go much faster. With 25 PSI, your paddle board is nice, firm, and safe for all kinds of water adventures. The smooth and comfortable neoprene handle makes paddling easy and fun, guaranteeing the ultimate experience.
Read our full review of the 02 Lochsa SUP
Each 02 board package contains
Backpack integrated with rolling wheels for easy transportation.
High capacity SUP pressure pump
Repair kit
Board with a 9′ fin
Leash
Adjustable paddle
Kayak seat and carry straps not included
O2 QUEST INFLATABLE TOURING PADDLE BOARD
Best Choice For: Touring & Expedition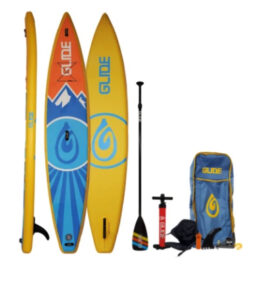 If you love exploring and paddling over long distances, the 02 Quest Inflatable touring paddle board is the best option for you. It is Glide's fastest paddle board designed and constructed to maneuver the waters with an incredibly sleek design. Wherever your heart desires to go, the O2 Quest will take you there with ease and minimum effort and at an incredible speed, whether you are a beginner or paddling expert. After a long day of paddling fun, you can simply deflate it and toss it at the backseat of your car. His paddle board measures 12'6″ W x30′ W x 6′ H and weighs 3o lbs. It has a 240 L displacement that enhances the board's buoyancy and can float up to 275 lbs. This paddling is an incredible gear hauler guaranteeing you a smooth and exciting riding experience.
Glide's 02 Quest is made of an infusion of drop-stitch technology and a solid military-grade PVC, making it strong and durable. This combination results in a 20 percent weight reduction and up to 50 percent increase in structural rigidity and alleviates delamination. Whether you want to challenge yourself to some flat water fitness miles or you wish to tour an open ocean, you can never go wrong with this paddling board. The soft, warm, and full-length EVA traction deck pad offers excellent comfort and prevents fatigue and pain, common in other tough deck pads. Even better, the deck is non-slip to facilitate optimum traction no matter the condition. The paddle board has a 25 PSI rating and comes with a versatile U.S.-style fin box and a comfortable neoprene handle.
The 02 Quest paddle board package contains;
3-piece adjustable paddle
Top quality Glide logoed backpack with rolling wheels to ensure easy transport
High capacity Bravo SUP pump
Leash
Repair kit
A tool-free fin
New for 2021 Kayak seat and carry not included
O2 RETRO 10'6″ INFLATABLE SUP PACKAGE
Best Choice For: All-Around SUP & Cruising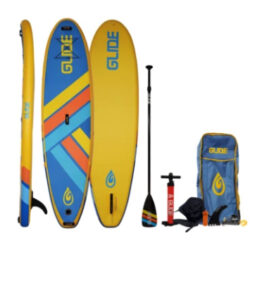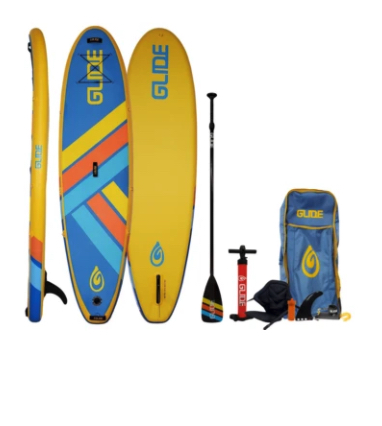 Here is the ultimate paddle board for all types of paddling and all-around riders. The Retro 10'6″ is perfect for beginners and seasoned riders as well who love to explore and especially those with transport and storage limitations. Whether you are a lone rider or you are in the company of your furry friend, this paddle board will get you wherever you desire. It does great in surfs, flat water and rivers with enough displacement for utmost stability. This paddleboard measures 10'6″ L x 33.5″ W x 6″ Thickness and weighs 23 lbs with a weight capacity of up to 280 lbs.
Combining the Fusion construction and durable PVC creates a robust, long-lasting, and high-performing paddle board. This makes this Glade board a catchall for all kinds of SUPing, stand-up paddle boarding, surfing, kayaking, and rafting. This board is virtually indestructible. Just a look at it, and you can tell the difference in quality and craftsmanship. Be sure that if you ever dropped this board, jumped on it, or paddled across rocky rivers, be sure it would survive. It comes in a full-length EVA Deck pad to facilitate safe paddling and easy foot placement. It is non-slip for maximum traction and safety no matter the condition. Besides, it is wide enough for acro Yoga practice and is an even better option for taller riders.
The Retro Inflatable paddle board comes with a flexible U.S. Style fin box and a comfortable neoprene handle for the ultimate paddling experience. Each package comes with a complete kit with all accessories you might require:
A backpack with rolling wheels to facilitate easy travel
Leash
Adjustable paddle
Fin
Repair kit
High capacity SUP pump
New for 2021 Kayak seat and carry strap included
Read our complete Glide Retro SUP Review
ANGLER INFLATABLE FISHING BOARD
Best Choice For: Fishing SUP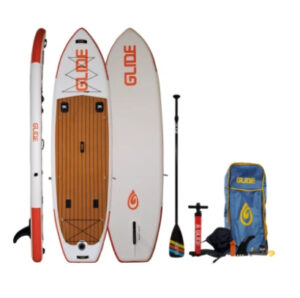 Here is the ultimate stand-up fishing inflatable paddleboard. If you look to take your stand-up fishing to the next level, the Angler inflatable fishing board is the ideal choice for you. This paddleboard will maneuver the waters swiftly and seamlessly, getting you to your favorite fishing spot tucked into the wood.
It comes equipped with d-rings in all perfect places, making it easy for you to bring along that tackle box or a cooler beer on your fishing thrill. Besides, it has two bungee storage compartments and the front and back of the board to fit your fishing accessories and cameras. This paddle board measures 44.4′ x 8.2′ x 8.2′ and weighs 28 lbs. With a weight capacity of up to 450 lbs, the Angler Inflatable fishing board can easily accommodate you and your gear. It glides seamlessly at an impressive speed which helps you paddle across long distances in a short time. The flat and extensive bottom provides great stability and safety for your fishing excursion.
Glide's Angler inflatable fishing board is constructed using Fusion technology and triple-layer PVC, making it virtually indestructible and long-lasting. It has a 25 PSI rating, comes with a comfortable neoprene handle and a U.S.-style fin box for the ultimate fishing experience. If you are a fisherman or woman who loves to explore beyond the reef but with storage and transport limitations, this inflatable paddle board will get you wherever you wish.
Read our in-depth Angler Review
Each Glide Angler Package Includes:
Backpack with rolling wheels for easy transport
Leash
3-piece adjustable paddle
Fin
High capacity SUP pump
2-rod holders
A repair kit
New for 2021 Kayak seat and carrier strap included.
Hardboards
Glide has four hardboard products that you can choose from. They are;
• The Retro
• The Lotus
• The Quest
• The Goodspeed MK. II
The first three options fulfill the same purpose as their inflatable counterparts. The Retro and the Lotus are the entry-level option, will the Quest is the mid-range offering. The Godspeed MK. II is the premium offering meant for anyone looking to incorporate speed and finesse into their paddleboarding.
What makes the Glide inflatables unique from other brands?
There is no denying that hardboards will likely last longer than inflatables; despite this, Glide SUP inflatables are the best that you can find. People go for inflatables because they are easy to store and transport. Here's what makes Glide inflatables unique from any other offering in the market.
The shells of these inflatables are constructed from proprietary Fusion military-grade PVC. As a result, the shells are 1300 denier thick, which makes them stiffer and more durable.
Unlike other brands which use the convectional knitted drop stitch to make their inflatables, Glide used the innovative woven drop stitch with heat-pressed seams. This eliminates the possibility of air getting trapped between the links and the inflatable becoming springy and bouncy. Thus, Glide inflatables feel more like hardboards but much lighter.
The woven drop stitch also means that the inflatable is sturdy enough to hold up to 25 PSI air pressure. The company recommends that you fill it to between 12 and 15 PSI for maximum performance. Therefore, you will be spending more time paddling and doing less pumping.
Die-cut, brushed EVA deck pads are used to cover the entirety of the inflatables. The deck pads are also UV stable. Thus, the inflatables are able to maintain their colors throughout their lifespan, unlike screen-printed deck pads.
You can easily customize your Glide inflatable with a fin of your choosing as it features a standard USA-style fin box. Many other manufactures use proprietary fin boxes, which means you can only use their proprietary fins on their inflatable. Moreover, Glide offers its inflatables with a 9″ dolphin fin that's versatile for all kinds of paddlings.
Why choose Glide Paddle Boards?
Eco-friendly: – Pollution is choking our planet's oceans, lakes, and rivers. As an avid paddler, it's your duty to do what you can to save our water bodies from pollution. Glide inflatables and hardboards are the most eco-friendly available in the market as their manufacturing processes are very bio-friendly.
Ultra-durability: – The durability of Glide products is unbeatable thank's to the uses of innovative materials and robust construction. Its inflatable can easily last twice as long as other offerings, and its hardboards are nearly indestructible as they can take a lot of abuse.
Free, fast shipping: – Once you purchase an inflatable or hardboard from Glide, you don't have to worry about additional shipping costs as the company offers free shipping. Moreover, you expect same-day shipping if you place your order before noon.
Warranty and return guarantee: – Glide is so confident in the quality and design of its products that it offers a 30-day guarantee window to make a return you are not happy with your paddleboard. Moreover, you will get a two-year limited warranty if you purchased your board on their website or an authorized dealer.