This post may contain affiliate links. Commissions we earn from partner links on this page do not affect our opinions or evaluations. Our editorial content is based on thorough research and guidance from the editorial team.
Glide O2 LOCHSA Review Summary
The Glide 02 Lochsa Inflatable Whitewater paddleboard is an all-purpose iSUP built to withstand rough waters while offering a surfer optimum comfort while onboard. This inflatable version has been assembled by combining more than four decades of paddling experience, with every aspect of professionalism showing up on every aspect of this board, from the rocker to the rails.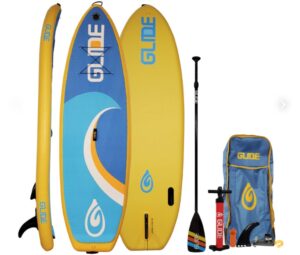 SUP Features
Fully Functional Fusion Technology
This inflatable paddle board has incorporated fusion technology that makes it ideal for people searching for stiff and robust performance.
D-Rings
The Lochsa paddleboard has a single D-ring located within its bungee area. This D-ring is used for the leash.
Full-length EVA Deck Pad
The full-length deck pad makes it ideal for surfers who are not only after comfort but also depend on a fully-equipped deck pad that can comfortably hold them in position regardless.
Optimum Storage Space
If you have personal products, you would love to carry along with you while surfing, you can bet on this inflatable paddle board. This can be based on the fact that there is a large front bungee space for storing your products. An interesting aspect about this storage space is that it is waterproof in nature, an instance that gives you the peace of mind that your personal products are free from wetness.
Ultra Durable Coating
It is common to come across rocks and other products that may damage your paddling board when surfing. However, with this board, you don't have to worried about such damages thanks to the patent-pending Glide Surface Shield coating. This coating can withstand abuse caused by rocks and strong waves.
Glide's River Rail
A glide river rail system makes it easy for surfers to surf while at the same time maintaining easy Eddie line transitions for simplified surfing.
Length
The O2 Lochsa Inflatable Whitewater paddle board measures 10 feet in length. This optimum length plays an integral role in ensuring that you have maximum support and enough space to move around while surfing.
Width
The width of this iSUP paddleboard is 36 inches. Similar to its length, you are guaranteed sufficient surfing space and support. Additionally, the width has ample volume that supports greater buoyancy while surfing.
Height
From a height perspective, this stand up paddle board has been designed in such a manner that it can be adjusted to suit surfers of all heights.
Weight Capacity
The maximum weight capacity that this surf can comfortably hold is 300 pounds. When surfing on this stand up paddle board, paddling your weight on your back foot is not challenging, making it easier for you to surf without worrying about your weight.
Weight of the Board
On average, this paddleboard weighs about 26 pounds, an instance that makes it easy for one to carry it around and easily surf. Additionally, thanks to its manageable weight, those surfing on it can easily maneuver rough waters.
Max inflation pressure
The recommended inflation PSI is 12-15. Additionally, this paddling board comes equipped with its own single-cylinder dual-action manual pump, an inflation hose, and a high-pressure gauge which gives you an overview of the pressure available in your paddling board.
Construction
The 02 Lochsa iSUP paddleboard is made from numerous polyester threads that are closely woven together to create a rigid and stable center that can easily withstand significant pressure when fully inflated. The drop-stitch technology that has been used to stitch the paddleboard polyester is largely used in marine and aviation industries, a clear indication of the quality used to assemble this paddleboard. The paddleboard has also been made using the fusion PVC construction process to assemble the paddleboard's outer layer. This military-grade PVC material is fused to form a rigid outer skin. Additionally, the PVC material has been enhanced using high-pressure heat-pressed seams, which create an airtight seal to keep your board fully inflated. Finally, a heavy-duty nylon material has been used to assemble the handles this making it easy for a surfer to carry the board from one point to the next.
Proper Use
This paddleboard has been designed for anyone searching for a robust and easy to maneuver paddleboard. Additionally, thanks to its GSS, this board is effective for anyone who loves surfing on rough water bodies or to those who are poor at taking care of their property.
Accessories
Accessories that come with this board include;
A backpack that comes with rolling wheels for simplified travel.
A dual cylinder action high-capacity pump with a high-pressure gauge enables you to inflate the board to its required levels.
Leash, which comfortably attaches to your ankle for safety reasons.
An adjustable fiberglass shaft paddle that weighs a paltry 29 oz and extends out as much as 86 inches in length.
Customer Reviews
5-Star Reviews
A user who bought this paddleboard attributes its simplified use to the presence of multiple handlebars. Additionally, the board is wide enough to provide plenty of glides while surfing on flat water.
The presence of the Glide GSS also seems to sit well with most people who have purchased this paddleboard.
2 Star Reviews
Those who did not find the paddleboard worth it attributed it to the lack of handles on the nose and tail. According to the user, he found it a bit tricky to get into the water immediately due to the absence of a side pad holder.