This post may contain affiliate links. Commissions we earn from partner links on this page do not affect our opinions or evaluations. Our editorial content is based on thorough research and guidance from the editorial team.
Most Similar Paddle Boards
Review Summary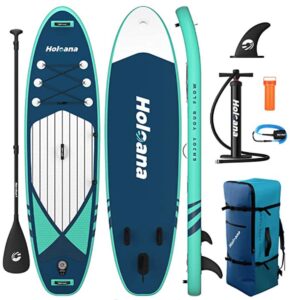 Dimension Table
| | | | | | | |
| --- | --- | --- | --- | --- | --- | --- |
| SUP | Length | Width | Thickness | Capacity | Board Weight | Inflation Pressure |
| Holoana SUP | 10'6" | 31" | 6" | 300 LBS | 17 LBS | |
Performance
Stability – Moderate
Maneuverability – Moderate
Speed – Moderate
SUP Description
The ISSYAUTO stand up paddle board is one of the most popular on the market. This inflatable paddle board has many uses and can be used in many different water types such as lakes, rivers, ponds, and small surfing areas.
The versatile board also has plenty of room for cargo or pets. The design is both flexible and durable, and not a lot can damage this product. The stable stand-up paddle board is perfect for many outdoor activities and fun such as surfing, swimming, fishing, and boating.
Not only is it lightweight and fun, but it also has many attributes to make your activities easier. This board includes a 6-point front bungee to hold your cargo, such as life jackets and drinks, down for simple and safe storage. There is a center carry handle that is padded and adjusts to your hands to make transportation as easy and comfortable as possible. Two straps along the board are to connect your paddle, and the anti-slip deck pad is for more comfort and more stability.
The Holoana sup inflatable paddle board was made for beginners, but people of all skill levels can enjoy it.
Size, Weight, and Measurement
Though this great paddle board is lightweight, it can hold up to 300 pounds, plenty of weight to bring extra luggage such as snacks and drinks. The sup boards are 10 feet and 6inches long, 31 inches wide, and 6 inches thick. It has plenty of room for comfort and relaxation for activities such as yoga or fishing. The thickness of the board also helps with balance while surfing or riding. The ISSYAUTO weighs approximately 17 pounds when inflated, which is not heavy compared to many other boards.
When deflated, the board can be rolled into the size of a sleeping bag for easy storage, and it is even small enough to put into a backpack which can be great for camping or into a beach bag for a day at the beach.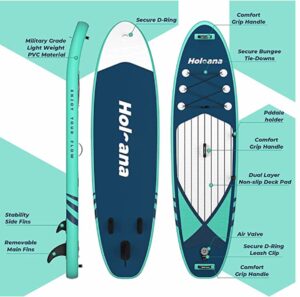 Construction and Material
The ISSYAUTO stand-up paddleboard is constructed with many layers of military-grade polyvinyl chloride (PVC). PVC is one of the world's most-used synthetic plastic polymers. The material is highly flexible and durable. The board is made by applying a plastic welding layer to the drop stitch, and it fuses with a PVC layer. This method produces a consistent bond that is impossible to obtain with basic hand-gluing. The material allows for the board to be durable, light, and pressure resistant.
Who Is It For?
The ISSYAUTO Holoana isup stand up has many uses. It can be used as an exercise board for activities like yoga or meditation, and it has plenty of room for various stretches and poses. It can be used for fishing or sitting on the water. The straps can hold equipment, food, and drinks to make the experience better. It can be used for small surfing areas and is thick to help with balance. Some people may choose to take it swimming and use it as a floaty to lay on or play with (it can be compared to a boogie board). No matter the activity, this inflatable paddle board can do it all.
Accessories and Included Products
Included with the Holoana paddle board is an accessory package that includes a carry backpack, repair pack, the user manual, high-pressure pump, center fin, and adjustable lightweight aluminum alloy blade paddle. These additional products are included for complete customer satisfaction and convenience. From easy storage to fixing equipment, these products will be helpful to everyone. When a new product is needed, each item can also be found and bought online. The board and items come with a three-year warranty as well.
Consumer Reviews
4.6 out of 5.0 on 200+ Reviews
Good Reviews
Most reviews (82 percent) on this product are five stars. One of the top reviewers mentioned that when getting the board, the color and visuals were better than imagined. The online pictures did not do the board justice. They explained that when using the board, it was able to hold their children and family pet along with themself. Another reviewer mentioned having to decide between the Holoana and another board and ultimately choosing to purchase the ISSYAUTO. This sup board helps their husband and child, both of whom never lost their balance because of the steadiness of the sup board. Multiple five-star reviews mentioned that the board was of excellent quality for the price.
Negative Reviews
There were few one-star reviews (4 percent). Most of these one-star reviews mention the valve leaking the first or almost first time using the board. A two-star reviewer talked about the paddles being weak and breaking quickly. They said the board's plastic would bend against the water and eventually handle any more pressure. They also said that they enjoy isup boards overall, but the paddles need to be upgraded.
Issyauto Holoana Best Price
Where can you find the best price on the Holoana? At the time of this review we found the cheapest price on Amazon.com with a list price of $326, but on sale for $269.
Plus, not only does buying on Amazon get you the lowest price we can find on the Issyauto SUP, but you also get Free Shipping with Prime.
Review Conclusion
The Holoana is a good choice for a first paddle board purchase for a buyer on a budget or looking to keep costs as low as possible. The dimensions make this a very versatile board that will be moderately stable, get decent paddling speed and maneuverability.
Where this SUP stands out compared to others is in the low price and the lightweight board weight of only 17 LBS.