This post may contain affiliate links. Commissions we earn from partner links on this page do not affect our opinions or evaluations. Our editorial content is based on thorough research and guidance from the editorial team.
Jiubenju SUP Review Summary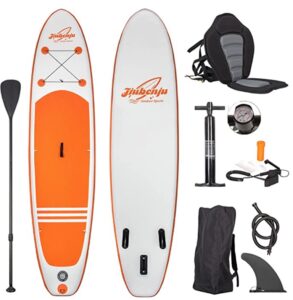 Most Similar SUPS
Jiubenju All Around Inflatable Stand Up Paddle Board with Kayak Seat
To those who love paddling, getting the best paddling board is of the essence, as it is from this paddling board that one will have the best chances of paddling professionally and safely. The good thing about paddling is that there are numerous paddling boards that one can choose from based on their preferences. These paddling boards may differ from each other based on size, quality, weight, and the number of people that the paddle can comfortably accommodate. Therefore, it is advisable to choose a paddle that has some of the aforementioned features or more. One such paddle is the Jiubenju Inflatable All Around Stand Up Paddle Board. With this in mind, the following is a breakdown of some of the exquisite features that this board comes equipped with and why you should consider purchasing it.
Dimensions
| | | | | | |
| --- | --- | --- | --- | --- | --- |
| SUP | Length | Width | Thickness | Capacity | Board Weight |
| Jiubenju | 10'6" | 30" | 6" | 308 LBS | 18.7 LBS |
Performance
Stability – Moderate
Maneuverability – Good
Speed – Good
Fully Assembled Kayak Conversion Kit
One fantastic feature of this inflatable paddle board is the presence of a Kayak Conversion Kit. With this conversion kit, you can transform the Jiubenju iSUP paddle board into a Kayak in one way. Additionally, the design that allows this conversion is versatile and stable enough to support paddlers.
Customer Reviews
Overall Customer Rating: ★★★★★ 4.5 Of 5.0 Rating with 50+ Reviews
Premium Quality Paddle board
When shopping for a paddling board, the board's weight is an integral feature to consider. This can be attributed to the fact that you do not want to buy a paddling board that can only hold half of your weight. On the contrary, you want a paddling board that can comfortably hold your weight and perhaps that of your paddling partner. If you are the type of person who loves to paddle with friends, then this Jiubenju paddling board is the right option for you as it can comfortably hold up to 308 lbs.
This has been made possible by a heavy-duty double sidewall and a PVC drop that increase durability. Some people may have the mentality that if a paddling board can hold more than 300 lbs, then it might be heavy.
On the contrary, this is not the case with this paddling board. When using it, you can easily carry it from one point to the other thanks to its light nature. Additionally, it is highly rigid like a hardboard, and you are guaranteed no form of bents when fully inflated. With such features, you are guaranteed to enjoy an adventurous experience on the sea with your friends.
Perfect for Professionals and Noobs
Before you decide to purchase a paddling board, it is always advisable to ensure that you have the prerequisite skills needed to paddle. Some paddling boards, such as the Jiubenju paddling boards, have been designed in such a manner that you can easily use them regardless of your paddling experience.
This paddling board has a non-slip design that holds you in place when paddling. Additionally, it measures 10'6″ long by 30″ wide, and it is 6″ thick. These measurements offer you sufficient space when paddling.
Blow-Up Paddle Kit
The blow-up paddle kit is encompassed of various accessories such as an adjustable aluminum oar, sup leash, waterproof backpack, a pump to inflate the board, and a kayak seat.
This stand up paddle board not only gives you the peace of mind you need when paddling but also provides you with an opportunity to keep your products safe from water, thanks to the waterproof backpack. Furthermore, when you are tired of paddling, you can transform this board into a kayak, thus maximize your fun whether you are in the sea, lake, or ocean.
Good Safety
When paddling in the middle of the ocean or any other water body, you want to ensure that if an accident occurs, your friends or rescue teams can quickly locate you. This level of safety is vital because it gives you the peace of mind that you are covered when things go wrong. With the Jiubenju All-Around Inflatable paddle board, you are guaranteed this level of safety thanks to a coiled ankle cuff safety leash that holds you to the board.
User Review Details
When purchasing a product online, it is vital to go through the review section to better understand how other users are relating to the product. This is important because it saves you time and money and, at the same time, gives you peace of mind before, during, and after making a purchase. The following are some reviews from different customers who have already purchased the paddling board.
5 Star Reviews
Sturdy and Easy to Set-up
According to a user who bought this stand up paddle board on August 19, 2019, he attributes the sturdiness of the board to his simplified paddling experience. According to the buyer, the inflatable iSUP provides him with a sturdy feel, which according to him, was not easy to come across on a regular iSUP. Additionally, the user found the inflatable paddle board convenient thanks to its distinct pump that provides the right amount of pressure to the paddle board.
Super-awesome with Unbeatable Prices
A user who bought the board on July 16, 2020, was extremely happy with the purchase due to the fair price associated with the paddling board. According to the user, the price of the paddling board is unbeatable considering that it is made with strong and durable materials. The ability of the paddle board to retain air was also assessed by the user, who traveled with the paddle board for two hours while fully pumped. Upon reaching the destination, the paddling board was still intact with air.
1 and 2 Star Reviews
Loose Pump-end
A user who bought the paddle board in September 2020 was less than amused by it. According to the consumer, the pump end tube was not glued well, which made the board leak air when inflating it. The user also established that the main fin came out by itself when paddling.
Punctured Board
Another user who purchased the paddle board on June 6, 2021, was not amused after he found a hole on the board.
Summary Of The Jiubenju