Written By The Review Team – Last Updated December 28, 2021. 10 Minute Read. This post may contain affiliate links.
SereneLife Paddle Board Review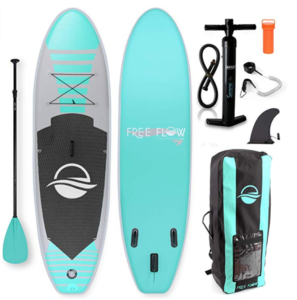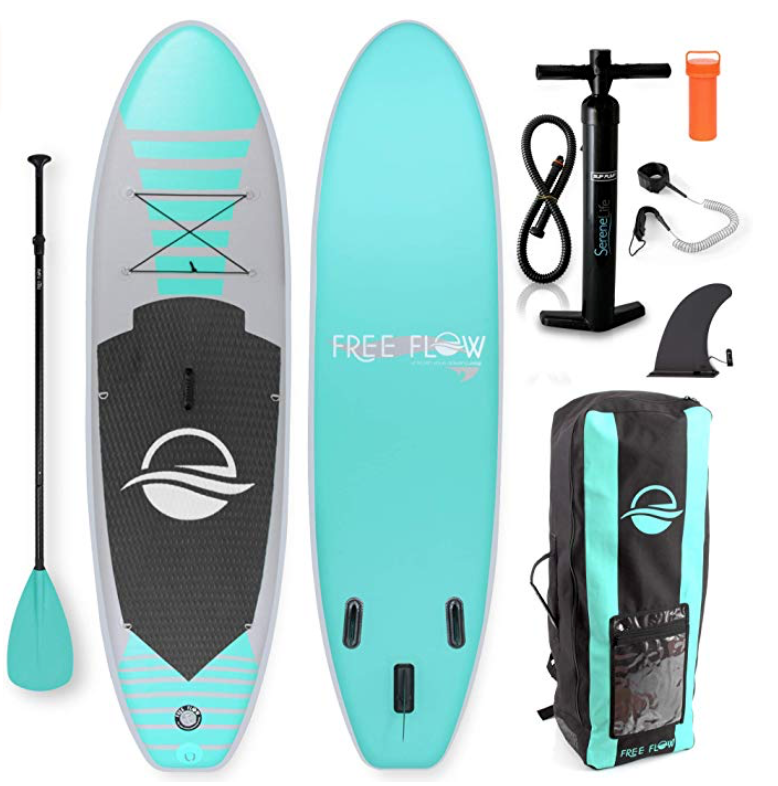 If you want to know all the details about the SereneLife Free-Flow Inflatable Standup Paddle Board, then you've come to the right place. In order to feel comfortable out on the water you are going to need a reliable board with all the specs and accessories to keep your mind at ease, and we're here to tell you everything you need to know in order to make a smart and informed decision.
We'll let you know what to look out for, pros and cons, and highlight all of the things that could make the SereneLife iSUP your dream board.
Review Summary For the SereneLife iSUP
Overall, the SereneLife Free-Flow Inflatable Standup Paddle Board is a pretty good investment for anyone who may just be getting into paddle boarding, or anyone who is looking for an easier carry and storage option.
This might not be the best board for someone who is looking for features that cater to a specific kind of paddle board activity, but it can certainly still get the job done while providing a high quality and enjoyable experience.
Should I Buy The SereneLife Paddle Board?
The short answer to should you buy the SereneLife Slow-Flow SUP is YES. This is a great all around / cruiser paddle board for beginner – intermediate paddlers weighing between 100 LBS – 250 LBS.
SereneLife Free-Flow Dimensions Snapshot
Length: 10'6″
Width: 32″
Height: 6″
Weight: 19.6 LBS
Weight Limit: 275 LBS
Key Considerations When Choosing a SUP
Some of the top things to keep in mind when researching an SUP for purchase are:
Is it inflatable or solid? (This board is inflatable)
How much does it weigh? (the SereneLife weighs about 20 lbs)
What extra activities is it best suited for? (all around / cruising, yoga, fishing & fun)
What accessories does it come with? (everything you need to take it out of the package & paddle)
How much does it cost? (The SereneLife costs about $300 – get the exact price here)
Or for more details read our full SUP size shopping guide
Figuring out what it is that you need and want from a stand up paddle board is important to do before you pick one, or even start looking around for one. The different features, quality, and uses of paddle boards on the market can vary widely, so you can quicken and refine your search by making yourself a list of what you need and want beforehand.
What Does the SereneLife Free-Flow iSUP have to Offer?
The SereneLife iSUP is an ultra-lightweight inflatable paddle board that is ideal for those who are looking to hit the waters and take their time. This iSUP comes with a non-slip grip surface and three bottom panel fins to give easy steering and maneuvering ability. A carrying handle is located in the center of the board so you can haul your light weight 19.6 pound paddle board with ease, and also includes tie down bungees at the top of the board so you can clip, strap, or tie down any extra items you need for your one-man cruise.
What Does The SereneLife Free-Flow Package Include?
The 10' board includes a coiled leash with an ankle strap, an aluminum paddle, an air pump, and a storage bag to keep your paddle board and all of its accessories together in one place.
An ankle leash is a valuable addition because you never want to end up losing track of your board in case of any slip-ups or accidents, and the air pump is an absolute must have so that you can get your board up and ready for use in a moment's notice.
The Free-Flow is also available in four different colors, so whether it's blue, orange, pink, or aqua that fits your unique persona you can find it with SereneLife's iSUP.
SereneLife Free-Flow SUP PROS
Beginner friendly features
Universal build and features
Easy to store and carry
Great price value
Comes with everything you need to paddle today
SereneLife Free-Flow SUP CONS
May not be ideal for more advanced users looking for specific features
Inflating can be slightly time consuming
The material could be more at risk of damage than a hard board
Things to Consider about the SereneLife iSUP When Purchasing
On their website, SereneLife states that they are a company that is dedicated to enriching people's lives by supplying innovative products that give the excitement or serenity that their customers may be searching for. In particular, there are many features that make this stand up paddle board ideal for beginners and youth.
The non-slip surface can give a lot of confidence to those who may be afraid of slipping and falling, but even those who do slip and fall will find that landing on an inflatable paddle board is much more cushioned and painless than falling onto a traditional hard surfaced paddle board.
The wide 30" deck allows the user to have a wider stance for increased balance and stabilization, plus the added control that the triple fin configuration adds makes controlling the board a breeze for those who may be a bit nervous to take that first step onto the water.
What Activities Is It Good For?
The various feature of this iSUP also make it great for various kinds of activities like yoga, fishing, or even catching a quick afternoon snooze. You'll never have to worry about any damages since this paddle board is made with a high quality PVC ad drop-stitch material.
In the rare case that you have an issue with your board, you can use the included repair kit to get the problem taken care of swiftly and easily. The repair kit includes emergency patches and a valve wrench so you can be prepared for any unforeseen problems.
Use It For
Paddle board cruising
Yoga
Fishing
Relaxing & fun on the lake
Serenelife Free Flow vs Thunder Wave
Are you comparing the Thunder Wave SUP vs. the Free Flow paddle board from Serene Life and wondering which to buy or which is the best board for you?
The main difference between the Free Flow and the Thunder Wave SUPs is the length of the board. The Free Flow is 6inches longer than the Thunder Wave.
The slightly longer board will offer a bit more carrying capacity and a faster paddling speed at the expense of a little extra board weight.
Details Of the Free-Flow & Thunder Wave Boards
| | | |
| --- | --- | --- |
| | | |
| | Free-Flow | Thunder Wave |
| Length | 10'6″ | 10′ |
| Width | 32″ | 32" |
| Thickness | 6″ | 6′ |
| Weight | 19.6 LBS | 19 LBS |
| Weight Limit | 275 LBS | 275 LBS |
| Inflate Time | 5 Minutes | 5 Minutes |
| Construction | Double OVC Material | Double OVC Material |
| | Check The Price > | Check The Price > |
What Do People Say About the SereneLife Inflatable Board?
It's always a good idea to get opinions from those who have already experienced a product, so let's discuss some upsides and issues that users have experienced. One issue that was pointed out by users was actually the lightweight of the board.
Despite the extra stability that the fins add, the fact that the board is so light can add to the difficulty of maneuvering the board in windy conditions.
Unlike a heavier and denser hard board, a light inflatable board can be more easily affected by wind which could make controlling the board a bit more difficult and potentially frightening for beginners. Wind also becomes an issue while transporting the inflated board while it is out of the water.
It can quickly be high jacked by Mother Nature if you aren't holding on to it very tightly. Another difficulty users faced with the board was the time and effort it took to inflate. It appears that the average inflate time is about 15 minutes, and that is a bit more time consuming and energy consuming than some people would be willing to deal with.
On the bright side, many users agree that the advertised durability and strength of the board is true. Users at the very top of the size limit for using the board made it clear that their sized posed no issues when using the board.
Others also boasted that the board suffered no rips, damages, or scuffs when accidentally grazing or making contact with other objects.
Real Customer Reviews & Ratings Comparison & Summary
Overall Customer Rating: ★★★★★ 4.7 Of 5.0 Rating with 7,200+ Reviews
Here at iSUP Reviews, we do the research for you and tell you what real customers are actually saying about the SereneLife Free-Flow SUP by reviewing and analyzing thousands of reviews from reputable sources.
Summary of 5 Star Reviews
About 80% of the consumer reviews we analyzed gave this paddle board a 5 star review.
The 5 star reviews of the SereneLife SUP are about what you would expect, but we still think it's important to go through them.
Good Quality
Very Stable
Easy to paddle
Fits a dog or additional person
Easy to store / fit in trunk
Great value
Summary of 4 Star Reviews
Paddlers who rated the Serenelife SUP with 4 stars generally approved of the board. They gave it good comments and reviews for its stability, handling, and general paddling and constructions. Usually, these buyers who didn't give it perfect marks had small comments about the pump gauge not registering until late in the pumping or having a loose valve that they were easily able to fix. So basically very minor problems that seemed to be solved on their own and did not impact the overall use of the paddle board.
Summary of 3 Star Reviews
About 2% of the total reviews were 3 star reviews. 3 Star reviews are often interesting because of the balance they offer. The majority of the 3-star reviews were because the customer generally liked the Serenelife board but had some issue with it BUT it was corrected by customer service. These issues often included things like a broken pump gauge or bubble in the board laminate.
On the other side of that, some of the 3 star reviews were because people really liked the products but had some minor issue and struggled to get it corrected with customer service. Again, these issues were a minority of the situations – so we don't see customer service as a chronic problem to be concerned about.
Summary of 2 Star Reviews
About 1.5% of the reviews we analyzed for this SUP were 2 star ratings. This is within a normal range and not something we would say you should worrying about if you trying to decide whether to buy the SereneLike SUP. The complaints were similar to the 1 start reviews and included comments about the sinking paddle, losing the fin because it fell off and difficulty managing the stability of this 30″ wide board. For additional details, we'd recommend reading the review of the 1 star ratings below.
Summary of 1 Star Reviews
About 2% of the total reviews we analyzed were 1 Star reviews for this product – which is about average for other paddle boards and these bad reviews primarily fell into 4 categories:
The paddle sinks. If it sits in the water for a few minutes – the tube fills and it sinks under the water.
Occasional Manufacturing defects. There were most frequently a warped board, broken pump or broken inflate valve that resulted in difficulty paddling or inability to paddle. Professional Note: it's unfortunate but some amount manufacturing defects are inevitable. We did NOT find the type or number of manufacturing defects to be outside of the normal range for popular product.
Lower Board Stability: Some customers (both self described paddle board novices and experience SUP paddlers mentioned finding the board a bit tippy and difficult to stay stable and upright on. While we do not see enough of these reviews to discourage you from buying it, we do note that at 30 inches wide, this paddle board is a little narrowing than many other Cruiser / All Around style paddle boards. Professional Note: If you are concerned about stability or want a little extra, we would recommend looking for a board of similar length but with a width of 32″ to 34″.
Full SereneLife SUP Lineup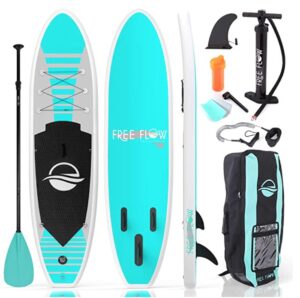 Overview
SereneLife inflatable stand up paddle-board (6 inches thick) with premium SUP accessories has an expansive deck and three bottom fins for easier paddling. The paddle board's deck is soft, stable and non-slip and features a control surf. The anti-slip deck is ideal for beginners since it cushions their fall when accidents and slips occur. Slips can also happen to pros, so it is best to be prepared. It is also extra wide to provide better balance.
In addition, the paddling board has better maneuverability. It features triple-bottom panel fins and steering that makes paddling easy. The stand-up inflatable board offers excellent surf control allowing you to glide and skim the water smoothly. The paddle board is portable, suitable for individuals that love adventure. Being travel-friendly, you can carry it to your surfing and paddling excursions or you can leave it in your vehicle for the times you will want to explore.
What's more, the product comes with a complete paddle board kit containing all the necessary accessories. The accessories include an aluminum paddle, storage bag, ankle safety leash and manual pump.
Top Features and Benefits of Stand-Up Paddle Board
The paddle board's quality and the material falls in the range of products worth $500-$700. With its six-inch thickness, it can easily hold two people. Plus, the triple fins at the back make the paddle board excellent for surfing. The ankle leash becomes valuable when you are out surfing in the ocean. The leash will help hold the board and prevent it from floating back to the shore.
Further, you can easily roll up the paddle board and store it safely. You do not need roof racks since the boards take up minimal space. Since it is inflatable, it can withstand accidental bumps or drops without getting damaged. The board's thick material enables surfing in rocky rivers or over tree branches and trunks without puncturing it.
Key specs and dimensions
The paddle board length is 10'6 feet while its width is 32 inches. These measurements make it incredibly easy to balance and stabilize on top of your board. Featuring an aqua color, the product's brand is SereneLife and weighs approximately one pound. It is made from PVC material and is mostly used for sports like surfing and SUP paddling.
Pricing
The item goes at $329.99 on Amazon, but you can also find it within the same price range from other sellers.
Wrapping up
To sum up, the SereneLife Inflatable Stand Up Paddle-Board is perfect for adults and youths. The stand up paddle-board is highly stable, buoyant and comes with additional items like a leash and a pump that make it a great product.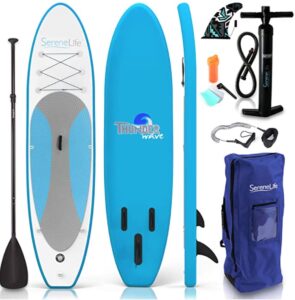 Overview
The SereneLife inflatable stand up paddling board has a wide SUP design to improve balance and stability while standing on the board. The paddle boat is great with superior maneuverability. It has three bottom fins that help enhance the board's overall speed.
In addition, the fins make steering and handling the board easier for adults, children and teenagers. The paddling board's top deck is soft and anti-slip. The non-slip property makes the item perfect for beginners. The manufacturers have designed the boards for early learning to minimize injuries during falls.
Furthermore, the paddle boards are 100% travel-friendly to allow you to take the board wherever you go. Plus, it is inflatable; therefore, you can quickly inflate and deflate the product for easy storage. These characteristics allow you to use the paddle board on oceans, lakes or rivers. All SereneLife paddle boards have complete kits with paddling essentials, including manual air pumps, storage bags, oar pedal, ankle cuff safety leash and patch repair kit.
Top Benefits and Features of the Board
The paddling board is inexpensive but high-quality. Its inflatable feature makes it conveniently fit in your car trunk. Additionally, the board is very stable due to its length and expansive deck and can be used with kids and teens of all ages.
The product is surprisingly fast and sits higher in the water, making it turn easier. The paddle board is a perfect pick because of its excellent features. It has a screw instead of a pin to attach the bottom fins. A screw is a better option since pins occasionally fall off, resulting in lost pins. The board comes with a dual-action pump that works perfectly.
Key Specs and Dimensions
SereneLife inflatable stand up paddle-board (6 Inches Thick) with premium SUP accessories and carry bag has the following dimensions:
Length: 10 inches
Deck width: 32 inches
Height: 6 inches
Brand: SereneLife
Weight: 19.6 pounds
Color: Marine blue
Type of sport: SUP paddling
Material: Double PVC
Maximum inflation pressure: Over 20 Psi
Maximum weight capacity: 275lbs
Pricing
The cost of the SereneLife paddle board is $309.95. The products are also available at a lower cost from some sellers who may not provide Prime shipping. The shipping charges and import fees will depend on your location.
Overview
The inflatable paddle board has an improved wide SUP design for improved balancing. The wide deck makes balancing on top of the board a breeze. The inflatable paddle is constructed from drop stitch and reinforced PVC and has a soft, stable and no-slip deck making it ideal for first-time users.
The anti-slip top cushions your fall when you slip or when an accident occurs. Accidents and falls may happen to anyone, so it is better to be prepared well. Furthermore, the board has outstanding paddling maneuverability. It has three bottom panel fins that make steering effortless. It also offers incredible surf control to enable you to glide and skim the water like sea animals.
The unique paddle board is also inflatable and portable. You will find the product useful if you have a knack for adventure as you can carry it whenever you are going. To add to that, the package comes with all must-have accessories like a coiled safety leash, an inflatable 10'6 paddle board, a patch repair kit, a manual pump and aluminum, a foldable paddle to ensure you are well prepared to hit the wave.
Amazing Features and Benefits of SereneLife Inflatable Stand Up Board
The paddle board is well-constructed with quality materials. And, its seams are sealed properly. The board features detachable fins, which you can easily connect with screws. The screws securely attach the fins to the bottom, so you do not have to worry about them falling off the board.
Using a manual air pump, you can inflate the board in less than 9 minutes. It also has a lightweight and adjustable paddle. Moreover, the paddle board is very stable. Inflating and deflating the paddle board is pretty quick. Once you deflate it, it folds up easily, and you can conveniently fit the board in its bag with other accessories.
When inflated, the board's weight ranges from 15-20lbs making it super easy to carry around. Additionally, the paddle board is packaged in a good box for shipping. The box offers maximum protection to the board and its parts. The wrapping prevents damage during shipping.
Key Specifications and Dimensions of the Paddle Board
SereneLife inflatable stand up board features the following specs:
Brand: SereneLife
Length: 10'6 inches
Width: 32 inches
Height: 6 inches
Color: Black and gray
Sport type: Surfing and SUP paddling
Weight: 13.35 kilograms
Maximum capacity: 275lbs
Material: Elasticized-fabric and fiberglass
Pricing
The list price of the paddle board at amazon is $329.99. However, they offer discounts, and you can get $307.99 and save approximately 7%.
Bottom Line
serenlife paddle board offers you an incredible experience while paddling on it. It is suited for both adults and teenagers as it provides maximum stability.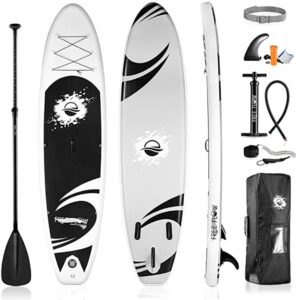 Overview
SereneLife Premium Inflatable Stand Up Paddle-Board features incredible features that will make you enjoy your sport. First, the paddle board is inflatable and portable. It quickly inflates and deflates within the shortest time, and you can easily fold the board up for storage.
Being portable, the board is perfect for travel, particularly when planning camping trips, boating or for people with limited space for storage. The free flow board has three bottom fins for easy steering and maneuverability.
Moreover, the fins increase the speed and ensure excellent surf control as you glide the water. The manufacturers have designed the product to be water ready. The paddle board is made with drop-stitch, reinforced PVC construction. The material is corrosion resistant and marine-grade waterproof to extend the product's lifespan.
Serenelife paddle board offers excellent glide for surfing, fishing, exploring and cruising. Further, the product package includes everything you will for surfing, such as inflatable platform base safety leash or straps, storage bag, oar paddles, patch repair accessory kit and manual air pump.
Most buyers prefer the board because it is perfect for all ages. The item features a wide and stable top design that offers balance and stability to kids, youths and adults. They can safely use the paddle board on the beaches, oceans, bayou, pool, lake, river or pond.
Top Features and Benefits of SereneLife Premium Inflatable Board
Do you enjoy open water? If yes, there is nothing more fun than viewing the water while standing on top of your paddle board. With the serenelife premium inflatable paddle-board, you have the freedom to explore the water while engaging in exciting exercise and looking down into the beautiful water.
In addition, the paddle board provides exceptional glide for exploring and cruising. The complete package includes an inflatable board, adjustable and lightweight paddle, a manual air pump with pressure gauge, removable fins, backpack and repair kit.
The complete bundle includes a stand up paddle-board, adjustable paddle, pump with pressure gauge, removable fin, repair kit and a storage bag. The stand up paddle-board is designed for a single person and has an inflatable platform base. It quickly inflates and deflates in a short period. Plus, you can roll it up easily for storage and travel.
Further, the board's deck has a universal, stable design for all ages, including teenagers, children and adults. With the board, you can be guaranteed your safety while paddling or surfing on the lake, beach, ocean and pond.
What's more, it allows for easy steering and maneuver. The triple fins at the board's bottom for hassle-free steering ad increased speed. Additionally, the paddle board is made from marine grade corrosion and water-resistant materials and has complete accessories making it water ready.
Key Specs and Dimensions Inflatable Paddle Board
Some of the paddle board specifications include:
Brand: SereneLife
Material: Double-knit fabric, drop stitch and fiberglass
Color: Black and gray
Type of sport: Surfing and SUP paddling
Weight: 13.89 kilograms
Air pressure inflation: 13 psi
Maximum weight capacity: 275lbs
When inflated, the paddle-bard dimensions, length, width and height are 132 inches, 30 inches and 6 inches, respectively. Therefore, you can easily set up the board to surf on the ocean or lake.
Cost of the Paddle Board
You can find this product on amazon at approximately $419.99.
Bottom Line
In conclusion, the inflatable stand up paddle-board (isup) is an ideal water activity for individuals above 10 years.
Stand up paddle-boarding offers numerous benefits, including a great workout , helps you burn calories and minimizes stress. If you want to burn some calories while enjoying fun water activities, you should know the best paddle bards to purchase. It is important to research thoroughly and find out features of available paddle boards in the market to know which products to go for. The market is full of stand up paddle-boards with incredible characteristics making it hard to choose the ideal products Reading the article will help you make a wise decision.