iSupReviews is reader-supported and may earn a commission when you buy through links on our site or this Bote Paddle Board Review.
Bote SUP Review Summary
If you are shopping or researching Bote paddle boards you probably have a sense of the SUP you are looking for – but hope we can help seal the deal for you.
Bote builds some of the most impressive paddle boards on the market whether you are shopping rigid or inflatable SUP.
They boards handle extremely well and come with what seem like unlimited features and thoughtfulness of SUP design. If you are looking for an inflatable paddle board for fishing Bote should be at the top of your list with the HD & Rackham models.
Editor's Bote Ratings
Editor Review: ★★★★★ 4.8 out of 5 Rating
Value For Money:

★★★★★

4.6 Rating
Paddling Performance:

★★★★★

4.8 Rating
Leight Weight:

★★★★★

4.4 Rating
Sturdiness:

★★★★★

4.7 Rating
Why We Recommend Bote SUPs
With Bote you know you are getting an extremely well designed and built paddle board. They may not be the cheapest SUPs on the market – but they are great value for the money you spend on these paddle boards.
The purchase of a Bote paddle board is definitely in an investment is a board that will live a smile on your face every time you paddle it for years.
Bote is truly an American company that is owned and run by a couple that live in Florida and use their products regularly – so you know they were designed by people who wanted the best for themselves.
Bote Paddle Boards Compared
Bote SUP Pros & Cons
After reviewing hundreds of reviews from real customers and comparing their comments, reviews and ratings we've compiled the following list of things that people like about Bote paddle boards and the things they dislike.
Pros Of Bote Paddle Boards
Great designs and top quality construction
Easy to paddle and stable boards
High quality accessories
Cons
Overall the negative comments about this brand were pretty minimal and the majority of them seemed related to fairly minor issues that can easily be fixed with a call to customer service. Our assessment is that most of these issues are things that happen occasionally, no matter how great a company is.
Pressure gauge on pump didn't work
Customer received the right board in shipping, but wrong pattern
Boards do not come with an ankle leash
The velcro paddle holder on the board is scratchy if you rub against it
About Bote
Bote is about as personal and owner run as small companies get – and that's one of the reasons we love their boards. This is truly one of those companies that was started because people who LOVE water sports got sick of the boards on the market not being good enough. So Corey and Magda (the owners of Bote) decided to design their own boards and do something about.
Back in 2008 while living in Destin, Florida they decided to cash in stable jobs as an engineer and the finance industry and took their savings and credit cards to start Bote Paddle boards.
You know when someone gives up their 401K to pursue a passion based business, they are going to make something worth owning.
Are Bote Paddle Boards Good?
One of the key factors to determining if a paddleboard is a good choice for you is what you plan to use it for. The great thing about Bote is that they will have a board to fit any need. So not only are Bote paddleboards good from a design and construction perspective, but they are sure to have a design that will fit your specific needs.
Bote Water Sports Products
One of the ways you know that Bote designs great products is by checking out their product line. The Bote products truly display a design team that spends their free time on the water and has caused them to design some products like Skiffs and Inflatable Docks that most other companies don't spend time on.

Paddle Boards
Bote designs and builds 2 styles of paddle boards: Solid and Inflatable – so you can be sure to find exactly what you need. They make boards to fit your kind of use ranging from very specific needs like expeditions, hunting and fishing to family fun and all purpose paddle boards.
Solid Bote Paddle Board Models
Breeze (10'6″ Boards)
Flood (10'6″ or 12′ Board Options)
HD (10'6″ or 12′ Board Options)
Rackham (12 or 14′ Board Options)
Traveller (12'6″ or 14′ Board Options)
Inflatable Paddle Board Models (Aero)
Kids Flow (8′ Board Options)
Breeze Aero (10'8″ or 11'6″ Board Options)
Flood Aero (11′ Board Options)
HD Aero (11'6″ Board Options)
Rackham Aero (12'4″ Board Options)
Traveller Aero (12'6″ Board Options)
Summary Of The Bote Inflatable (Aero) SUPs
Bote Breeze Aero SUP
Consumer Ratings: ★★★★★ 4.9 out of 5 Rating
The Breeze is the newest SUP added to the Bote lineup and is designed to be a great all-around paddle board that is stable & extremely lightweight due to it's AeroUltra construction technology. If you are considering this board we'd recommend checking out our full review of the Breeze.
Who's It For: All-Around / Cruising – lightweight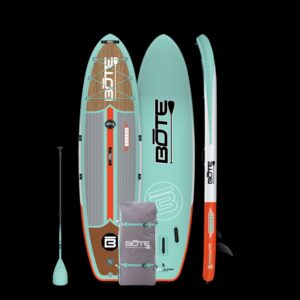 ---
Bote Flood Aero SUP
Consumer Ratings: ★★★★★ 4.9 out of 5 Rating
A fantastic All-Around paddle board for fun, fitness or relaxing on the water. It's a convenient size to play, pack up or store but still has a great carrying capacity of up to 275 LBS.
Special Note: Check out the Full Trax option with means the deck padding runs the full length of the board for extra cushion and grip!
Who's It For: All-Around / Cruising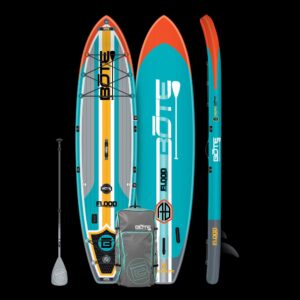 ---
Bote HD Aero SUP
Consumer Ratings: ★★★★★ 4.9 out of 5 Rating
A great All-Around paddle board that has a little more carrying capacity – up to 315 LBS – than the flood. It's also designed with some additional technical features like Rac receivers so it's Rac compatible for adding that fishing tackle rac or even a wheel set for easy transport across land.
Who's It For: All-Around / Cruising with some fishing or higher loads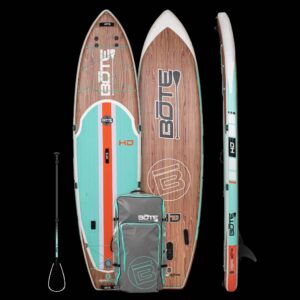 ---
Bote Rackham Aero SUP
Consumer Ratings: ★★★★★ 4.9 out of 5 Rating
The Rackham is the perfect board for those expedition days spent fishing or when you are going far from home and need lots of gear. The core things that set this paddle board apart from the others is the 38″ width that gives a very stable platform to cast or paddle from, tons of carrying capacity – 400 LBS – and tons of features. It's got Rac receivers for your fishing rac, a sand spear sheath and a paddle sheath to keep it safely stored.
Who's It For: Fishing / Expedition Paddle board with extra stability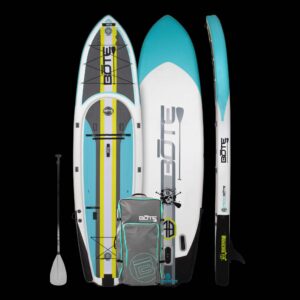 ---
Bote Traveller Aero SUP
Consumer Ratings: ★★★★★ 4.8 out of 5 Rating
The Traveller lives up to it's name and is designed to cover distances. It features the sleekest profile with a 12'6″ length and a slim 30″ width that is designed to efficiently eat up the mileage quickly. It's light enough to pack into remote places but still durable enough to handle those river rapids.
Who's It For: Performance SUP for speed and maneuverability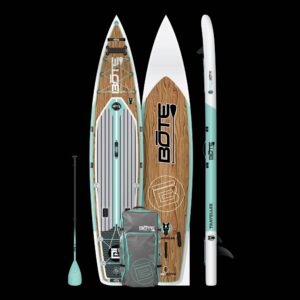 A SUP For Every Use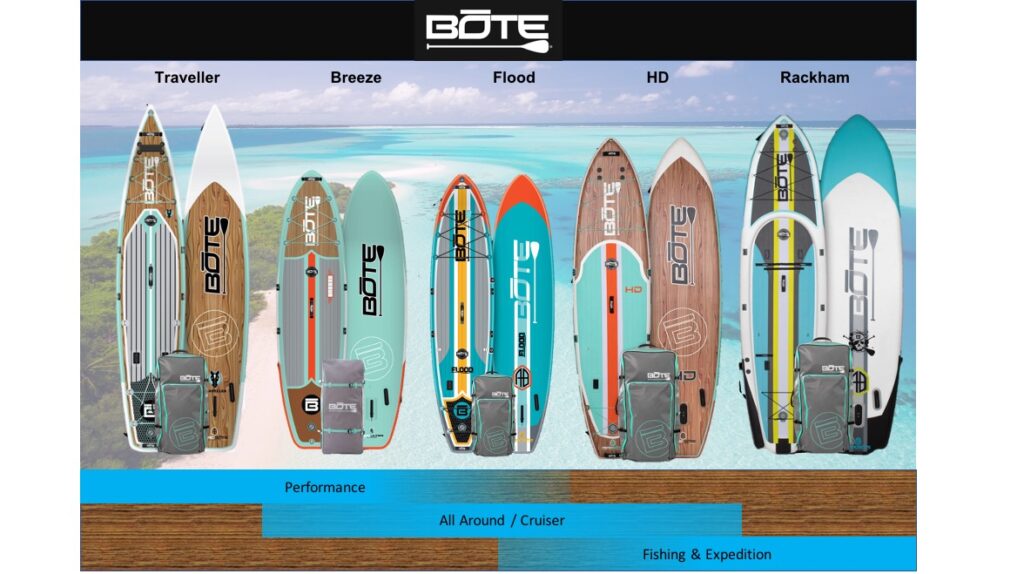 While many paddle board companies often make 5 different styles of boards that all seem the same – Bote is definitely NOT that company. Bote makes 5 different styles of inflatable SUPs for adults and each one fits a specific purpose.
This is important because it means every type of paddler can find a board they love without having to make big sacrifices.
Best Bote SUP For Fun & All Around Use
If you are looking for the best option in the Bote inflatable SUP lineup for an all-around, recreational paddle board there are a few you should consider first. We'd recommend primarily the Breeze Aero and The Flood.
They are both designed to be easy to inflate, easy to paddle and fit the usual dimensions of a cruiser board. Be sure to check our our guides to compare and contrast the Aero Bote & Flood boards to help make the best choice.
Similarities Between The Breeze & Flood
The place to start is with the basic dimensions of these boards. The Breeze comes in a 10'8″ and 11'6″ options while the Flood has a single 11′ option. While a few inch differences, they fall into the same general size category. Both boards are also 6″ high.
Differences Between The Breeze & Flood
The Flood is an inch narrower than either Breeze option. The Breeze boards are 33″ wide and the Flood is 32″. The difference here probably won't make too much off a noticeable difference, but the extra width will add some flotation and lateral stability.
One other factor to note is that the Breeze is a lighter weight board, coming in at 20 LBS for the shorter board and 22 LBS for the longer board. The Flood in comparison is heavier at 28 LBS. The difference is because the Breeze uses Bote's new UltraAero technology for additional weight savings.
Best Bote SUP For Performance & Speed
What's the best Bote paddle board for speed? Well if you want to move fast, the Bote Traveller is the go to choice in the Aero, inflatable board board lineup.
Even just the way this SUP looks is fast. It's got an extended profile with 12'6″ of length and a fairly narrow 30″ width. Despite this slim, speed oriented design it still has 275 LBS of capacity.
But don't think that means you need to sacrifice and the features and comforts of a Bote. This board is still Rac compatible, has a paddle sheath and a wheel rac for easy movement across the beach or parking lot.
Best Bote Paddle Boards For Fishing
Many paddle board companies say you can use their paddle board for fishing, but that doesn't mean it's designed for fishing. And a true fisherman is going to notice it very quickly. Not with the Bote HD or Rackham board. The Bote HD and Bote Rackham are designed specifically to be great fishing paddle boards.
So which Bote Aero SUP should you buy for fishing? Check out the quick answers below!
The HD Aero For Fishing & All Around Paddling – Great Balance
The HD gives you a little mid ground between an All-Around Paddle board and a fishing paddle board. It's 11'6″ length paired with it's 34″ width is going to give you a stable casting platform. Plus, it's size offers plenty of flotation and up to 315 LBS capacity for you, your tackle, cooler and most other things you can think of.
And with those dimensions and it's 30 LBS weight, this HD Aero is still fantastic to paddle as an every day, cruiser board. You can get out and easily keep up with any friends on those non-fishing days.
The Rackham Aero – Designed For The Fisherman
If fishing is completely your focus, we'd recommend the Rackham. At 12'4″ long and 38″ wide, it's longer and wider than the HD which is going to give you a very stable fishing platform and 400 LBS of capacity to carry anything you need on your paddle board fishing excursions – including a second passenger.
This board comes with Rac receivers so you can add racks for your rods, cooler and even a sand spear to keep you centered in that perfect fishing hole.
Which Bote Inflatable SUP Should I Buy?
Let us break it down for you as quickly and simply as we can!
For an all around, recreational cruiser SUP: Breeze or Flood
For a cruiser sup to use fishing or carrying extra gear: Bote HD
For an expedition or fishing SUP: Rackham
For speed and distance: The Traveller
Bote's Other Products

Kayaks
Bote sets their water sports design abilities ahead of the pack with their inflatable kayaks. Top of the line construction it paired with a seemingly endless about of features and thought. Together they make these kayaks a dream to setup and amazing to paddle regardless of what your use.
Aero Inflatable Kayaks
Lono (12'6″ Kayak)
Deus (11′ Kayak)
Zeppelin (12'6″ Kayak)
Skiffs
Inflatable Docks
We are surprised we don't see more inflatable docks being made! They are a brilliant idea for use in the pool, out on the lake or anywhere on the water you want to relax and catch some sun with an adult beverage on those dog day afternoons. Bote Inflatable Docks are designed brilliantly and should be at the top of your list.
10 Foot x 10 Foot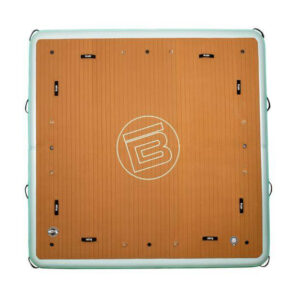 7 Foot x 7 Foot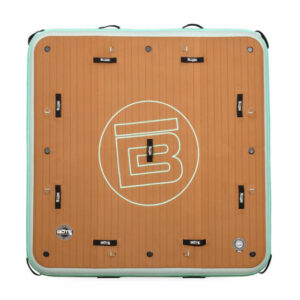 FX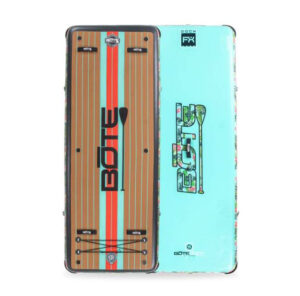 Where's The Best Place To Buy?
The options to buy a Bote paddle board are: Their online store, retail outlets or dealers and Amazon. You should choose the options that works best for you, but we prefer the Amazon route because most of their boards are available with Prime Delivery! That means free 2-day shipping for most products and a great and easy return policy just in case anything comes up.
Overall we have found prices to be very comparable in all locations.