This post may contain affiliate links. Commissions we earn from partner links on this page do not affect our opinions or evaluations. Our editorial content is based on thorough research and guidance from the editorial team.
Great, Lightweight All Around Paddle Board
Just because you are a first-time paddle boarder or a weekend warrior and want a lightweight, stable paddle board doesn't mean you have to sacrifice on quality.
The Bote Breeze is a top-quality all-around SUP built by one of the best paddleboard companies on the market.
Aero Breeze Paddle Board Review Summary
As usual with us, it's straight the gritty details and wrap up about the Breeze 10 foot 8 inch paddle board.
This is a great paddle board for beginners or weekend paddlers who are looking for a great first paddle board, but want to make sure they get something high quality. And that they won't outgrow as they progress in the sport.
Additionally, it's a great choice for someone who had already owned a 10 or 11 foot paddle board and are looking for something that is lighter weight or higher quality or a better design. It's not uncommon that many people purchase a board from Amazon for $300 as they are just testing the waters of this sport and after a few seasons are ready to upgrade to something higher quality.
Yes, the Breeze is a good paddle board. The kit has everything a first time or SUPer needs to get paddling and will be fun and easy to paddle.
If you are looking to get into the sport and are willing to spend a little bit of money to get a board to last you many seasons, the Bote is a great board optino.
If you like the size of the Breeze, but want something a little more affordable, check out the Aksport 10 foot 6 inch paddle board. This board has a very similar size, profile and is a lightweight construction but is a few hundred dollars cheaper.
Breeze 10'8″ & 11'6″ Price And Value
At around $650 for the 10 foot option and $750 for the 11 foot version this SUP is pricier than some of the bargain boards that are manufactured today. BUT, when this board arrives and you take your first paddle, you'll understand why.
Bote Breeze Full Product Details
The Board
The Breeze board is a great setup for easy use for beginners and paddling. They make 2 different sizes, the smaller of which is 10'8″ and the longer is 11'6″.
The carrying handle and the low weight of this board make it easy to carry down to the water or pull onto a beach whenever you need. With a full inflate of up to 15 PSI this board will feel just about as rigid as a solid board, but be easier to balance on and softer if you bump it.
The profile of the Breeze will make for a great all around board. It's got a fairly wide tail to help increase overall stability and the rocker style nose will help reduce any wave chop from coming over the bow and getting you wet.
The Paddle
The paddle is a fairly standard 3 piece adjustable paddle with a nice comfortable grip for your top hand. The blade is 16″ long and 8.5″ wide at the bottom of the paddle. The Paddle is adjustable to fit different height paddlers and adjusts from 65″ to 85″ long. The length can be easily adjusted with a lock tight adjustment clasp.
The Backpack & Pump
The good news is that this board does come with a backpack / storage bag and the pump you will need to get it inflated. Inflating this board will usually take about 5-10 minutes based on how fast you pump. Be warned, a hand pump can absolutely be a workout.
The backpack is functional, but fairly bare bones. It can be a bit uncomfortable for a long carry, but just fine to get your board from a parking lot to a beach or dock where you want to dip your board in the water.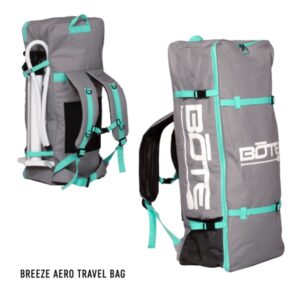 Board Construction
The Breeze features Bote's AeroUltra construction technology which means you get a strong rigid board that only weighs 20 or 22 lbs for the longer version.
Why is this important? There are many other "lightweight" boards out there, but know that when many other companies cut weight to product a board for around $300, you are very likely going to sacrifice some of the rigidness and sturdiness of the board.
This means that cheaper boards may flex more when you paddle, making it less stable and harder to track straight. Bote's AeroUltra construction means you don't have to sacrifice.
You get a sturdy rigid board for only about 20 LBS!
Quick Product Specs & Dimensions
Quick Specs For The Bote Breeze Paddle Board
What Comes With the Breeze Paddle Board?
The quick overview of the Breeze inflatable stand up board package is that it includes everything you need to get paddling out on the water on your first day with your new board. Breeze offers this complete package with everything you need except a life jacket and an akle leash. We like that they include everything you need as it makes this package a contender since so many boards are all inclusive these days.
10 Foot 8 inch long inflatable paddle board or 11 Foot 6 Inch
3 piece easily adjustable paddle
Carry backpack
Removable fin
Pump
Repair kit
Consumer Ratings By Feature
Overall Customer Rating: ★★★★★ 4.9 Of 5.0 Rating with 400+ Reviews
Breeze 10 Ft & 11 Ft Inflatable SUP Pros & Cons
Pros of the Breeze Board
After reviewing all of the customer reviews the most positive aspects of this board quickly become apparent.
Good Value: At $600 – $700 dollars this board is more expensive than some of the cheap boards you can find out there, but it's a get what you pay for. The Breeze is a great board that will last for years and give you a board that you won't outgrow quickly.
Both Sturdy & Light: It can be difficult to product inflatable paddle boards that are sturdy and rigid but lightweight at the same time. Bote has managed to pull it off with the Breeze. You get a lightweight easy to carry and paddle board, but don't sacrifice performance. No flimsy inflatable SUPs here!
Quick & Easy To Use: Many people talked about how they could easily carry the board to the beach in the backpack, inflate it in about 5-10 minutes and inflate it and pack it all back up in even less time than that.
Fun & Easy To Paddle: Customers spoke very highly of how much fun they had on the board. It offered good stability and flotation for people just getting their sea legs and learning how to paddle.
Cons of the Breeze Aero Paddle Board
After reviewing all of the negative real customer reviews on the Breeze we found that they fall into a few main categories of complaints outlined below. It's important to note that less than 1% of the total reviews were in the negative range of 1 and 2 stars. This is a VERY low percentage and a very good sign about the quality of the Bote Breeze.
Pump Defects: A single customer mentioned the dial pressure gauge was broken on arrival. It's unfortunate but this can happen sometimes and only 1 issue isn't too concerning to us. This can also be rectified by contact Bote's customer service team.
Bubbles In Laminate: A few customers mentioned having a few bubbles show up in the laminate after inflating their board. It occurred in well less than 1% of the reviews we analyzed so is not a big concern. Additionally issues like this will be covered under the 30 Day Guarantee or 2 Year Warranty.
Ankle Leash: A few customers specifically mentioned they were disappointed that the board did not come with an ankle leash. Bote doesn't advertising offering this for free, so it might just be a lack of understanding what's in the kit.
Durability: A few reviews mentioned that their paddle board got a hole from hitting a submerged tree or got scratches from their dog's nails etc. In particular, they mentioned expecting more durability from a board in this price range.
Breeze Aero Price: Here's How To Get Your's Cheap
So you are pretty interested in getting the Breeze, but where can you go to get the lowest price possible on the Aero Breeze SUP?
In general Bote sells their boards in 3 places. One their own website, on Amazon and in retail shops around the country. Often we recommend purchasing through Amazon to take advantage, but currently the Breeze is not available on Amazon – so we recommend purchasing directly of the Bote website.
Breeze iSUP Uses / Who Is It Good For?
The Bote company offers a range of inflatable paddleboards from lightweight all-around SUPs like the Breeze all the way up to expedition boards like the HD or Rackham.
The Breeze is designed with an all-around use profile and standard lengths that make it perfect for use on lakes, reservoirs, rivers, or light ocean use. It's a perfect, lightweight, and simple board for weekend use.
One of the huge benefits of this inflatable board is how well it packs down into a backback. It's great for people with limited storage, who need to pack it into a car or one of our favorite features:
The Breeze Aero is a great paddle board to fly with! It packs down smaller enough to be easily checked and the lightweight means you don't have a beast to haul around an airport or rental cars if you are taking a paddle board vacation.
If you want a top quality, all-around paddle board that packs small and is easy to carry – this is a great choice.
Breeze Aero iSUP Warranty
We haven't found any reliable information about the warranty offered on this board, so that is a consideration you should take in mind. If you purchase the board through Amazon you will get their standard consumer protections. If ongoing customer support is important to you, we would recommend you look to other brands that offer customer service in the United States.
Review Conclusion: Impressed By The Breeze Aero Paddle Board
It's hard not to be impressed by the Breeze. It's pretty obvious when a paddle board has been designed by someone in love with water sports – and that's what you get with a Bote Paddle Board.
They aren't the cheapest SUPs on the market, but if the price tag is in your budget – we highly recommend getting the Breeze as a top quality All Around paddle board that is great for a first timer, but also a serious enough board to keep any level paddler looking for a board in these lengths extremely satisfied for years.
Bote Breeze Paddle Board FAQs
What Are The Deflated Stored Dimensions?
When deflated and packed in it's bag it's about 12 inches x 12 inches by about 36 inches tall.
Does The Breeze Paddle Float?
Yes it does!
What Is The Max Inflation Pressure?
The max recommended inflation pressure for the Breeze is 15 PSI. This will get you the most rigid performance.
Do I Have To Pay For Shipping?
Nope. Luckily when you order items from the Bote site that are over $100 they will ship to you for FREE! Plus, if you order from Amazon and have a Prime membership – it will be free shipping there too.