This post may contain affiliate links. Commissions we earn from partner links on this page do not affect our opinions or evaluations. Our editorial content is based on thorough research and guidance from the editorial team.
iSUP Reviews is reader-supported and may earn a commission when you buy through links on our site or this post waterproof fanny pack.
A waterproof fanny pack is a great addition to your paddling boarding accessories. They are the perfect size to hold your phone, keys, or wallet, and make sure they stay dry in case of a surprise swim!
For most paddlers out for a fun afternoon or casual paddle, a full size dry bag is too big and bulky – so a water proof fanny pack is a great alternative to fit just those critical items that you need to take with you and make sure they don't get wet.
Another great benefit is that with a fanny pack securely fastened around your waist, you know exactly where those items are and can make sure they don't accidentally fall or get loose and end up on the bottom of the lake.
Best Waterproof Fanny Packs Comparison Guide
Waterproof Fanny Pack Reviews
Yeti Sidekick Dry Waist Pack
You probably know of Yeti from their almost indestructible coolers. You see them strapped to the back of trucks, boats and paddle boards everywhere. Their waterproof fanny pack shouldn't surprise you then.
At 4.25 Liters in volume, the Yeti Sidekick is the largest in our list and is 100% waterproof and even stays dry when submerged. Yeti uses a unique, durable magnet sealing opening that makes this the easiest to open and reseal of the fanny packs here. This is a very useful feature for one handed used.
It's a great feature for trying to get your camera out with one hand to snap a quick picture without losing your paddle in the process.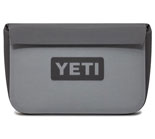 Aquapac Waterproof Waist Pack
First up for the Aquapac Dry Fanny Fack, you'll notice that bright green color that we love! But this pack isn't just a pretty face. It's designed for people who like form and function.
It's built of incredibly durable 500D nylon PVC tarpaulin which means years of life and no accidental rips, tears to delaminating. The waterproof enclose is the classic roll top sealing that is known to be extremely waterproof when used properly.
As a nice add on feature, they have a quick access smaller pocket on the outside with a waterproof IPX4 zipper so you can get to small items without having to open the whole pouch.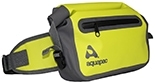 Gecko Dry Bag Waist Pouch
The Gecko Dry Fanny Pack is similar to the Acqupac above in design featuring a single larger internal pouch protected by a roll top waterproof design, and a smaller dry zipper protected front pouch.
The gecko, however is a little more value priced. It comes with a fully adjustable waist band plus a mesh pocket inside to help keep things organized. This is a particular favorite among budget conscious fishermen.
Blue Sky Basics Waterproof Pouch
The Blue Sky Basics Waterproof Pack is the least expensive option on our list and actually comes in a 2-pack. The trade off for the lower price is the smallest pack on the list and with the least features. It's a very simple, but functional single pouch with a roll top closer advertised to be waterproof down to 32 feet.
It's a great, basic option to keep a phone or set of keys dry for a small price when you are paddling.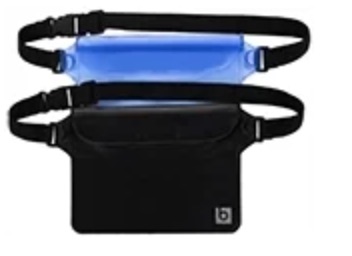 SealLine Waterproof Fanny Pack
The SealLine Fanny Pack is similar to the Aquapac with a 4 liter main pocket that is waterproof secured with a roll top closure system. At 4 liters it's one of the larger packs here, plus it has an additional smaller front pocket for quick and easy access to a smaller item.
SealLine is known to top of the line construction and design and this pack is no exception. It will hold up to anything your paddling days can throw at it for years to come.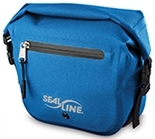 Why Choose A Waterproof Fanny Pack?
Should you get a waterproof fanny pack for paddle boarding? It's a great question and here's what we think.
If you are going paddle boarding, you are almost 100% likely to need to carry a few important things with you that should remain dry. Likely these are your phone, car keys (remember the electric fob!) and a camera. So you need some kind of water proof bag and your options are a dry bag, waterproof fanny pouch or small phone holder.
For just a few items a dry bag is usually much too large. It's difficult to find specific items all the way in the bottom and is a fairly large item that must be stowed on the tail or nose of your board.
Those small phone carriers are honestly just too small! Sure, you can squeeze your phone in there – but you have to wrestle them back and. And there isn't really extra space to store your keys without scratching your phone.
The waterproof fanny pack is a great choice because it's the perfect balance of sizes to fits just those things you need comfortably. But it's not so large to be a burden. The final benefit is that it fits securely around your waist so you can be sure those all important items stay with you and don't fall off or get lost.
Our recommendation for carrying essential items when paddle boarding is waterproof fanny pack!
What Makes A Good Waterproof Fanny Pack?
Durable Construction: Make sure you get a fanny pack that will hold up to regular use, water, storage and the occasional bump. You are putting important things in it!
Reliable Water Proof Seal: Most waterproof fanny packs use a roll top enclosure that is well designed and have been around for ages. The roll the neck sleeve 2-3 times and then snap shut usually with a buckle closure. The other option is the magnetic strip of the Yeti. These are newer to the market, but still extremely water proof and easier to access.
Comfortable Strap: Make sure you get something with a reasonably wide strap (usually at least 1.5 to 2 inches or more) so that it doesn't pinch your hips. A comfortable strap will make you forget you have it on. Some packs like the Acqupac even have nylon wings on the strap to make it distribute the pack weight even more for added comfort.
How Do They Make A Fanny Pack Waterproof?
Waterproof fanny packs use the same basic design of a pouch with an adjustable waist strap to hold it securely on around you hips. But there are 2 basic things that make them waterproof:
Waterproof fabrics: Instead of standard cloth or nylon, waterproof pouches use a PVC (plastic) coated nylon that will still allow it to bend and flex, but the plastic gives it a waterproof protective layer.
Waterproof Closures: Once your pack is made from a waterproof material, the last step of the process is to make sure the openings can be tightly sealed too. Most packs use a roll closure system in which the opening hole is a little extra long and can be rolled up and then pulled tight with straps and buckles. Some more advanced bags may use waterproof zippers or magnetic closures like the Yeti.
Waterproof Fanny Pack Tip
Here's a quick pro tip when using your waterproof fanny pack! When you are sealing it up, try and leave some air inside the pouch. DON'T try and squeeze all the air out. This way, if for some reason it gets separated from you and ends up in the water – it's got a little extra flotation.