Are you looking for a great quality, inflatable SUP for less than $400? The great news is that there are plenty of great paddle boards in a variety of styles for sale for under $400.
We've created this guide on the best SUPS for $400 as a subset of our complete list of the best paddle boards.
As paddle boarding has become a popular water sports activity for both fun, fitness and socializing it has drown a number of companies into the market. The companies a designing and building good paddle board kits that sell a cheap prices for the value they offer.
What Are The Best SUPs For Under $400
How To Choose The Right Inflatable SUP?
While many reviewers or companies simply give you a list of the "best" inflatable paddle boards the reality of finding the right one is a little more complicated. Don't worry though, because with a few simple tips and guidelines we can help you choose which is the best SUP for you and have included a list of some great choices below.
Total Weight Capacity
With each of the SUPs we describe below, you will notice that they have a total weight capacity number and it's important not to ignore them. This represents the total amount of weight (including you, any pets, gear or friends) the board can carry.
If you overload a board, it will sit too low in the water. This means it won't paddle well or maneuver well and will likely mean you get wet.
Buyer Recommendation: We suggest purchasing a board that has a maximum capacity at least 50 to 75 LBS more than what you plan to regularly have on board.
SUP Stability And Speed
It's important to know that the wider a paddle board, the more stable it will be. And the longer a paddle board and the narrower, the faster it will be. So again, while it would be simpler to recommend a single "best paddle board", the reality of life is about tradeoffs. And SUP stability vs. speed is one of them.
Most all-around style paddle boards will have a width between 30 inches wide and 36 inches wide. A majority will fall right in the middle with board widths of about 32″ to 33″.
Buyer Recommendation: If you want a more stable SUP, look for something with a width of 33″ inches or wider. If you want something for faster straight-line paddling, look for something longer around 11′ or 12′ and narrower than 33″.
Paddler Size (Height & Weight)
In general, the larger you are the bigger a paddle board you should choose. In many ways paddle boards are like sizing skis or a bike. Bigger skiers need longer skis or bigger bike frames.
A bit of it comes down to personal preference. A smaller paddle board will overall be more maneuverable, but likely a bit slower. Just like skis!
Buyer Recommendation: Larger or taller paddlers should consider larger paddle boards. If you are more than 6′ tall or more than 200 LBS, we'd recommend not purchasing anything smaller than 10'6″ long. If you are less than 5'5″ and under 150LBS, consider boards between 9'6″ and 10'6″ to fit your height and weight without being so large it becomes cumbersome.
Your Budget
It would be nice to have an unlimited budget for your new paddle board, but for most of us that's not the reality. Choosing a paddle board that fits your budget it's as important a criteria as other things like length or design.
Having $400 to spend on an inflatable paddle board is a very solid budget that can get you a high-quality, fun to paddle SUP. If you choose to spend more on some additional features or a particular design, that's fine. Just don't feel like you have to.
---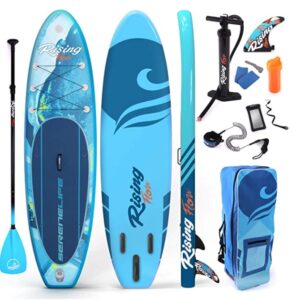 SereneLife builds some incredibly popular paddle boards. The Free Flow and Thunder Wave are a perfect paddle board for beginner and intermediate paddlers who want a great all-around board for less than $400.
These boards are a great middle-of-the-road choice for stability and speed with a width of 32″. Plus, they pack up into an easy to carry backpack to take with you on any adventure and won't be a pain to carry at just about 20 LBS.
Recommended For:
Beginner & intermediate paddlers who want a good balance of stability and speed.
Dimensions:
Free Flow: 10'6″ x 32″ x 6″ | 19.6 LBS | 275 LBS Capacity
Thunder Wave: 10′ x 32″ x 6″ | 19 LBS | 275 LBS Capacity
Rising Wave: 10'6″ x 32″ x 6″ | 19.6 LBS | 275 LBS Capacity
SereneLife SUP Kit Includes:
Inflatable SUP with handle & non-slip deck padding
Paddle
3 Fins
Ankle leash
Manual inflation pump
Carry bag / backpack
1 year warranty
---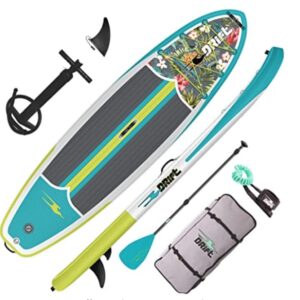 Drift is a stand-out company that is based down in Destin Florida. They not only make great paddleboards but also have fantastic after-purchase customer service if you ever need support. Plus they have a 1-year manufacturer's warranty to keep you covered.
While the price of this board is slightly above $400, we put it on the list because it's a SUP standout. It's 10 foot 8 inch length is a little longer than the average board on this list and it's 33″ width make a very stable platform.
For the additional money spend on this board compared to some other cheaper options, the construction is incredibly durable and top-notch. The outer skin is almost indestructible and can handle those scrapes and bumps that naturally come with this water sport. The inner baffles also have a high-quality drop stitch construction that gives a very rigid board for a great paddling experience.
Dimensions:
Drift Paddle Board: 10'8″ x 33″ x 6″ | 19 LBS Board Weight | 250 LBS Capacity
DRIFT SUP Kit Includes:
10'8″ Inflatable board
3 piece aluminum paddle
Fins
Manual paddle board pump
Backpack carry bag
Repair kit
---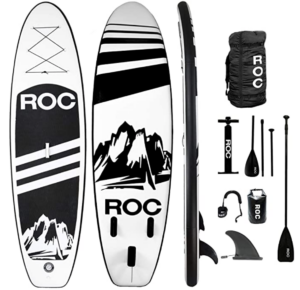 The ROC is a great board for the weekend warrior paddler who wants stability and easy paddling for a cheap price. The company is a USA family company and are very reliable.
Just how reliable and popular is the ROC SUP? There are more than a MILLION Roc paddle boards sold across the world. They come with a 1 year warranty to back up their boards in case anything comes up. They really stand behind their gear.
Recommended For:
This is a perfect all-around board with good stability for use on lakes, rivers, reservoirs and flat oceans. The 32″ width and slightly shorter length than some other boards here make is very maneuverable and stable for any fun water activity.
Dimensions:
Size: 10′ x 32″ x 6″
Weight: 17.5 LBS
Capacity: 300 LBS
ROC Kit Includes:
10′ Paddle Board
Collapsible aluminum paddle
Manual board pump
Stability fin
Safety ankel leash
Waterproof bag for phone etc
Heavy duty backpack for storable and carrying
---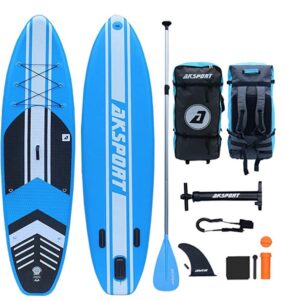 The Aksport is one of the lesser known SUPs on this list but stands out for a few reasons of it's own. Specifically, this board is extremely lightweight! It weighs only 17 LBS. An impressively low number given it's size of 10.5 feet long and 32 inches wide. This means it's easier to paddle and very easy to carry and store.
Another great feature is the padded straps of the backpack. That combined with the low weight makes you want to take this to some small back country lake to have it all to yourself.
Also, the tapered bow and tail of this board help it move through the water quickly and with minimal effort. If you want a board that's both fast and easy to paddle, we'd recommend the Aksport.
Recommended For:
Paddler's who are looking for a very lightweight and easy to transport / store SUP that will paddle fast and easily while still offering good stability.
Dimensions:
Size: 10'6″ x 32″ x 6″
Weight: 17 LBS
Capacity: 300 LBS
Aksport Kit Includes:
Inflatable board
Manual hand pump
Fins
Adjustable alloy paddle
Carry bag with straps and backpack
Coiled ankle leash
---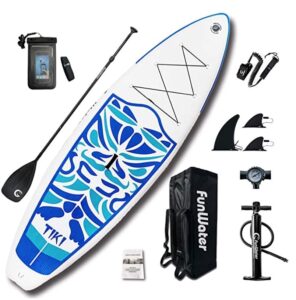 If you have been researching the best paddle boards, you have likely heard the name FunWater. The Tiki is another popular board from FunWater that is 10'6″ long and 33″ wide.
The board gets fantastic customer reviews and comes with a very affordable price considering the entire kit you get. If you are looking for an all-Around board and want to make sure you get something very nice and stable, the FunWater Tiki is a great choice due to it's wide width.
Another great feature that we love about this SUP is the tapered tail of the board. This will help this board still paddle quickly and hold a nice straight line despite it's slightly wider size. So a great balance of stability and speed.
Dimensions:
Size: 10'6″ x 33″ x 6″
Weight: 17.6 LBS
Capacity: 300 LBS
Tiki Kit Includes:
10′ Funwater Inflatable Board
3 removable fins
Manual pump
Carry backpack and storage bag
Phone dry bag
Ankle leash
---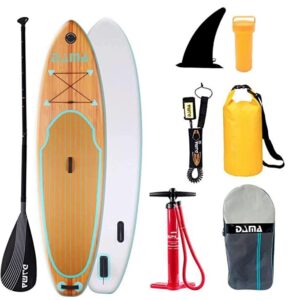 First, we love the design of this board that makes it look like the wooden decking on a ship. Sure, it's an inflatable board – but a little style is really unique. At 9'6″ long and 30″ wide, The Dama SUP is smaller than most of the boards on this list and a great option for smaller paddlers or someone who wants more maneuverability instead of just carrying capacity or speed.
It's important to note that the capacity limit on this board is 220 LBS, compared to many of the other boards on this list which are about 275 LBS or higher.
Recommended For:
The smaller sized Dama is perfect for smaller paddlers who weigh less than 150 LBS or are under 5'6″ tall. This size will be easier to handle and maneuver than the larger boards on this list.
Dimensions:
Size: 9'6″ x 30″ x 6″
Weight: 20 LBS
Capacity: 220 LBS
Dama Kit Includes:
Inflatable board
Hand pump
Removable center fin
Repair kit
3 piece aluminum paddle
Carry and storage bag
---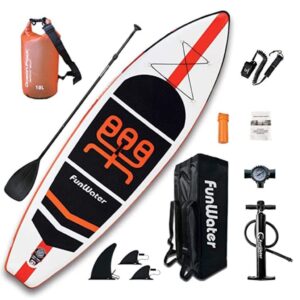 This FunWater is one of the biggest boards on this list with a length of 11 feet and a width of 33 inches wide. All this volume gives it a great carrying capacity so you can comfortably hop on with your cooler and dog or maybe even a friend.
FunWater makes some very affordable paddle boards, but still deliver great quality. This board will be a delight to paddle with it's tapered note and be sure to be around for years.
Recommended For:
This board is great for larger sized paddlers or people who want to bring lots of gear. It's also one of the most stable options due to it's 33″ width.
Dimensions:
Size: 11′ x 33″ x 6″
Weight: 17.6 LBS
Capacity: 330 LBS
Funwater Kit Includes:
11′ Funwater Inflatable Board
3 removable fins
Manual pump
Carry backpack and storage bag
Phone dry bag
Ankle leash
---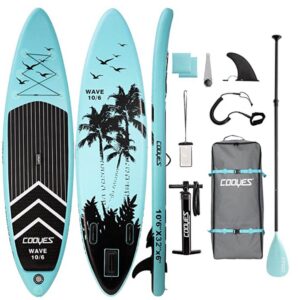 The Cooyes SUP is a slightly lesser known brand of paddleboards, but they are an up and coming brand for good reasons. At 10.5 feet long and 32 inches wide it's a great all-around style board for recreational paddling, touring with a dog or even doing some casual yoga or fishing.
What makes this board stand out from some others on the list it's the particularly sporty shape of the board. The highly pointed bow plus the 100% tapered tail means faster paddling speeds because of it's streamlined shape.
Recommended For:
If you want an al-around paddle board that is going to out-perform other boards in the same size category for speed. The Cooyes is a fast, all-around board that should be at the top of your list.
Dimensions:
Size: 10'6″ x 32″ x 6″
Weight: 19.5 LBS
Capacity: 330 LBS
Cooyes Kit Includes:
10'6″ Cooyes SUP board
Removable fin
Safety leash
Waterproof bar & repair kit
3 section aluminum paddle
Manual inflation pump
Backpack carrying bag
---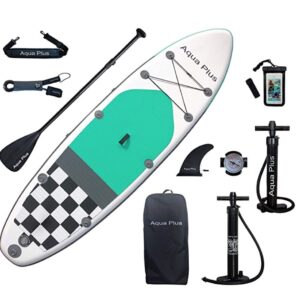 Dimensions:
Size: 10'6″ x 33″ x 6″
Weight: 20 LBS
Capacity: 330 LBS
Aqua Plus Kit Includes:
Paddle board
Adjustable aluminum paddle
Travel backpack
Should strap
Leash
Removable fins
Double action manual pump
---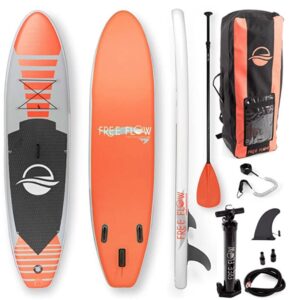 Dimensions:
Size: 10'5″ x 30″ x 6″
Weight: 19.6 LBS
Capacity: 275 LBS
SereneLife 10'5″ Kit Includes:
Inflatable 10'5″ long board with non-slip top decking
Ankle leash
Upgrade Aluminum paddle
Hand pump
Storage and carry bag
---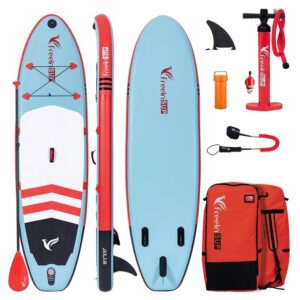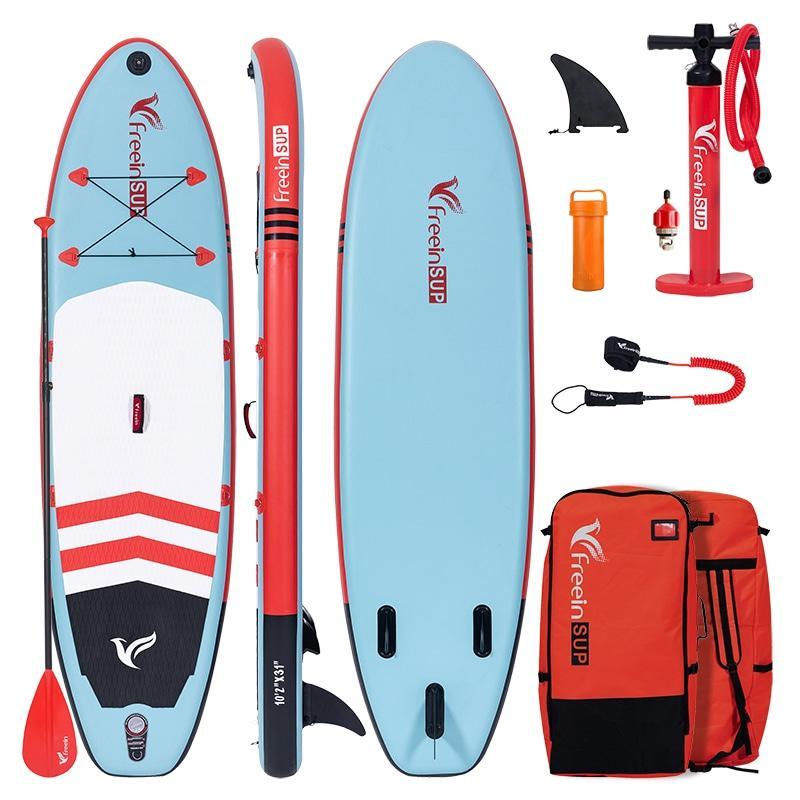 The Freein all around board runs a little on the smaller side at 10 feet and 2 inches long and only 31 inches wide. It's a great board for paddlers on the slightly smaller side or for people who are looking for something a little more maneuverable.
It's got all the features you could want with a comfortable deck foam, bow storage bungee cord, and stainless steel D-rings for attaching gear. A great addition that not all boards have is a camera mount on the bow that lets you add a Go Pro to capture all the action.
Read our complete Freein Paddle Board Review
Freein Recomended For:
This board is called the all around for a reason. It's great for paddlers of all skill levels and will handle itself well in all water and weather conditions.
Dimensions:
Size: 10'2″ x 31″ x 6″
Weight: 24 LBS
Capacity: 265 LBS
Freein 10'2″ Kit Includes:
Freein 10'2 ISUP
Carrying bag
Telescopic SUP paddle
9′ Coiled leash
Double action hand pump
Repair kit
---
Side By Side Comparison Of SUPs
Best Paddle Boards Under $400
| Paddle Board | Length | Width | Height | Board Weight | Manu. Capacity | Price |
| --- | --- | --- | --- | --- | --- | --- |
| SereneLife Free Flow | 10'6" or 10" | 32" | 6" | 19 or 19.6 LBS | 275 LBS | |
| Drift | 10'8" | 33" | 6" | 19 LBS | 250 LBS | |
| ROC | 10' | 32" | 6" | 17.5 LBS | 300 LBS | |
| Aksport | 10'6" | 32" | 6" | 17 LBS | 300 LBS | |
| Funwater Tiki | 10'6" | 33" | 6" | 17.6 LBS | 300 LBS | |
| Dama 9'6" | 9'6" | 30" | 6" | 20 LBS | 220 LBS | |
| Funwater 11' | 11" | 33" | 6" | 17.6 LBS | 330 LBS | |
| Cooyes | 10'6" | 32" | 6" | 19.5 LBS | 330 LBS | |
| Aqua Plus | 10'6" | 33" | 6" | 20 LBS | 330 LBS | |
| SereneLife Premium | 10'5" | 30" | 6" | 19.6 LBS | 275 LBS | |
| Freein SUP | 10'2" | 31" | 6" | 24 LBS | 265 LBS | |
Why Choose An Inflatable Board?
Hard boards made of epoxy where the standard of paddle boarding for many years, but recent developments in technology and manufacturing have made inflatable SUPs a perfect alternative to hard SUPs due to their more affordable prices, easier storability and easy to travel backpacks.
Inflatable SUP PROS:
Very affordable compared to hard paddle boards
Much more compact, portable & lighter weight
Very rigid and easy to paddle when inflated correctly
Can be packed up to take on planes or travel
Great to paddle when kneeling or comfortable to lay on
Very durable. They can be used for many years and even stand up to kids or dogs
How Rigid Are Inflatable SUPs?
Many years ago inflatable boards got a bad name because they would often flex or sag which made paddling them difficult and less fun than a hard board.
But today with new design methods like baffles, chambers and better materials – inflatable paddle boards can be just as rigid as a hard board when inflated to the proper pressure.
It may sound hard to believe but some of the paddleboard companies do fun experiments to test their boards. In particular, Atoll paddle boards shows how a person can stand on the board and it stays firm even when supported only at the ends.
Can I Get A Good SUP For $400?
Yes, a $400 price point will get you a good paddle board for your money. In fact, for $400, not only can you get a good board but you are very likely to get an entire beginners paddle board kit that will include a paddle, pump, fins and ankle leash.
You will get all the things you need to start paddling today (except the sunscreen and life jacket). So if you have four hundred dollars to spend, it's time to start researching and we can help you find the perfect board for your next paddling adventure.
Is Paddle Boarding Good Exercise?
Paddle boarding can be great exercise and a good fitness activity if you want it to be. One of the things that so many people love about paddle boarding is that if you want a lazy activity you can gently paddle around or float down a river with very limited work.
However, if you want more exercise, paddle boarding can quickly become vigorous. If you begin to paddle harder and faster you will quickly notice your heart rate increase and suddenly need deep lungfuls of air.
As you begin to paddle harder, you will notice your arms and shoulders beginning to get tired. You may also find that you engage your abs and legs to drive additional power.