Searching for the perfect hybrid SUP kayak is not an easy task. When you are making such an important watersports gear purchase, you want to know it'll will be fun on your first day out, but also fit your needs for years to come.
And that's why SUP kayak hybrids are great, because they can adapt to your needs whether you want to stand up and paddle in surf or sit down and paddle as a kayak to cover lots of miles comfortably.
Whether you live right next to the water, an hour or so from your favorite spot, or a picking out a hybrid kayak for a specific trip, hybrid paddleboard kayaks are designed to shape-shift based on what you need to specific plans or water conditions.
And if you're looking for a new conversion inflable SUP kayak, you've landed in the right place. We scanned the internet and worked with our review experts to give you the details so we can share some of the sup kayak hybrids available online.
What Is A SUP Kayak Hybrid?
A hybrid kayak paddleboard is at the simplest an inflatable paddle board that with a few included parts and quickly be changed over so that you can sit on it and comfortably paddle it like a kayak.
They really give you a chance to have both a paddle board AND a kayak for the price of one.
There are 2 primary things that make your paddle board into a kayak.
Adding A Kayak Seat
First, to comfortably sit on your SUP and paddle it like a kayak, you will need to add a seat back. Most convertible kits use a contoured, padded seat back that is held in place using nylon straps and metal D-rings that are already secured to your SUP.
Converting To A 2 Bladed Paddle
The other thing you will need to do is convert your paddle to have a blade on both ends so you can switch over to the side to side paddling motion of kayaking instead of the single stroke motion of paddle boarding.
Our List Of The Best Kayak SUP Conversions
1. Freein 10'6 Inflatable Kayak Package
Brand: Freein
Dimensions: 10'6″ Long x 31″ Wide x 6″ Thick
Price: From $399
Well-known for its Freein Explorer SUP, Freein is based in the US in Santa Clara, California and sells its paddle boards and kayaks directly to consumers to reduce retail markups and get paddle boarders great SUPs at very affordable prices.
One of the things we look for in paddleboard companies are people who live the water lifestyle and Freein does that: "We use our products every day. Each product is thoughtfully designed with the best intentions and comes backed with our iron clad warranty."
The Freein 10'6″ Kayak SUP hybrid package is a classic design with a great handling paddle board that quickly converts to a kayak in just a few minutes by attaching the included kayak seat into the sitting position by clipping it to the securely attached metal d-rings. Then, just attach the second blade to convert your paddleboard paddle into a kayak paddle in moments.
Out of the box, the inflatable SUP can be pumped up in about 10 minutes and you are ready to paddle. The kit includes everything you need to start paddling or kayaking ASAP.
The Freein 10'6″ hybrid kayak paddle board has a universal cruiser paddle board design system.
2. Freein 10 Inflatable Kayak Package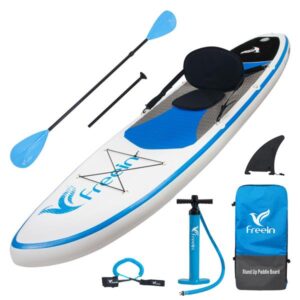 Brand: Freein
Price: From $379
3. Bestway Hydro-Force Oceana White Cap 10′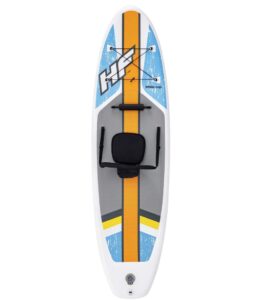 Brand: Hydro-Force
Price: Starting at $325
Here is one of the best paddleboard choices for paddlers of all ages and levels. It can be used for recreational paddling through such activities as racing, touring and yoga boarding. The board is made of a robust TriTech material that is strong and resistant to harsh conditions such as UV rays and certain oils. It is also reinforced with a durable three-ply poly-ester mesh core making it incredibly strong and rigid. Like any other quality product, the Bestway paddleboard is highly durable and can withstand significant weight and extreme pressure.
The Bestway paddle board measures 120″ x 32″ x 4″ and weighs up to 209 lbs. while on water. It is sleek, fast, and lightweight and guarantees you excitement and fantastic health benefits whether you use it as a board or kayak. Usually, the paddle is accompanied by other accessories, including an aluminum oar, a gauge, a travel bag and a kayak seat with a quality and comfortable back seat.
4. Zupapa 11′ SUP Kayak Convertible Hybrid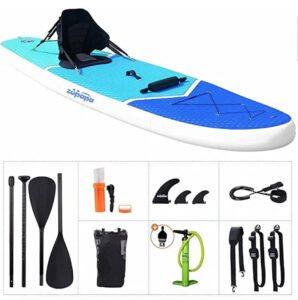 Brand: Zupapa
Price: Starting at $469
The Zupapa 2021 paddleboard is 11″ L x 32″ W x 6″ H. It is strong, rigid, comfortable, and a great choice for taller riders and those who weigh up to 395 lbs. What's better, it is very stable, can support multiple passengers and thanks to its sporty shape, you are assured a fast-tracking experience. Besides, it floats! The paddle comes with a detachable footrest and a great chair to transform the paddleboard into a kayak. It also has an extra paddle blade if you would like to convert it to a 2-blade kayaking paddle. With three great fins under the tail and a strong planning haul, the Zupapa 2021 paddleboard can be used in all levels, including kayaking, yoga surfing and paddling, to mention a few. You can easily fit all your Zupapa 2021 paddleboard accessories in a backpack and carry them around with ease. The accessories include:
a paddleboard
removable footrest
a kayak seat,
paddle holder,
electric pump adapter,
coil leash,
four-piece convertible kayak paddle,
removable fins
shoulder strap and a repair kit.
This paddleboard is accompanied by an award-winning warranty that lasts three years.
5. Zupapa 10′ SUP Kayak Convertible Hybrid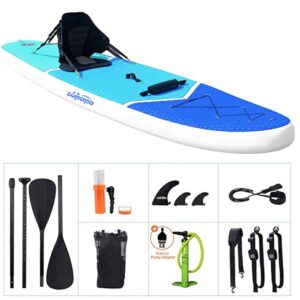 Brand: Zupapa
Price: Starting at $445
Zupapa Inflatable 10FT Stand Up Paddle Board can support up to 350 lbs. and can be used for surfing, fishing, yoga, and even carrying a kid and a furry friend together. They are strong and use two layers of military-level PVC to protect the interior drop-stitch construction. It is non-slip, child friendly and perfect for family fun activities. You can also carry your dog pet without worrying that their paws might puncture the paddle board. Their paddleboard decks are lined with EVA for extra protection. With a great paddle back kayak seat, a two-way paddle and a removable footrest, you can use this paddleboard as a kayak. If you prefer paddling, the three removable fins guarantee you an enjoyable experience, no matter how deep or shallow the water is. It is an excellent choice for beginners and comes with a guaranteed 3-year warranty.
The Zupapa inflatable 10FT stand-up paddleboard accessories include;
One kayak seat
A removable footrest
A blow-up paddleboard
A dual-action high-pressure pump
A floatable 4-piece kayak convertible paddle
A paddle holder
Electric pump adapter
3 Removable fins
A shoulder strap, coil leash,
Repair kit and a backpack
6. Blue Water Toys 10′ SUP Kayak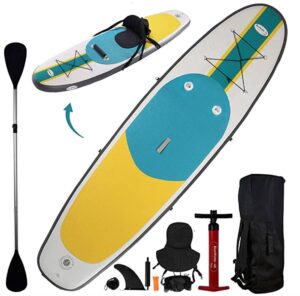 Brand: Blue Water Toys
Price: Starting at $399
The 10′ Inflatable Stand Up Paddle Board is portable and lightweight with a multifunction design. It is synonymous with convenience and quality and can easily and quickly be converted into a one-person kayak. It comes with a larger, durable and comfortable seat that easily attaches to the side of the board, offering you maximum support and seamless movement. It is, therefore, suitable for riders of all levels and perfect for all kinds of adventures. What's more, this premium Stand Up Paddle Board is made in USA using the highest quality components for reliability and durability.
The 10′ Inflatable Stand Up Paddle Board is made of Blue Guard, an advanced military-grade drop stitch material making the board stronger, more stable and durable. A complete paddleboard set encompasses:
A kayak
A footrest
Three detachable fins
An adjustable kayak seat
A coiled leash
2-way high-pressure pump,
An adjustable and floating paddle that can convert your SUP paddle into a kayak
A 2- year warranty
7. Promarine 10′ SUP Kayak Combination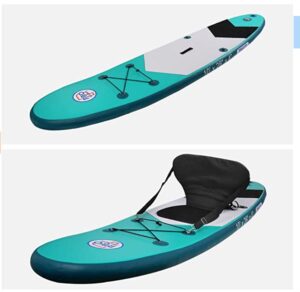 Brand: Promarine
Price: $349
This Promarine inflatable paddle board is an ultra-lightweight board in the market. Manufactured to the highest quality, unique design, and performance standards, this Non-Slip Paddle Board is engineered to provide optimal functionality and overall speed whilst providing exceptional aesthetic and feel.
Built using premium materials of highest military standards, this collapsible aluminum paddle bears the hallmark of unbeatable quality and reliability. The paddle board comes in a unique design and folds easily to fit in a travel backpack. It has triple bottom panel fins and a large detachable fin which go a long way in enhancing the board's speed and performance. The fins are attached to the board, making it easy for riders of all ages to handle. It is multipurpose and provides a robust, sturdy and rigid board making it all-round for all skill levels. The board is suitable for all skill levels, including fishing, yoga, and carrying kids with their pet friends. What's more, it's easy to use, comes with a repair kit and it's designed to be used in all weather conditions.
Promarine inflatable paddle boards measure 120″x 28″ x4″ and can support up to 17 pounds.
What's in The Package
One Non-Slip Paddleboard
One Paddle
One Leash
One Kayak Seat
One Repair Kit
One Hand Pump
One Waterproof Backpack
8. Bluefin Cruise 10'8″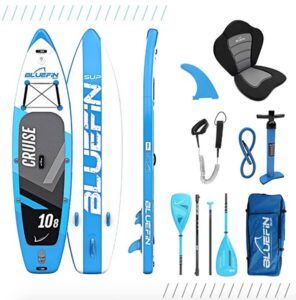 Brand: Bluefin
Price: $549
This Bluefin cruise paddle board is made of excellent drop-stitch material, making it tough and long-lasting. As a matter of fact, Bluefin cruise can support up to 28 PSI owing to its stability, rigidity, and robust construction. Even better, it comes with a conversion kit and an integrated GoPro mount on the nose. As such, you can use the D-rings provided in the kit to help you change your SUP into a SUP Kayak effortlessly, as the GoPro mount captures all the magic. One of the best things about our two-piece shaft is its unique ergonomic fiberglass shaft which weighs about 45 per cent less than the typical SUP paddles. The paddle is therefore incredibly lightweight and easy to handle. It also comes with a smart lock fin and optimized rake to facilitate sufficient glide perfect for everyday paddling.
Bluefin cruise SUP is delivered in a sleek and durable backpack with extra padding making it easy and comfortable to carry.
Product Includes
Bluefin Cruise Inflatable SUP Board
Coiled Leg Leash
Adjustable SUP Paddle with Lightweight Fiberglass Shaft
Universal Waterproof Phone Carry Case
Kayak Conversion Kit
A Smart Lock-In
Dual-Action Pump
Repair Kit
9. Bluefin Cruise 12″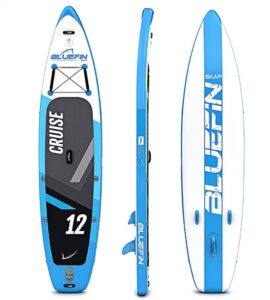 Brand: Bluefin
Price: $699
Here is one of the most versatile, stable and all-inclusive Cruise SUP Package paddling board you will ever come across in the market, having been engineered from superior Denier Exo Surface Laminate PVC Technology. It is made of a strong drop stitch material, making it tough enough to support up to 28PSI. It can seamlessly support one sitting passenger and a pet friend. Bluefin cruise SUP is also equipped with a premium kayak conversion kit, which you can use to transform your SUP Package into a SUP Kayak with no hassle. On the other hand, the GoPro mount is attached to the nose to capture fun activities. The multipurpose 8″ fin center is equipped with an optimized rake to facilitate sufficient glide for daily paddling. Its two-piece peddle contains an ergonomic fiberglass shaft that weighs up to 45 percent less than the regular SUP paddles. Your Bluefin cruise SUP is packed in a classic, strong and durable backpack that is generously padded, making it easy to carry.
Product Specs
Dimension: Cruise 10'8" (324cm by 82 cm by 16 cm) and Cruise 12 (366cm by 82 cm by 16cm)
Weight Board: 24.9 lbs. or 11.3 kg
Max Weight Load: 287 lbs. or 130 kg
Included in The Pack
Bluefin Cruise SUP Stand Up Inflatable Paddle Board
Kayak conversion kit
SUP Paddle (adjustable) with Fiberglass Shaft
Long-Lasting Travel Bag
Removable Smart Lock Centre fin (Tri-fin, snap-lock fin setup)
Dual Action Pump
ESL Military Grade PVC construction
One Quick Start Guide
10. Aquaplanet Rockit BLU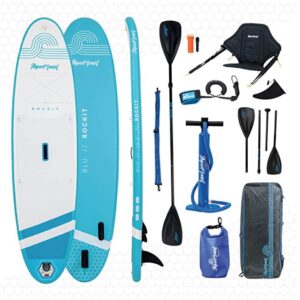 Brand: Aquaplanet
Price: $599
Here is a state-of-the-art kayak and paddleboard all in one. Aquaplanet is equipped with a kayak conversion seal kit, making it easy for you to swap your standard SUP for a SUP kayak for a fantastic water experience. The rockit has a top-notch quality, is super convenient, fun and offers you the ultimate value for your money. Besides, you can quickly pump it in ten quick minutes, getting it ready to roll. It is made up of a cutting edge drop stitch material with a robust and thick surface making it strong, durable and reliable. Besides, Rockit has triple fins to enhance its speed, a traction pad for extra support and a larger fundamental fin to provide additional stability during the paddle boarding fun.
You will receive a complete kit packed with everything you need to embark on your adventure.
What's in The Box
A Kayak Conversion Seat
A Safety Leash
A Waterproof Phone Carrier
A Sleek, Durable and Well-Padded Backpack
A Dual-Action Pump
A Repair Kit
An Adjustable Paddle
One-Year Warranty
11. SÄKEE 10FT Inflatable SUP Kayak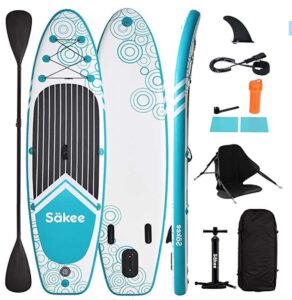 If you look to treat your loved ones to some family fun activity, the SÄKEE inflatable paddle board is a perfect choice. It is made of a top-grade military material and can comfortably support up to 310 lbs. It is, therefore, one of the best ways to enjoy a fun-filled day with your loved ones. Ideally, this paddleboard measures 10″x 32″x 6″ and weighs 18 lbs., making it easy to carry around. It is inflatable and comes with a powerful dual pump offering you two ways through which you can inflate your paddle board. SÄKEE inflatable paddle board delivers incredible maneuverability owing to its triple panel fins, which enhances its speed. In addition, it has an excellent steering and handling ability making it a perfect choice for beginners, including children, teens and adults.
Includes:
A Kayak Seat
A Reliable Pump
Backpack Holding All the Parts of the Paddleboard.
A Two-Way Inflatable Paddle
Things To Consider When Buying
Carrying Capacity / Weight Needs: This is one of the most important factors when choosing your board. Consider how much you weigh plus the weight of any additional gear you will regularly carry. Make sure that you purchase a board that is rated to carry that much weight. We also recommend giving yourself a 10-20% buffer.
For example, if you weight 200 LBS and your cooler and gear weigh another 20 LBS your total capacity needs are 220 LBS. With a 10% buffer we'd recommend a board with at least 242 LBS capacity or with a 20% you would want something around 264 LBS.
Price: Price range for your SUP / Kayak always matters to make sure you can comfortably afford your new purchase. The great news is that you can find a good quality affordable setup for around $300-$500. Always keep in mind that quality and longevity tend to align with price.
Construction & Materials:
Length / Sizing: The size of your board will very often be related to it's total capacity. Longer and wider boards have more capacity, while smaller boards can carry less weight.
Accessories: