Searching for the right inflatable SUP is not an easy task with all the options on the market today. When you are making an investment in a paddle board it's important to get the best option possible for fun, performance, and value.
What Makes A Paddle Board Right For You?
There are 5 main things to consider when searching for the best paddle board to purchase. It's really important to note that what may be the "best" SUP for one person may not be the "best" SUP for you.
Choosing the right SUP style or category to fit your needs.
Fitting your budget.
Picking the right size.
Getting any particular features or accessories that matter.
Quality of construction.
Best Overall All-Around SUP
Category: All-Around
Length: 10′, 10'6″ or 11′
Width: 30″, 31″ or 32″
Weight: 22.5 LBS, 24 LBS or 26 LBS
Capacity: 100 LBS to 210 LBS based on size
Great For: Beginners to Experts
What we like:
What we don't: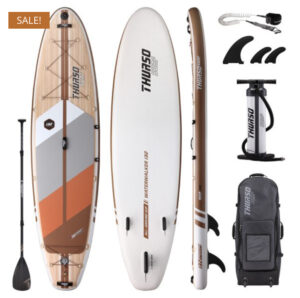 Summary
The WaterWalker line of paddleboards makes it to the top of our list as the best inflatable SUP for a number of reasons. They are designed to be a perfect all around paddle board that will make getting into the sport easy for beginners and still a top water performer for even the most experienced paddler.
Construction
Thurso uses market-leading construction technology with woven drop-stitching paired with a double-layer construction. To take their board above and beyond other cheaper paddle boards they use carbon rails to give you the performance of a hardboard while still being lighter than other paddle boards. For more details about their construction methods and company, you can check out our full Thurso SUP review.
What's Included & Accessories
While the price tag on the Thurso WaterWalkers may be more than some other companies it's well worth the money. And it's not just because it's top-notch construction and performance. Thurso also gives you some fantastic upgrades. They include a 3-piece Carbon paddle that is more durable and significantly lighter than the basic aluminum or even fiberglass paddles from other companies. Once you try a carbon paddle, you'll never want to share it with your friends. Additionally, they feature a Dual Chamber & Triple Action pump. This means faster & easier inflating. Finally, they have a roller backpack so you don't always have to carry the board on your shoulders.
Best Budget SUP
Category: All-Around
Length: 10'6″
Width: 33″
Weight: 17.6 LBS
Capacity: 330 LBS
What we like:
What we don't: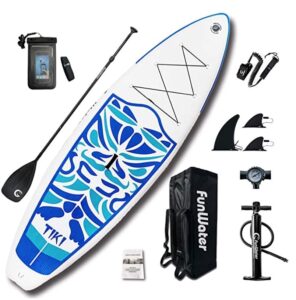 Best Value Paddle Board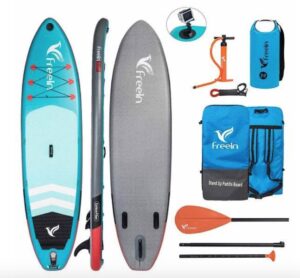 Category: All-Around
Length:
Width:
Weight:
Capacity:
What we like:
What we don't:
Best Board For Small Paddlers
Category: All-Around
Length: 9'6″
Width: 30″
Weight: 17 LBS
Capacity: 175 LBS
What we like:
What we don't: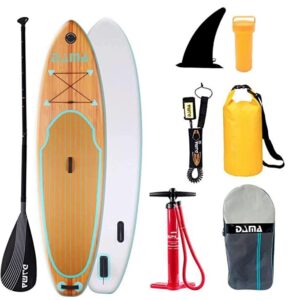 Most Durable SUP
Category: All-Around
Length: 11′
Width: 32″
Weight: 21 LBS
Capacity: 400 LBS
What we like:
What we don't:
Best SUP For Backcountry
Best SUP For Touring / Expedition
Category: Touring / Expedition
Length: 11'6″
Width: 30″
Weight: 26 LBS
Capacity: 330 LBS (Max)
What we like:
What we don't: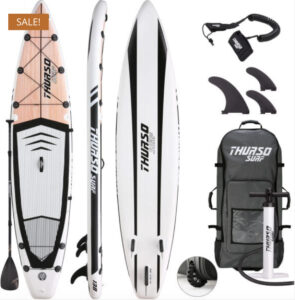 Best SUP For Fishing
Bote Rackham SUP
Best Paddle Board For Yoga
Category: Yoga
Length: 10′
Width: 35″
Weight: 26 :BS
Capacity: 400 LBS
What we like:
What we don't: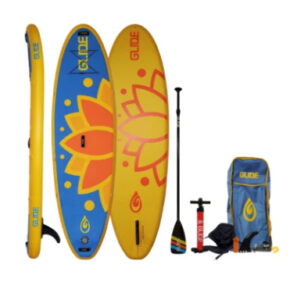 How Do I Choose The Best Inflatable SUP?
Determine what style you need:
What Is A Cruiser Or All-Around SUP?
What Is A Touring Or Expedition SUP?
Touring paddle boards, also often called expedition paddle boards are designed for long distance paddling and very often when carrying extra gear for camping or overnight trips.
What Is A Yoga SUP?
Yoga paddle boards are designed with specifications and features that make them work much better for yoga on the water. When doing yoga, you will want some extra space to move around and room for poses like downward dog or space to stretch out.
Additionally, these boards tend to be a bit wider (usually in the 33″ to 36″ wide range) for extra stability when doing standing or balancing poses. To help you stay out of the water!
The other thing you will notice about boards designed specifically for SUP yoga is that they tend to be less pointed at the tail and bow. They will have more of a square shape. This not only offers a larger deck for your practice but also more side-to-side stability. The trade-off is that usually, these boards do not paddle as fast or efficiently as their all-around or touring cousins.
What are the dimensions of a yoga paddle board?
Most will range in length from about 9 feet long to 10 feet long and about 33 inches to 36 inches in width. Look for a board with a more square shape if you value balance and stability over speed and maneuverability.
What Is A Fishing SUP?