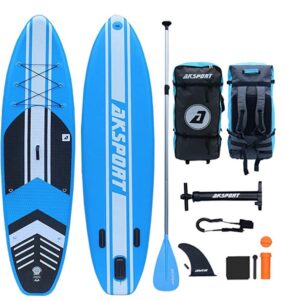 Great All Around iSUP Design
I've been using my Aksport for about 2 months all around Colorado lakes and rivers and absolutely love this paddleboard.
It's fast to inflate, paddles very easily, and is large enough to carry some extra gear or a dog.
Overall Editor's Rating: ★★★★★ 4.7 Of 5.0 Rating
Aksport iSUP Review Summary
I've been paddling on the Askport 10'6″ paddle board for about 2 months now and I'm extremely happy with it. I've had it on a running river in Crested Butte, chopping lake swells, and a flat reservoir and it's handled great under all conditions.
A few things I love: it's much lighter to carry, easier to pack up and stores smaller than other similarly sized paddle boards.
I'm also surprised that it paddles faster than I expected! The tapered tail lets this board move through the water more easily than some other board.
In short, I'm VERY glad I bought this board – particularly at such a great price.
Aksport SUP: Who Should Buy This Board?
You are probably reading this review to help find out if this paddle board is a good option for you or someone you know.
Consider This Board If
You want a solid All-Around SUP
Looking for great price/value
Have a budget of about $300 dollars
Would like a lighter weight board in the 10-foot range
Want a complete package with all equipment
Don't Buy This If
You want a highest premium quality board
You are very hard on your gear (it's only 2 layers compared to more durable 3 layer boards)
Speed is your top priority
You plan to regularly carry 2 people or lots of gear weight
Most Similar SUPs From Other Brands
Aksport Full Product Details
The AKSPORT 10'6″×32″×6″ iSUP is a great combination of lightweight and stable with it's 32 inch width. Also, despite a fairly light and easy to carry 17 lbs, this SUPs carrying capacity when fully inflated is up to 300 lbs.
This is a complete out of the box SUP kit and you get everything you need to start boarding the day the full backpack arrives, including Inflatable Standup Paddle Board, Alloy Adjustable Paddle, High-End Pump, Leash,Travel Backpack and Repair Kit.
The board is great for beginners and intermediate paddlers because it features a Non-Slip Soft Top Deck. It also quickly inflates and deflates with a lock in place press valve.
The AKSPORT Inflatable Standup Paddle Board is Made of 1000D Filament Grade Double-Wall Material (also know as drop stitch material) and double 0.9 mm high-quality PVC tarpaulin. This results in better Air-Tightness and Durability. All the seams are reinforced for long term durability.
Aksport also offers a 30 DAY return guarantee and 1 year warrantee on materials.
What Comes With the Aksport Paddle Board?
The great thing about this package is that it comes with everything you need to get paddling immediately. And in fact, that's what I did! I ordered the board on Monday, it was delivered on Thursday and I was paddling on Friday on a lake in Colorado.
The inflatable paddle board
Paddle
Bi-directional hand pump
Removable centerline fin
Carry bag
Leash
Aksport 10 Foot 6 Inch Inflatable SUP Pros & Cons
The great features of this board significantly outweigh the downsides on this review:
Paddles extremely well in both calm water and even a little chop. It was faster than I expected and still easy to maneuver.
It's size can easily carry one person and some gear or a dog. It CAN take 2 people, but know that you will be riding a little lower in the water.
Inflating the board took about 5-10 minutes depending on how hard I want to pump. But overall, I seem to be inflated faster or at the same time as my friends with different boards.
I LIKE the 1000D double walled construction better than many of the other 3 layer boards out there. Honestly this board is much lighter, easier to carry and packs into a smaller back pack. Theoretically a 3 ply is more durable – but this board feels bomber solid. Just treat it with a little respect and you'll be fine and appreciate that it's easier to handle.
The only downside of this board that I have noticed so far is actually with the pump. It works 100% perfectly fine, but sometimes it whistles a little when blowing it up. I find that it's often a little dirt or water in the nozzle – clean it out and you are ready to pump again sans-noise.
Inflating / Deflating the Aksport Paddle Board
Don't try and let any paddle board company with a manual pump try and convince you that inflating a paddle board isn't at least a little workout on it's own.
The Aksport is no different. If I'm working hard I can get it inflated to the recommended 12-15 PSI range in about 5-8 minutes. At a more casual pace it's going to take about 10-15 minutes.
The process is easy though and just requires attached the pump hose to the board and starting to pump. It's really important though to make sure the button in the inflation port on your board is in the correct (UP) clicked position before you start pumping. Otherwise when you release the hose after pumping, air will escape.
Deflating the board is extremely easy. Just push the button on the port down and it will click into the open position and release pressure extremely quickly. Just a note that this can be quite loud at first. All of the pressure will release in about a minute although the board will still have some air in it.
To get the last of the air out, simply roll your board up lengthwise with the valve open and the air will come out. After my board is completely burritoed, I press the inflation valve into the closed position so that I know I'm ready to go on my next paddle and don't forget.
Can 2 People Fit On The Aksport?
In terms of deck space, you can fit 2 people on this board if one person is standing and paddling and the other is sitting, but it's a tight fit.
Your bigger concern for putting 2 people on the Aksport is going to be weight. Together, my wife and I weight about 260 LBS and we can do it – but the board definitely sits low in the water.
Another couple that cumulatively weighed a little over 320 LBS borrowed this board and used it together. Yes, the board still floated but water would wash over the tail frequently. If you want to put 2 people on a board, we'd recommend you consider something like the Tandem board from Bluefin.
Aksport Price: Here's How I Got Mine Cheap
For the quality, durabilty and overall paddling performance you get from the Aksport it's absolutely a great value for around $400. I know people that have paid twice that for SUPs and not gotten anything better.
If you shop this board at Amazon you will get the benefit of a few color choices, plus the benefit of FREE shipping from them. That can save you a decent amount of money on shipping costs since paddle boards can be bulky and heavy and sometimes cost more.
Shop the Aksport 10'6′ iSUP >
Quick Product Specs & Dimensions
| | | | | | |
| --- | --- | --- | --- | --- | --- |
| Paddle Board | Length | Width | Height | Weight | Capacity |
| AKSPORT SUP | 10'6″ | 32 inches | 6 inches | 17 lbs | 300 lbs |
Aksport iSUP Quick Details
Review Conclusion: Really Happy With the Aksport 10'6″ Paddle Board
If you have read this far into this real user review, you know why I'm a huge fan of this board. Great price, great paddling, good construction and everything you need to start paddle boarding in one easy package.
Just to hit the point home one more time, I let my friends borrow it for the weekend trip to Glacier National part. They came back and asked where they could buy one.