This post may contain affiliate links. Commissions we earn from partner links on this page do not affect our opinions or evaluations. Our editorial content is based on thorough research and guidance from the editorial team.
Top Of The Line SUP For Durability & Performance
If you are looking to get a top of the line board to last many years, BLUEFIN is a great company. You will pay more than some of the "discount" boards out there – but what you get is better quality, better handling and tons of fun.
Another great factor for the Bluefin boards is that they come with a number of upgrades like an attachable Kayak seat.
Editor's Recommendation:

BUY
Bluefin Cruise Paddle Board Review Summary
So it's important first to note that the Bluefin Cruise comes in 3 different sizes to fit your and your paddle boarding needs perfectly.
10'8″ Option
This board is a great, all around paddle board length that makes it perfect for a single paddler or a paddler + dog or seated passenger.
12′ Option
The 12 foot Bluefin option is great for larger paddlers looking for more flotation or paddlers looking to carry extra gear or want the extra length for better straight line, fast paddling.
15′ Tandem Option
If you want to go paddling with a partner (think tandem bicycle here!) and want to both be able to stand up and paddle together – the Bluefin tandem board is your option.
Bluefin 10'8″ Price And Value
For $500-$600 dollars, the Cruise is definitely not the cheapest all around cruiser SUP on the market, but that's not what it's designed to be. The Bluefin Cruise is designed to be a top quality paddle board at a reasonable price – and they succeeded. You can read all the details below that make this a great board, but overall the quality of design, construction PLUS the extra accessories and features you get (like a kayak seat, lightweight fiberglass paddle, and go-pro mount) really get your money's worth on this board.
Are Bluefin Paddle Boards Any Good?
Bluefin makes very good paddle boards. Consumers rate them very higher as a group – in the 4.4 out of 5.0 review range. Additionally, our editor's review of them also gives them good marks for (1) Smart designs (2) Top Quality Construction (3) Great accessory & feature packages.
Yes, Bluefin Paddle boards are very good inflatable SUPs!
Bluefin Full Product Details
The Board
The Bluefin board is a great setup for easy use for beginners and paddling. It has a comfortable non-slip deck that covers about 2/3s of the board so you can comfortably stand where you want when paddling. The front 1/3 of the board is covered with a set of bungee cords to hold down any other accessories you may have.
If features a gentle rocker nose profile that gives you enough protection to help cut down on some splash and spray from small waves but will still cut a nice line through the water. You'll quickly notice that they give this board a number of really nice to have features like a GoPro mount and lots of extra D-rings for lashing and storage.
The Paddle
The paddle is a standard 2 piece split apart paddle for easy storage – but they save you from having to make an upgrade after a few paddles by starting you out with a nice fiberglass shaft instead of the aluminum that many companies use. This fiberglass paddle weighs about 45% less than standard SUP paddles. This may not sound important at the beginning, but once you've been paddling for a few hours that weight savings is very important.
The blade is made from a polyuerethane composite that makes it durable and won't chip or damage. Also important is that the paddle floats!
The Backpack
Not all back packs and board carry bags are created equal. But the Bluefin Cruiser comes with a bag that shows you what happens when someone really thinks through their gear – and uses it themselves.
The bag has extra back and strap padding to make sure it's comfortable to carry and you don't get poked in your back. It's big enough to carry all of the gear and accessories easily PLUS comes with outside pockets for those other things like water bottle snacks etc. This is a NICE tough.
Finally, what we think may be one of the smartest features of the Cruiser carry back is that it doubles as a cargo holder that fits nicely on the nose of your board when paddling.
Board Construction
Bluefin puts a lot of care and design into their boards and it really shows through. The Bluefin Cruiser 10'8″ uses a very tough 1000 Denier laminate PVC and a drop stitch on the seams. The combination of these factors means a very durable board that handles extremely well.
What's The Bluefin Cruiser Carbon Series?
You may have noticed that the 12′ and 15′ boards are part of the Bluefin Carbon paddle board line. What's the difference between the standard and the Carbon Series?
The Carbon boards have an upgraded rail system around the side of the board that uses a diagonal twill pattern of carbon fibers. This means your board is more rigid, paddles better without adding extra weight.
Bluefin refers to this as the Flex Reduction System (FRS). Additionally, these Carbon Series boards benefit from a dual chamber inflation system for ultra stiffness. There is the main inflation chamber that wraps around the outside and nose of the board and a Central Chamber underneath the central kick pad that is separately inflated to your desired pressure.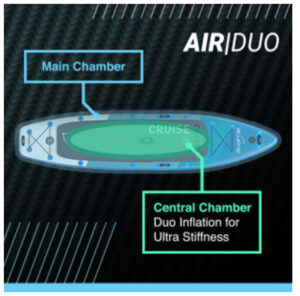 Quick Product Specs & Dimensions
| | | | | | | | | |
| --- | --- | --- | --- | --- | --- | --- | --- | --- |
| | Paddle Board | Length | Width | Height | Weight | Capacity | Price | |
| | Bluefin 10'8″ Inflatable SUP | 10'8″ | 32″ | 6″ | 28 lbs | 287 lbs | Check Price > | |
| | Bluefin Carbon 12′ | 12′ | 32.5″ | 6″ | 32 lbs | 309 lbs | Check Price > | |
| | Bluefin Carbon 15′ | 15′ | 36″ | 6″ | | 353 lbs | Check Price > | |
Quick Specs For The Bluefin Paddle Board Lines
What Comes With the Bluefin Paddle Board?
One of the reasons you buy from Bluefin is because you want everything to show up in a single package. No needing to upgrade your paddle after a few weeks of tired arms – they include a high quality fiberglass paddle. One of the great "next level" upgrades that the Cruise has is a kayak seat and kayak conversion kits. Other companies make you buy this separately but not Bluefin.
Bluefin Cruise inflatable SUP Board (10'8″, 12′ or 15′ Tandem)
Smart Lock Fin
Durable Travel Backpack
Dual Action Pump
Coiled Leg Leash
Adjustable SUP Paddle with lightweight Fiberglass shaft
Kayak conversion kit (seat, straps & D rings)
Universal Waterproof Phone Carry Case
Repair Kit
Consumer Ratings By Feature
Overall Customer Rating: ★★★★★ 4.4 Of 5.0 Rating with 1,200+ Reviews
Thickness:

★★★★★

4.6 Rating
Stability:

★★★★☆

4.4 Rating
Value for money:

★★★★☆

4.3 Rating
Sturdiness:

★★★★☆

4.3 Rating
Easy to inflate:

★★★★☆

3.7 Rating
Bluefin Cruise Inflatable SUP Pros & Cons
Pros of the Bluefin Cruise Board
After reviewing all of the customer reviews the most positive aspects of this board quickly become apparent.
Top Quality Design & Construction: If you have made it this far in the review, you know that Bluefin uses top of the line design and construction.
Quick & Easy To Use: Many people talked about how they could easily carry the board to the beach in the backpack, inflate it in about 5-10 minutes and inflate it and pack it all back up in even less time than that.
Fun & Easy To Paddle: These are great boards to paddle. Whether it's your first day as a beginner you'll be cruising in no time or if you are an intermediate or advanced paddler you can upgrade to some of the higher end Bluefin Cruise options and have a great time.
Cons of the Bluefin Cruise
After reviewing all of the negative real customer reviews on the Bluefin we found that they fall into a few main categories of customer complaints outlined below. It's important to note that less than 10% of the total reviews were in the negative range of 1 stars. This is a little higher than we like to see, but in a fairly normal range of customer complaints for an inflatable SUP.
Heavier Board: You may notice if you are comparing to some other boards in similar ranges that the Bluefin boards are a few pounds heavier for similar sizes. This is because of the 3 layer PVC, stitching and additional D rings etc.
Customer Service Complaints: Some customer's report having trouble getting replacement parts, repairs or refunds from Bluefin when they did have some issues with the board. They seem to be overall a fairly small number of complaints and often seem related to more complicated requests. Overall, we would recommend purchasing a Bluefin board through Amazon because then you are covered by their policies in case you need extra help.
Seam / Valve Defects: One of the more common items was issues with board leaks that hampered inflation from around a seam or in particular around the valve nozzle. We agree this is definitely unfortunate and really frustrating on a brand new board, but can happen occasionally when inflatable paddle boards.
Bluefin Price: Here's How To Get Your's Cheap
At around $600 for the 10 foot Bluefin Cruise it's definitely not the cheapest inflatable paddle board on the market – but you don't buy the Bluefin because it's the cheapest. You buy it because it's a top quality board that will last for years and comes with all the other accessories you would probably need to upgrade or add on if you bought from one of the cheaper options. So, it's a great value kit.
The Carbon Series boards – the 12 foot and 15 foot – are going to run you closer to $1,000 to $1,500 dollars for the Tandem.
We highly recommend purchasing your Cruise from Amazon because they have some of the lowest prices we have seen on the board, plus they offer good customer protections and fast free shipping.
Bluefin iSUP Uses / Who Is It Good For?
The 10'8″ board is a great board for everyone from beginner to intermediate paddlers who want a solid cruiser board and would like to invest about $600 into getting a top quality board that will last years as well as get them all the little nice to haves and upgrades all at once.
The 12′ Carbon Bluefin board is a great step up for a more intermediate to advanced paddler looking to invest about $1000 into a board that will carry a little more gear on those longer paddles. Additionally, getting the FRS / Carbon serious upgrade means you get a more durable board and the dual inflation chambers for really getting the stiffness and paddling speed and performance to live up to your standards.
The 15′ Tandem Board is specifically designed to be a top quality board for around $1,500 for people who are primarily paddling with 2 people. This board is also is part of the upgraded Carbon FRS series so it also has the dual air chambers and carbon reinforced side bands.
Bluefin iSUP Warranty
5 YEAR WARRANTY
We are impressed with Bluefin's boards and they stand behind their products. They offer a 5 year warranty which is much longer than most companies that provide you with a 1 or 2 year warranty.
Review Conclusion: Happy With the Bluefin Cruiser Paddle Board
Bluefin Paddle Board FAQs
Can The Bluefin SUP Be Converted To A Kayak?
Yes, the Bluefin Paddle board can also be converted to a kayak. and what makes it even better is that they include the kayak seat so you don't need to buy additional parts separately.
Does The Bluefin Paddle Float?
Yes it does!
What Is The Max Inflation Pressure?
The recommended inflation pressure for the Bluefin is 15 PSI, although they claim the board is durable enough to withstand up to 28 PSI.
Does It Have A GoPro Mount?
Yes, the Bluefin Cruiser serious comes with an easy mount for your GoPro camera so you can catch all the action live.