This post may contain affiliate links. Commissions we earn from partner links on this page do not affect our opinions or evaluations. Our editorial content is based on thorough research and guidance from the editorial team.
High Quality Touring iSUP For Speed And Distance
The Thurso Expedition is designed for speed and distance but still has solid stability with its 30 inch width.
Thurso is a top-quality board builder and the Expedition handles amazingly and has all the extra features you need.
This Board won't let you down and is worth the money.
Most Similar SUPs
Thurso Expedition 138 Paddle Board Review Summary
As usual with us, it's straight the gritty details and wrap up about the Expedition 11 foot 6-inch paddle board.
At first glance, you are going to notice the differences between this expedition board and your standard cruiser paddle board. This board is specifically designed for covering long paddling distances quickly. It's able to accomplish this with its 11 and a half foot length paired with its 30 inch width and pointed nose and tapered tail.
You will be surprised and how easily this board paddles. If you are used to a cruiser style board this will feel like a rocket! From your first few paddle strokes you'll be hard pressed to go back to a shorter SUP style.
Also, it's important to note that Thurso builds fantastic paddle boards that any paddler will love. You can find our complete thoughts in our Thurso SUP Review.
Expedition Price And Value
The Expedition Touring SUP is priced a little under $900 and at that price we rate it a GOOD Value and is worth your money. Why is the Thurso Expedition worth its price?
Top quality construction will last for many, many years.
Ton's of extra features that make this board stand out from other "value priced" paddle boards.
Top notch paddling performance.
Expedition Full Product Details
The Board
Compared to other boards on the market this Touring board is shaped like a knife with sharp lines that help it slip through the water quickly like an arrow.
The board follows a roughly 1/3 to 2/3 space utilization plan. The front 1/3 of the board is covered with a bungee deck cord for storing and lashing down any gear. Even if you are taking a paddle board camping trip you will find plenty of space for a packed up tent and cooler.
The back 2/3 of the board is covered with deck padding and designed as a comfortable paddling deck for plenty of space to paddle standing up, kneeling or even converted to a kayak with their SUP kayak seat.
The Paddle
One of the things that makes this Expedition package worth the price tag is the carbon fiber paddle upgrade. This Carbon hybrid paddle from Thurso weighs only 32 oz which means a few great things for you.
First, this paddle floats. This can be extremely important on long trips in case you drop it in the water. Being miles from home without a paddle is a huge problem if it sinks – but not this paddle. Second, a lighter paddle means less tired arms. Once you paddle with this design, you'll never go back to aluminum or even fiberglass paddles.
One final benefit is that with it's sectional locking system this paddle can be converted to a kayak paddle in just seconds if you purchase the Thurso second blade kit.
The Backpack & Pump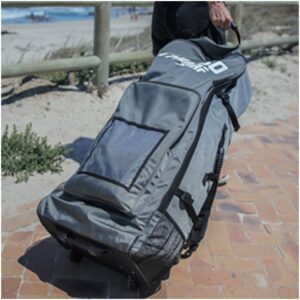 The Expedition backpack lives up to our expectations for both durability and ease of use. It's made of a premium nylon shell that will hold up for years from both sun, salt water and rough and tough packing.
Transporting your board becomes easy in this bag in 2 different ways. First, it has durable roller wheels on the bottom so you can roll the board and bag over hard surfaces and not always need to carry it. This SUP bag feature is incredibly handy for traveling with it when you are in an airport or taking a bigger trip.
The final part that helps is that the bag has both should and waist straps that help distribute the weight comfortably on your body when hiking it into some fun, backcountry location ar remote beach.
At first glance the Thurso pump looks a little big and clunky compared to other SUP pumps out there on the market, but then you realize why. This is the big boy of SUP pumps. It's got 2 chambers and is a triple action pump. This means you will be able to inflate your board in half the time compared to a regular pump. The 3 action settings let you choose a low, medium and high pressure settings depending on where you are in the inflation process.
Board Construction
The construction of this board is designed to give you the best of both a lightweight board and stiffness for straight paddling and durability.
The engineering starts with fairly standard woven drop-stitch technology that lets you inflate this board to its maximum pressure of up to 20 PSI while maintaining its flat, pointed shape.
Beyond that basic SUP build style, Thurso achieves a fairly lightweight board for its size by using a 2 layer construction (compared to some boards that use 3 which adds weight). Normally a 2 layer construction has 2 basic drawbacks as outlined below, but Thurso has smart engineering solutions.
Rigidity and stiffness during paddling: The way Thurso builds a stiff board is by molding in Carbon Rails into the sides of their board. These give the board a lightweight, stiffening member in construction exactly where the board needs it.
Overall Durability: To really make this board last for years and be able to stand up to constant long-distance paddling, Thurso reinforces each seam with an additional layer of material to add protection to these high wear and high-pressure areas of the board.
Thurso Expedition 138 Performance Evaluation
This is a SUP specifically designed for Touring and the performance scores and descriptions below won't surprise you. It's specifically designed to cover long distances quickly and efficiently and this board does exactly that.
Speed (9 of 10): The Thurso 138 is built for speed and it delivers. This board paddles incredibly quickly and efficiently. You'll be surprised at how fast the miles tick by.
Stability & Balance (7 of 10): Part of what makes this board so fast is the long a thin design that is created by the 30-inch width. The trade-off is that this board will not be as stable as a cruiser design. Reviewers have mentioned that with a little time on the board they get used to the motion and it feels more stable. Additionally, getting some speed up helps balance the board.
Maneuverability & Turning (8 of 10): The long and narrow design of this board helps it track in a straight line so that the maximum amount of energy from each paddle stroke drives you forward. As such, this board resists turning a little, but is still reasonable to handle.
Quick Product Specs & Dimensions
| | | | | | |
| --- | --- | --- | --- | --- | --- |
| Paddle Board | Length | Width | Height | Weight | Max Capacity |
| Thurso Expedition 138 Inflatable SUP | 11'6″ | 30″ | 6″ | 26 lbs | 330 lbs |
Quick Specs For The Thurso Expedition Paddle Board
What Comes With the Expedition Paddle Board?
The quick overview of the Expedition inflatable stand-up board package is that it includes everything you need to get paddling out on the water on your first day with your new Thurso SUP. The Expedition offers this complete package with everything you need except a life jacket. We like that they include everything you need as it makes this package a contender since so many boards are all-inclusive these days.
11 Foot 6 inch long inflatable paddle board with fast paddling 30 inch width
3 piece easily adjustable carbon fiber paddle
Carry backpack with easy roll wheels
Removable fin
Dual chamber, triple action pump
10 foot ankle leash
Consumer Ratings By Feature
Overall Customer Rating: ★★★★★ 4.0 Of 5.0 Rating with 20+ Reviews
5 Star:

★★★★★

53%
4 Star:

★★★★

19%
3 Star:

★★★

14%
2 Star:

★★

6%
1 Star:

★

9%
Thurso Expedition Inflatable SUP Pros & Cons
Pros of the Expedition Board
After reviewing all of the customer reviews the most positive aspects of this board quickly become apparent.
Great Speed & Fast Board: Almost all of the positive reviews about this board specifically mention how fast this board paddles and that it tracks straight very well. People had had previously paddled cruiser style boards were impressed at how much faster they could travel and how much further they could make ti with the same energy.
Top Quality Construction: The commens about the leevel of quality construction were immediate.
Top Quality Customer Service: Multiple reviewers mentioned that the customer service was very fast and efficient. They handled multiple requests and quickly got replacement parts or repairs shipped out.
Retains Pressure: Many customers mentioned that theiy have left their board inflated for weeks, months and even a whole year and it held it's pressure and didn't need to be reinflated. While we don't recommend leaving your board inflated at full pressure all the time – this is a great indicator of the level of quality construction you get with Thurso.
Cons of the Expedition
After reviewing all of the negative real customer reviews on the Expedition SUP, we found that they fall into a few main categories of complaints outlined below. It's important to note that about 15% of the total reviews were in the negative range of 1 and 2 stars. This is a little higher than we like to see, but in a fairly normal range of complaints – particularly for a product that is in a very low priced range like this board. Also, with only few reviews in each category individual comments are limited.
Wheels On The Carry Bag: One customer mentioned that th ewheels on the carry bag were loose and wobbly. This seems like a limited manufacturing flaw and not a wide spread issue. It seems to be a one off and won't impact your paddling expereince at all.
Fins & System Don't Work: Another customer complained that the fin locking system didn't lock. We've only ever heard of this happening once and has not been our experience.
Expedition 138 Price: Here's How To Get Your's Cheap
So you are pretty interested in getting the Expedition, but where can you go to get the lowest price possible on the Expedition?
We highly recommend purchasing your Expedition directly from Thurso because they have the best online stock, offer great customer service, the lowest prices on Thursos, and ship quickly.
Can I buy the Thurso 138 Touring on Amazon? Thurso used to sell on Amazon, but they do not currently stock them in on Amazon.
Expedition iSUP Uses / Who Is It Good For?
Expedition advertising this board as a good choice for all around paddling boarding, surfing or fishing. In our own opinion this is a great paddle board for a beginner iSUPer who is looking to get a good board for a low price and get on the water.
When it comes to surfing with this board, it likely wouldn't be our first choice as a "surf board", but there are a few customer reviews saying they have played in some waves along the beach and had a great time.
If you want a solid, no frills paddle board for a beginner at a rock bottom price – this is a good choice.
Thurso Expedition iSUP Warranty
Thurso offers a generous 2 Year Long Manufacturer Limited Warranty (that starts on the date of your purchase) on their inflatable paddle boards (iSUPs) including the Thurso Expedition.
So what does this cover? They offer coverage for any defect in workmanship and materials. If you do have a manufacturing defect with your Thurso SUP, you should contact them and they will discuss the problem with you to help come to the best resolution. Some options included are:
Repair the defective part or product
Or replaced with an equivalent product at no cost to you
What's Not Covered In The Thurso Warranty?
It's important to keep in mind this is protection against manufacturing problems and NOT damage caused to your Expedition Touring Board by use or wear and tear like: hitting rocks, punctures, incorrect storage, scraping it on the beach etch.
Review Conclusion: Happy With the Expedition Paddle Board
Expedition Paddle Board FAQs
What Are The Deflated Stored Dimensions?
When deflated and packed in its bag it's about 12 inches x 12 inches by about 36 inches tall.
Does The Expedition Paddle Float?
Yes, it does!
What Is The Max Inflation Pressure?
The max recommended inflation pressure for the Expedition is 20 PSI. But the recommended is 12-15 PSI.