This post may contain affiliate links. Commissions we earn from partner links on this page do not affect our opinions or evaluations. Our editorial content is based on thorough research and guidance from the editorial team.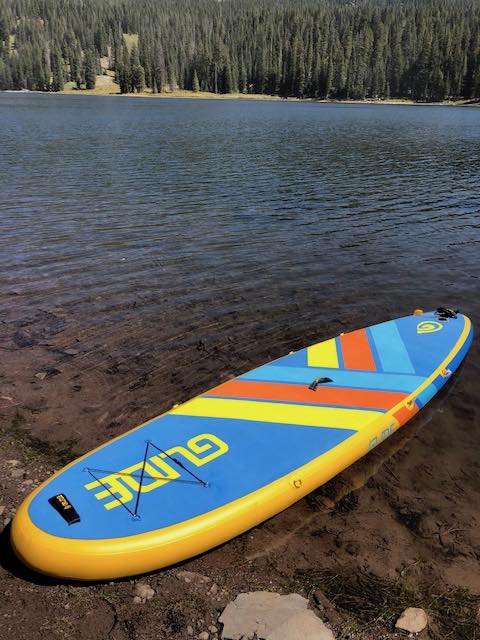 #1 Editors SUP Rating
Going into this review of the Glide inflatable Retro SUP, I had some high hopes and high expectations for this paddleboard and it surpassed them! The Retro is absolutely one of the best boards I have paddled all year.
The construction and quality are very impressive, it's a dream to paddle even with the extra weight of a second person. I'm incredibly impressed with the Glide 02 Retro and highly recommend this board to anyone considering it. You will love it!
Description
At 10 feet and 6 inches long, the Retro fits perfectly into the all-around paddle board category and, being an inflatable is perfect for anyone.
There are a few things that immediately will make this board stand out. First, the full length, brushed deck pad is a nice touch. Water from splashes quickly bead up and roll off. This is such a nice change from other deck pads on boards that tend to get soggy and feel wet. Not with the retro. Also, I find that the more standard deck pads on other boards tend to make my feet or knees hurt if I paddle on them too long. This deck pad was soft and comfortable even after a few hours of paddling.
Durability
I have only had my Retro SUP for a month now, so I don't have a personal long term durability perspective yet – but it's holding up really well so far. I have reviewed many customer reviews though and see that people are happy with it.
Additionally, Glide really got it's start as a paddle board company producing SUPs for rental companies. If there is one thing that rental companies want most from their paddle boards, it's durability. You know those renters are dragging them across rocks, ratcheting them to the tops of their cars and driving them around at 60 miles an hour inflated. So, Glide started building paddle boards from day 1 that were designed to take the hardest abuse possible for years and years from their renters.
| | | | | | | |
| --- | --- | --- | --- | --- | --- | --- |
| SUP | Length | Width | Thickness | Weight | Capacity | Price |
| Glide 02 Retro | 10'6" | 33.5" | 6" | 23 LBS | 400 LBS | $899 |
On The Water Performance
I took the board out on a reservoir outside Crested Butte in September for its official test paddle. We had some decent winds that gave me a chance to test it out in some choppy conditions.
The first thing that really stuck out to me was how incredibly stiff this board was. Even with a 12-13 PSI inflation (they say it's rated all the way up to 25). I'm used to more value based boards having a little flex when you first step into the center. The Retro doesn't flex or bow even in the slightest. I gave it some little hops and still couldn't get any flex. The Glide Retro is one solid board, the extra side rails, plus the extra dense drop stitch that Glide builds in really work.
Speed
The Retro paddle very quickly and very easily. When testing the board last month, I regularly found myself ahead of everyone else in my group without having intentionally paddled harder. I seemed to quickly get up to speed and stayed moving quickly with minimal effort.
Stability
The Retro is a very stable paddle. I was impressed at how the flat bottom design reduced the rocking of this board. You will experience almost no rocking during normal paddling on flat water.
The board gets its high stability rating from a few different features. The first is the 33.5 inch width. While many cruiser boards are around 30 inches wide, the extra few inches here will make this board feel very different than those narrower SUPs. The next thing that makes this board very stable is the flat bottom design. Even as you press side to side, the board puts equal pressure down to the water. Finally, the extra-dense drop stitching helps this board stay firm and now bow down towards the center.
Maneuverability
Glide themselves rate this board as an 8 of 10 in maneuverability which is even with the 8 of 10 they give it for stability. First, let me state that overall this was a maneuverable board – but if there was one aspect that seemed lower I would probably call it turnability on this SUP.
I suspect part of this may have been the conditions I was testing in. I had some wave chop and some wind, but occasionally I found it difficult to get this board to turn back into the wind. It would often take 4-5 full-length and wide paddle strokes to start to get the bow to come around.
The flip side of this was how nicely the board tracked in a straight line when paddling. When paddling in a straight line it was easy to zone out and completely forget about navigating. I'd get involved in a conversation with the people paddling with me and realize 10 minutes late I was still totally on track with my waypoint and hadn't had to pay attention at all.
Construction
The construction of the Retro makes this paddle board shine as a top contender.
Pros
Cons
Wish it came with the double-sided paddle to kayak (can be purchased)
It's a tradeoff for durability and stiffness, but the board is 23 LBS which may be a little on the heavy side for smaller paddlers
The paddle has a durable 2 pin locking system for adjusting the length, but it had a small about of side to side rotation that I noticed a little when paddling
Who Should Buy This Board
This SUP is perfect for anyone looking to purchase a single board that can expertly play a variety of paddling roles.
Customer Ratings
Customer Comments
What's Included
Board
Bag
I always tell people you can tell the difference between "good" paddle board companies and "great" paddle board companies by the bag that comes with your inflatable paddle board. Good companies produce decent storage bags, but they are mainly about "checking it of the list" so they can say your SUP package comes with a storage bag and paddle board backpack.
"Great" paddle board companies make bags that make life much easier and much more comfortable. Glide is a Great SUP company and their bag proves it. There are a few key features that impressed me from the start.
First, the bag has a separate pump storage pocket on the front of the bag. I love this feature. I get irrationally angry after a fun day of paddle boarding when I have deflated my board and packed it up only to realize I still don't have room to fit the pump in the bag. That will never be a problem with the Glide. Pack up your deflated SUP and then just slip the pump into it's own separate compartment easily.
Also, this bag comes with roller wheels just like a travel suitcase. If you are moving your SUP across a parking lot or even through an airport while traveling with it, you will love these wheels. They save you from having to carrying the whole kit all the time. Plus the wheels don't add any extra size to the bag. When you do have to carry it though, it's still maneabable. The backpack has extra wide and padded straps that help disperse the weight on your shoulders. I wouldn't want to go backpacking with this, but carrying it for 5 or 10 minutes to your paddle spot is easy.
Pump
Paddle
Kayak Seat
Repair Kit
Carry Strap
Leash
Conclusion
I've paddled many, many different SUPs over the years and this new Glide Retro is going to be my #1 choice for my personal paddling from now on. Does that tell you enough about how much I think the Retro is a top notch paddle board?