This post may contain affiliate links. Commissions we earn from partner links on this page do not affect our opinions or evaluations. Our editorial content is based on thorough research and guidance from the editorial team.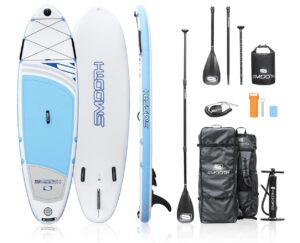 Solid, Value Based SUP
Similar Paddle Boards
Overview
Many people enjoy Stand-Up Paddle Boarding as a pastime, and it is a growing popular sport. Enthusiasts can enjoy a day on the water, be it a lake or the calm ocean, when the weather is nice, along with trying out a unique exercise. SUP yoga and aerobic workouts on paddle boards are becoming more popular in some areas, and these workouts are fast-paced and invigorating. Whatever your personal goals are for an SUP, getting the right board is critical to having a good time.
You should think about how you plan to use the board, your body's ability to adapt to it, how you want it to perform on the water, and how you plan to transport it. A rigid paddleboard will require more storage space than an inflatable paddle board, which is also easier to store. The dimensions of the board, as well as the volume and density, are also important depending on these factors. What type of board you choose can also depend on your storage space and transportation needs. If you are looking at getting into the sport of paddle boarding, consider one of the two sizes of the Smooth SUP Inflatable Stand Up Paddle Board.
General Description
The Smooth SUP inflatable paddle board is a great choice for a stand up paddle board, due to its flexibility in use. This board excels in a wide range of conditions and is suitable for both new and seasoned paddlers. The Smooth SUP has a curved shape that allows it to float easily and steadily on calm water or a wave-filled beach alike. The bow of the 2021 model features a flat bungee for securing items, and the sidewalls have been improved. Where this board really shines, however, is its portability.
Despite its weight, it is light enough to be easily transported and sturdy enough to support a variety of SUP activities, such as paddleboard yoga, or even racing. It's possible to get the Smooth UP in either 10′ or 11′ sizes. The differences in construction between the two sizes are so minor that they are barely noticeable, as both come with very durable designs.
Compare To Other SUPs
Brand
Freein
SereneLife
Glide SUP
Board
All-Around / Explorer
Thunder Wave
Retro 10'6″
Editor's Note

Best Value

Most Popular

Best Of The Best

Length
10'2″
10′
10'6″
Width
31″
32″
Height
6″
6″
Price

$319.99

$309.99

Rating

★★★★★


4.7 of 5.0

★★★★★


4.7 of 5.0
Customer Star Ratings
Customers on Amazon have given the Smooth SUP a 4.7-star rating because it is one of the most affordable and stable iSUP paddle boards available. According to those who have tried the board, it's easy to control in the water, has a stable design, and can easily turn and corner in natural waterways. The majority of people who gave it a rating said that it performed admirably and was a good deal for the value, being one of the more affordable boards on the market.
Sizes, weights, and measurements
Quick Stats
Length: 10 Feet
Width: 33 Inches
Height: 6 Inches
Weight: 17 LBS
Capacity 250 LBS
The Smooth SUP measures 10′ in length, 33″ in width, and 6″ in height. Lighter riders may find the board more stable, but it can carry up to 250 pounds. The weight of the board itself is about 17 pounds, which is less than the weight of many other boards, particularly rigid boards. Even other inflatable boards frequently tip the scales at 25 to 30 pounds, making them a chore to carry over long distances. This is not a problem with the Smooth SUP. The maximum inflation is recommended at 18-25 psi.
Construction
A drop stitch polyester fabric construction with an airtight coating and sidewall material coated on both sides makes this a long-lasting iSUP. A coil leash with Neoprene sleeves and Velcro straps are included in with the board, among other many useful accessories. It has a three-fin system for stability, and the grab handles make it easy to carry around. Side grab handles are located near the front and a bungee system is located across the bow for securing cargo.
It has a center grab handle and a soft pad on top to make long paddling sessions more comfortable. The tail has a grab handle, and there are D-Rings on the side for securing items. The bottom of the board also has a D-Ring for attaching it to a mooring.
Proper Use
An advantage of the Smooth SUP paddleboard is that it is the same size, shape, and dimensions as some of the most popular and best-selling paddleboards on the market. It can also be used in a wide range of locations and weather conditions. Experienced paddlers looking for a lightweight, high-performance board on more active waterways, as well as new paddlers looking for something simple to use on a calm lake, will both benefit from this model. If you're looking for a board that is both stable and easy to maneuver, this is the one for you. Paddlers seeking a snazzy-looking ride will appreciate the board's stylish and sleek appearance.
Accessories
In addition to the board itself, the new owner will receive a plethora of useful accessories. In comparison to other boards, the Smooth SUP comes fully equipped, including a paddle. A waterproof SUP deck bag, a microfiber towel for quick drying, portable coolers and pouches, and a cargo net are all available as optional add-ons for your paddleboard. The following items can be found within the package:
Inflatable board
Carry bag
Adjustable paddle
Repair Kit
Hand pump
Coil Leash
Smooth SUP Price
The Smooth SUP is priced at less than $200 at $195 putting it in the value priced paddle board category. It's hard to find a board priced much lower than that and it's a solid paddle board kits for that money.
If you are just getting into paddle boarding and want to keep your investment to a minimum, this is a solid paddle board.
Benefits
The Smooth SUP is an excellent entry-level board for new paddlers on a budget or with limited storage space who want to give the sport a try without spending a lot of money. The 6″ thickness of this board makes it beginner-friendly and stable for most adults, but it also provides excellent maneuverability and a smooth glide. It's lightweight and portable, and it performs admirably in a wide range of paddling conditions, from rough ocean waves to placid lakes.
Gentle lake gliding and SUP yoga are two of the many possible uses for this board. For a board that can be used by the whole family, look no further than the Smooth SUP. This paddleboard is built to last and is suitable for paddlers of all levels, from novices to experts. You won't find a better all-around iSUP, even if it isn't the fastest. On top of that, the prices for this product are quite reasonable.