This post may contain affiliate links. Commissions we earn from partner links on this page do not affect our opinions or evaluations. Our editorial content is based on thorough research and guidance from the editorial team.
The Freein Touring inflatable paddle board is designed for riders with moderate experience. It's built for long-distance travel. So, you'll be able to paddle it at high speeds. Its orientated shape makes it glide easily. Plus, its narrow tail prevents excessive drag. The 11'6″ board only weighs 20 lbs. Even the 12'6″ board weighs 20% less than its competitors, at 24 lbs. Its external tarpaulin layer is tough enough to take it through brambles. You'll never have to worry about it popping.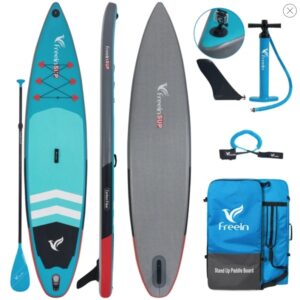 A diamond grip pad is welded onto the top. Standing up should feel comfortable, and you'll be in complete control. Two layers of PVC rail provide plenty of strength and stability. A v-drop stitch core minimizes weight while providing durability. You'll love using the towing eyelet. It's made out of stainless steel. So, it's sturdy enough to drag the entire board. Even better, you've got deck netting to secure all your stuff. Taking something along for the ride feels easier than ever. You'll feel comfortable on fresh water and saltwater. This board's design emphasizes lightweight, durable construction. So, you won't need a replacement any time soon.
Sizes, Weight, and Measurement
There are two different sizes for this isup. You've got a smaller one that's 11'6″ long. The larger model measures 12″6′ long. Both of them are 6″ deep and 33″ wide. That's wider than most inflatable paddle boards. So, it's easier to remain stable. The 11'6″ model can support up to 320 lbs on its surface. The 12'6″ model supports a maximum of 386 lbs. Both of them are incredibly lightweight, too. The 11'6″ models only weigh 21.3 lbs, while the 12'6″ models weigh 385 lbs. If you like the Freein SUPs, but would like something more of a cruiser style, check our our review of the Freein Explorer.
Length: 11'6″
Width: 33″
Height: 6″
Weight Capacity: 320 lbs
Weight of the Board: 21.3 lbs
Length: 12'6″
Width: 33″
Height: 6″
Weight Capacity: 385 lbs
Weight of the Board: 23.8 lbs
Construction and Materials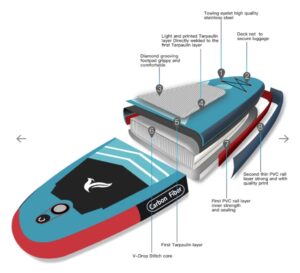 The drop stitch has 11,200 stitches per square meter. Each stitch uses 500 denier yarn, too. That gives this inflatable board enough strength to really take a beating. Carbon fiber sides make riding on rough waves simple. It's got plenty of stability. Plus, it's 33″ wide, enhancing stability even further.
The core is made with a hollow structure. As such, it's up to 25% lighter than comparable stand up paddle boards. There's even a removable fin for added control. Take it off whenever you're done ready so you can travel with the board easier.
This board comes with a high-pressure pump. Using it lets you inflate the board up to 50% faster than a normal pump. You'll also get an ankle chain. That makes it so the board won't float away if you fall off.
You'll even get a roller travel bag so you can store it once it's deflated. The electric pump adapter gives you additional flexibility. Connect it to an electric pump, and use it to inflate your board.
There's an adjustable paddle included as well. It's able to change lengths, making it comfortable for any rider. This inflatable paddle board comes with everything you need to start riding, immediately.
Who Is This Board For?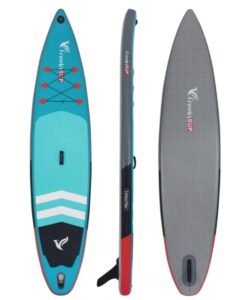 This stand up paddle board would be perfect for anyone with riding experience. It's a lot sturdier than most inflatable paddle boards. So, you don't have to be an expert rider.
Do you like traveling to new locations? If so, then you might love this isup. It's easy to inflate wherever you go. There's even an included hand pump, so you don't need electricity.
The board's design emphasizes speed. If you're a long-distance rider, it'd be the perfect choice for you. It's shaped to cut through the water while minimizing drag. As a result, each paddle pushes the board further than it would other boards.
You'll feel comfortable riding on any type of water. Since it's wider than other boards, it'll always feel stable. Don't let choppy waters discourage you from exploring. Try out this board, and you'll be confident in all conditions.
Included Products and Accessories
You'll get more than just a board with this package. It's got everything you need to get on the water. Check out this list of items included with it.
Product and Accesories
Freein Explorer Board: This board is available in two sizes. Both of them feature a wider width than usual, for added stability.
High-pressure Hand Pump: Pumping up this board won't take long at all. This pump provides enough pressure to inflate the board 50% faster than using a standard pump.
Adjustable Paddle: Adjust its length, so it feels comfortable. You won't need another one. Just adjust it for each rider.
Electric Pump Adapter: You don't have to use the hand pump at all. Using this adapter makes it possible to inflate the board with an electric pump.
Coil Ankle Leash: Falling off the board happens to everyone from time to time. Thanks to this ankle leash, it won't get far. You'll remain connected to it at all times. So, getting back on won't take long.
Detachable Fins: Packing the board up feels easy, thanks to these fins. Remove them when you're done riding. Then, put them back on when you're ready to get back on the water.
Roller Travel Backpack: Traveling with this board is super simple. Just pack it up into the travel backpack. Then, you've got everything all in one place.
Benefits
The biggest benefit of this board would be its ease of travel. Simply deflate it, and pack it into the included backpack. That way, traveling around with it doesn't take up much space.
The board's design also makes it perfect for long-distance rides. Its orientation prevents excessive drag from the water. So, you'll be able to paddle less while traveling further.
A hollow core minimizes its overall weight, too. That makes it even easier to take on the road. Plus, it's still incredibly stable.
A carbon-fiber core provides added durability. And, it's 33″ wide as well. Wider boards tend to provide more stability. So, rough waves won't knock you off.
You've also got an action camera mount. Taking a camera with you lets your record great memories. There's even a cargo net right on the surface. You'll have plenty of storage to take supplies along for the ride.