This post may contain affiliate links. Commissions we earn from partner links on this page do not affect our opinions or evaluations. Our editorial content is based on thorough research and guidance from the editorial team.
Review Summary
The 02 Lotus Inflatable Yoga SUP by Glide is the first of its kind as it is an inflatable paddle board that was created by Glide specifically with yogis in mind. The paddle board was built for yoga users but also still has the ability to be paddled on flat water with the same amount of flow. This yoga-specific stand-up paddle board has been designed with unique features, such as the extra width, in order to offer the maximum performance for its yoga and exercise users. The 02 Lotus is one of the top choices when it comes to inflatable paddle boards because of its overall durability, affordability, and transportability.
Customer Average Review / Star Rating
The 02 Lotus Inflatable Yoga SUP has an overall 5 star rating out of 33 reviews.
02 Lotus Inflatable Yoga SUP Dimensions Snapshot
Length: 10′
Width: 35″
Height/Thickness: 6″
Volume: 300 L
Weight Capacity: 400 LBS
Weight of the Board: 26 LBS
Max Inflation Pressure: 25 PSi (12 to 15 PSi is recommended)
Construction/Materials: Fusion Technology PVC Drop Stitch
Overall Paddle Board Scoring: 02 Lotus Inflatable Yoga SUP
Fitness and Yoga: 8
Speed: 7
Maneuverability: 6
Stability: 9
02 Lotus Inflatable Yoga SUP Specifications
Because the Glide 02 Lotus Yoga SUP is an inflatable paddle board; it appeals to a wider audience. The versatility allows this paddle board to be taken to places individuals may not have been able to get to with a board prior to owning the Lotus Inflatable. Plus the board only weighs 26 pounds making it light enough for most people to easily transport on just about any adventure.
When fully inflated, the paddle board comes in at 10 feet in length and 35 inches wide, making it easily transportable while still offering the width for more stability. Additionally, the Lotus Yoga SUP has a significant weight carrying capacity of 400 pounds, which makes it an ideal choice for more individuals.
This high weight capacity allows not only paddlers of all sizes but also multiple individuals to use the board at one time. It can even allow the ability to have a pet aboard to accompany their owner on any outdoor water excursions.
High End Construction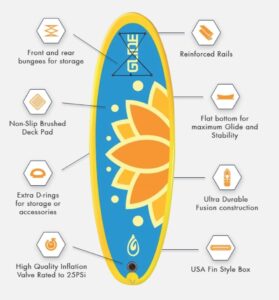 The paddle boards is made using fusion technology PVC drop stitch. This material is considered the leading construction process for high-end inflatable stand up paddle boards. With the advanced fusion technology the board has a single layer of base cloth, which is sealed, or fused.
Then using the military-grade liquid PVC, the board is reinforced making it water resistant and airtight. Additionally, the drop stitch technology is crucial to the paddle board because it allows the inflatable SUP to maintain its structural integrity when it is inflated to high pressures.
When using the drop-stitch technology to manufacture the paddle board, it offers more of a rigid and dense board with less air between the links. Overall, this process eliminates 3.5 pounds off of the board while producing a product that still offers a high performance and maneuverability on the water.
The 02 Lotus has a number of features that makes it stand out among other paddle boards including; the front and rear bungees for storage, reinforced rails, non-slip brushed deck pad, extra d-rings, ultra durable fusion construction, high quality inflation valve rated for 25 PSi, and a USA fin style box.
Ideal Lotus Yoga Board User
This particular board is ideal for those individuals whom do yoga and general stationary board exercises because of the stability. The Lotus comes equipped with an enhanced and highly ridged structure making it comparable to traditional hard paddle boards. This, in combination with the 35-inch width and 400 pound weight capacity, speaks volumes for its buoyancy and stability.
Glide Lotus Inflatable Yoga SUP Paddle Board Accessories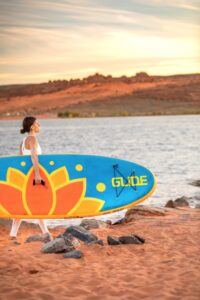 Paddle:
The paddle is a 3-piece adjustable accessory that can be extended up to 86″ in length. The adjustable paddle is made from heavy-duty reinforced nylon blade and fiberglass shaft. This material makes the paddle lighter in weight, as well as, enhances the overall performance of the paddle.
Pump:
The board comes with a single cylinder dual-action manual SUP pump with a high-pressure gauge. The high capacity SUP pump is small for easy on the go usage.
Leash:
The leash is the lifeline for any paddle boarder. It allows an individual to keep the leash attached at the ankle in order to keep the board from getting lost. It is composed of 10 feet of a coiled cord to reduce catch in the water and a multilayered neoprene cuff.
Backpack:
The backpack is large and durable. It has one large main compartment that fits the deflated paddle board, as well as, all accessories inside. There is also a front pouch, side mesh pocket, and rolling wheels making it even easier to transport.
Kayak Seat:
New for 2021, while it may not always be used the kayak seat is still a great accessory. It can come in use when the water is a bit choppier or there are strong winds. When not in use, the seat can easily be stored under the bungee netting in the front or rear of the board for quick access.
Carry Strap:
Also new for 2021, the carry strap is able to be attached to either side of the board through the center D-rings in order to allow easier carrying once inflated.
Repair Kit:
This is crucial because individuals will want to be able to repair their paddle board on the go. The Lotus has a standard iSUP repaid kit that includes color coded patches, glue, and a wrench.
Points to Consider When Deciding Between Other Boards and the Lotus
When trying to decide on which paddle board to invest in, it is very important to think about what actives it will be used for. Individuals should select a board that fits their specific needs including; size, weight, activity capabilities, accessories, and cost. Paddling boarding is a great full-body workout while keeping it low impact. Individuals should invest in the paddle board that will meet their personal performance requirements.
Pros Of The Glide Lotus Paddle Board
There are many pros to the Lotus board including; great stability, significant weight carrying capacity, high-quality build, and easily transportable. This board is not exclusive to expert paddle boarders but instead is suitable for paddlers of all levels. The Lotus also offers several accessories and includes a guaranteed 24-month manufacturers warranty.
Cons
While there are not many downsides to the Lotus inflatable yoga SUP there are a few key points to take into consideration. There is no separate D-ring to attach the ankle leash. The forward bungee system is a little small for the paddle board size. And lastly, the board only offers a standard fin when a tri-fin system may provide more versatility and maneuverability.