iRocker Cruiser Inflatable Stand Up Paddle Board Review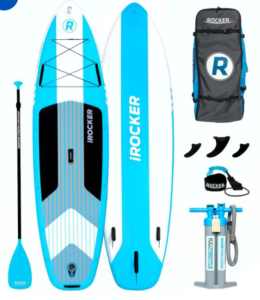 Review Summary
This iRocker SUP review is here to give you the down-low on all the specs and qualities of the board that will give you a great time while out on the water. Nothing makes your time out on the water better than knowing that you have a quality board made with high grade material, accompanied by all the accessories you need to stay prepared. So sit back and take your time making an informed decision. We'll let you know what to look out for, pros and cons, and highlight all of the qualities so you can know if the iRocker Cruiser stand up paddle board is for you.
Recommendations: Who Is This Board For?
This is a great board for anyone, but is best suited to beginner to intermediate level paddlers or people looking for greater stability than other boards. The 33″ width and 6″ height over a very stable platform with lots of floatation.
Also, due to these factors it makes this board a great choice for people who may want to paddle with a friend, a dog or coolers.
Quick Stats
Length: 10'6″
Width: 33″
Thickness: 6″
Max Capacity: 400 lbs
Board Weight: 26 lbs
Inflation Pressure: 15 lbs
Key Considerations For This Board
The iRocker Cruiser offers great features for beginners as well as experienced users. Many users of the board have offered high praises and verified a lot of the claims that iRocker puts forward about their board when it comes to quality and usefulness of all the features. The board as a whole is tough, multi-functional, and easy to use and maneuver on the water.
What Does the iRocker Cruiser iSUP have to Offer?
The iRocker Cruiser iSUP is an inflatable paddle board with a classic look and a few modern features that make it stand out from the crowd of iSUPs. It is an extremely ridged board that gives the feel and performance of a traditional hard board while still maintaining comfort with a crocodile textured deck pad. At 15 PSI the iRocker Cruiser can be expected to hold up to 400 pounds of weight without compromising performance. The overall dimensions are 10'6" in length and 33" wide. The slightly longer width of the board adds some extra stability for beginners or those who may want an easier time balancing.
iRocker paddle boards boasts military grade durability with a Quad Layer PVC that is meant to keep the board tough and durable no matter the situation. In order to add to the varying uses of the board the center fin, as well as the two side fins, are removable. This allows for various fin configurations to suit different water depths and conditions. And much like any inflatable iSUP, the iRocker Cruiser can be easily deflated, rolled up, and stored so you can take it wherever your sense of adventure leads you.
Included on the front nose end of the board is a multi-use action mount for cameras, rod holders, speakers, or whatever other accoutrements that can amplify your paddle boarding experience. Additionally, D rings are located on the rear end of the board, while the front end has elastic cargo straps to ensure you have space to keep all your necessary belongings with you.
What Does The iRocker Cruiser Package Include?
The iRocker Cruiser includes many standard iSUP accessories such as an adjustable fiberglass paddle, an ankle leash, a repair kit, and a back pack to store the board and all of your items. They also include a highly functional full throttle dual chamber triple-action hand pump. It has an integrated pressure gauge and they claim it inflates your board up to 100% faster and 50% easier than a traditional dual action hand pump. The ankle leash has a comfortable Velcro ankle attachment and a stretchable coil leash to make sure your board never gets too far away from you, but also allowing you the freedom to move without feeling restrained or stuck. The board is also available in five different colors: black, blue, aqua, orange, and green.
Pros Of The iRocker Cruiser
• Beginner friendly features
• Easier pumping system
• Great price value
• Comes with everything you need to paddle today
Cons Of The iRocker Cruiser
• May be slightly more complicated than a beginner user would want
• Paddle length may be too short for some
• The deflated board when packaged in the backpack is slightly bulkier than other iSUPs
Things to Consider about the iRocker Cruiser iSUP When Purchasing
The various feature of this iSUP make it great for various kinds of activities like fishing, light surfing, rough water paddle boarding, or even just relaxing out on the water. The action mount makes this board great for attaching a fishing pole so you can cruise and fish at the same time, or for mounting a camera so you can show all your friends your cool surfing footage.
If you would like to use the board for yoga the paddle can easily be stored in the front bungee cord system so you can get your stretch on while still keeping all of your items in check.
Cruiser Warranty, Guarantee And Shipping Details
The high quality PVC material that they advertise makes it unlikely that you will run into any maintenance issues, but even if you do, iRocker offers a 30 day money back guarantee as well as a 2 year warranty on all boards. On top of that they offer 24/7 free shipping all over the continental US.
2 Year Warranty
30 Day Money Back Guarantee
Free Shipping in the continental US
This Paddle Board Is Great For:
• Paddle board cruising
• Fishing
• Surfing
• Yoga
• Relaxing & fun on the lake
One of the things that many users of the board boasted about was how great the board was for beginners and families. Even in higher wind conditions and choppy water, many users were impressed with how stable the board was. The board also exhibited quick turning ability, great tracking, and amazing stability while maneuvering. Many users also agreed that the included pump makes the inflating process much easier than they would have expected. Typically the last couple of pumps to get an iSUP to its full PSI inflation can be very strenuous, but the iRocker's triple-action hand pump has made that process much easier for many paddle board users. Many users also attested to the durability of the board, claiming that they had no issues when it came to bumping, scraping, scratching, or causing any abrasiveness to the exterior of board.
What Don't Customers Like About This SUP?
Some minor complaints were discussed when it came to the paddle. Users who were taller felt that the paddle didn't extend to a comfortable length for them to use. The max extension of the paddle was slightly shorter than what would have been most comfortable for someone of a taller stature.
What Colors Does It Come In?
One of the things we love about iRocker are the color choices of their paddle boards! Many different sup companies make each board in only 1 style – not iROCKER! The Cruiser comes in 5 different colors:
If a unique and stylish all around inflatable board is what you are looking for, make sure to check out our High Society Freeride SUP review. Some of their boards feature graphic artwork made by local Colorado artists – super unique board designs!
Review Summary
Overall, the iRocker Cruiser Inflatable Standup Paddle Board is a great investment for those who want to utilize their board for multiple different activities, or anyone who wants to ensure durability and ease of use. The reviews from people who have purchased and utilized the board leave a great mark for the iRocker company, and prove that this board is probably a good bang for your buck. As long as you take some of the cons and problems that users had with their board into consideration, you should have a great experience when purchasing the iRocker Cruiser iSUP.