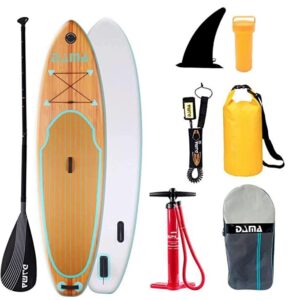 DAMA Makes Top Quality, Value Priced SUPs
Great all around paddle board for kids or smaller paddlers that comes with everything you need to get started on day 1.
Plus the wood grain design is super cool on the inflatable board – we love it!
If the primary paddler is on the lighter side – 110 lbs or similar this is a great board option that should be at the top of your list.
For 2022 we have updated our DAMA paddle board review to include their full range of SUPs which is quite extensive and features many designs and sizes. We are here to evaluate each of the boards and help you make the best choice for your next paddle board.
DAMA Paddle Boards
| | | | | | | | |
| --- | --- | --- | --- | --- | --- | --- | --- |
| Board | Type | Length | Width | Height | Weight | Capacity | |
| DAMA Energy | All Around | 10'6" | 31" | 6" | 14 LBS | 280 LBS | |
| DAMA Freshlife | Yoga | 12'2" | 34" | 6" | 30 LBS | 500 LBS | |
| DAMA Freshlife | Yoga | 14' | 45" | 8" | 50 LBS | 1,100 LBS | |
| DAMA Flower | All Around | 10'6" | 32" | 6" | 19.8 LBS | 330 LBS | |
| DAMA Nature | All Around | 9'6" | 30" | 6" | 17 LBS | 275 LBS | |
| DAMA Nature | All Around | 10'6" | 32" | 6" | 19.8 LBS | 330 LBS | |
| DAMA Nature | All Around | 11' | 33" | 6" | 22.5 LBS | 350 LBS | |
| DAMA Adventure Lt Blue | All Around | 10'6" | 32" | 6" | 19.8 LBS | 330 LBS | |
| DAMA Adventure Green | All Around | 10'6" | 32" | 6" | 19.8 LBS | 330 LBS | |
| DAMA Adventure Gray | All Around | 10'6" | 32" | 6" | 19.8 LBS | 330 LBS | |
| DAMA Adventure New Green | All Around | 10'6" | 32" | 6" | 19.8 LBS | 330 LBS | |
DAMA iSUP Review Summary
In this review we think it's important to cut to the chase quickly about the real story of this board. So dive right in.
This is a very solid paddle board with good construction and when you consider the roughly $300 price point it's frankly a pretty big winner in our book.
BUT, it's important to consider who this paddle board is designed for and will work BEST for!
Dama Paddle Board Review: Who This Board Is Great For
This SUP is going to perform best for smaller / lighter than average paddlers (like children or smaller women). It's ideal weight is about 110 lbs (although a little more is probably fine). But if you weigh 150+ with you and your gear, we do NOT recommend this board for you. It will likely feel a bit unstable, sit low in the water and be difficult to paddle straight.
However, if you are a smaller and lighter paddler looking for a great value first paddle board this is an absolutely great choice.
DAMA Price And Value
At around $300 the Dama is an incredibly good value for an inflatable SUP that comes with everything you need to get paddling. That price range absolutely puts it at the low end of what a good quality inflatable board kit should cost. So it gets our buy recommendation, but beware any paddle boards that get much cheaper than this.
DAMA SUP Performance And Handling
The key performance factors for the Dama 9'6″ SUP are:
DAMA Key Performance Factors
Easy to Maneuver
Fast for it's size
The DAMA 9'6″ Is NOT Great At
Carrying heavy loads, gear or multiple people
Providing extra stability
The reason the DAMA is easy to maneuver is because of it's dimensions. At 9'6″ long, it's a shorter style all around board. The shorter the board, the easier it is to turn it because there is less waterline to turn through the water.
Usually a shorter board tends to mean a slower paddle board, but the DAMA features a fairly narrow 30″ width and a pointed bow. The pointed front end of the board helps this board slice through the water well and keep up speed. Additionally, the narrower width gives it a good length to width proportion for it's size. This again helps it paddle quickly.
Larger paddlers may find this board more difficult to handle because of that narrow width. Also, smaller paddlers who want a more stable platform may want to look at paddle boards with more width.
DAMA Full Product Details
The Board
Let's start with the board. The Dama is made with a very familiar 2-ply construction design that layers a mesh stability layers between 2 PVC layers. Overall this is a very standard construction that gives a fantastic balance of weight and durability.
It's dimension are 9 feet and 6 inches long by 30 inches wide and 6 inches tall putting it on both the shorter and narrower ends of the all around cruiser SUP category. However, the dimensions for length and width are a good complement to each other.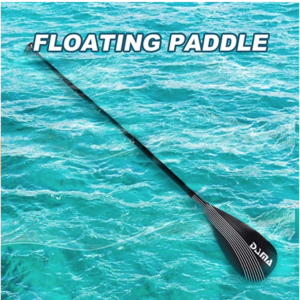 The Paddle
One of the things we love about this kit is that the paddle is designed to FLOAT. This is one of the huge negatives that we see for most consumer paddle board reviews. Inevitably they drop the paddle and it sinks. Not likely to be a problem with this floating paddle from the Dama.
It breaks down into 3 pieces for easy storage and is also lighter weight than other paddles for similar boards. This is a nice plus for smaller paddlers or children to help keep you arms from getting tired when paddling.
Yes, the paddle is adjustable to your height.
The Backpack & Pump
The backpack is designed to be very comfortable to wear when carrying your board from your car to the lake or river to paddle. Everything packs up and stores inside very nicely.
Additionally, as long you completely deflate your board you can ACTUALLY roll this board back up and really fit everything back inside the pack without struggling. We hate it when the manufacturer can fit everything in the bag when vacuum packed – but it never all goes back in. But that's not the case here.
The pump is a very standard dual action style pump with an easy to read pressure gauge on the pump handle.
Board Construction
This board is made with DAMAs TribleTech which is a double layer material with a polyester mesh core sandwiched between two layers of laminated, durable PVC.
The Tritech is very durable and also has a useful antiskid design.
What Comes With the DAMA Paddle Board?
The quick overview of the DAMA stand up board package is that it includes everything you need to get paddling out on the water on day 1 (except for a life jacket). This complete package is very standard for most paddle board kits these days, so this is a nice plus – but doesn't necessarily make it a stand out compared to other boards you may be considering.
9 Foot 6 inch long inflatable paddle board
Paddle – that floats!
Carry backpack
Water proof haul bag
Removable fin
Pump
Ankle leash
Repair kit
Consumer Ratings By Feature
Overall Customer Rating: ★★★★★ 4.4 Of 5.0 Rating
Light Weight:

★★★★★

4.7 Rating
Sturdiness:

★★★★☆

4.5 Rating
Easy To Inflate:

★★★★☆

4.5 Rating
Durability:

★★★★☆

4.4 Rating
Stability:

★★★★☆

4.4 Rating
DAMA 9 Foot 6 Inch Inflatable SUP Pros & Cons
Pros of the DAMA Board
Very unique Faux wood design on inflatable board
Smaller size is great for kids and smaller paddlers
Great "bang for the buck"
Great for beginners – comes with complete package
Good quality board
Easy to use
Floating paddle (particularly important for kids)
Cons of the DAMA Paddle Board
About 6% of the consumer reviews we analyzed were a 1 star review with another 4% being a 2 star review. This is a little higher than the average of other similar boards, but within a reasonable range of negative reviews for an inflatable paddle board. Particularly an inflatable board at this value priced range in the $300 – $400 range.
Faulty air valve
Had a leak out of the package
The key negative reviews that we saw all related to what appear to be fairly isolated manufacturing defects. Please keep in mind that any time an item is mass produced and sells at a value price like this board for about $350 dollars – these things will happen.
So upon analysis, we do not think these negative reviews should prevent you from purchasing this board.
DAMA Price: Here's How To Get Your's Cheap
We've not only reviewed the DAMA board for you (it get's a buy rating for good value, smaller cruiser SUP boards) but also hunted around the internet looking for the best price on the DAMA 9'6″ board.
At the end of the day, we'd recommend you check out shopping for this board at Amazon. It's currently listed at about $330 dollars (although the price does fluctuate a little depending on their inventory), but if you have a Prime Membership you can get this board with FREE 2-day shipping which itself is a great value.
DAMA iSUP Uses / Who Is It Good For?
The Dama paddle board is a smaller style cruiser SUP that makes it a great choice for children or smaller adults. This is probably a result of it's smaller size that creates a lower volume board and overall less flotation than other boards like the Acoway or SereneLife Paddle Boards that are about 1 foot longer and a few inches wider.
For a child, they will find this board better suited to their overall size and make it easier to paddle and still be stable for them at 30 inches wide. The similar is true for smaller adults.
In fact, the 30 inch width will make paddling easier because shorter people with shorter arms will be able to get their paddle past the board edge more easily and reduce the stress on their arms that they might feel from trying to reach out past a wider width board.
Where To Use The DAMA
Due to it's shorter length (compared to other Cruiser SUPS) and slightly narrower profile we'd recommend this board for use on more calm and flat waters like a lake, reservoir or calm river.
In larger bodies of water that could be windier or have larger waves this board will likely feel much harder to balance than many of it's 32″ or 33″ inch wide cousins.
Additionally, the shorter length will make it a little more difficult to paddle in a straight, tracking line (although the fin will help) and the windier it gets or the more waves or current – the more difficult it will be to hold to that straight course.
Quick Product Specs & Dimensions
The Dama is at the smaller end of the standard cruiser sup dimensions at 9.5 feet long and 30 inches wide which makes it a great choice for kids or smaller paddlers who want something more manageable.
| | | | | | |
| --- | --- | --- | --- | --- | --- |
| Paddle Board | Length | Width | Height | Weight | Capacity |
| DAMA Inflatable Paddle Board | 9'6″ | 30″ | 6″ | 20 lbs | 220 lbs |
Dama Paddle Board Dimensions
Keep in mind that the capacity is max capacity up to about 220lbs (50kgs). The manufacturer specifically states that for best performance of this board they recommend about 50kgs which is about 110 lbs.
DAMA iSUP Warranty
As for the coverage of your DAMA board after you choose to buy one, they state:
"We also firmly believe in the quality of our paddle boards provide you with a 1-year manufacturer's warranty without paying additional fees."
So, have no fear – your board is covered with that 1 year manufacturers warranty.
The DAMA Paddle Board Lineup
Paddleboarding is a fast-growing water sport best performed in the open oceans. There is a higher chance that you are familiar with this sport, but if you aren't, this is what it entails. The participants use their arms while lying or kneeling on a paddleboard to propel themselves forward and navigate the coastline. Stand-up paddleboarding is a newer derivative of this sport where participants stand on the board and paddle from one side to another to propel the board around a water body. One good thing about this option is that you can enjoy the sport in a lake or river.
The type of paddleboard you buy will determine how smooth and fun your experience will be. A low-quality board can cause stability, rigidity, and durability issues. You, therefore, need a quality stand-up paddleboard that works well with your body and paddling style. This doesn't mean that you go for the most priced option in the market. Here is a detailed review of some top DAMA paddleboards in the market based on their prices, quality, and durability.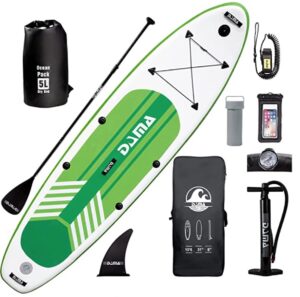 DAMA Energy or isup contains PVC plastic and woven fibers. These boards become rigid when inflated. You can deflate them and roll them to the size of a sleeping bag when not in use. This makes it easier to transport your paddleboard.
Most customers find this option very convenient. This is a much lighter option that you can easily carry to the beach. It's sturdy and can hold up to 210 pounds. Standing on this inflatable board is similar to stepping on a rubber mat. Your feet will feel more comfortable and relaxed.
Another thing is the inflatable paddleboard is more durable. If you accidentally drop it, it won't scratch. You can therefore use this Dama board to explore rocky waters. Most people also find it very easy to pump.
Pros
Easy to store
Safer
Offers high flexibility
Very durable
Very stable
Cons
Can flex if not inflated to the appropriate level
Construction
DAMA 10'6″ × 31″×6″ paddleboard contains a rigid but light PVC material. The manufacturer uses a tough stitching material on this board to create a high-intensity layer that offers superior air holding. Note that inflating the board doesn't add extra weight. The board has a six-inch thickness that makes it more stable. This is, therefore, a perfect choice for all skill levels. The triple fins at the bottom of the board and non-slip grip helps you enjoy a smooth, safe ride. So, it's a safe option to use with kids and pets.
The board's material is non-corrosive and UV proof, allowing high endurance in salty and freshwater bodies. This board weighs 16.5 pounds and has a maximum capacity of about 176lbs. The item comes in different colors. You can opt for the light green or blue colors based on your preferences. The paddleboard also comes in different sizes that suit different groups of people. They include:
Top Features
This inflatable paddle board performs excellently in a variety of conditions. It has up-to-date features meant to make your ride smoother and safe. Some of them include:
Shoulder Strap: These DAMA paddleboards come with an exclusive shoulder strap tied to the conjunction D ring to help you carry it more comfortably over a long distance. You can even adjust the strap to your desired length.
Water Proof Bag: The package includes a heavy-duty and waterproof bag. It has a capacity of five liters so you can carry along extra items like clothes, a camera, food, and drinks.
Floating Paddle: The package also comes with a detachable floating paddle. It contains foam materials in the interior to prevent infiltration and a thermal sealing that makes it waterproof. Therefore the paddle floats on the water, so it's hard to lose it.
Safety Connecting Rings: This DAMA paddleboard has steel D rings that make it easier to drag it behind a boat while out in the sea. You can even use it to attach a sup board to enjoy these adventures with your kids or even a kayak seat.
Overall this is one of the best boards you can consider in terms of lightweight and high stability. The biggest perk of these inflatable boards is that they can fit into any car truck, and you can even travel with them on air with no extra fee.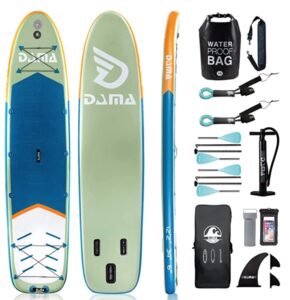 The yoga paddleboard is usually a bit wider, so it supports various yoga poses besides paddle boarding. This DAMA inflatable sup yoga board has a wider nose and tail to improve stability. You can therefore enjoy some paddle sessions and easily transition to yoga poses. When going on a weekend trip far away, you can quickly deflate, roll and toss it into your trunk. Once you get to the destination, inflation will only take you less than ten minutes.
One thing that most people appreciate about this product is that it comes as a complete package. You will get every accessory you need to start paddling. This includes adjustable floating paddles, a repair kit, removable fins, a pressure gauge, and more. The quality is also good. It's very sturdy, versatile, and good-looking.
Pros
• It's lightweight and portable
• Its adequately wide
• Very stable
• Easy to inflate
• It comes with awesome accessories
Cons
• The material feels relatively thin
Construction
This 12'2"X34"X6″ DAMA inflatable sup yoga board has a light but tough PVC material. The six-inch thickness provides floatation and stability that supports riders of different weights. It helps maintain rigidity as you transition between yoga poses. This also limits water wrapping onto the deck, which keeps your outfit dry. Safety features like the triple fins and non-slip grip make it ideal for beginners and family adventures. The board weighs about 30lbs and can hold a maximum weight capacity of about 500lbs. The yoga board comes in different dimensions like:
12'2″ x 34″ x 6″
14′ x 45″ x 8″
Top Features
Carry Strap: This DAMA paddleboard has a shoulder carry strap that makes it easier to move your board around.
Camera Mount: The board has a camera mount that will enable you to capture your moments in the water. You have a chance to make memories with your family, friends, and pet, keep a record, or even share it on social media.
Waterproof Bag: This DAMA yoga paddleboard has a high-quality waterproof bag with five liters capacity. You can use it to carry or store your sports gear and other supplies when going for more extended expeditions.
D Rings: The unique D rings on the paddleboard allow you to attach to friends' paddleboard to enjoy the waters together. You can also use them to hook to swimming pool loops or anchoring.
Collapsible Paddle: The package also has a collapsible three-piece paddle with a hollow design. It doesn't sink in water, so you won't have to worry about losing it.
If yoga is one of the things you want to do with your stand-up paddleboard, you may want to consider this DAMA inflatable option. It's moderately long and wide enough to support a variety of poses.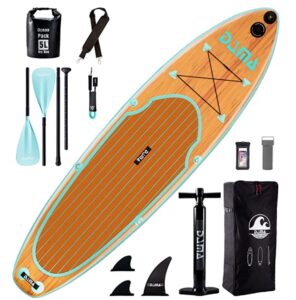 DAMA Nature stand-up paddleboard uses air for buoyancy and stability. It suits casual paddleboarders or anybody traveling with limited space. Though these boards tend to be softer, they are very sturdy when adequately inflated.
One thing that most users love about these boards is that they are easy to inflate and have a beautiful vibrant color. They are ideal for beginners since they come with accessories like a detachable middle fin, a hose, repair kits, and a waterproof phone case. Despite their small size, they are well-proportioned for stability and maneuverability. The boards come at a fair price and have a beautiful design.
Pros
Easy to carry
They have a good quality ankle leash
They pump up quickly
Cons
Doesn't come with set up instructions
Requires more strength to keep it stable
Construction
The PVC material used on this DAMA 9'6″/10'6″/11′ makes the paddleboard lightweight but stiff enough. It's also durable and maintains its high capacity at the time of use. It's thick enough, meaning more stability. The safety features like non-slip grips give beginners a smooth ride and offer more control to the experts. This paddleboard has a natural wood color that gives it a unique appearance. You can get the board in different dimensions, including:
• 9'6" x 30" x 6"
• 10'6″ x 32″ x 6″
• 11′ x 33" x 6"
Features
DAMA inflatable paddle boards have unique features which set them apart from other models. They include:
Shoulder Strap: The exclusive shoulder strap on this DAMA isup offers a more comfortable and ergonomic way to carry or lift your board.
Camera Mount: The paddleboard also comes with an exclusive camera mount that enables users to film their activities.
Length-adjustable Paddle: The board comes with a versatile paddle that allows you to experiment with different lengths to see which one best works for you.
Waterproof Bag: You will love the five-liter waterproof bag that comes with this DAMA board. It helps keep your gear and other supplies safe and dry during your adventures.
This is your ideal option if you want a lighter, shorter but multifunctional board. You can use it for yoga, fishing, surfing, or exploring both salt and fresh water bodies with your friends or family.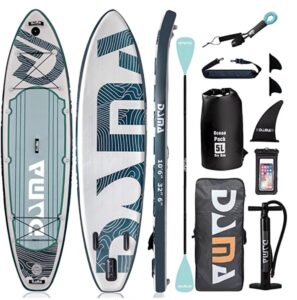 This DAMA premium inflatable paddle board suits your best if you love exploring new things and having great adventures. It offers a combination of stability, sped, and maneuverability. You will love the soft textured foam deck pad.
Most people love this paddle because it's lightweight and floats on the water a lot more. The paddles are easy to inflate, very stable, and strong. Like any other DAMA isup, you can roll it into a compact package for easier transportation. Its wide design provides improved stability while standing.
Pros
It comes with premium paddleboard accessories
Made from durable materials
Easy maneuverability
Wide sup design
Inflatable and portable
Cons
The pump is not the best quality
Construction
DAMA uses military-grade PVC and drop stitch material on this board. The triple fins at the bottom of the board improve its overall speed. They also make the board steady and easier for kids, teens, and beginner-level adults. It has a non-slip soft top deck that minimizes injuries should you fall. It's thick enough to offer a more stable ride. The board comes either in light blue, grey, or green colors. You can get them in other sizes like:
• 11″*33″*6″
• 9'6″ *30″ *6″
• 11′ *33″ *6″
Top Features
This awesome paddleboard has fantastic features, making it suitable for people in all skills levels and different conditions. Some of them include:
Complete Paddleboard Kit: The package has paddling essentials, including a pump, safety ankle leash, camera bracket mount, and removable fins. These accessories will make your ride safe and comfortable.
Carrying Backpack: The five liters waterproof backpack allows you to conveniently carry essentials for your trips like keys, phone, food, and water.
Extendable Paddle: The four-piece length adjustable floating paddle suits users of different sizes.
This board's length and proportionality provide excellent glides for fishing, cruising, and exploring.
Summing Up
The above paddle boards have distinctive features that make them ideal for specific people in certain conditions. Weigh your options and see which ones best suit your needs. When buying a paddleboard, it's good that you match the length, size, and thickness with your weight. A longer and larger board will suit you if you have more weight or want to paddle with your kids and pet. Look for a board with extra accessories and shop within your budget.
Review Conclusion: Happy With the DAMA Paddle Board
This board get some great marks from consumers and rates very well. If you are a smaller and lighter paddler in the 100 to 150 pound range and looking for an easy to inflate, easy to pack and great looking paddle board we'd definitely recommend this board for you.
DAMA Paddle Board FAQs
How Long Does It Take To Inflate the DAMA Board?
Customer reviews indicate it takes about 5-7 minutes of pumping to inflate this board all the way. This estimate is inline with our expectations and experience.
What Pressure Should I Inflate The DAMA SUP To?
The DAMA board will perform best with it's maximum firmness when inflated to about 12-15 PSI. You can use the gauge on the hand pump to tell when you have inflated the DAMA to the proper pressure.
Can This Board Convert To A Kayak?
Yes! The DAMA iSUP comes with correctly placed steel D-Rings so that you can attach a kayak seat and paddle this board like a kayak. Keep in mind you will likely want to get a kayak paddle.
What Is The Max Weight For This Board?
The max weight is 220 lbs, but this board is really more recommended for up to about 110 lbs (kids, smaller paddlers). After reviewing consumer comments this appears to be true. We saw some people who are larger paddlers comment that it was difficult for them to balance and paddle straight on this board.