This post may contain affiliate links. Commissions we earn from partner links on this page do not affect our opinions or evaluations. Our editorial content is based on thorough research and guidance from the editorial team.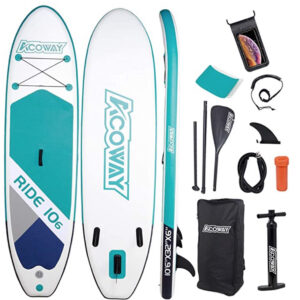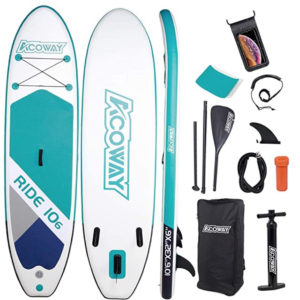 Acoway iSUP Review Summary
Want the quick answer to: Should I buy the Acoway Paddle board?
Short answer? YES.
Here at iSUPReviews, after reviewing customer reviews and analyzing the board details and constructions ourselves, we think this is a GREAT paddle board for the price.
Whether you are looking for your first paddle board or an upgrade from another board – this is a great all around paddle board option for many uses.
Acoway Full 10'6″ SUP Product Details
If you are in the market for a great, value conscious all around inflatable paddle board – the Acoway inflatable SUP is likely to be a great fit for you.
At 10 feet and 6 inches long it's a great cruiser board that is long enough to offer good flotation and cut a nice straight line through the water when paddling without getting so long it becomes difficult to handle or store.
It's width is 32 / 33″ inches wide (their product details seem to have some discrepancy on this) but the board itself has 32 inches stamped on the side. Regardless, a 32 inch wide paddle board is very standard for this length and will give you great stability without becoming unwieldy.
The board also comes with a convenient nylon cord tie down straps on the front for storing items while paddling. You can tuck a jacket here or a drybag with a few items.
Additionally, the board has a comfortable grip pad that covers about 3 quarters of the deck from the tie downs all the way back to the inflation valve.
How Does the Acoway Perform And Handle Paddling?
The Acoway 10'6″ SUP is primarily designed for good stability.
Why is it made for Stability? Despite it's common length of 10 feet and 6 inches, the Acoway has a fairly wide width profile of 32 inches. In addition, the front of the board has a more rounded shaped (compared to pointed) and the tail is semi-rounded / rectangular. These features allow it to have more flat bottom surface on the water. The tradeoff is that it won't paddle quite as quickly as narrower boards of a similar length.
Features Of Note:
One thing to mention about this board is that it has a fairly broad (wider) nose and tail than many other similar sized paddle boards out there. This extra width at the front of the board will give you some additional flotation capacity and a more stable platform than boards of similar sized with more pointed tips.
Who Is This Board Good For?
This is a great all around board and will be excellent for beginner adults, children or even intermediate experience adults. It's a fantastic first inflatable board or also a great upgrade if your first board was significantly smaller or perhaps a lower quality board.
Who Should Buy The Acoway?
Here at ISUPReviews, we recommend this board to anyone who wants a cruiser / all-around paddle board with moderate to good stability for under $400.
Acoway SUP Uses
This board features the dimensions of a great, all around paddle board. Acoway specifically lists this board for uses of paddle board touring, fishing or yoga.
What Comes With the Acoway Paddle Board?
Paddle board touring
Fishing
Yoga (if you are specifically looking for a yoga board, check out our list of the best paddle boards for yoga)
So you like the dimensions of the Acoway 10'6″ board and are pretty close to purchasing – but need to know exactly what you get. Will you need to buy anything else? As long as you don't need a bathing suit, this iSUP kit from Acoway has everything you need to hit the water and get paddling today.
Paddle Board: The paddle board itself is made of high-quality PVC with a sandwiched mesh composite inside for added durability and shaping. The deck has a non slip EVA pad for increased traction and comfort under your feet on long paddles.
Aluminum Paddle: This adjustable length aluminum paddle comes in 3 sections for quick and easy setup or storage. The adjustable length makes it great for a paddler of any height or for use when standing up or paddling kneeling down.
Carry Backpack: Heavy duty nylon backpack to store everything included and easily carry it to your paddle destination.
Ankle sleeve safety leash: Pretty self explanatory but helps make sure you don't get separated from your board if you fall off. These make a ton of sense if you are on a river with moving water or in waves that could push your board away from you.
Fins: This is a detachable bottom fin to enhances overall paddling stability, improve SUP speed, steering and handling of this board.
Repair Kit: Just in case your board gets a hole or scuff they include a repair kit. Hopefully you don't need it, but there just in case.
Waterproof Phone Stow Bag: This is a small but nice touch to make sure your phone stays functional and doesn't get lost.
Bi-directional Hand Air Pump: The 2 way pump will inflate your board more quickly than a single direction. In one setting it inflates on both the push down and the pull up. When you begin to increase the pressure inside the board you can switch to a single direction for higher pressure. This pump includes a gauge so you can be sure to get your board to the right SUP pressure.

Acoway 10 Foot 6 Inch Inflatable SUP Pros & Cons
Our team has gone through and analyzed hundreds of Acoway SUP reviews in order to find the patterns and trends of what customers are saying are the good parts of owning an Acoway and what are the downsides or reasons not to purchase.
Acoway Paddle Board Pros
This Acoway 10'6″ board get's great reviews from most customers and on our review looks like a great paddle board.
This board gets great ratings for being built of high quality, durable material. It gets good compliments about being much better quality than paddle boards in the $250 dollar price range that are much thinner, bendier and tend to warp after use.
Great value for the price.
Easy to deflate and store this paddle board.
Very stable and easy to balance
Fits 2 people or a person and a dog comfortably
Acoway Paddle Board Cons
Overall after reviewing multiple customer reviews and analyzing the product details, this board has very minimal negative comments that seem related to the overall board design, manufacturing or style. The few negative reviews about this Acoway SUP seem to be fairly standard one off issues that occasionally happen during use or manufacturing.
Some people mention that the paddle is an older style.
One person mentioned that it takes about 10 minutes to inflate as a downside to this board.
One person mentioned getting a leak in their board – but this does not seem to be a widespread manufacturing issue.
Consumer Ratings By Feature
Overall Customer Rating: ★★★★★ 4.4 Of 5.0 Rating
Stability:

★★★★★

5.0 Rating
Portability:

★★★★★

5.0 Rating
Easy To Inflate:

★★★★☆

4.2 Rating
Acoway Price: Here's How To Get Yours Cheap
The Acoway is a fantastic value inflatable paddle board in the $400 – $500 price range. Yes, you can find some boards out there for cheaper – but beware you are starting to get into some of the lower quality (although not all) paddle board range. How can you get the Acoway SUP for the best price? We've found that Amazon has them at incredibly cheap prices.
Quick Product Specs & Dimensions
| | | | | | |
| --- | --- | --- | --- | --- | --- |
| Paddle Board | Length | Width | Height | Weight | Capacity |
| Acoway SUP | 10'6″ | 32 inches | 6 inches | 22 lbs | 400 lbs |
Acoway iSUP Dimensions
Can 2 People Fit On It?
The manufacturer officially lists the weight capacity on this board as 400 LBS, but our honest review says that's a bit optimistic. This board can more comfortably handle up to about 300 lbs – so if your 2 passengers fit that criteria you are probably ok.
It's important to note that you can carry those 2 people, but don't expect the board to handle and paddle as well as if you only had 1 person. That extra weight is going to make it sit lower in the water and paddle slower and be harder to maneuver.
Acoway Inflatable SUP Review Conclusion: Really Happy With the Acoway 10'6″ Paddle Board
The Acoway will be a great choice for an all around, cruiser paddle board for an average size paddler. At 10'6″ long and 32 inches wide you will be in for a comfortable paddle and a resonable price. The 22 LBS is about average for a board of this size and should be easy enough to carry around and to paddle.
Similar Paddle Boards
One of the most similar boards to compare to is the Aksport 10'6″ SUP that is a very similar size profile but with slightly more tapered dimensions for faster paddling. It's priced around $300.
Another great options to consider is the Tiki by Funwater. It's a similar length but slightly wider with a 33 inch full width measurement. You can check out our full review of the Funwater Tiki.
Acoway SUP FAQs
What Happens If A Fin Breaks?

If a fin breaks, the great news is that you can either contact the manufacturer for a replacement or if you want to get it taken care of very quickly we would recommend buying a replacement fin from Big Fish fins on Amazon.
Is There A Warranty?

The manufacturer offers a great 30 day return or exchange policy if you have any issues. If you have any problems within 1 year, please contact the after-sales team and they will work with you to help resolve the problem in a way that works for you and makes sense for Acoway.
How Long Does It Take To Inflate?

Getting the board properly inflated to the correct pressure will likely take about 10 minutes or a little longer with the standard pump that's included with the kit. If you are looking for a faster or easier inflate, we'd recommend checking out an automatic or electric inflation pump.
What Is The Recommended Pressure?

The manufacturer states that the proper inflation pressure is 12 PSI.