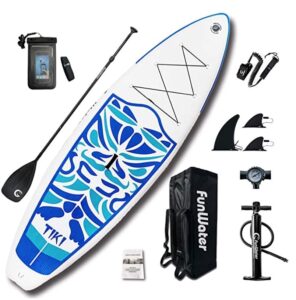 FunWater 10'6″ iSUP Review Summary
The Tiki by FunWater has become one of the most popular boards this year – and for good reason.
It offers a great, cruiser paddle board for a fantastic price, usually you can find it for about $400.
FunWater 10'6″ SUP Product Details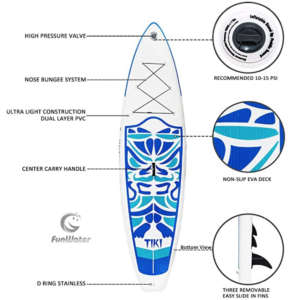 Who Is This Board Good For?
Are you thinking about getting a board to take to your local lake or river? Maybe you are taking a camping trip and would like a paddle board you can easily store and take with you for a fun day of activities on the water?
The Tiki is a great option! It's a pretty standard size for a cruiser sup 10.5 feet X 33 inches wide so it will be fun and easy to paddle and the width at just under 3 feet wide will give you a nice stable platform for paddling on your knees or standing up.
So this board is great for a first time paddler, a board for the kids to have fun on or if you are an intermediate paddler who wants a solid and affordable paddle board.
What Is The Funwater 10 Foot 6 Inch Good For?
The Funwater Tiki 10 foot board is a great, cost effective choice for all the standard paddle board activities.
It's great for fun and casual paddling on calm water or you can use it to cover some longer distances with a little extra gear like a cooler – or dog for a few hour long paddle.
You can also fish from this or potentially do a little yoga on this board.
The design of this board has the deck pad covering about the rear 2/3 of the board with the front 1/3 of the board nose covered with some nylon lash straps. Keep in mind these are great for attaching a cooler or your stuff sack – but compared to some other boards of a similar length, the deck pad does cover a little less space – which means a little less room for 2 people to sit or to do yoga. If you are specifically looking for a yoga SUP – check out our best yoga paddle boards info.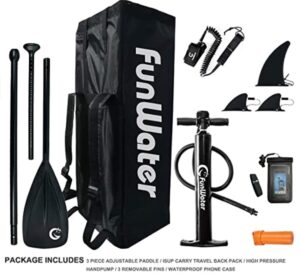 What Comes With the FunWater Paddle Board?
Just unpack and paddle! That's what we are all looking for these days – simplicity and one stop shopping. Well you have it here – everything you need to start paddling straight out of the box. Except a life jacket! Get one of those too.
Unpack your Tiki, attach the pump and inflate this board in about 5-8 minutes. Attach your fins, buckle the paddle together and you are on the water. If you are motivating and willing to pump quickly you can go from back pack to paddling in about 8 minutes. Don't forget to put on suncreen though!
Ultra Light Weight 2 Layer PVC Paddle Board
Adjustable aluminum paddle
high pressure hand pump
travel backpack
Adjustable coil leash
waterproof bag
3 removable fins
FunWater 10 Foot 6 Inch Inflatable SUP Pros & Cons
We reviewed hundred of reviews, comments and questions from customers over a 2 year period for this board and it looks like a great, value purchase paddle board. On nearly 700 ratings it gets about 75% 5 star reviews and another 12% are 4 star reviews – which we consider high marks for a paddle board in the $400 range.
In fact, some reviewers who own more expensive paddle boards says this holds it own or even out performs their more costly board.
FunWater Paddle Board Pros
Overall about 75% of the reviews on this board were 5 stars – so for a value priced item this is pretty good. The main things people liked about this board probably won't surprise you too much, but they are worth looking at.
Great value for the money
Easy to inflate and setup
Packs down easily and small for carrying or storage
Very light weight
FunWater Paddle Board Pros
About 6% of the total reviews for this product are negative / 1 star reviews. So this is a little higher than we like to see on average – but still within a reasonable range. The primary complaints and dislikes that resulted in this board getting negative reviews were:
The hand pump broke or the gauge doesn't work. This was by far the most common reason for 1 star reviews of this board.
Board leaked or doesn't hold air very well
The fins broke. This honestly surprised us? Fins don't usually break but it only seemed to be a hand full of reviews.
Overall we didn't see any particular reviews or great volume of reviews that would rate this board as a "Do Not Buy" or "Beware". There are what seem to be some one of manufacturing issues that happen with mass produced items.
Consumer Ratings By Feature
Overall Customer Rating: ★★★★★ 4.5 Of 5.0 Rating On 650+ Reviews
Maneuverability:

★★★★☆

4.5 Rating (how well does it turn and handle)
Stability:

★★★★☆

4.5 Rating (how easy it it to balance on the board)
For beginners:

★★★★☆

4.4 Rating
Easy To Inflate:

★★★★☆

4.4 Rating
Study:

★★★★☆

4.3 Rating
Funwater 10'6″ Price: Here's How To Get Yours Cheap
One of the best factors of the FunWater Tiki is the great value you are getting for your money. A solid, dependable cruiser board for all around use – at frankly – about as low a price as you can pay while still getting a great board that will last for many seasons of paddling. So how can you get your Funwater Tiki for the best / cheapest price? We found ours on Amazon – check out the price!
Quick Product Specs & Dimensions
The Tiki is a fairly standard set of dimensions for a Cruiser SUP but some of it's differences are around the lighter board weight because it is a dual layer board vs. a 3 layer board.
| | | | | | |
| --- | --- | --- | --- | --- | --- |
| Paddle Board | Length | Width | Height | Weight | Capacity |
| FunWater 10'6″ Inflatable SUP | 10'6″ | 33″ | 6″ | 17.6 lbs | 300 lbs |
FunWater 10 Foot 6 Inch Paddle Board Stats
FunWater Warranty & Guarantee
The Tiki board comes with a 60 day guarantee and risk free returns within 30 days. It also comes with a 1 year warranty on materials in case there is some defect that shows up after time.
Other Paddle Boards Like The FunWater
What other boards should you consider if you are looking at this board? It depends on what you are thinking about.
If you want a board with a little more carrying capacity, or a little bit longer for some added speed – we would recommend checking out this boards bigger brother, the 11 Foot Long FunWater Paddle Board.
Review Conclusion: FunWater Tiki 10'6″ Paddle Board
The FunWater Tiki 10'6″ is a great choice for an affordable inflatable cruiser SUP for everyday use. For a price of about $400 you get everything in one easy to pack backpack to get started paddling. It'll work great for beginners and inflate and setup quickly while at the same time storing down and being light enough to carry easily.
So, if you are looking to get into paddle boarding without spending a ton of money – this is an absolute great choice. Go get yours and get paddling ASAP!