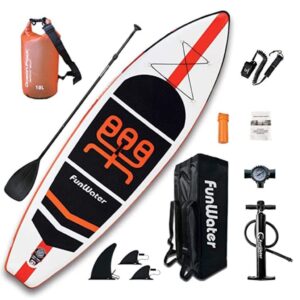 11′ FunWater iSUP Review Summary
This touring / cruiser inflatable paddle board by FunWater is a great, all-inclusive package for the first time or intermediate paddler. It has everything you need to start paddling and the price range of $400 makes it an extremely affordable board to get started or upgrade from a different board.
Board Overview
Who should buy this paddle board? If you are are price conscious paddle board shopper looking to get an all around cruiser SUP that will paddle a little faster and carry a little bit more than most of those popular 10 or 10.5 foot cruisers SUPs our there. This is a GREAT board to consider.
Another feature we really like about this board is the dual layer PVC that is a great tradeoff between durability and weight. At just under 18 lbs for the board it makes carrying, packing, and board handling significantly easier than some of those other 3 layer boards that weight closer to 25-30 lbs.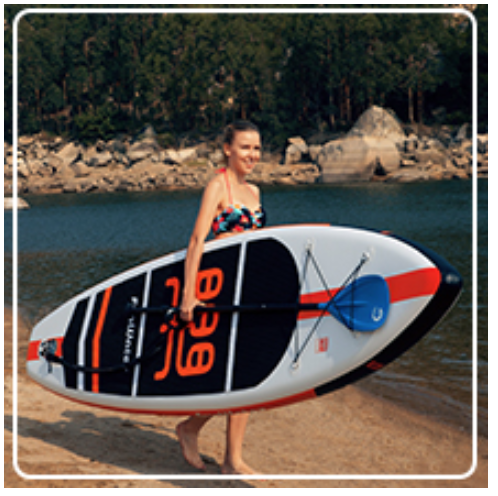 At just under 18 lbs this lightweight board is easy to carry and pack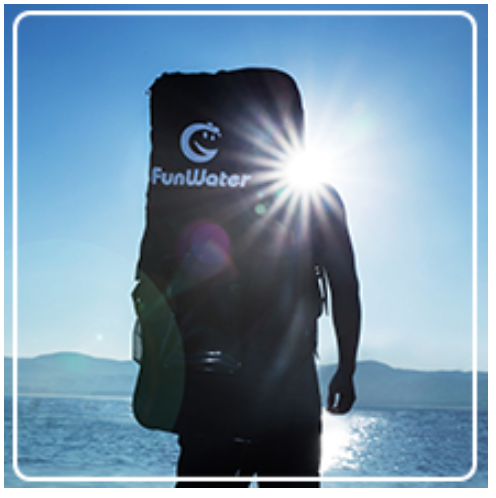 Everything easily fits in the carry backpack so you can take it anywhere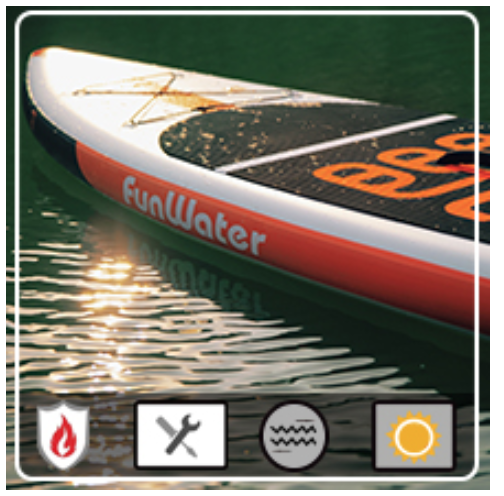 Great all around dimensions for this board make it fun and easy to paddle.
Where Is This Board Good For?
The FunWater Stand Up Paddle Board is ready for rivers, reservoirs, lakes, oceans and streams. The length will keep it paddling straight even in a little breeze or small waves and the 6 inch height gives you plenty of flotation and height above the water with normal loading.
Rivers / Streams
Lakes / Reservoirs
Bays / Calm Ocean
What's Included With The FunWater 11′ Paddle Board
Dual layer DWF drop stitch paddle board. This board is scrape resistant and also has an anti-uv property which is really helpful since we assume you will be paddling on nice sunny days.
3 Piece adjustable paddle
Carry back pack
High pressure board hand pump
3 Removable fins
Coil leash
Repair kit
Waterproof phone case
FunWater 11 Foot Inflatable SUP Pros & Cons
FunWater 11′ Good Features
There are a few key reasons to choose this board over other similar boards and frankly it's because it's the length and width you are looking, it's lightweight (read easy to carry!) and a fantastic price.
Ultra light board
Great value
Stores and rolls up very well – and it lightweight to carry
Great board for larger or heavier people
Paddles well and tracks nicely
Good stability and balance
Drawbacks / Cons To This Board
Pump Issues: One of most common negative reviews was about the pump that comes with this board. They tended to be about the fact that it is a simple one way pump (not dual pump action like others) and that the pump seemed to fail or break. Overall, these were a minority of total reviews so we don't consider it a particularly large risk.
Sinking Paddle: If you are researching paddle board for awhile you know this is fairly common, but we wanted to make sure it's evident.
Some Various Quality Issues: We have reviewed some comments about various construction / durability issues with this board relating to the handle or some of the seams. These seem to be a very small minority of the overall comments and look like a fairly standard occasional manufacturing issue. We are not issuing any warnings or "do not buy" ratings because of these.
Quick Product Specs & Dimensions
| | | | | | |
| --- | --- | --- | --- | --- | --- |
| Paddle Board | Length | Width | Height | Weight | Capacity |
| FunWater 11 Foot Inflatable | 11 Feet | 33 Inches | 6 Inches | 17.6 lbs | 330 lbs |
Consumer Rating For The FunWater 11′ SUP
Customer Reviews: ★★★★★ 4.5 out of 5 Rating On 250+ Reviews
Value For Money:

★★★★★

4.7 Rating
Leight Weight:

★★★★★

4.7 Rating
Sturdiness:

★★★★★

4.7 Rating
FunWater 11 Foot iSUP: How To Get Yours Cheap
One of the great benefits of this FunWater is the entry level price for a good quality board. It's pretty hard to find a cheaper 11 Foot inflatable paddle board that comes with everything you need. So, where you can find the best prices on a Funwater 11′? Check it out below to find the cheapest price!
FunWater FAQs
What is the warranty on the Fun Water SUP?
This paddle board has a 1 year limited warranty from the manufacturer. The one year coverage includes fabric, one year on seams, and one year on accessories. 
Can You Make This Board Into A Kayak?
Unfortunately this board is not specifically designed for it and may not work particularly well with after market seats because it does not have tie down D-rings in the middle of the board.
Can I Take A Dog On This Paddle Board?
This board has a maximum capacity of 330 lbs, so if you, your dog and all your gear are within that weight range it can carry you. Additionally, the board has a durable EVA pad on the deck that will help protect the board from dog claws and scratches.
How Is This Paddle Board Lighter Than Other Similar Boards?
This is a 2-ply or 2 layer board – dual layer drop stitch board. Almost all of the weight in paddle boards comes from the PVC material they are built from. Using 2 layers saves on weight, while 3 layers can make them a little more rigid and durable over the life of the board.
Other Similar Boards To Consider And Compare
If you are shopping for inflatable standup boards in the 11 foot long category, we'd consider checking out our Best 11 Foot Inflatable Paddle Board Guide. Even if you are set on a 11 footer, it's still important to check out other designs and features like board width, height and weight. As well as prices!
Remember, this FunWater is 33″ wide and some other boards of this length are narrower or wider.
Similar But Smaller Board Option
If you like this FunWater board, but aren't sure you want the extra length that an 11′ offers or that extra carrying capacity and would like something a little less expensive, we recommend checking out it's slightly smaller 10 foot 6 inch younger brother – the Funwater 10'6″ SUP.
Popular SUP Alternatives
Another very popular option is the Serenlife Free Flow And Thunderwave boards. The Free-Flow is a 10'6″ inch version and the Thunderwave is slightly smaller at 10 feet long. Probably the biggest point of comparison between the boards is that the Serenlife boards are a bit narrower at 30″ instead of 33″ for the Funwaters. This creates a slightly faster, more streamlined paddle for those who are willing to sacrifice a little stability.