Are you looking for a great quality, inflatable SUP for less than $300? The great news is that there are plenty of great paddleboards in a variety of styles for sale for under $300.
As paddle boarding has become a popular water sports activity for both fun, fitness and socializing it has drown a number of companies into the market. The companies a designing and building good paddle board kits that sell a cheap prices for the value they offer.
Great SUPs For $300
Cooyes
SereneLife Free Flow & Thunder Wave
Fitpulse 10′ & 11″
Highpi
LeadNovo 10'6″
Kingdely
How To Choose The Right Inflatable SUP?
Most all-around style paddle boards will have a width between 30 inches wide and 36 inches wide. A majority will fall right in the middle with board widths of about 32″ to 33″.
Buyer Recommendation: If you want a more stable SUP, look for something with a width of 33″ inches or wider. If you want something for faster straight-line paddling, look for something longer around 11′ or 12′ and narrower than 33″.
Paddler Size (Height & Weight)
In general, the larger you are the bigger a paddle board you should choose. In many ways paddle boards are like sizing skis or a bike. Bigger skiers need longer skis or bigger bike frames.
A bit of it comes down to personal preference. A smaller paddle board will overall be more maneuverable, but likely a bit slower. Just like skis!
Buyer Recommendation: Larger or taller paddlers should consider larger paddle boards. If you are more than 6′ tall or more than 200 LBS, we'd recommend not purchasing anything smaller than 10'6″ long. If you are less than 5'5″ and under 150LBS, consider boards between 9'6″ and 10'6″ to fit your height and weight without being so large it becomes cumbersome.
Your Budget
It would be nice to have an unlimited budget for your new paddle board, but for most of us that's not the reality. Choosing a paddle board that fits your budget it's as important a criteria as other things like length or design.
Having $300 to spend on an inflatable paddle board is a very solid budget that can get you a high quality, fun to paddle SUP. If you choose to spend more on some additional features or a particular design, that's fine. Just don't feel like you have to.
---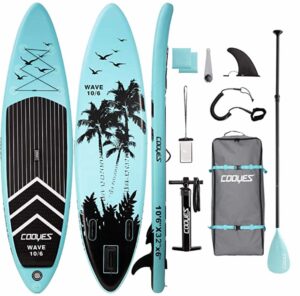 Recommended For
Dimensions
Length 10'6″ x 32″ Wide x 6″ Thick
What's Included
Cooyes Inflatable SUP
Zippered Storage And carrying backpack
Paddle
Andkle Leash
Pump
Fin
Waterproof phone case
Patch kit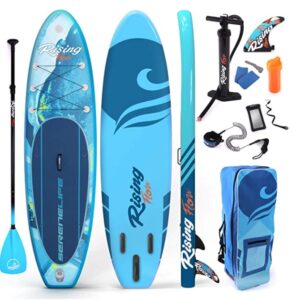 SereneLife builds some incredibly popular paddle boards. The Free Flow and Thunder Wave are a perfect paddle board for beginner and intermediate paddlers who want a great all-around board for less than $300.
These boards are a great middle of the road choice for stability and speed with a width of 32″. Plus, they pack up into an easy to carry back pack to take with you on any adventure and won't be a pain to carry at just about 20 LBS. For the full details you can read our complete SereneLife SUP review.
Recommended For:
Beginner & intermediate paddlers who want a good balance of stability and speed.
Dimensions:
Free Flow: 10'6″ x 32″ x 6″ | 19.6 LBS | 275 LBS Capacity
Thunder Wave: 10′ x 32″ x 6″ | 19 LBS | 275 LBS Capacity
Rising Wave: 10'6″ x 32″ x 6″ | 19.6 LBS | 275 LBS Capacity
SereneLife SUP Kit Includes:
Inflatable SUP with handle & non-slip deck padding
Paddle
3 Fins
Ankle leash
Manual inflation pump
Carry bag / backpack
1 year warranty
---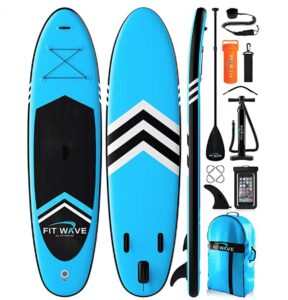 Fitpulse SUP Review
The Fitpulse is a great, affordable paddle board option for beginners looking for a 10 foot or 11 foot board. They make both size options depending on the size of the paddler or the length you want. The package has everything you need including a pump and paddle.
Recommended For:
Beginner or intermediate paddlers who are looking to purchase their first board without breaking the bank.
Dimensions:
10′ long x 32″ wide x 6″ thick
11′ long x 33″ wide x 6″ thick
---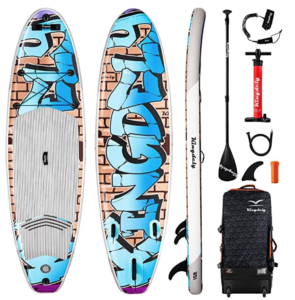 The Kingdely is a great inflatable paddle board that comes at some rock bottom prices. And what we really love is that it comes in 2 different size options and 4 different color or pattern options to fit your style. Read our complete Kingdely review.
10'6″ x 31″ x 6
10″ x 32″ x 6
Can I Get A Good SUP For $300?
Yes, a $300 price point will get you a good paddle board for your money. In fact, for $300, not only can you get a good board but you are very likely to get an entire beginners paddle board kit that will include a paddle, pump, fins and ankle leash.
You will get all the things you need to start paddling today (except the sunscreen and life jacket). So if you have four hundred dollars to spend, it's time to start researching and we can help you find the perfect board for your next paddling adventure.