This post may contain affiliate links. Commissions we earn from partner links on this page do not affect our opinions or evaluations. Our editorial content is based on thorough research and guidance from the editorial team.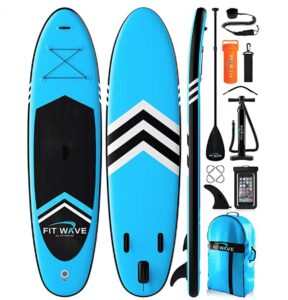 Fitpulse SUP Review Summary
The Fitpulse paddle board is a very good option for a first time paddle board buyer who is looking to buy a board for $300 or less. It comes with everything you need to start paddling, but doesn't make you pay for any upgrades. If you are looking for an affordable board around 10 feet, don't forget to checkout our Best SUPs under $500 list.
Most Similar SUPs
Do you love outdoor water sports or want to try them? Paddle boarding is an excellent way to explore lakes and beaches, and the fitpulse SUP is the perfect paddle board to take on those watery explorations. It is great for beginners and seasoned paddle boarders alike and has lots of accessories, so you are comfortable and prepared during every adventure.
The board is great for activities other than paddle boarding. You can go fishing, touring, kayaking on it as well. If you are an advanced paddle boarder, try SUP surfing! Snorkeling and scuba diving with your paddle board is a great option, too.
Performance
The Fitpulse SUP is a very good balance of the 3 main criteria:
Stability
Maneuverability
Speed
The Stability of this board is about average to better than average. The key factors for this are the 32″ width on the 10 foot board and the 33 inch width on the 11 foot board. The board also features a relatively wide nose and tail. These 3 factors combined give a good middle of the road stability profile. If you want something more stable, look for a wider board or board with rounder nose and tail shapes.
The Maneuverability of this board is a factor of it's dimensions, shape and 3 fin design. It's a great balance of being able to turn when you want, but not getting blown around and spinning in circles every paddle stroke.
The Speed of the Fitpulse is going to be moderate. The 11 foot board will be the faster of the two options due to its longer waterline. Probably the largest detractor from speed is the squared-off tail – although this is about average for a recreational board, so we don't rate it as a negative.
The Good & The Bad
Pros Of The Fitpulse SUP
Very affordable paddle board
Great for all around paddling
Balanced performance and handling
Cons
Mediocre construction (but value priced)
All accessories are "base model"
New paddlers may outgrow this board
Features and Dimensions
When you are in the water, the last thing you want is for your board to deflate. The fitpulse paddle board is a multilayered, inflatable board that is made from high-quality materials to ensure you have a comfortable and safe experience. Reinforced with two airtight coatings and a double side wall to prevent punctures and leaks, the board guarantees your safety. The air valve comes with a special valve tightening tool to make sure it is fastened properly and does not leak either.
Keep all of your paddling essentials like your paddle, cell phone, and emergency repair kit secure with the thick bungee cords at the top of your SUP paddle board. The high-quality deck pad is anti-slip yet is comfortable to sit, kneel, and stand on. You can even do paddle yoga on it!
The FitPulse paddle board has D-rings so you can securely attach kayak seats or anchors to it. That way, you can get even more out of your board. There is space for a waterproof camera at the head of the board, too. Feel free to record some memories while you get in a great workout.
Check out our best kayak SUP hybrid list if you are specifically looking for kayak options.
Adults of all sizes can enjoy this paddle board because they come in different lengths; choose from 9ft, 10ft, 10ft UV, and 11ft long boards. The width is 32″ and the depth is 6″. Weighing in at 19lbs. when inflated, the board can hold up to 242lbs. This product is not recommended for young children.
| | | | | | |
| --- | --- | --- | --- | --- | --- |
| SUP | Length | Width | Thickness | Capacity | Board Weight |
| Fitpulse Blue 10 Foot | 10' | 32" | 6" | 242 LBS | 19 LBS |
| Fitpulse 11 Foot White | 11' | 33" | 6" | 242 LBS | 19 LBS |
Accessories
The FitPulse SUP paddle board prepares you for your adventures with all of your essentials. Along with an inflatable paddle board, you get:
An adjustable floating paddle for the utmost comfort. Paddle easily in any position; while sitting, kneeling, or standing.
A double-action hand pump. Inflate your paddle board in minutes so you can spend your time and energy in the water.
An emergency repair kit
A coiled leash that will not drag in the water.
A waterproof cell phone case
A floating strap for your sunglasses
Double-clip hoops
A backpack that fits the board and all its accessories!
Fitpulse Customer Reviews
Overall Customer Rating: ★★★★★ 4.5 Of 5.0 Rating with 600+ Reviews
On Amazon, the FitPulse SUP paddle board has 90% ratings between 3 and 5 stars. There are over 500 ratings and comments on the product, which means these percentages are reliable. The main positive comments for the board are:
Setting up and inflating the board is quick and easy with the air pump.
The board sits higher in the water which makes navigating it and turning precise and without too much effort.
It is great for new paddle boarders.
One positive comment mentioned the comfort of the backpack and paddle. The customer loved the padding on the handle of the paddle, saying that it helped to steer the board comfortably and properly. The cushioned straps of the backpack helped to distribute and carry the weight of the contents as well.
Of the 10% of negative comments, the most frequently seen problems were:
Leakage issues at the air valve.
Unsatisfactory materials. Some customers claim that they were not high-quality as advertised.
Due to the leakage issues, the paddle board is not as sturdy as advertised and is not a long-lasting product.
None of the negative comments seemed to mention issues with customer service. In fact, some said that customer service representatives were working with them on solving the problems the complainants were experiencing. So, in the unfortunate event that you receive a defective paddle board, do not hesitate to reach out to the customer service department.
There are still a few weeks of summer left, so make them most of them with the SUP Fit Pulse paddle board. Let this product be a driving force for some unforgettable experiences and memories. And if you are looking for a new and exciting way to improve your physical health, look no further than the Fit Pulse.