This post may contain affiliate links. Commissions we earn from partner links on this page do not affect our opinions or evaluations. Our editorial content is based on thorough research and guidance from the editorial team.
Cooyes Stand-up Paddle Board
If you're looking for a way to ensure that you have a relaxing summer filled with fresh air and sunshine, then the Cooyes 10'6″ Paddle Board is the perfect fit. Ideal for use in calm waters such as lakes, lagoons, and harbors. Paddle Boarding is one of the best ways there is to immerse yourself in gorgeous scenery.We've all been feeling more than a little bit cooped up lately, so why not get out on the water and enjoy the fresh air?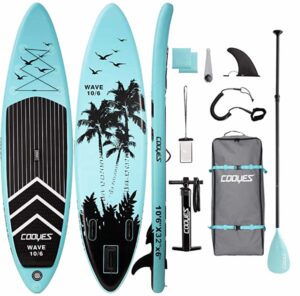 Wide SUP Design
The Cooyes SUP are designed extra wide (10'6″ x 32″ x 6″ ), making it simple to balance and paddle swiftly. The wider board makes for a perfect beginner's board, as well as providing enjoyable and smooth sailing for moderate to experienced boarders.
Visually Appealing
Cooyes designed the artwork on the board to mirror the beautiful scenery through which you'll be paddling, and they want to complement the ocean ambiance and create a fully immersive experience.
Extra Strength Materials
Naturally, when purchasing such a visually appealing product one is prone to be worried about scratches and damages. With the Cooyes however, you can leave those worries in your wake.
The paddle boards are made using the highest quality military grade materials, with a load bearing capacity of up to 330 pounds. Designed with a UV resistant exterior protective coating as well as a thermo sealed comfort non-slip pad, you won't have to worry about the sun eating your board or burning your toes. The ultra reinforced drop stitch weave and Military-Grade drawled PVC Construction ensures that your inflatable SUP will be as reliable as it is enjoyable.
Simple Storage
One of the board's most important features is its portability. We're well aware that if you live near the beach, there's a good chance that your home sacrifices some space for that oceanic view. You may be wondering to yourself, "where the heck am I gonna fit a ten and a half foot board in my place?" That's why this inflatable board is designed to occupy as little storage space as possible. You'll be able to quickly inflate the board using our included pump, and the fins are attached separately to ensure efficient storage.
Useful Accessories
The Cooyes SUP comes with many key accessories. In addition to the portable backpack and removable fins, your purchase includes a waterproof bag, repair kit, three-piece aluminum paddle, a paddle board pump, and a backpack carrying bag. The board features bungee straps and grab handles for your convenience. In our tests the two-way pump can inflate the board in as little as five minutes and deflate the board in as little as two! The floating paddle features a premium alloy shaft and nylon blade, and separates into three pieces in order to fit neatly in the storage bag.
Customer Reviews Of The Cooyes 10'6″ SUP
Overall Customer Rating: ★★★★★ 4.3 Of 5.0 Rating with 740+ Reviews
The responses and reviews we analyzed are highly positive. Aside from a small number of complaints regarding the material quality, our customers have been extremely satisfied. This can be attested by the numerous five star reviews.
Many have attested to the durability of the materials with which the boards and the usefulness of the included accessories. Many reviews speak to the convenience of the included repair kit in instances of damage to the board. Customers are pleased with the extra width the inflatable SUP provides, with one reviewer describing the ease and confidence with which her young children were able to pick up paddle boarding thanks to the Cooyes.
Amazon reviewers state that the board typically takes between 5-15 minutes to become fully inflated, and can deflate in as little as 2 minutes!
So if passing by a glistening open lake or lagoon fills you with the desire to get out on the water and cruise, then the Cooyes Paddle Board is the perfect purchase for you. Order now, summer is waiting!