This post may contain affiliate links. Commissions we earn from partner links on this page do not affect our opinions or evaluations. Our editorial content is based on thorough research and guidance from the editorial team.
The surge in stand-up paddle boarding remains in double-digits year over year, with as many as 22 million enjoying the sport. Furthermore, in 2020, SUP manufacturers struggled to meet demand as people looked for ways to enjoy the outdoors while staying socially distant.
This summer, there are still plenty of paddle board brands available, but in many cases, supplies are limited. Also, the market for secondhand boards is robust as people get out of the sport, upgrade, or refine their needs.
And there are plenty of reasons to want to try stand-up paddle boarding. The activity is great for your core and allows you time on the water. The activity can be fast-moving or at a slower pace. And SUPs are slightly easier to transport compared to a canoe or kayak.
However, if you are considering a stand-up paddle board, there are a number of factors to consider and many brands to choose from. Also, the boards can range from a few hundred to a few thousand dollars, depending on the size, style, and brand of the board.
We'll discuss SUP basics and the best paddle board brands to choose from in the following article.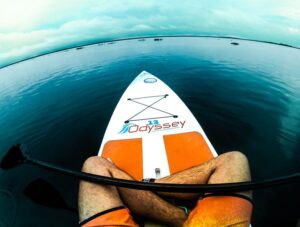 Hull Designs
When selecting stand-up paddle board brands, you should be mindful of the hull design of the products. While beginners can use either a planing or a displacement hull, the two styles are better suited for certain conditions.
A planing hull is wide and flat and looks like a surfboard. This type of hull is great for leisure paddling, yoga, whitewater, and surfing.
A displacement hull is shaped more like a kayak with a pointed nose and is more narrow than a planing hull. This design allows for a smooth ride and increased speed. A displacement hull is great for touring, racing, and for riders whose primary focus is fitness.
Solid vs. Inflatable
Another important aspect to weigh when selecting from the top brands of paddle boards is the construction style.
Solid SUPs consist of a foam core wrapped in epoxy and fiberglass. The more high-end brands will use carbon fiber rather than fiberglass to increase durability. Solid boards are stable, perform better in the water, and come in a wide variety of sizes and styles.
The other construction option is inflatable SUPs. These boards still feel rigid due to their PVC exteriors and drop-stitch construction. They come with a pump and can be stored in a bag. Inflatable SUP boards are great for paddling whitewater, yoga (because they are more buoyant throughout) and traveling and transporting.
And if you live in a small space, then the storage options for inflatable SUPs can't be beat.
Other Considerations
While there are several other factors to weigh when choosing the best paddle board brands for you — including length, width, thickness, and fins — you should make sure to inspect the board's weight capacity. You don't want to buy a brand of paddleboard that isn't suited to your weight because you'll sit too low in the water, which will limit your speed and agility.
Also, consider the overall weight of the board. You want a board that you can easily manage to get in and out of the water. Otherwise, you might damage the board or harm yourself, slinging the weight around.
Freein
Freein is one of the most popular boards on the market because of its combination of price and practicality.
The company merges great designs with durability and still somehow manages to beat the competitors' prices. Freein uses double-layer fabric and 3D weaving technology to make some of the most advanced SUPs around.
The SUP manufacturers at Freein make specialty boards for kids and its best selling SUPs, the Explorer and All Around inflatable, will satisfy the needs of mom and dad.
iRocker
Ready for any skill level, iRocker features inflatable and solid boards with a range of features. The company is known for its durable and innovative products and adaptable boards.
Some of its products have adjustable seats for when you want to paddle sitting down, while others, like the Blackfin are made with a host of fishing accessories so you can cast and store your rod with ease.
CruiserSUP
For nearly 20 years, CruiserSUP has been manufacturing personal watercraft. The company has a reputation for quality and intriguing designs.
One of its best is the XPLORER Woddy Paddle Board. This great-looking board has a Duel-LITE polycarbonate shell and is great for adventure and fishing. The company makes a host of other products and specialize in boards custom-designed to accommodate women's smaller frames.
Stand Up Liquid
Maybe the top paddle board brand is Stand Up Liquid. This brand is known for its long-lasting and durable construction. And for the price, they can't be beat.
Stand Up Liquid make boards that are perfect for the on-the-go paddler who still wants to tackle serious surf. The company's Good Vibes Superlite and Namaste 10′ Inflatable are some of the Stand Up Liquid's best-reviewed products.
Connelly
Impressively constructed with no detail overlooked, Connelly is one of the premier brands in SUP surfing. The company creates durable boards for every skill level and sponsors many professional riders.
Connelly offers both planing and displacement hulls and offers solid core and inflatable models. They even manufacture a hybrid board specially designed for yoga.
Boardworks Surf
Perfect for beginners, Boardworks Surf is famous for its soft-top SUPs. The company's high-quality and lightweight boards are some of the most well-known and best-selling boards in the United States and Great Britain.
Their boards excel at a smooth ride and ease of use due to their hybrid and entry-level board designs. However, if you prowl their product lines, you'll also discover suitable boards for more experienced riders.
Read Reviews of Paddle Board Brands
One of the best ways to determine if a paddle board brand is right for you is to read customer reviews. Of course, you need to be wary of some reviews that seem overly specific or glowing, but for the most part, a good review can match your skills up with a board that works best for your experience level.
Reviews are a key way to make sure your money is well spent and your satisfaction with your new SUP assured.
Are you ready to find your new paddle board? Then start reading our paddle board reviews today.