This post may contain affiliate links. Commissions we earn from partner links on this page do not affect our opinions or evaluations. Our editorial content is based on thorough research and guidance from the editorial team.
Great, Lightweight All Around Paddle Board
This 11 foot long Flood SUP from Bote will slice through water easily for fast and efficient paddling. But it also comes with many expert upgrades like rac receivers to make even the expert paddler completely satisfied.
The Bote Flood is a top-quality all-around SUP built by one of the best paddleboard companies on the market and offers Great Value for the quality and design for the price.
Aero Flood Paddle Board Review Summary
As usual with us, it's straight the gritty details and wrap up about the Flood 11 foot paddle board.
This paddle board is great for a beginner or intermediate level paddler but will make even the most expert paddler drool with envy.
It's 11 foot long x 32 inch wide dimensions make it a perfect platform for a fast, efficiently paddling cruiser SUP. Additionally, Bote builds some very durable and very long lasting paddle boards. Their designs start with military-grade PVC that means a thick and tough outer skin that really resists scrapes, bumps, and punctures like few other boards we have seen on the market.
Is The Bote Flood Aero A Good SUP?
Yes, the Flood Aero is a good paddle board. The kit has everything a first time or SUPPer needs to get paddling and will be fun and easy to paddle.
The Bote Flood is a perfect choice for a first board owner who wants to start with somethign top quality that will last for years and they won't outgrow as their skills increase.
It's also a great choice for someone looking to upgrade to a higher quality board from an entry level board or looking to get something a little longer than their initial paddle board.
Cheaper Alternative To The Flood
If you like the size of the Flood Aero, but want something with a lower price, we recommend checking our our Freein Explorer review. The Explorer comes in an 11′ x 33″ size and has many similar features and performs similarly to the Bote Flood but for a few hundred dollars less. Or you can directly check out the Freein Explorer Price on the Freein site.
Lighter Weight Alternatives To The Flood Aero
At 28 LBS, the Flood may not necessarily be for everyone if you are specifically looking for a light weight paddle board. In that case, we would recommend checking out the Bote Breeze which is specifically designed to be as light to carry and paddle as possible.
Flood Aero 11′ Price And Value
At around $799 for the 11 foot SUP this Bote is a bit more expensive than some of bargain boards that are manufactured today. BUT, when this board arrives and you take your first paddle, you'll understand why.
Bote Flood Full Product Details
The Board & Construction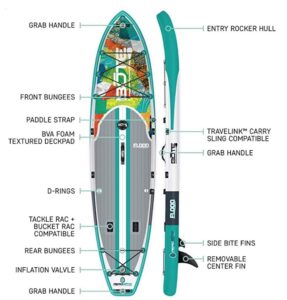 The Food board is a great setup for easy use for beginners or intermediate level paddle boarders.
The board weighs about 28 LBS which is a little more than some other boards of this length but for a good reason. The Flood is designed to paddle fast and be very durable. The top quality materials that Bote uses in this board are a thicker to make them more durable.
The profile of the Flood will make for a great all around board that will paddle a little faster and more efficiently than many other boards out there. The 11 foot length to 32″ inch width will help it slice through the water well.
Additionally, the tail is nicely tapered which will help give you a little more speed and the rocker nose allows the board to slice through the water while still keeping you dry under most conditions.
What Is The Bote Flood Full Trax vs. Floral Or Patchwork?
In some of the Flood options you will see the "Full Trax" version of this board. These paddle boards have deck padding that runs the entire length of the board. This is compared to the normal versions where the deck padding covers the back 2/3s of the board.
The Full Trax options are great if you want a SUP Yoga Board or might frequently carry another passenger.
The Paddle
The paddle that comes with the flood is a standard 3 piece adjustable paddle with a nice comfortable grip for your top hand. The blade is 16″ long and 8.5″ wide at the bottom of the paddle. The Paddle is adjustable to fit different height paddlers and adjusts from 65″ to 85″ long. The length can be easily adjusted with a lock tight adjustment clasp.
The Backpack & Pump
It shouldn't be a surprise, but Bote put as much through into the carry pack for the Flood as they did the board itself. The deflated paddle board and all the gear easily fit inside this backpack with a little room to spare for that extra towel or water bottle.
There are conveniently placed haul handles on both the top and the side. While that seems liek a small thing it makes loading the bag into a car truck to closet much easier.
The carry straps are oversized, padded and adjustable. This means you can carry your Bote Aero board for a distance if you want and not be miserable. If you are heading for a longer hike into a secluded lake or are doing a down river float with a walk back – this is a bag you want to use.
The packed up dimensions are 41″ x 14″ x 19″.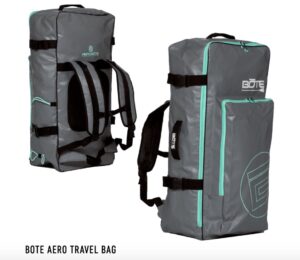 Quick Product Specs & Dimensions
Quick Specs For The Bote Flood Aero Paddle Board
What Comes With the Flood Paddle Board?
The Flood Aero inflatable stand up board package has everything you need to get paddling out on the water. The Flood offers this complete package with everything you need except a life jacket and an akle leash. We like that they include everything you need as it makes this package a contender since so many boards are all inclusive these days.
11 Foot long inflatable paddle board
3 piece easily adjustable paddle
Carry backpack
Removable fin
Pump
Repair kit
Rac receivers
Consumer Ratings By Feature
Overall Customer Rating: ★★★★★ 4.8 Of 5.0 Rating with 23+ Reviews
Flood 11 Ft Inflatable SUP Pros & Cons
Pros of the Flood Aero Board
After reviewing all of the customer reviews the most positive aspects of this board quickly become apparent.
Good Value: At $600 – $700 dollars this board is more expensive than some of the cheap boards you can find out there, but it's a get what you pay for. The Flood is a great board that will last for years and give you a board that you won't outgrow quickly.
Both Sturdy & Light: It can be difficult to product inflatable paddle boards that are sturdy and rigid but lightweight at the same time. Bote has managed to pull it off with the Flood. You get a lightweight easy to carry and paddle board, but don't sacrifice performance. No flimsy inflatable SUPs here!
Quick & Easy To Use: Many people talked about how they could easily carry the board to the beach in the backpack, inflate it in about 5-10 minutes and inflate it and pack it all back up in even less time than that.
Fun & Easy To Paddle: Customers spoke very highly of how much fun they had on the board. It offered good stability and flotation for people just getting their sea legs and learning how to paddle.
Cons of the Flood Aero Paddle Board
In our review analysis of the Flood Aero, we found zero negative reviews of 1 or 2 stars – which is impressive. We don't just stop there thought. We analysed all the positive reviews as well to see if there were any drawbacks mentioned by people who still gave their board a good rating.
Ankle Leash: A few customers mentioned they were disappointed that the board did not come with an ankle leash. Bote doesn't advertising this item, so it might just be a lack of understanding what's in the kit.
Pump Defects: A single customer mentioned the dial pressure gauge was broken on arrival. This is one of the most common issues we hear about in negative reviews and Bote will work with you to get this corrected if it ever happens..
Paddle Strap: One owner mentioned that the velcro straps designed to hold the paddle along the side of the board when tot using it were too shortt to actually hold his paddle. This is a rather odd issue, but we would doubt this happens regularly and would recommend just reaching out to Bote to get a fix figured out.
Flood Aero Price: Here's How To Get Your's Cheap
So you've decided you want to get the Flood (good choice)! but where can you go to get the lowest price possible on the Aero Flood SUP?
In general Bote sells their boards in 3 places. One their own website, on Amazon and in retail shops around the country. Often we recommend purchasing through Amazon to take advantage, but currently the Flood is not available on Amazon – so we recommend purchasing directly of the Bote website.
Flood iSUP Uses / Who Is It Good For?
The Flood is designed with an all-around use profile and standard lengths that make it perfect for use on lakes, reservoirs, rivers, or light ocean use. It's a perfect, lightweight, and simple board for fun use with family or friends.
The 11′ design makes it a little longer than most other cruiser style paddle boards which gives you a little more speed when paddling and a little more carrying capcity for an extra friend or dog.
Buy This If
You want a top quality all-around SUP
You want a little extra length and capacity
The Full Trax if you want to do Yoga too
Don't Buy The Flood If
You want the lightest board possible
You want the lowest price possible
If you want a top quality, all-around paddle board that packs small and is easy to carry – this is a great choice.
Flood Aero iSUP Warranty
Bote prides themselves on their service and the standard of quality of their support and warranty. They offer a 2 year manufacturer's warranty at no extra costs to you and if you ever need their support you can reach them easily because they are based in the United States in Destin Florida.
Review Conclusion: The Flood Aero Paddle Board Is A Winner
It's hard not to be impressed by the Inflatable Flood SUP by Bote. It's pretty obvious when a paddle board has been designed by someone in love with water sports – and that's what you get with a Bote Paddle Board.
They aren't the cheapest SUPs on the market, but if the price tag is in your budget – we highly recommend getting the Bote as a top quality All Around paddle board that is great for a first timer, but also a serious enough board to keep any level paddler looking for a board in these lengths extremely satisfied for years.
Bote Flood Paddle Board FAQs
What Are The Deflated Stored Dimensions?
When deflated and packed in it's bag it's about 12 inches x 12 inches by about 36 inches tall.
Does The Flood Paddle Float?
Yes it does!
What Is The Max Inflation Pressure?
The max recommended inflation pressure for the Floodis 15 PSI. This will get you the most rigid performance.
Do I Have To Pay For Shipping?
Luckily when you order items from the Bote site that are over $100 they will ship to you for FREE! Plus, if you order from Amazon and have a Prime membership – it will be free shipping there too.