This post may contain affiliate links. Commissions we earn from partner links on this page do not affect our opinions or evaluations. Our editorial content is based on thorough research and guidance from the editorial team.
Review Summary
This 10 foot 6 inch long inflatable SUP by FBSport is one of the cheapest boards on the market. It is a great choice for paddlers of all skills and abilities looking for a moderately stable and fast board for recreational SUP activites.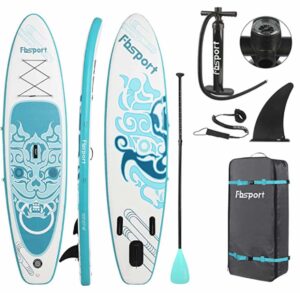 Brief Overview Of The FBSport 10'6″
This is a fairly standard all-around paddle board with a 10'6″ length, 31″ width and 6″ height. It weighs 22 LBS and has a capacity of 280 LBS.
The design is a great do everything, all around recreational paddle board. You can use it for paddling with your friends, casual fishing, short touring trips or fun yoga.
Due to it's design and size, this paddle board will handle best on fairly calm waters like a lake, reservoir or river. While you could take this board on the ocean or quickly running rivers it will be more difficult to handle than some other choices.
Who Should Buy The FBSport SUP?
Who: This board is good for paddlers of any skill
What: This board is best for fun, recreational use on protected water
At 31″ wide it's important to note that this board is on the narrower side of all-around paddle boards for this length. For most people you won't notice the difference, but if you are concerned about extra stability or are particularly tall / heavy this may not be the board for you. We would recommend you look for something wider.
One of the other main things that is worth consider about this board it the very low price. It's one of the more affordable boards on the market. That value get's even better once you know that it comes with an entire kit of accessories including paddle, storage bag, fins, inflation pump and leash.
FBSport Performance And Handling
The 10'6″ FB Sport SUP is a very good balance of the 3 main criteria:
Stability
Maneuverability
Speed
The Stability of this board is about average. The key factors for this are the 31″ width and the moderately pointed nose and tail with a squared off finish to the tail. These 3 factors combined give a good middle of the road stability profile. If you want something more stable, look for a wider board or board with rounder nose and tail shapes.
The Maneuverability of this board is a factor of it's dimensions, shape and 3 fin design. It's a great balance of being able to turn when you want, but not getting blown around and spinning in circles every paddle stroke.
The Speed of the FBSport is going to be moderate. The slightly narrower width contributes to more speed and the moderate tapering at both ends will make it about average. Probably the largest detractor from speed is the squared-off tail – although this is about average for a recreational board, so we don't rate it as a negative.
Dimensions And Construction
The FB Sport has standard dimensions for a typical all-around paddle board.
| | | | | | |
| --- | --- | --- | --- | --- | --- |
| Board | Length | Width | Height | Weight | Capacity |
| FBSport 10'6″ | 10'6″ | 31″ | 6″ | 22 LBS | 280 LBS |
Paddle Board Type
This board is an all-around paddle board which means it can handle anything you throw at it, but it's best on recreational flat water. It's great for teens or adults of any size who are looking to paddle for fun.
You can definitely fish on it or do some light touring, but keep in mind it won't handle all your fishing rods and coolers as well as a larger board designed for fishing. Again, you can do some touring but don't expect to keep up with other people if they have boards designed specifically for touring.
Construction & Materials
This board uses the standard construction methods of many of the similar cheaper inflatable sups that are manufactured in China. It features a dual-layer, PVC drop-stitch construction method.
The drop-stitch technique means that their are thousands of tiny threads holding the top of the board and bottom of the board together at a precise distance even when your board is inflated. Those threads are what keep flat on the top and bottom instead of being curved and blowing up like a balloon.
To help add comfort, the FB sport has a comfortable, soft deck padding layer across the top of the board.
Length Details
10 feet 6 inches of length is standard for an all-around SUP and offers enough length to help generate good speed and a decking big enough to have some space to move around or carry a little extra gear.
Width Details
The manufacturer calls this board "wide" but at 31 inches in width we consider that about average for a board of this length. It will offer good stability – but about average. If you want more stability consider something a few inches wider. Or if you want more speed, look for something a little narrower.
Height Details
This board has 6 inches of height – this is the same as about 90% of other inflatable paddle boards on the market today. This gives you enough height to keep your feet dry and have plenty of flotation but not get too tall or bulky to pack up.
Board Weight
This board weighs 22 LBS which again is about average for boards of this size. Why does the weight of a paddle board matter? Lighter boards are easier to carry, paddle and steer. Heavier boards however will handle better in rough water because they won't get bounced around as much. If you are looking for a lighter board we would recommend checking out the Aksport 10'6″ board which only weighs about 17.6 LBS.
Weight Capacity Of The FBSport
The manufacturer lists a capacity of 280 LBS which is reasonable for it's dimensions and size. Many manufacturers try and rate their boards "optimistically" but this seems legitimate. Our one caution however is that if you weigh in right at 280 lbs, you may want to consider a larger board. The weight capacity it meant for total weight including the paddler and any gear or extra things you are bringing. Yes! Your dog's weight counts.
FBSport SUP Features
Deck Padding
Bow Bungee Cord
D-Rings
Inflations / Deflation Valve
Carry Handle
Fins
Deck Padding
You will find deck padding on pretty much every inflatable paddle board on the market. They are there for 2 reasons. The first is for you to have something comfortable to stand on and the second is to give your board an added layer of protection from pokes of anyone standing on it.
Deck Bungee Cord
A basic but important addition to any paddle board. These stretchy cords across the bow will let you easily store small items like a jacket or dry bag on your board and keep it from getting lost of in the way while paddling.
D Rings For Attachments
These are a nice feature that you don't find on all paddleboards out there. They allow you to easily clip things to your board or to help attach it to other things if you need. Many people will use them to put on a car roof if they don't want to deflate it or to raft a few paddle boards together when floating.
Valve
This is the way that you attach your pump to your inflatable paddle board and inflate your board. It has a small push lock inside . Important tip – make sure this is in the right position before you inflate your board so you don't lose pressure when you take your pump off. To Deflate your board, simple push the pin in the center of the valve down and it will clocik open. Releasing the pressure from your board should only take 1-2 minutes. There will still be some air in it, but that will be pressed out when you roll it back up.
Centerline Carrying Handle
Almost every paddle board on the market has this – so no surprises here. The handle lets you carry your paddle board in a reasonably balanced manner. This handle is really only for short distance carrying. If you try and go too far you will likely find it uncomfortable and we'd recommend packing the board up into it's carry backpack.
Fins
This board has a 3 fin setup to help with straight-line paddling. There are 2 smaller permanent fins on the outside of the tail and one larger, deep fin in the center that is removable. We paddle with the center fin in place most of the time, but may leave it out if we are paddling in shallow water where it might get stuck.
FBSport Included Items And Accessories
Inflation Pump
Carrying backpack / Storage Bag
Paddle
Ankle Leash
Paddle
Manual Inflation Pump
The kit includes a manual pump. As with most pumps it includes a gauge so you can make sure to get your board to the proper inflation pressure. The max pressure is listed as 15 PSI but usually anything above about 12 PSI is good. The higher the pressure though, the firmer the board is. So the rougher the day or the more weight you are carrying – aim for an extra few PSI. Also, it's important to note that the pressure gauge won't start showing pressure until you hit about 7 PSI – which make take a few minutes of good pumping. So don't worry that the gauge is broken if you don't see it register immediately.
FBSport Paddle
As one might expect for a budget paddle board, the paddle is pretty basic. It's a simple 3-piece aluminum paddle that breaks down for easy storage but also has expanding sections so you can fit it to your height for the correct paddling position.
The manufacturer says this paddle floats, but that is likely only for a few seconds or maybe a few minutes until the air trapped inside leaks out. If you wonder what you get when you pay $500 or more for a paddle board, one of the upgrades commonly included are better paddles.
Backpack Storage Bag
One the paddle board is deflated and rolled up it packs nicely into the backpack and even has room for the other accessories like the pump and paddle. And they actually fit. Additionally the bag has backpack straps for easy carrying. This big will easily fit into a closet or the trunk of your car.
Should You Buy The FBSport 10'6″ SUP?
The FBSport is a GOOD paddle board choice for you if you want a very affordable, all-around paddleboard mostly for use on calm water AND you and your gear will weigh less than 280 LBS.
The FBSport is probably NOT a great fit for you if:
You weigh more than 280 LBS
You want a VERY stable board
You want a VERY fast board
You are going to use it exclusively for fishing or touring
Consumer Ratings
Overall Customer Rating: ★★★★★ 4.6 Of 5.0 Rating with 200+ Reviews
What Are The Negative Reviews?
We analyzed the negative reviews which were about 2% of total reviews which is fairly good. They specifically mention 3 things.
Paddle was broken when it arrived
Pump was broken when it arrived
Board leaked air
Board was hard to balance on for taller people
We see these issues occur with mass produced paddle boards. It's unfortunate, but occasionally these types of issues due occur. The reported amounts here are within normal margins and we do not think these are a reason NOT to buy this board if it meets your other criteria.
Where To Buy The FBSport Cheap?
You may be able to find this SUP at a sports store near you, but not always. We recommend buying this board online if possible because you know you can find it and can easily check prices without having to drive anywhere.
We actually recommend buying this board from Amazon because they have the lowest prices we have seen for the FBSport 10'6″ and if you have PRIME, you will get free shipping and it should arrive in just a few days.
Review Conclusion
The FBSport is a good paddle board choice for a paddler of any experience who wants a very affordable all-around paddle board that has a good balance between speed, stability and maneuverability.