This post may contain affiliate links. Commissions we earn from partner links on this page do not affect our opinions or evaluations. Our editorial content is based on thorough research and guidance from the editorial team.
Origami Paddler presents a unique two-in-one paddle board that enables you to enjoy Stand-Up Paddleboard and Kayak activities. The versatile design makes it an exciting selection for your outdoor adventures, allowing you to switch smoothly from paddling to kayaking by sitting. With this flexible paddle board, you can put aside worries about getting separate kayaks and paddling boards.
Moreover, kayaks and paddle boards are generally difficult to transport, and this two-in-one product helps you save space, money, and time. Whether you are new at paddling or an experienced outdoor enthusiast, Origami Paddler provides the safest, easiest, and most convenient means for an awesome adventure.
Here, we have some features about the paddle board, including the design, materials, measurements, and accessories to aid you in better understanding our creative solution to your kayaking and paddling requirements.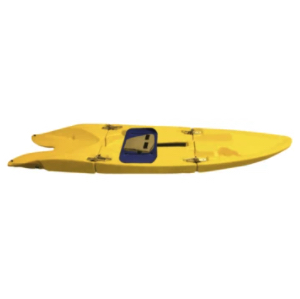 Is The Origami Paddler Good?
The Origami is a very brilliant design that packs a ton of usability, the benefits of both a paddle board and a kayak, and the durability of a hardboard into a very storable package!
Here at iSUPReviews.com we give a lot of credit to the incredible versatility and design of the Origami paddler.

How Much Does The Origami Cost?
The Origami paddler is currently on sale for a price of $595 for the main paddle board. This is a pretty hefty discount from the listed price of $799.99.
At first glance this price is very comparable to many different mid priced inflatable paddle boards but there are a few other factors to keep in mind when calculating your total price for an Origami paddle board.
If you want to see how it compares to some inflatable SUPs, check out our Best Inflatable SUPs Under $500 list.
Discounts & Promo Codes
Origami sometimes runs sales or promotions that will discount their paddle boards. If they aren't or you are looking for a quick way to save some money on your purchase today, we recommend trying the code:
15% Discount Code: OP15
This is a code that they often share to bring people back to the website to complete a checkout, but you can try it today. Depending on what board and accessories you are buying, this code could save you between $50 and $100.
How Much Are Origami Shipping Costs?
You will need to pay for shipping on your board. This will be calculated during checkout on their website using your address, but currently, there is a flat $60 fee for shipping in the domestic US. We would recommend going to their site and entering your exact address to confirm your shipping price.
Other Accessories
The board comes with an adjustable 2 bladed paddle but you will likely need other items like a life jacket etc.
Origami Paddler Paddle Board
Origami Paddler paddle board features a foldable design that enables you to break it down into three pieces. As such, you can conveniently place the paddle board in minimal storage space, enhancing your convenience when you have a small room or garage. You can also travel with ease when accompanied by family or friends since you can store it in the trunk of your vehicle.
Additionally, the foldable construction eliminates the need for storage on your vehicle roof racks, which typically take time and effort to secure and release. Besides, you can reassemble the paddle board within seconds, letting you begin a fun adventure soon upon arriving at your favorite paddling destination. Origami has a patent-pending design that also lets you get on the water smoothly and efficiently.
Each disassembled piece weighs 15 pounds and allows you to move them comfortably without concerns about abrupt muscle strains. The lightweight structure makes it convenient to handle the paddle board without others' assistance, meeting your needs when traveling alone.
Construction and Material
They provide the Origami Paddler paddle board in various colors, including yellow, pink, green, blue, and orange. The various selections enable you to pick your favorite color to match your paddling preferences. Additionally, the color choices make our paddle board an ideal option when looking for the perfect holiday or birthday gift for your dear ones.
Origami utilizes high-quality and recyclable plastic to construct the paddle board, giving you a product that will meet your requirements for a long time. You can confidently have an adventurous paddling session without worries about random punctures because this board features tear-resistant and ultra-durable hard-shell construction. Recycled materials enable you to ride and enjoy nature's gifts while simultaneously taking care of the environment.
With the plastic construction, you can comfortably avoid tiring and frequent pumping associated with inflatable paddle boards. In addition, the hard-shell structure makes it a sturdy option that can conveniently support your weight without warping or tearing.
Aside from these, they integrate twin fins into the board to enhance your navigation and speed on the water. The adjustable and collapsible seat also makes it more comfortable to move on the surface when practicing SUP. You can maintain proper balance throughout your rides using the ergonomic SUP and kayak footwells in the construction.
Measurement
Overall Weight: 45 pounds
Ideal paddling capacity: 230 pounds
Volume: 65 gallons
Folded Dimensions: 31.5″ × 35.5″ × 13.5″
Unfolded Dimensions: 8ˈ11.5″ × 35.5″ × 7″ × 7.5″
Proper uses
This paddle board has an ergonomic construction that supports two modes, Stand Up Paddleboarding (SUP) and kayak. You can seamlessly change between the two modes to facilitate versatility that enhances your excitement during your rides on the water. For instance, you can use it for SUP for your fun glides across the waters and effortlessly sit down on the adjustable seat to utilize it as a kayak when dealing with a long trek or waves.
This versatility also makes our Origami Paddler paddling board a convenient option for expert and novice paddlers. You can comfortably choose your preferred mode and confidently enjoy your time on the water. It also makes it a suitable choice when teaching a novice since you can easily maneuver the product and its modes.
Included Accessories
Paddle
Origami provide paddles in matching colors as part of the Origami Paddler paddle board package, making it a more pocket-friendly option since you do not have to purchase the accessory separately. The combined package also enhances your travel convenience because the paddles' placement facilitates space-saving storage.
Bag
The Origami Paddler comes with a carry bag to increase your convenience because you can pack smaller items for a clutter-free trip. You can also easily keep track of small-sized accessories during your voyage, making it more comfortable if you have kids.
Wheels
You can access some ergonomic wheels in the Origami Paddler package to improve navigation when journeying alone. These accessories allow you to place the paddle board on a cart, move hassle-free to the water, and comfortably return it to your vehicle after a fun outing.
If you love aquatic adventures, the Origami Paddler paddle board is for you. The quality construction merges with the versatility to give you a product that delivers fun, confidence, safety, and freedom, making it a convenient choice for anyone and everyone.