This post may contain affiliate links. Commissions we earn from partner links on this page do not affect our opinions or evaluations. Our editorial content is based on thorough research and guidance from the editorial team.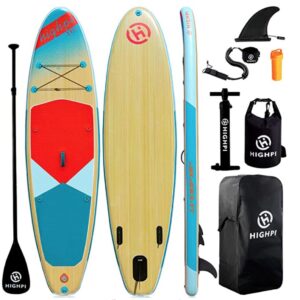 Highpi SUP Review Summary
The 11′ Highpi is a good choice for a first time board because it's length and width give a stable platform that is easy to learn on and still fun to paddle.
Most Similar Boards
About The Highpi 11 Foot SUP
Owning an inflatable paddleboard presents a new dimension for you to have some fun in the water. You can have fun outdoors in a healthy way with your kids and pets with the HIGHPI inflatable paddleboard. The good thing with this item is that the design does not focus on a specific paddling type (like boards focused on fishing or long expeditions), leaving much room for exploration.
Pros
Low priced SUP / Great Value
Good stability and capacity
Extra waterproof bag is nice
Extra deck grip coverage
Cons
Doesn't have some of the upgrade features and add-ons of higher priced boards
A few minor complaints about quality control with regards to excess glue
Size Specifications
The HIGHPI inflatable paddleboard is a versatile product, which can support a weight of up to 350lbs. The paddleboard measures 11''long x 33'' wide x 6'' thick. Notably, the board has an extra-wide SUP design, which comes in handy for beginners learning how to keep balance and stand on it.
Besides, the board has triple bottom balance SUP, which, paired with the puddle board's sporty shape, gives it the functionality of a rigid surfboard. The good thing is, the HIGHPI inflatable paddle board is ideal for people of all ages and skill levels. Besides, the portable paddleboard is perfect for multiple uses.
You can use it in the sea, lake, and river, regardless of whether the water is salty or fresh. Some of the activities you can use the board for include fishing, snorkeling, recreational paddling, and yoga.
| | | | | | |
| --- | --- | --- | --- | --- | --- |
| SUP | Length | Width | Height | Board Weight | Capacity |
| Highpi 11′ SUP | 11′ | 33″ | 6″ | 20 LBS | 350 LBS |
Material
The HIGHPI inflatable paddleboard is made of military-grade material, a reinforced lightweight fabric that can last for years. Besides, the fabric gives the puddle board a rigid and stiff feel, enhancing levels of comfortability. In addition, the paddleboard also includes a soft anti-slip deck pad for improved stability and safety while standing.
Another particular perk associated with the material is that the paddleboard inflates and deflates with ease, making it very easy for you to carry around and set up. Not to mention that the board only weighs 20 pounds, significantly lighter than competitors' inflatable paddleboard of the same size. You can get the product in any of the three colors available: sapphire blue, vigorous wood, and modern pink.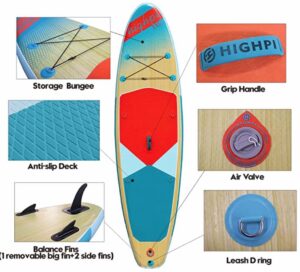 Accessories
The HIGHPI inflatable paddleboard comes with a full range of accessories that you would need to start paddleboarding. These are:
• Stand up paddleboard
• Collapsible length adjustable alloy floating paddle
• Double action hand pump with psi gauge
• One removable fin
• Paddleboard ankle safety leash
• 5L waterproof dry bag
• Repair kit
• A detailed manual
• A backpack to store everything
Quality Guarantee
The HIGHPI inflatable paddleboard has been subjected to multiple tests (SGS, CE, and ISO quality certification) and passed all of them. Besides the guaranteed quality, the manufacturer also offers a 1-year warranty on the paddleboard at no extra cost. That also applies to SUP accessories.
Customer Reviews
Overall Customer Rating: ★★★★★ 4.8 Of 5.0 Rating with 430+ Reviews
A former SUP instructor spoke positively about the board, particularly commending the unique and functional design. The instructor also noted that the board is quite easy to inflate. Due to the extended padding on the board's surface, the board remains stable in water. Besides, according to the instructor, the board's carrying case is incredibly convenient, with the option of carrying via handle or back-pack straps. Users can also store snacks and electronic devices in the dry bag and bring them along in the water.
Another satisfied user was pleased by the ease of inflation. They noted that using the pump, they got the board up and running in less than ten minutes.
Negative Customer Feedback
While customers have good things to say about HIGHPI inflatable paddleboard, others have expressed their disappointment. One customer noted that after a couple of uses, the board wouldn't hold any air. The board also showed signs of a slow leak. However, the customer didn't fail to acknowledge that the board has a good grip.
Another customer expressed displeasure with the product after the board broke just a month and a half later.