This post may contain affiliate links. Commissions we earn from partner links on this page do not affect our opinions or evaluations. Our editorial content is based on thorough research and guidance from the editorial team.
For most people who appreciate surfing and water sports, paddleboards are ideal for unlocking their potential. Apart from cleaning and caring for your SUP boards, it is critical to store your boards properly to increase their life span. Therefore, what are the best ways to store your SUP boards?
Proper SUP Storage Guide & Methods
While there are many different tips and tools to store your SUP, there are really just XX key items you need to know to get it right.
First, to safely store your paddle board, make sure to keep it out of direct sunlight. The UV rays can permanently damage your board. Second, keep it in a moderate and temperature-controlled environment. Try and prevent your board from freezing temps or baking in the heat. Third, keep it safe from scraps, punctures, and theft!
Finally, for inflatable paddle boards, you can store them either inflated or deflated! Both inflated or deflated are safe SUP storage options. Neither will harm your board or do permanent damage. If you are storing it inflated though, we recommend letting a few PSI out just in case the board heats up and expands a little.
Tips For Storing Your SUP
If you struggle to identify the best storage means for your SUP boards, pointing out the storage location and the season might be the right start-up point. We have selected several storage options to pick from, which include straps, mounts, and racks, but the ideal one will depend on you. This article provides a comprehensive guide with all the information you require.
The following is a complete review on how you can store your SUP for short and longer durations, methods of inflating your paddleboard, procedures for storing indoors and outdoors, and ideas for preventing SUPs from damage.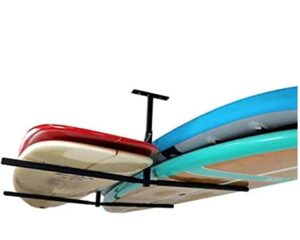 How do you store a paddleboard in a garage?
The garage is the most convenient place to store your boards since the temperatures are even. Also, your SUP paddles are safe from direct sunlight. The best way to keep your board in a garage is by using racks mounted on the walls or ceiling. However, it is worth noting that storing your SUP boards with a rack will expose them to the pressure of their weight against the suspension material used. So, ensure that you use nylon straps to support the board's weight at different points.
Another alternative for garage storage is by storing your boards in the rafters. For this storage option, you will require special tools fitted with pulleys to assist you in lifting the SUPs to the ceiling. In addition, you are supposed to remove the fins from the boards to prevent them from damage while storing your paddles in the rafters. Lastly, you may choose to keep your SUP boards in an upright position. This position is the most secure and safest storage option in a garage since it does not involve lifting or removing fins from the board, but it takes up much space in your garage.
How do you store your inflatable paddle boards?
Most people leave their inflatable SUPs inflated leaning on a wall or a rack. This will deteriorates the condition of the SUP and reduces the life span. Inflatable paddleboards are easy to store since they are fitted with a folding case and consume less space in your storage area. When you blow up your SUP for shorter or longer periods, ensure that you clean them with fresh water and dry them before storage. Also, ensure the storage areas do not expose the boards to direct sunlight which can destroy and cause discoloration of your inflatable SUP.
Once the boards are dry, remove the fins for easy storage. Storing a deflated iSUP with its fins on can damage the board. The other factor you need to consider for your iSUP is to keep it in a secure and hidden space to prevent it from being stolen. The best places to store your inflatable SUPs include your garage, in the house, and sheds. It is advisable not to keep your SUP in hot areas.
Can I leave my inflatable SUP inflated?
Yes! Leaving your iSUP inflated is fine, especially when you are taking some time off from paddling. One benefit of this method is that if you decide to use it, you can move it to the water with ease and minimal pumping.
If you decide to leave your board inflated for quick access and use, you may see a difference in the air pressure in the board due to temperature changes. As temperatures increase and fall, some air will leak from the board. This is normal, so don't worry.
Therefore, you will have to inflate the board with more air to use it.
How to store an inflatable paddle board for the winter?
During the winter, temperatures are cold. Before storing your board for the season, we recommend you give it a try. You can keep your SUP board in the house, shed, or garage, but avoid highly heated areas (like near a radiator) since they can cause damage to your board. More importantly, pick a location that is unlikely to freeze. Using a rack or a U- wall mount to store SUP boards makes the process of storage easy and prevents your boards from damage.
During the winter, most people remove the fins from the SUP boards for easy storage. Therefore, the boards are arranged on the wall in a narrow shape, creating more room for winter toys. Lastly, keep your SUP boards in a safe and easily accessible place so that you can have an easy time preparing to paddle when the ice melts away.
How do you store a paddleboard outside?
The biggest challenge faced by most surfers is knowing where to store their paddleboards. When it comes to outside storage, you should be careful with the boards to safeguard them from any elements that may cause damage. Therefore, consider installing a board rack or a trailer to store your boards. If you cannot set up a board rack, a canvas would come in handy to cover your SUP boards. Tie the canvas with bungee straps to prevent it from being blown away by strong winds and storms.
Exposure to direct sunlight brings damage to the external coating of your board and wash out the color. To prevent this, cover your board or you can use protective UV sprays such as Surfstow detailer to shield your board from UV rays. If you cannot set up a storage unit or a rack, try using two sawhorses or double milk crates to raise your boards from the surface full of dirt.
Should I Deflate My Paddle Board After Use?
Whether you choose to deflate your paddle board after each use is completely up to you and your storage method. If you have room to keep your board safely stored while inflated it can definitely save you some pumping time before your next paddle.
I personally don't have enough storage space to keep all of my boards inflated, so I deflate my paddle boards after each use and pack them back into their storage bags.
From there, they either stay stored in the back of my truck or go into a temperature controlled closet in our house.
Paddleboard storage ideas
Paddleboards are expensive assets that need to be preserved well for a longer life span. The last thing a paddler wants is to find dents and molds on his boards that he paid a fortune. Here are several ideas to store your boards indoors and outdoors.
The Roll-Rack
The Roll-Rack is a ceiling rack intended to store paddleboards horizontally on the ceiling. They are designed with three-rod structures and crafted with bamboo measuring 37 inches in width.
Naked SUP Rack
The Naked SUP rack is a simple rack you can find commonly used in garages and living rooms to show off since it's barely noticeable.
Triple SUP Rack
The Triple SUP rack is made from Ash hardwood combined with nylon straps that hold the paddleboards to their rails.
Single SUP Hanger
This type of storage is set up on your SUP vertically or horizontally. The Single SUP hanger can be in basements, garages, bedrooms, and living rooms. The simplicity of the design allows you to show off the SUP instead of the rack.
Single SUP Ceiling Rack
The single SUP ceiling is a great way to save space in your home, office, or garage. This rack stores your SUP boards above the ceiling.
Conclusion
Whether you are an amateur or a professional paddler, paddleboards are the ideal assets you can have. If you plan to enjoy surfing for long, make sure you store your SUP boards correctly using the best methods to preserve their state and maintain performance. Therefore, choose the methods above to stash your SUP boards, and be ready for the next season. Don't forget to regularly wash and dry your board to prevent molds from building up. Lastly, make sure your storage is secure to avert the theft of your SUP boards.