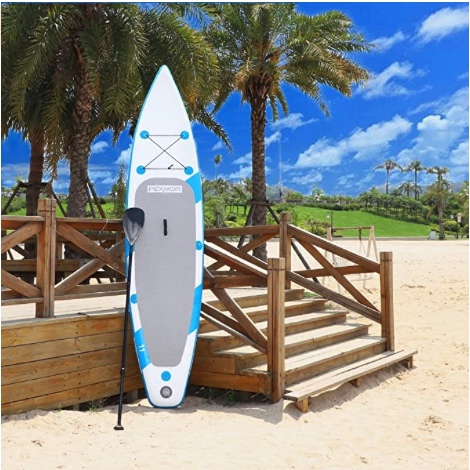 Great, Fast Paddling All Around iSUP
If you are in the market for an all around paddle board, but want to make sure you have something that paddles fast, this is a great option for you.
✅ Great Fast, All-Around Paddle Board
✅ Great Price & Value
✅ Recommended Purchase
Pexmore iSUP Review Summary
The Pexmore fits into the all around paddle board category but at 11 feet in length puts it a few inches longer than many of the other all around boards out there that tend to fall into the 10 foot or 10 foot 6 inch category.
This additional length is great if you are looking for a board that will paddle a little bit faster than other cruisers as well as track a straight line a bit better as well.
The help make this a faster all-around paddle board you will notice the bow and tail ends are a bit more tapered than other boards. This will again make the board a little bit faster, but sacrifice a little bit if stability.
At 30 inches wide though, don't worry – this is still a very stable board for beginner or intermediate paddlers.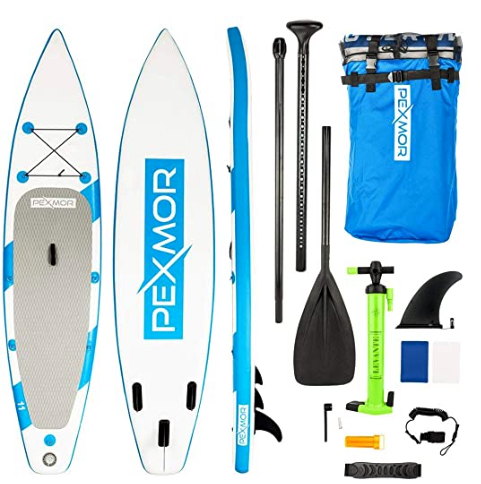 What Comes With the Pexmore 11 Foot Kit?
As with most of the paddle boards we review, the Pexmore 11 foot sup kit is completely self contained. It's got everything you need to start paddling right our of the bag from the paddle board itself to pump and paddle. With 1 exception! Please take note that this kit does NOT had a life jacket which is a must for paddling in almost all locations. We don't consider this a downside to the Pexmore SUP though because almost no kits come with a life jacket.
Durable PVC paddle board
Carry backpack
Front storage bungee
Carry handle
Handpump with pressure gauge
Repair kit
Removable center fin
Coiling ankle leash
3 piece adjustable SUP paddle
Consumer Ratings
Overall Customer Rating: ★★★★★ 4.5 Of 5.0 Rating On More than 25 Customer Reviews.
Stability:

★★★★☆

4.6 Rating
Thickness:

★★★★★

5.0 Rating
Value For Money:

★★★★★

4.5 Rating
Pexmore iSUP Review Pros & Cons
Cons Of The 11 Foot Pexmore Paddle Board
We reviewed the negative comments and reviews about this board and have compiled them here into a quick list – along with our analysis of these issues. But overall, the complaints about this paddle board seem outweighed by the positive comments.
Comments of poor quality control. One customer mentioned getting a hole in the board after only 45 minutes of use. Honestly this sounds a bit suspicious to us and likely user error. Another customer mentioned some of the side tie downs coming loose. Again, this seems like an isolated issue.
Paddle Has Been Known To Sink.
Less Stable Than Other Similar Boards. As we earlier mentioned – for an all-around paddle board, this is a slightly longer and narrower version at 11 feet long and 30 inches wide. Compared to more common dimensions closer to 10.5 feet and 32 inches wide like the Acoway 10'6″x32″ SUP or the Aksport 10'6″x32″ Paddle Board. Again, we don't think that makes this a bad paddle board – it's just a different design for a different paddler or use!
Pros Of The Pexmore Inflatable Paddle Board
Very Rigid (even with heavier people or dogs / kids on board)
Inflates and deflates quickly
Board Feels Large And Can Carry A Lot
Reliable & Great Price
Good Stability For Streamlined Board
Who Should Buy The Pexmore?
This is a great paddle board for first time or beginner paddlers who are looking for a slightly faster paddling experience and willing to trade a small about of stability that a 32 or 35 inch wide all around board offers.
If you are an intermediate paddler who is looking to upgrade from your first all around paddle board to something that is going to be faster and more streamlined.
Why Choose This 11 Foot Long iSUP?
Great question! Longer paddle boards on average have a slightly faster top speed than shorter boards and will be easier to paddle in a straight line.
If the water you are paddling in is a little bit choppier or slightly wavier, consider this board. It will get blown around a bit less than shorter boards – but isn't so long you won't be able to turn it and maneuver it well.
Quick Pexmore SUP Product Specs & Dimensions
| | | | | | |
| --- | --- | --- | --- | --- | --- |
| Paddle Board | Length | Width | Height | Weight | Capacity |
| Pexmore 11′ Foot SUP | 11 ft | 30 Inches | 6 Inches | 26 lbs | 440 lbs |