This post may contain affiliate links. Commissions we earn from partner links on this page do not affect our opinions or evaluations. Our editorial content is based on thorough research and guidance from the editorial team.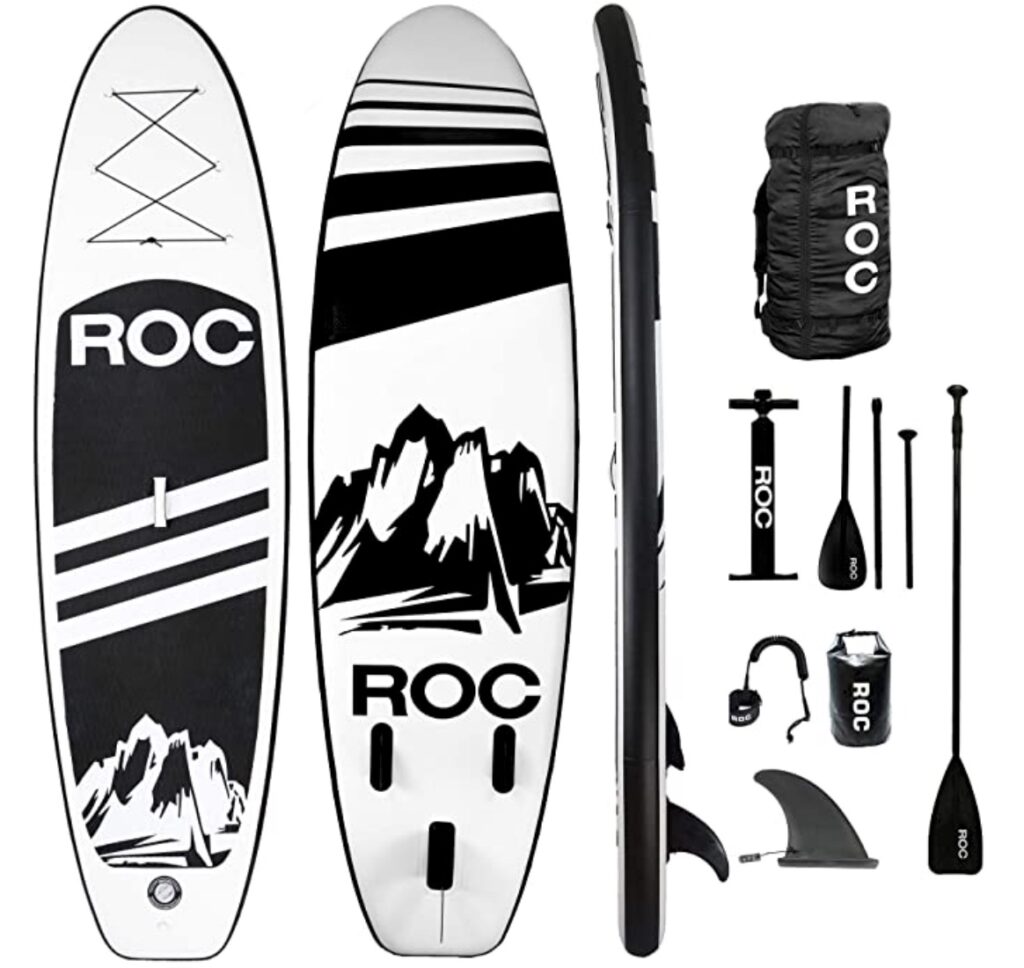 Extremely Solid iSUP
I got to paddle A ROC iSUP for a full day earlier this summer and was extremely pleased with the board all day.
Full Real Life User Review
So, I don't actually own the ROC – but had been hearing tons of people talk about and seeing them ABSOLUTELY everywhere. So figured it was time to get my hands on one and give it a try.
Luckily for me, one of my friends had recently purchased the ROC so a group of us decided to head out to the Gross Reservoir in Colorado. I convinced her to bring it along, but swap boards with me for the day. So I got to spend about a total of 4-5 hours paddling this board and getting a great feel for it.
Honestly, I really liked it and was impressed.
As it turned out, the reservoir is pretty large and when we were on the far side the wind really got pretty fierce.
Despite some waves, chop and wind in the 10-15 mile an hour category the board handled extremely well. It took some hard paddling to make headway – but of the group of the 3 of us, I was usually in the lead. This board feels very efficient to paddle.
Overall the board tracks and paddle pretty straight, sometimes if the wind was strong enough and I got to far across it the board would want to turn and blow downwind a bit and could be a struggle to get straight – but once on a nice paddling line it would hold it well without too much effort.
ROC Price: Here's How To Get It Cheap
So, as you know by know – I don't personally own the ROC, but tested it out for this review by borrowing my friend for the day. So how did she get the ROC paddle board for a cheap price?
She picked up her ROC straight from Amazon and found it for just about $600. For that price she got everything she needed to start paddling and also had it arrive at her door with FREE 2-day shipping on hers.
Where Can I Use The ROC iSUP?
The manufacturer advertises this as an all around paddle board that can be used anywhere including:
Flatwater: Lakes, reservoirs, ponds or calm bays
Oceans: This board can easily handle itself on some calm ocean water or for playing in light surf near the shore – but for anything more intense on the ocean we would recommend a larger, longer board.
Rivers: This would be a great choice for a little river floating
What Comes With The ROC Paddle Board
Inflatable PVC Paddle Board: The center piece of this kit is the premium paddle board that's 10′ long by 33″ wide and 6″ thick. At 17.5 pounds in weight its comes in at 20% lighter than most other similar board.
3 Piece Paddle: Aluminum, light weight paddle separates into3 pieces for easy storage.
Tail Fin: A critical piece of equipment to help make sure your paddle is efficient and straight.
Ankle Leash: Easily velcro's around your ankle and attaches to the board to make sure you don't lose it if you fall off.
Water Proof Haul Bag: This is a great addition to this package! It's a perfectly dry bag to store those extras like your car keys, phone, towel and shoes when you are paddling.
Back Pack / Storage Bag: This conveniently sized bag easily carries everything in this kit to the beach, or shore with the handy back pack straps. It makes carrying this board and storing it very easy and efficient.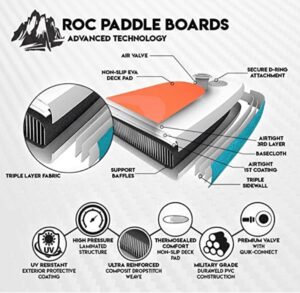 Construction Details
The construction of the board is one of the things that makes this board such a pleasure to paddle while offering a great price. It features a 3 layer construction featuring 2 airtight layers with a base cloth sandwiched in between to durability and holding the shape.
The way they designed this board to keep it so rigid and firm to paddle despite being an inflatable board is by using a support baffles inside the board as well as a triple wall construction on the side walls.
For the long life of your board, the outside has a UV resistant coating to protect it from the sun and a reinforced composite drop stitch weave to ensure the seams stay sealed for the life of your board!
So, what do all these detailed terms and descriptions of this board summarize into?
In short, the construction of the ROC board is top quality and means you get a great paddling experience from overall a nicely sized board and great price.
Consumer Reviews & Ratings
Overall Customer Rating: ★★★★★ 4.8 Of 5.0 Rating On 2,800+ Reviews
The ROC paddle board gets some absolutely top marks from thousands of customers with a rating of 4.8 our of 5 stars. This is above average for the category and class of paddle boards which are usually close to the mid-4 range.
Stability:

★★★★★

4.7 Rating
Portability:

★★★★★

4.9 Rating
Easy To Inflate:

★★★★☆

4.6 Rating
Durability:

★★★★☆

4.8 Rating
Sturdiness:

★★★★☆

4.8 Rating
Maneuverability:

★★★★☆

4.6 Rating
Quick Product Specs & Dimensions
The ROC iSUP is a solid cruiser sup at 10 feet long and 32 inches wide for a good stability profile. At 17.5 pounds it's very easy to handle, carry and get setup – even for a smaller paddler.
| | | | | | |
| --- | --- | --- | --- | --- | --- |
| Paddle Board | Length | Width | Height | Weight | Capacity |
| ROC iSUP | 10 feet | 32 inches | 6 inches | 17.5 lbs | 300 lbs |
Paddle Board Pros And Cons
Overall, the ROC SUP receives top review marks from both consumers and our team here.
ROC iSUP Pros
The consumer review "Pros" and positive ratings of the ROC are pretty hard to beat. Overall this board rates extremely well and is definitely listed in our "BUY" category of cruiser iSUPs. But we always want to break out some of the aspects that really make people happy with their choice to buy the ROC.
Great value for the money
Good construction
Pump works well and board is easy to inflate
Big enough for me and my dog
Sturdy and stable paddle board
Comes with nice extras like the dry bag
ROC iSUP Cons
After reviewing thousands of customer comments and experience with ROC, below are the most common issues that were brought up as a negative but we'd like to point out – these were really only about 1% of total reviews. So this is a very small amount of negative reviews – which is a good sign.
Paddle broke / sinks: Unfortunately this is one of the most common negative comments for ANY paddle board, so we don't hold it against ROC.
Pump broke: We only really saw this in a handful of reviews, so frankly we chalk this up to either user error or potentially a very limit occasional manufacturing issue.
Customer service issues: People comments that they had trouble getting support from ROC. But for every one of these negative customer service reviews, we read about 20 that were positive and said that ROC had great customer service.
ROC Paddle Board Colors
One of the things we love about the ROC SUP is that it comes in a range of colors. Most boards only really come in 1.
Turquoise & White ROC Board
What Is The ROC Warranty?
ROC is a US based company and provides great support. The also offer a 1 year manufacturer's warranty.
Review Conclusion: Paddling The ROC Was A Complete Joy
For a great cruiser iSUP, I usually gravitate towards boards more in the 10.5 or 11 foot range – but this ROC paddle board has made me seriously reconsider that – and what to consider from a 10 foot paddle board!
I think paddling this ROC has raised the bar for what a 10 foot paddle board should feel like.
If you are a beginner paddler looking for your first paddle board, the ROC is a GREAT choice.
If you are a more experienced paddle boarder but looking for something light weight, fast to inflate and pack but don't want to sacrifice paddling ability this is a great board.
Additional ROC FAQs
Does Being Rolled Up And Stored Damage The Board?
No! The inflatable paddle board is intended to be stored and rolled up in it's carry backpack.
What Pressure Should I Inflate The ROC To?
This board paddles best with a pressure between 10-12 PSI. This will be the best pressure to keep the board as rigid as possible without over inflating.