Beaches and other public places are gradually reopening, thank goodness, and not a moment too soon because summer will be here before you know it.
And if you've been thinking about having some fun in the sun and bringing a few toys along with you like a paddle board, for example, the following information will help you find the right paddle board to help make your summer fun even more enjoyable.
Who's got the goods? Tower Paddle Board Company does. It was founded in 2010 by Stephan Aarstol, who describes himself and his employees as people who "eat, drink, and sleep the stand up paddleboard lifestyle." And as to be expected, The Tower Board Company along with other people who are that committed to a certain lifestyle tend to put their all into it.
So exactly what makes the southern California based company special aside from its products? For starters, the number of accolades and shout-outs it's received in just 11 years from everyone from Jeff Bezos and Mark Cuban to Fortune Magazine.
That's certainly no small feat, and it proves that Tower Paddle Board Company is not some run of the mill company.
Tower Paddle Board Company is known for its attention to detail. And according to Mr. Aarstol, its mission is to "make great quality paddle boards and sell them at the lowest price we can."
In terms of construction, Tower Paddle Board Company provides its customers with guides that will help them understand the construction process and realize they are receiving quality products. So you don't have to worry if terms like CNC-machined, biaxial glass, stringers and specialty high-density foam sandwich construction go over your head right now. Plus, customer service agents are also available via email and phone to answer questions.
And in case you're concerned about warranties, Tower Paddle Board Company's inflatable boards come with a generous two-year warranty.
It's been said that variety is the spice of life, and Tower Paddle Board Company lives up to that old adage via its diverse array of products.
Popular Tower Paddle Boards
Adventurer 2
For example, Tower Paddle Board Company's Adventurer 2 is a roomy 10'4″ blow up board that's sure to please taller and larger people as well as people who just like to have more wiggle room in general.
This board is six inches longer than the original. And the extra inches mean it can hold more weight. Additionally, the sleek design, especially the slimmed down nose, makes it perform better. And the extra handle on the nose makes it easier to carry around.
Plus, you can choose to buy this board by itself if you already have a pump on hand or you can purchase a complete inflatable paddle board (iSUP) package if you don't. So either way you'll be ready to have some fun whenever the mood strikes. And of course the price is budget friendly, as is the case with all of Tower Paddle Board Company's products.
And for people who want to make their paddle boarding a family affair, Tower Paddle Board Company also has kid-friendly paddle boards.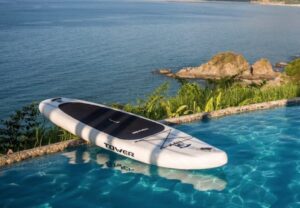 Tower Mermaid SUP
The Mermaid, for instance, is great for kids or anyone, actually. It's a sturdy 10'4″ just like the Adventurer 2. Plus, it's made with PVC, and that means it doesn't have to be handled with kid gloves no matter who's using it.
Aesthetically speaking, this board is a real beauty, thanks to its serene turquoise and white color scheme. And just because it's a kid-friendly board doesn't mean it looks like a toy.
The Mermaid is almost an exact replica of the Adventurer 2. It has the same bungee net in the front. The only difference is the color. And as with the Adventurer 2, you can buy this board as an iSUP package if you don't already have a pump on hand to avoid extra expenses.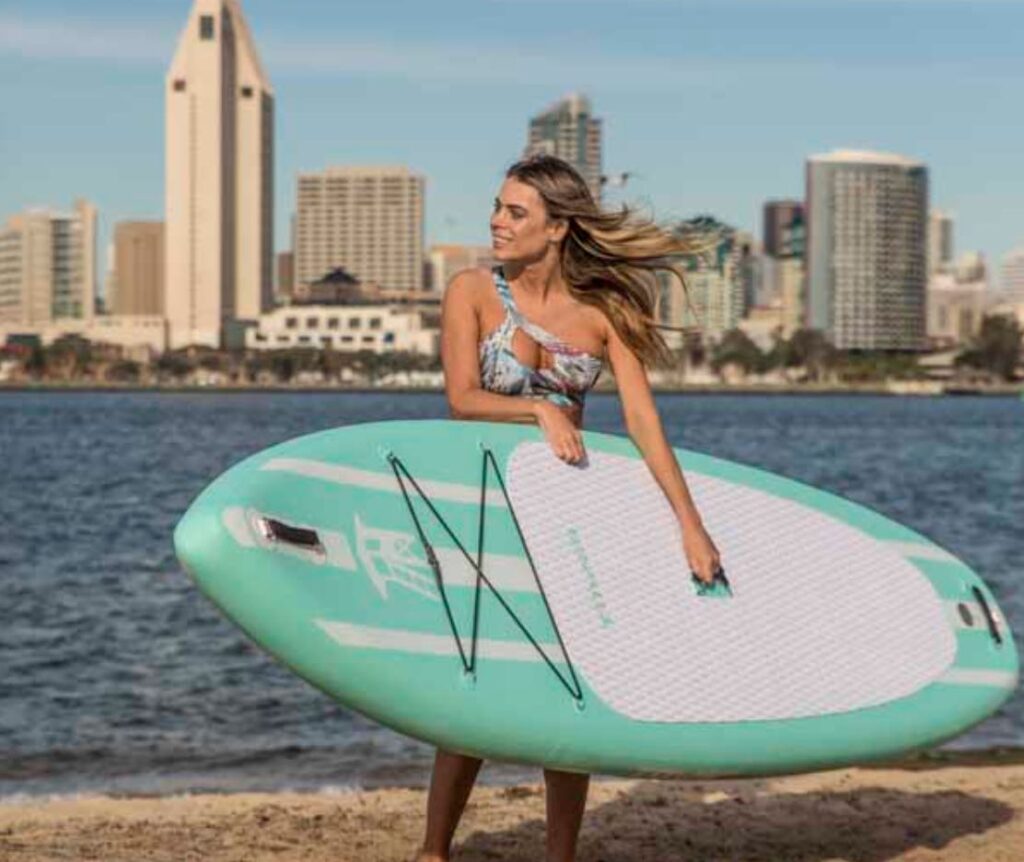 iRace Tower Paddle Board
And last, but certainly not least, Tower Paddle Board Company also has the iRace.
What's the iRace? It could be said that the iRace is the perfect board for more adventurous types who are into racing or touring. In fact, the company refers to it as an "on the go" racing/touring board.
The iRace is big, and it was also built to last. Exactly how big is it? It is a massive twelve and a half feet long and six inches thick. And it's built to be fast, too. Even its red color seems to suggest that it's built for speed. So this is definitely the board to get if you or your loved ones happen to enjoy flat-water racing or touring.
And you can also buy the iRace as an iSUP package if you don't already have a pump. So you can hit the water whenever you want.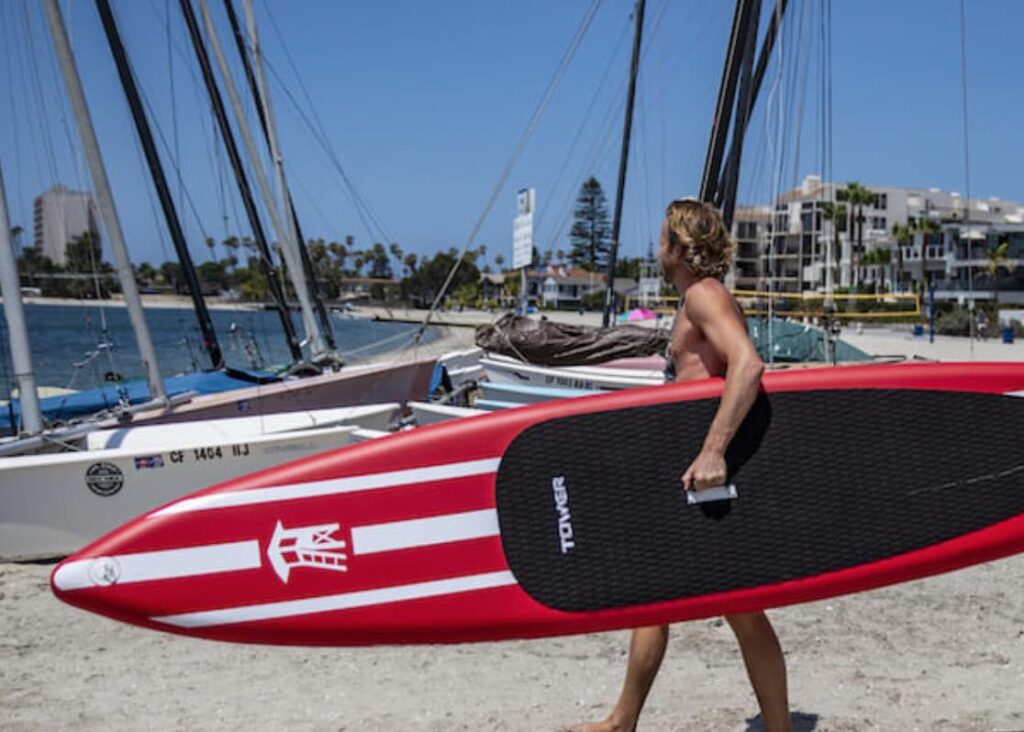 The Yachtsman 10'4″ SUP
The Yachtsman paddleboard from Tower is a top quality all around paddle board design with a little bit of nautical style. It's 10'4″ long, 32 inches wide for good stability and 6″ thick for plenty of flotation and to keep you well above the waterline.
It's got a yacht style deck pad that reminds you of the teak deck planking of high end luxury yachts and a few navy blue stripes to accent the color scheme. The military grade PVC and Drop-Stitch construction is extremely durable and will give you plenty of life from your boad.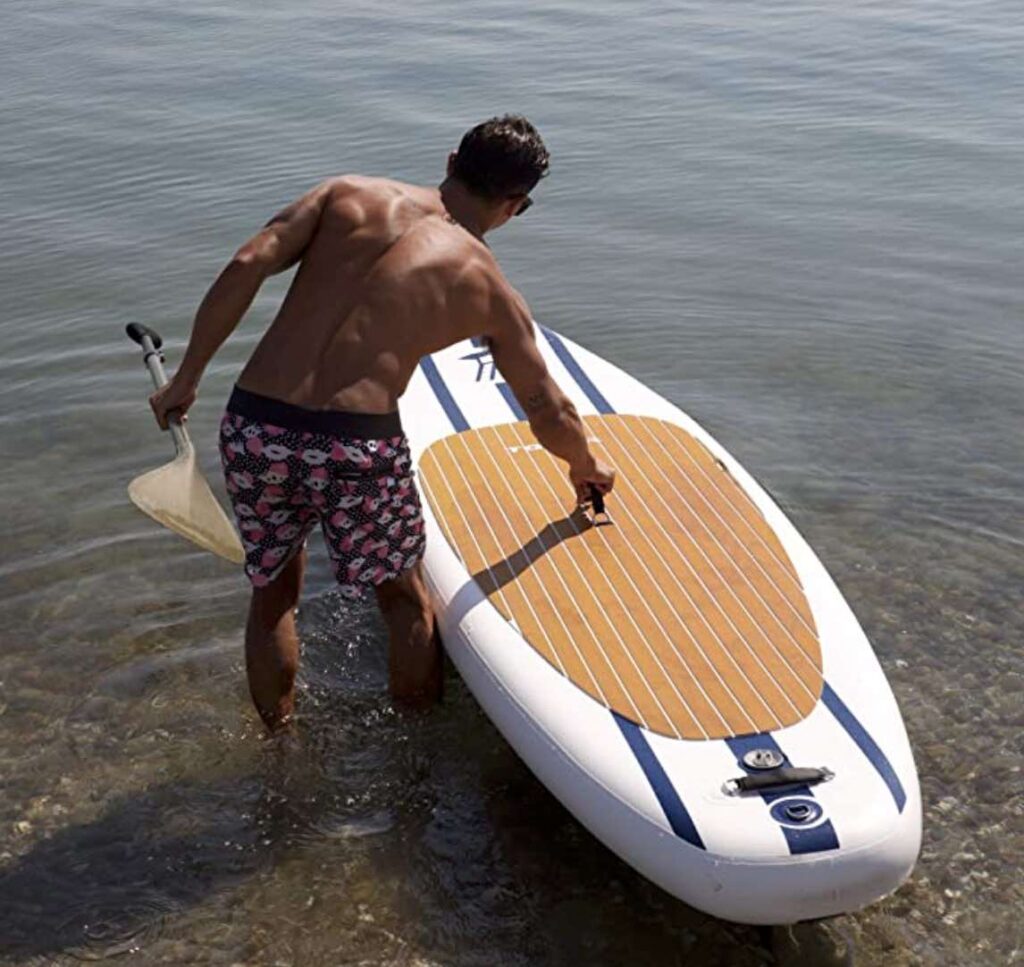 Tower Xplorer Racing And Touring Paddle Board
If covering long distances, moving fast and having carrying capacity is your type of paddling the the Tower Xplorer should be on your short list of paddle boards to check out.
It's 14 foot length will immediately catch your eye. When paired with it's 32 inch width you know this board is going to paddle fast and track in a straight line nicely. One thing about this board is the beefy height of 8 inches. This will keep you high and dry above the water, even if you have loaded this board up with gear, your dog or even an extra person.
Tower advertises that this board has a 800 LBS capacity which is pretty impressive.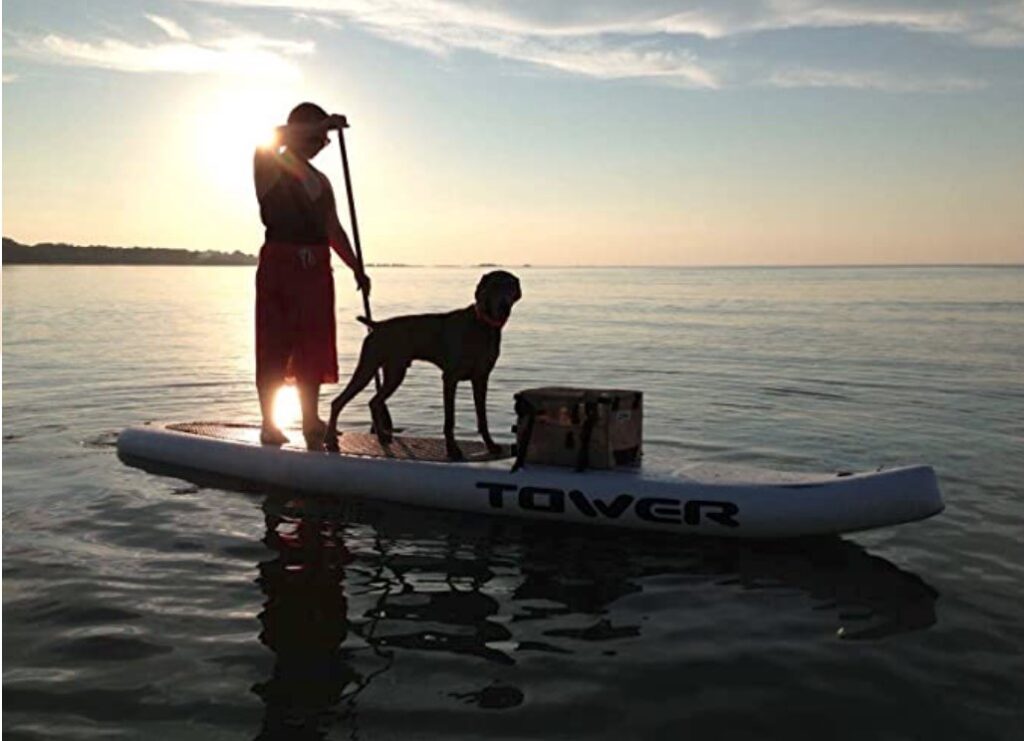 Click here to find out more about Tower Paddle Board Company's paddle boards and other great products.