This post may contain affiliate links. Commissions we earn from partner links on this page do not affect our opinions or evaluations. Our editorial content is based on thorough research and guidance from the editorial team.
An increasingly popular activity, SUP Yoga has endless benefits. Mixing stand up paddle boarding with yoga, this exercise gives you the benefits of both types of exercise including spiritual and mental. This relaxing experience can also improve your skills in other water sports like windsurfing and kiteboarding.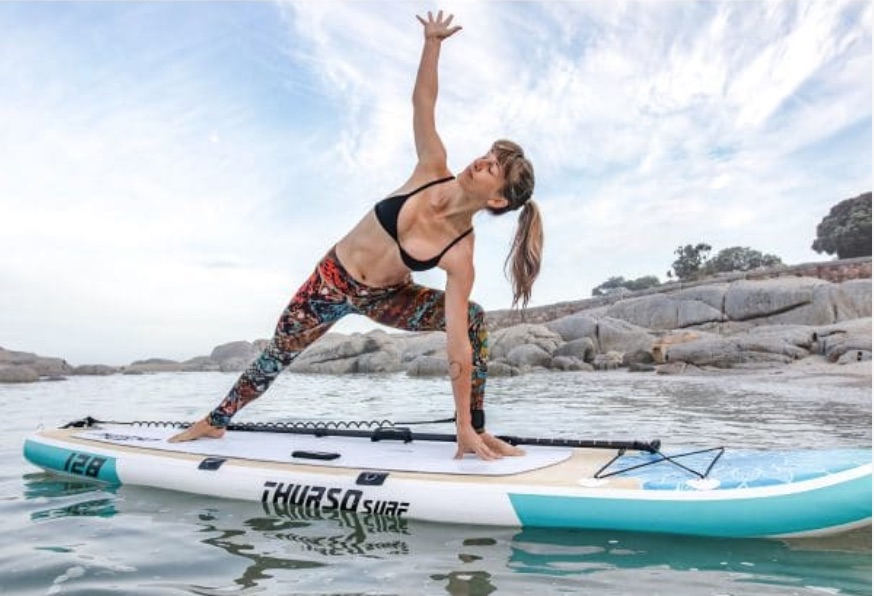 What is SUP Yoga?
Basically, SUP Yoga is the practice of yoga while you stand on a paddleboard. This is an increasingly popular sport that is done in lakes or harbors and helps you to improve your yoga skills.
What are 5 good beginner SUP Yoga poses?
Easy Seated Pose
This yoga pose requires crossing your legs while straightening your back and resting your hands gently on your knees and breathing deeply.
Bridge Pose
The bridge pose is performed lying on your back while keeping your feet grounded and bending your knees while you raise your hips. Make sure you keep your arms and shoulders on the ground.
Child's Pose
Leaving both your hands and knees on the ground, you move both your feet together while bringing back your hip to rest on your heels, so that your hands outstretched out before you.
Downward-Facing Dog
Begin with the Table Top Pose, straighten your legs while raising your hips to form a triangle with the ground.
Plank
This is the basic plank pose that we all know. Move your body forward from downward facing dog so that you are forming a straight line from your heels to your head. Make sure you keep your arms vertical as they stretch out from your shoulders.
What are SUP Yoga classes?
SUP Yoga Classes teach you how to practice SUP yoga poses while standing up on a paddle board in the middle of the water. It is best to practice paddle board yoga on a calm body of water like a harbor, bay, or lake. Paddle board yoga can help to tremendously improve your yoga skill since it requires more focus, strength, and balance.
What Makes A Good Yoga Stand Up Paddle Board?
Typically, you want a paddleboard that measures between five and six inches thick. When the paddleboard is more than five inches thick, it is more stable since they sit low in the water. If you are a beginner, look for a board that has a wide deck pad, which should take up to ¾ of the entire board giving you a better grip.
You also want the deck pad to be flat and thin to stop it from digging into your skin. Also, an inflatable board is often recommended since they're easier on your body than a hardboard.
Check out our list of the Best Inflatable SUP Yoga Boards for a quick place to get started.
How Can I choose the right SUP Yoga board?
Board Proportions
A beginner will want a stable platform, which is dictated by the width of the board. Look for a board that is only about 5-inches thick for more stability, since it will ride lower in the water than a 6-inch board. Also, the 5-inch board is easier to climb back up onto than the 6-inch board.
The length of the board only has a small effect on the board's stability, particularly if you want something that has all-around usability. Typically, you want a board that is between 10 and 11 feet long, anything shorter than 10 feet will make it hard to stretch on for some poses.
Deck Pad
Boards used for SUP Yoga typically have a deck pad that runs the length of the board. Covering ¾ of the board, the area beyond the deck pad is where you will find the bungee system for your belongings and water bottle. Look for a plush deck pad that has a pretty flat texture that won't leave any marks on your skin.
If you find a light crocodile skin pattern, you will get a good amount of grip that won't otherwise leave a deeply grooved pattern on your body. Towels can also help when it comes to grip, especially when it comes to weather conditions and your session's intensity.
A board with a center handle that you can flatten so you can lie down on top of it is a great feature as is a flat strap handle that features a removable handgrip cover for carrying the board.
Fin Set-Up
While the fins are not responsible for directly affecting the board's performance on the water as you perform SUP yoga, there are some pros and cons to various fin systems that can affect how a board is used.
With a permanent 3-fin setup, you get a board that works well for Yoga since you won't have to worry about damaged or lost fins. Plus, it is easy to get into the water when you start in a shallow spot.
Boards with a configurable fin system allow you to remove fins, so you can use the board on land. Boards with permanent 3-fin setups can only be used on land if you prop it up off the ground. You can use a foam roller for this if you happen to have one handy.
Fin systems that are intended for all-around use is a good choice if you plan to use it for water sports besides yoga. A configurable fin system provides more flexibility in adapting the board to other environments and uses.
A mixed fin set up is a mix of permanent fins, typically on the side, and a center fin you can remove. These boards don't give you the advantages of a permanent fin set up or that of a configurable setup. Experienced paddlers will understand how limiting a mixed fin set up can be.
Hard vs. Inflatable Yoga SUP Board
When it comes to Yoga SUP, inflatables are the preferred choice. They offer a soft surface that is easier on your body than hard epoxy. Plus, inflatables tend to be more stable than a hardboard with both having comparable dimensions due to the inflatable board's thickness, which is consistent across the board's width. Hard boards tend to taper at the ends, so they can tip easier. Inflatable paddleboards are also more portable and can be taken with you on trips.
Yoga SUP has a pretty simple setup and the benefits are huge. Not only are you able to improve your yoga poses, but you also help to improve your breathing, balance, reduce stress, and improve your core muscles function. And all you really need is a body of water and a yoga SUP board to get started. What are you waiting for?