Paddle boarding is a growing sport that many are enjoying on every occasion that it can. While it may seem obvious, the purpose of paddle boarding is generally fun and fitness. Not only is it extremely fun to paddle board, but it is a great workout that gives a combination of strength, balance, endurance, and a core workout. With many people preparing to partake in this enjoyable sport, there has been much work put in to see the best companies that offer paddle boarding and all materials you need to paddle board. Looking at the best, you must look at NIXY Paddle Board Company.
Founded in 2019, the family that created the inflatable stand up paddle board has a unique story. The Szczedrin family turned family fun into a business they would enjoy! They family would often travel to Catalina Island and would enjoy kayaking and scuba diving. Doing so they often saw many people paddle boarding and having a great time doing so. Not long after noticing this, they wanted to try it out and rented paddle boards and began enjoying the physical sport themselves. Once they tried it, they loved it and were hooked and at some point, it became an obsession! It soon became a lifestyle for them which they enjoyed immensely! They knew inflatable stand up paddle boards is what they wanted for the entire family, but they wanted boards that would be made with good quality and that would be affordable for everyone in their family to have one. So that's what they did… they created stand up paddle boards that were high-quality, light, portable, very stable; paddle boards that would give great performance and all the accessories that were needed when enjoying paddle boarding.
The NIXY company is based in Irvine, California and they wanted to take a unique approach to their company that would allow them to stand out from others. They created NIXY out of pure passion for paddle boarding and the joy they found for exploring the outdoors anywhere in the world. They wanted to make sure they had quality paddle boards that were affordable and easy to use and travel with. They make sure they don't compromise quality over price…. This is what helps set them apart from other companies! The mission they have for their company is to influence others to take on boldness, adventure, and to have a sense of fulfillment.
NIXY isn't just known for creating stand up paddle boards… they have more products that you will be able to find and that you can enjoy! There are a variety of paddle boards, and there are also paddles that you can find as well. They have packages that include boards, paddles, and the pump that you will need to inflate your paddle boards. The paddles can be broken down for storage and put together when you're ready to use them. They also offer an electric pump, navigation lights, a nice premium kayak seat, landing mats, hand pumps, a hammock, hybrid leash, a straight leash, a three-wheeled backpack, fishing rod holders, phone holders, action camera mounts, regular camera mounts, side fins, center fin, and much more that you can enjoy in water activities and repair kits that you may need! They do have a warranty that seems to be great for their customers. For all new boards, there is a 2-year warranty and for the accessories they offer there is a 90-day warranty.
Looking at the items they offer, there are three items that are top sellers for NIXY.
Newport G4 – 10'6″ All Around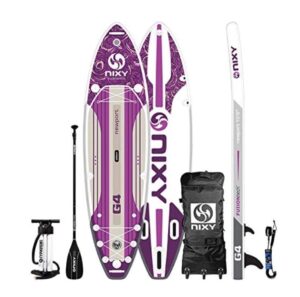 This is what is deemed as the ultimate inflatable stand up paddle board package. In this package, you will receive the paddle board, a three-piece carbon fiber hybrid paddle, a dual chamber triple action hand pump, a 3-wheel premium heavy duty traveling backpack, and a high-quality hybrid ankle leash. The Newport inflatable stand up paddle board is versatile and has exactly what you want in a paddle board. You'll get stability and performance you desire to have in a paddle board, and you will also enjoy the lightweight feel it has along with the value of it.
Venice G4 – 10'6″ Cruiser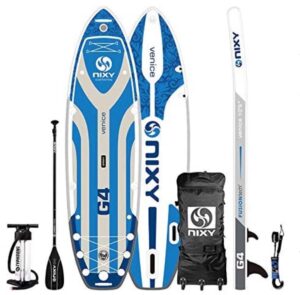 Yet another ultimate inflatable stand up paddle board, this is known as the cruiser yoga package. It includes the inflatable board, a 3-piece carbon fiber hybrid paddle, dual chamber triple action hand pump, a premium heavy duty 3 wheel traveling backpack and a hybrid ankle leash.
Monterey G4 – 11'6″ Touring Expedition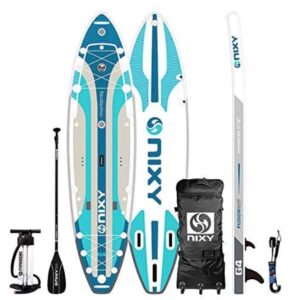 You will receive the Touring inflatable paddle board, a three-piece carbon fiber hybrid paddle, dual chamber triple action hand pump, a premium heavy duty 3 wheel traveling backpack, and a high-quality hybrid ankle leash. This board has multiple mounting brackets that will give you a lot of options for adventures you can enjoy.
Manhattan Performance Paddle Board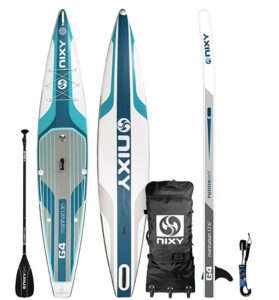 NIXY is a newer company, but they are growing fast and have a lot of great options that you will enjoy!