The Bottom Line & Summary
Specifically designed for SUP Yoga
High quality iSUP and great value board
Rectangular shape offers great platform for Yoga on a paddle board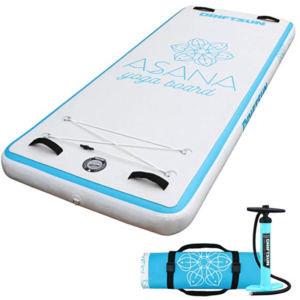 General Overview
This paddle board was designed with one thing in mind: SUP Yoga. It's a square paddle board that will offer you a well sized and stable platform for your yoga practice and all comes at a very reasonable price at under $500.
They offer 2 different models that are frankly pretty similar. The main difference is in their overall length. Both boards are 33 inches wide and have a height of 6″, but one is 7.5 Feet long and the other is 8 feet long. We wouldn't stress too much about choosing between them. The extra 6 inches gives you a little more space to practice yoga and a little more flotation, but won't significantly change your experience.
So if you want a little more space, we'd say upgrade – but if you are a little more price conscious, the shorter board will save you some money.
Pros
Good quality paddle boards
Designed specifically for Yoga
Very stable boards with lots of space to do yoga or lounge.
Cons
The rectangular shape of this board does make it a bit harder and slower to paddle and control compared to a standard shape.
iSUP Reviews Gives The Following Awards
Best Paddle Board Specifically For Yoga
Great Value Yoga iSUP
Compare Paddle Boards
How Does The Driftsun Asana Compare to Other Paddle Boards?
Similar Paddle Board Options
If you are specifically looking for a board to do Yoga on there are a few other options we would recommend you consider.
Check out our Best SUPs For Yoga Comparison Guide
Coupons & Discounts
Who Should Buy A Driftsun Yoga SUP?
An inflatable paddle board is ideal for the weekend warrior, the laidback adventurer, and even the outdoors aficionado. It is a gift sent from the heavens for those who love spending time doing outdoor activities, but also hate being inconvenienced by bulky supplies.
Whether paddle boarding is a once in a while activity or an every Sunday tradition, getting an inflatable paddle board is just what you need. It can be conveniently stored, taking up as little space as possible when you know you may not be breaking it out for a while, but also has the durability necessary for you to hit the water every chance you get.
About Driftsun
Located in beautiful and prestigious Aspen, Colorado High Society knows the rugged outdoors well and it speaks to their employees and mission.
They focus on building only the toughest, premium gear for their customers to provide the absolute highest performance paddles boards possible. They have been in business since 2003 and testing their gear in the rugged rocky mountains a few hours west of Denver for more than 15 years.
Due to their location, you can be sure their SUPs see some of the most extreme conditions and they hearty nature of their employees means there is no fluff in their testing process.
High Society has received numerous awards over the years from various organizations. A few specific mentions:
Customer Reviews
As a new product, were only collected and analytics 1 customer review. The Driftsun Asana received a 4/5 review. The reviewer did not specifically mention why they gave 4 start instead of 4.
Customer Likes
Sturdy build
Easy carry straps
includes repair kit
Customer Dislikes
None specifically mentioned
Other Driftsun Paddle Board Models & Comparison
The NorthStar inflatable paddle board is an easy store and transport ISUP that can suit the needs of any outdoor enthusiast. It has a commercial grade inflate valve that also locks open for a quick deflate; that way you can pack it, store it, and be on your way in no time. Also included is a full ISUP kit so that you never have to worry about forgetting anything for your grand water adventures.
The ISUP kit includes an ergonomic hand pump with a pressure gauge, a collapsible aluminum paddle, and an ankle leash. The 10″ composite center fin can be removed at your discretion and placed into the quick dry mesh backpack alongside the rest of your stand up paddle board accessories. For those that are always thinking ahead, the accessory kit also includes a valve wrench and patch material so you are never caught off guard in a sticky situation.
The Flagship from high society is a fantastic all around board. can take you there. As you can imagine Colorado has a wide range of paddling options from lakes and rivers to reservoirs and this was designed with all those in mind. It handles rough water like a winner and is also a popular option for those looking for a faster paddling board that is great for fitness.
It features our standard 10'6″ long profile with a 32 inches width and 6 inches thick its more than capable of taking you, your dog, a cooler and your gear on epic adventures.
Looking for something that is easy to inflate and deflate, simple to transport, easy to store, and can be enjoyed by paddlers of all shapes and skill levels? The Flagship is your all around Freeride paddle board.
On a fun side note, High Society takes create pride in the visual aspect of their SUPs and the artwork on this board was done as a collaboration with 2 artists Robert Maestas and Nathan Reese who are both based in Colorado.
Included Accessories With Driftsun Asana Board